How to Clean Upholstered Chairs
Take a look at how to clean upholstered chairs in the kitchen or dining room. Get tips for dealing with furniture fuzz and how to get stubborn stains out of fabric chairs.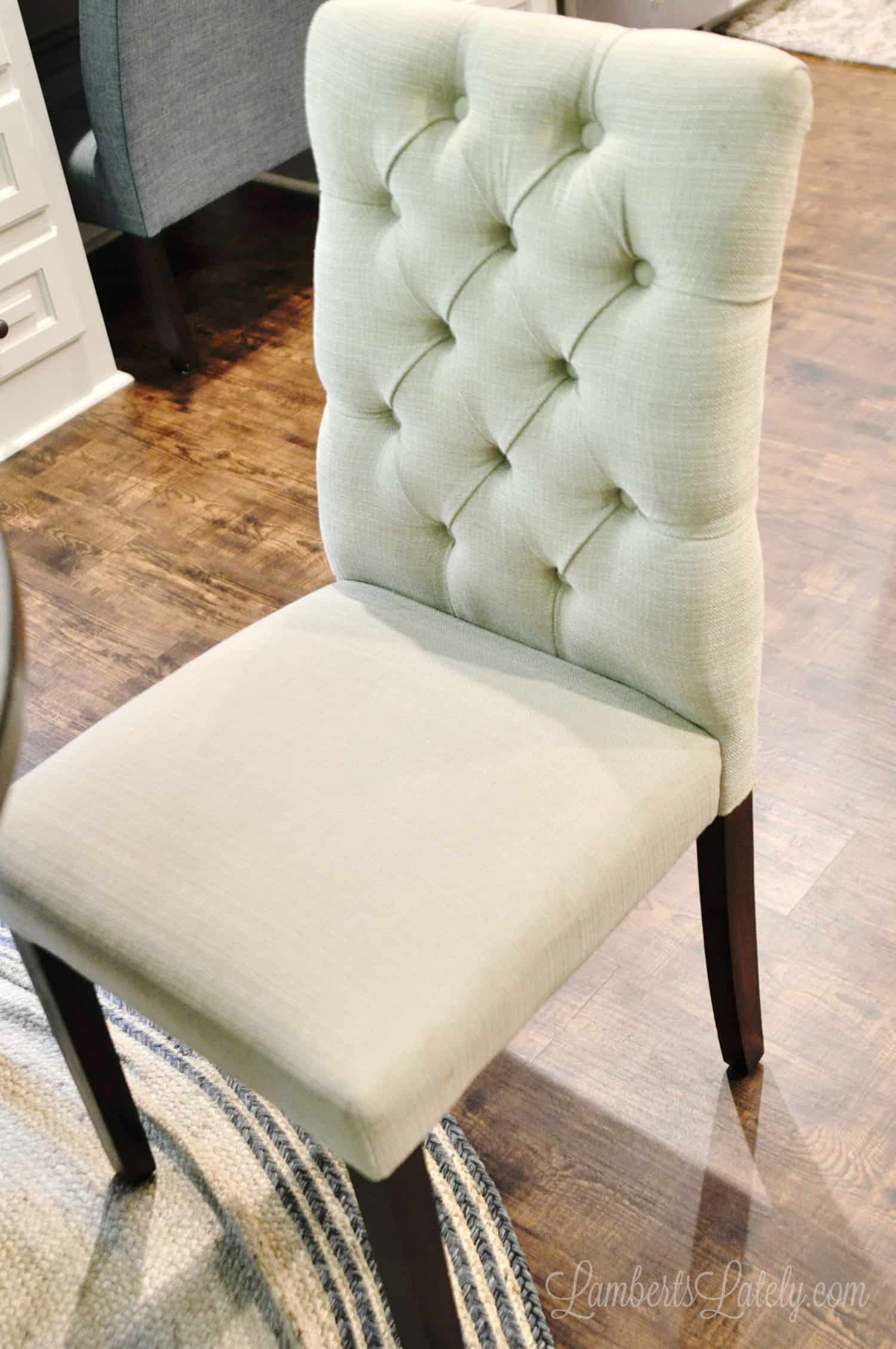 Affiliate links used in this post. Read more about my link usage here.
If you have any kind of upholstered furniture and you live with kids or pets (or just messy people)...you are a brave soul.
Upholstered everything is all the rage right now, but it can be kind of a pain to keep clean and odor-free. Adding a regular cleaning for both the sofa and any upholstered dining room chairs is a must!
How Often Should I Clean Upholstered Chairs?
I try to clean upholstery on a rotation. I've got a task for cleaning furniture built into the Journey to Clean monthly schedule (during the living areas week).
One month I'll clean the couch, then the next I'll clean the kitchen chairs. That way, I don't have a ton of work to do in any given month (and we have a dry place to sit on cleaning day 😉).
Let's take a look at the full instructions on how to clean fabric chairs!
Supplies Needed to Clean Furniture Fabric
Step 1: Protect the upholstery before it ever gets dirty.
As soon as we purchase any kind of furniture, I give it a good spray with Scotch Guard. I try to repeat this once a year. It's not 100% going to eliminate stains, but it does help repel liquids before they soak into the fabric.
I think it's worth a $10 can every once in a while! One can usually covers all 4 of my kitchen chairs. My larger sectional sofa typically requires 2 cans.
Want to see more of my kitchen? Check out our pantry organization and our focal piece plate wall!
Step 2: De-fuzz and de-string furniture fabrics.
Before I get to the cleaning part, I like to get rid of any kind of piling, fuzz, or strings hanging out of the upholstery.
My couch is notorious for this. When you have an old dog that doesn't take no for an answer and likes to sleep on the couch, this is bound to happen.
First, I simply cut the loose strings out of the couch cushions (carefully, not pulling them when cutting).
Then, I take my trusty fabric shaver to get rid of the piling and fuzz balls. This is a little rotating set of razor blades covered by a protective plate that cuts off anything that's not flat on your couch (so I don't recommend it for any kind of super fuzzy upholstery...only flat!).
Simply rub it over the top of your upholstery and it takes care of any pills or strings sticking out.
Kind of gross, but that's how much fuzz and debris I typically get off of my couch monthly.
Step 3: Brush off any remaining dirt, dust, or debris on the upholstery.
Make sure you're starting with as clean of a slate as possible. Either wipe off any loose dirt sitting on the surface of the fabric with a dry paper microfiber cloth or use a small hand-held vacuum to clean it.
Step 4: Give the chair fabric a shampoo.
(Note: this was my month to clean my kitchen chairs instead of my couch, so I'm switching to the chairs for this part.)
My kitchen chairs (from Target, sadly no longer available) get dirtier than basically any other upholstery in our house. I mean, with reason - kids eat there a few times a day right now. It's to be expected.
Even with Scotch Guard, you're going to have spills and stains if you have upholstery. It's just part of owning chairs like this. Luckily, stain removal is really easy!
I've had this upholstery/carpet cleaner for years and I absolutely love it. I think anybody that has kids or pets should own one of these. You can use basically any cleaner you want in it (more on that in a minute) and it's no more difficult to store than a vacuum cleaner.
Warning: you will be totally and completely grossed out by the water you pour out of this thing every time. But I'm glad that nastiness is in the throw-away water, rather than my furniture!
Start with the machine on the wash mode with your small upholstery brush attachment (included when you buy the cleaner). You might want to put a dry towel underneath your chairs to catch any spray.
I fill the water tank of the machine with warm water (it seems to lift stains better) and I use my tried-and-true favorite Totally Awesome cleaning solution (undiluted) in the cleaner tank. I buy this at Dollar Tree - yes, it's only a dollar and it's one of my favorite cleaners ever!
The brush attachment has a sprayer, a bristle brush, and a vacuum to lift the dirty water. Go over the entire seat, spraying everything and concentrating on the stained areas by scrubbing back and forth a few times. I like to go in straight lines on the seat to make sure I get every little bit.
Then, going in the opposite direction, don't press the trigger to turn the sprayer on. Just run the attachment over the wet upholstery. This will suck up a lot of the leftover soapy residue and brush out additional dirt in the upholstery. This is also a good time to get into the crevices of the chair to suck up any dirt, dust, or debris.
I usually just do this to the seat part (because it's always the dirtiest). I might spot-clean the back of the chair, but it needs cleaning a lot less.
Step 5: Rinse soapy cleaner out of the cloth.
Next, flip the switch on the tank over to the rinse cycle and repeat the process outlined above. This will make your upholstery cleaner spray only clean water (without cleaner mixed in).
Using the upholstery attachment, scrub the seat really well in lines, concentrating on any remaining stains. Then, go over the seat with the attachment (not spraying) in the opposite direction to get as much excess moisture out of the upholstery as possible. Don't forget to clean the nooks and crannies!
Allow your seats to dry for 6-8 hours and you'll notice a huge difference. It helps to turn on a ceiling fan to speed up the drying process.
More Tips & Tricks
Invest in washable covers. I've recently purchased washable stretchy covers for my kitchen table chairs, and it's one of the best investments ever! Instead of having to go through the upholstery cleaning process, I can just pop the covers off and wash them with the laundry.
Don't let stains sit. Clean stains promptly...the more they sit, the harder they will be to remove. First, soak up any spill with a paper towel. Then, treat stains with a simple mixture of either Totally Awesome cleaner or white vinegar and water in a spray bottle, gently buffing the stain out of the upholstery.
If you have a particularly smelly upholstered piece, sprinkle a little bit of baking soda over the surface and vacuum thoroughly. The baking soda will fight any odors.
If you have oily stains to clean in upholstery, use blue Dawn dish soap to break down the oil. Just a tiny bit on a wet cloth will do!
Cleaning Upholstered Chairs FAQs
This is an easy deep cleaning task that makes such a massive difference in both dining chairs and sofas. Put it on your schedule once a month! Once you learn how to clean upholstered chairs the easy way, it's so simple to integrate into your cleaning schedule.
Did this tutorial work for you? I'd love to hear your experiences, as well as your favorite tips and tricks, in the comments!