How to Clean Green Stains on a Wood Deck (+Video)
Have green stains on a wood deck? Remove them with this simple method! See how to clean a deck and what simple cleaning products you can use to keep your decking looking new.
Affiliate links used in this post. Read more about my link usage policies.
If you live in a humid area and have a wood deck, you know the struggle.
You may not know why, but your deck wood is suddenly turning green. It's kind of gross looking and seems a little unsafe - but trust me, it's no big deal to clean. It's really just a matter of spraying down your deck every few months.
About a year after moving into our new home, the poor wood deck looked like this. Each week I make an effort to clean outside areas in my cleaning schedule, but it just became kind of a lost cause with this deck.
The deck always looked messy, no matter how much I swept or tidied. Because of this, we never really used it for outside time - and that's a big problem for me!
Why is my deck turning green?
The simple answer - moisture. The green stains you see on a wooden deck are actually fungi, molds, mildews, and algae that grow in humid, wet environments. This is obviously going to be worse if you live in a humid climate. It can also be caused by moisture getting trapped under leaves, furniture, rugs, or other debris.
I live in Mississippi. It's humid...really humid. Combine that with the trees we have around our home (that love to drop pine straw and dead leaves onto the deck) and you have the perfect storm for a deck filled with green mold and mildew.
Gross, right? Nobody wants to walk on that (not to mention that mold spores can be unhealthy for your family). So, I tried a couple of different methods to clean it. Each one had its pros and cons, and I'll use both again, but for different reasons.
How to Prepare Your Deck for Cleaning
There are a few simple things you can do to make sure your deck gets as clean as possible.
Remove patio furniture.
Sweep any pine straw or leaf debris off of the deck.
Use a blower to remove any dirt, dust, and smaller pieces of yard debris.
Rinse the deck with clean water (and let dry).
The OxiClean Deck Cleaning Method (Quick)
After searching a little bit online, I noticed a few people using an OxiClean solution to scrub the algae/green stains off of their deck.
For this method, you'll need...
To clean the deck with this quick method, I just mixed 1 cup of OxiClean (powder) into 1 gallon of water. Pour a little bit of the mixture onto your deck in sections and use a push broom to scrub the solution really well. You can scrub under railings and in between deck boards with the hand-held scrub brush (as shown above).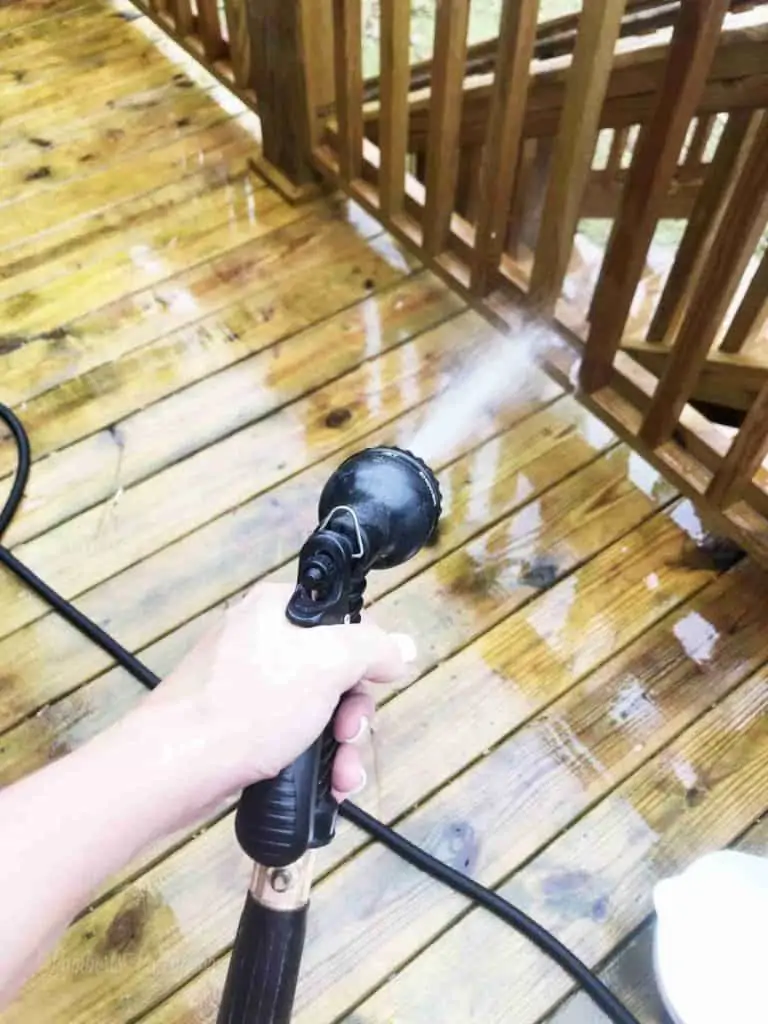 Once you notice the green stains starting to break up, spray the deck down well with a garden hose until the soapy residue is gone.
You can really see the difference between the scrubbed area and the un-scrubbed area in this picture.
The deck really did look so much better after using this method. But, just a few weeks later...
...green as green can be. Again.
This OxiClean method is great if you need your deck clean immediately. It will look really nice for a short period of time! But, if you're looking for more of a long-term solution, I recommend the next method.
(See more of my cleaning tutorials: cleaning LVP flooring and
cleaning a porcelain farmhouse sink.)
The Wet & Forget Wood Cleaning Method (Long Term)
This method is a little bit more expensive and takes longer to actually work, but it's much easier and lasts much, much longer.
For this method, you'll need...
For the attachable sprayer: Simply fill the tank of your garden sprayer with the deck cleaner and set your sprayer dilution to 8oz per gallon. The mix ratio on the Wet and Forget is actually a little bit less diluted, but this sprayer only went as high as 8oz. That ratio worked just fine for me...no need to waste extra product!
For the spray bottle: mix 1 part Wet & Forget to 5 parts clean water in the garden sprayer. Set the garden sprayer nozzle to a V-fan. This will allow you to cover the surface with a sufficient amount of product.
You'll want to do this on a cloudy (but not rainy) day. If possible, try to time it to a day when you're not supposed to get rain for a day or two.
Once the sprayer is filled, simply spray down the surface of your dry deck. You don't even have to rinse! As a matter of fact, once it's sprayed down, don't rinse it. You'll need to let the cleaning solution sit on the wood for at least 12 hours without any rain or rinsing.
It will be nice and sudsy - that's what it is supposed to look like.
And that's all there is to it! It takes less than 5 minutes to do this and lasts for months. I usually have to spray our deck 2 or 3 times a year.
Now, the catch to this method: it won't remove the green staining immediately. This cleaner is activated every time rain hits it. So don't be disappointed if it dries and is still as green as it was when you started. It took 2-3 rain showers over the deck to really get it as clean as I wanted it.
If you need to remove the green stains on the wood quickly, I'd recommend doing the OxiClean method a few days before this one. It took weeks for the OxiClean to quit working for me, and the Wet and Forget method should keep it clean for the long term.
A few weeks after using the Wet & Forget method...
...I seriously couldn't be happier with the results. It looks like it did when our house was new!
This is what it looked like when it was new:
See? You can barely tell the difference.
Wet and Forget is great for removing green algae from patios and driveways too. I actually used the Wet and Forget to treat a few stubborn puddle spots in our driveway and it worked wonderfully.
Before Cleaning the Deck with Wet and forget
After Cleaning the Deck with Wet and Forget
Do yourself a favor and try these methods for removing green stains on wood!
How NOT to Clean a Pressure-Treated Wood Deck
There are a few methods for how to clean a wood deck that I absolutely do not recommend.
Pressure Washer - don't be tempted! It seems like an easy way to clean a deck, and yes it will clean it - but a pressure washing/power washer is way too harsh for wood. You can literally scrape up chunks of your deck surface with a pressure washer.
Bleach - You can strip out any natural or stained color with chlorine bleach. (Oxygen bleach, aka OxiClean, is fine for most surfaces. If you have a redwood deck, avoid the oxygen bleach.)
White Vinegar - I mean, it might work - but don't waste your time. White vinegar will absolutely kill mold and mildew, but it's not a long-term solution. Most white vinegar you buy at the grocery store isn't strong enough to fight the heavy-duty green algae you'll see on decks. Even if it does kill the mold and mildew, it won't last very long.
How to Maintain a Stain-Free Deck
The Wet and Forget solution should be applied (as instructed above) every 4-6 months. I've found that twice a year works for us.
The minimize fungus and algae growth between cleanings, make sure your deck remains as debris-free and moisture-free as possible. That means regularly removing leaves, cleaning under deck furniture, and removing standing water on decks.
Sunlight is a green stain's enemy - expose your deck surface to as much sunlight as possible!
Removing Green Stains from Wood - FAQs
Video: How to Remove Green Stains on Wood
Have you tried this method? Any other tips for removing those green stains on wood decks? I'd love to hear about it in the comments!