Printable Mother's Day Questionnaire: All About My Mom
This free printable Mother's Day questionnaire is great for preschoolers or older kids to fill out for the mom in their life! Learn all about mom with this colorful pdf worksheet. You can even get a grandma and aunt version.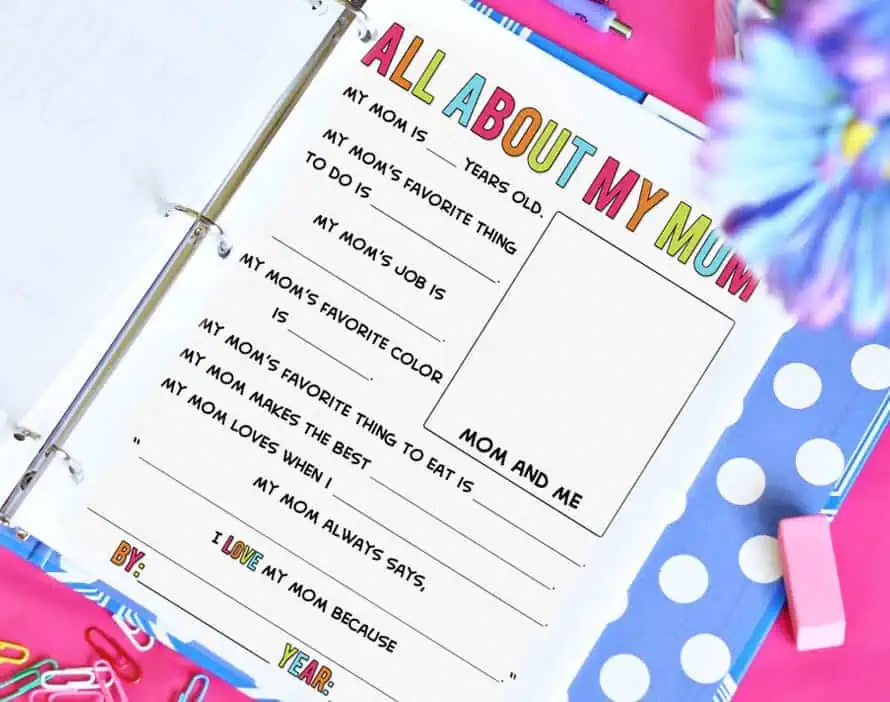 Affiliate links used in this post. Read more about my link usage policies.
If you're starting to plan Mother's Day gifts for this year, I've got a free idea for you today!
Now that I've got a few Mother's Days under my belt, I can honestly say that my absolute favorite gift each year has been my Mother's Day Questionnaire. It's not the most expensive or the flashiest gift, but it's the one that means the most to me.
What is a Mother's Day Questionnaire?
If you're a mom and you've never gotten one of these, you are in for a treat. Simply hint to someone in your life that you want them to ask your child to fill-in this cute little questionnaire about you...and be prepared to laugh.
If you're giving this as a gift, just sit your preschooler or younger child down one day and have them answer the questions for you. You can also let them draw a picture of mom in the box on the page. Older kids can do it by themselves.
They are always the cutest, funniest things to look back on! (And a few of the answers can be a little humbling. 😅) It's also so much fun to see the evolution of the answers over the years. Eventually, the kids start to kind of figure you out. 😉
Why it's the perfect gift
If you're giving a gift to a mother this year, trust me, they'll love this special keepsake. I can't speak for all mothers, but for me, it's not really about how much money you spend on Mother's Day gifts. It's all about the thought. I would so much rather have a gift with a lot of love than one that costs a lot.

This printable Mother's Day questionnaire perfectly captures the love that kids have for their moms. That's what's important on Mother's Day. And a bonus: it's a present that costs next to nothing!
I also have a version for dads! Download the coordinating Father's Day printables.
Let's hear it for the other mothers!
Of course, it's not just biological mothers that deserve the love on Mother's Day! So many people have other mother figures in their life, like a grandmother or an aunt. I wanted them to feel the love too - so I made versions of this printable for both a grandma and an aunt.
These special women deserve Mother's Day gifts! With these printables, you don't have to break the bank to show women in your life that they are loved and appreciated.
How to Print
These printable pages are pdf files. Each page has two versions; a full-color version and a black-and-white version. I know some of you teachers out there like files to be in black and white for copying.
Once you click the button and sign up, you'll get an email with a link to my printable collection. From that page, click the links to the files under the "mother's day" section. Once the pdf is open, you can print the file (using the printer icon that pops up) or download (with the downward-facing arrow icon that pops up). This page is formatted to fit standard 8.5x11" paper and should print perfectly with an at-home printer like this one.
Then, fill it out! Crayons, pencil, markers, or pen all work. It's also cute when the child gets free reign to decorate the page as they see fit, with things like stickers or stamps. Looks messy, but adds character. 😊
Mother's Day Questionnaire Printable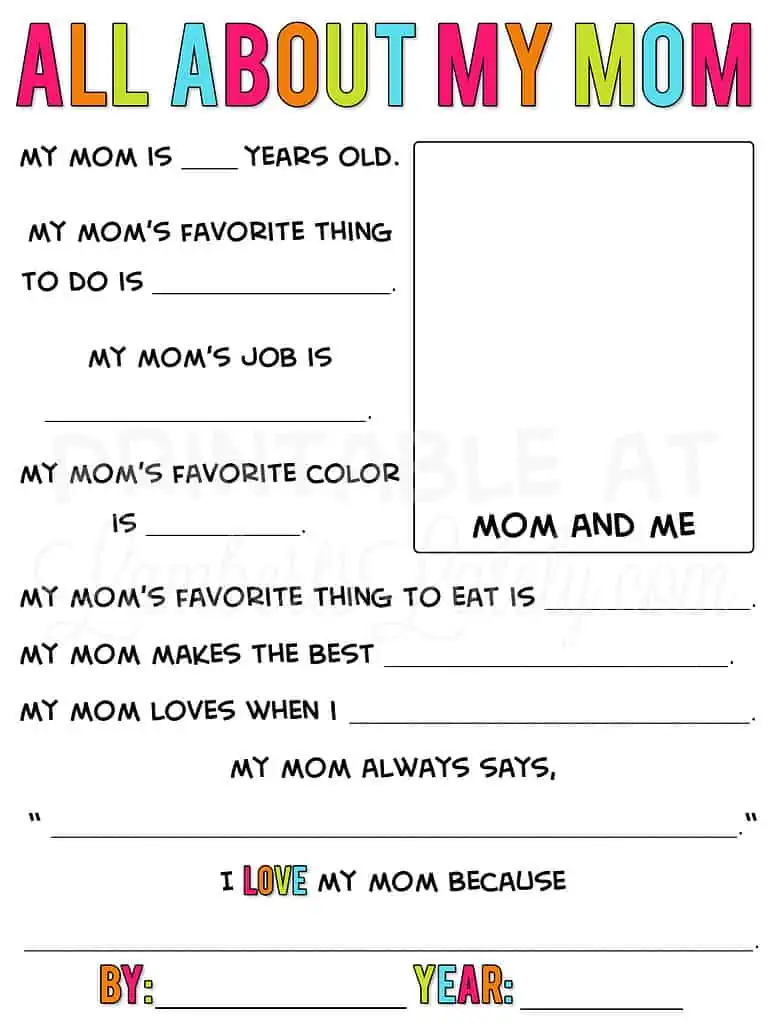 All About Grandma Printable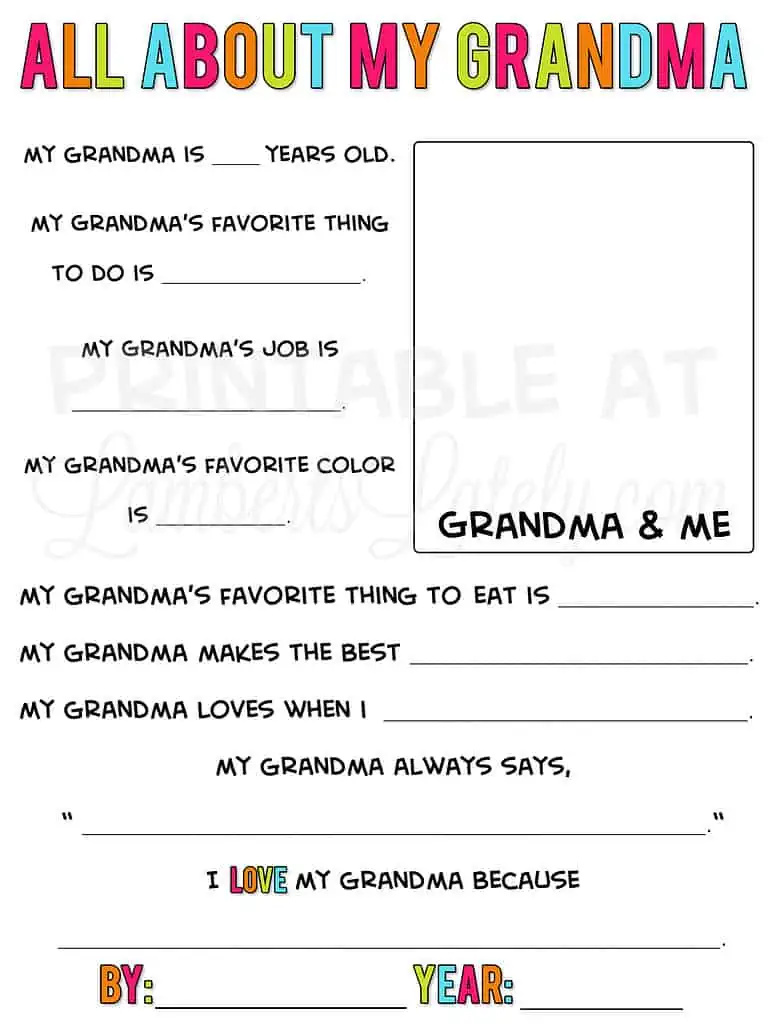 All About My Aunt PDF Printable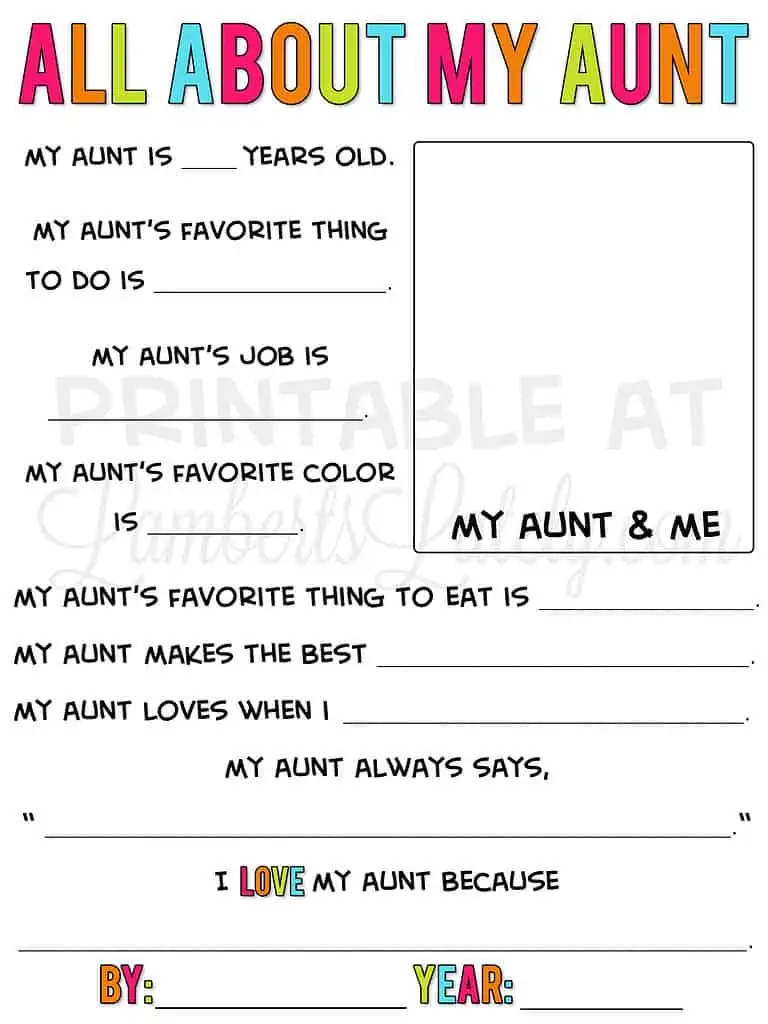 Happy early Mother's Day to all of the moms out there!