Bacon Wrapped Green Bean Bundles
This recipe for bacon wrapped green bean bundles makes for the best appetizer or side dish! Bite size perfection with a sweet brown sugar and butter glaze - so simple to make ahead.
Introduction
Today, I'm sharing on of my favorite recipes that, somehow, has never made the blog. I've been making this bacon wrapped green bean bundle recipe for at least 10 years now. It's one of my top go-to side items for a potluck, and for good reason: I very rarely bring leftovers home! I think this one is going to become one of your favorites too.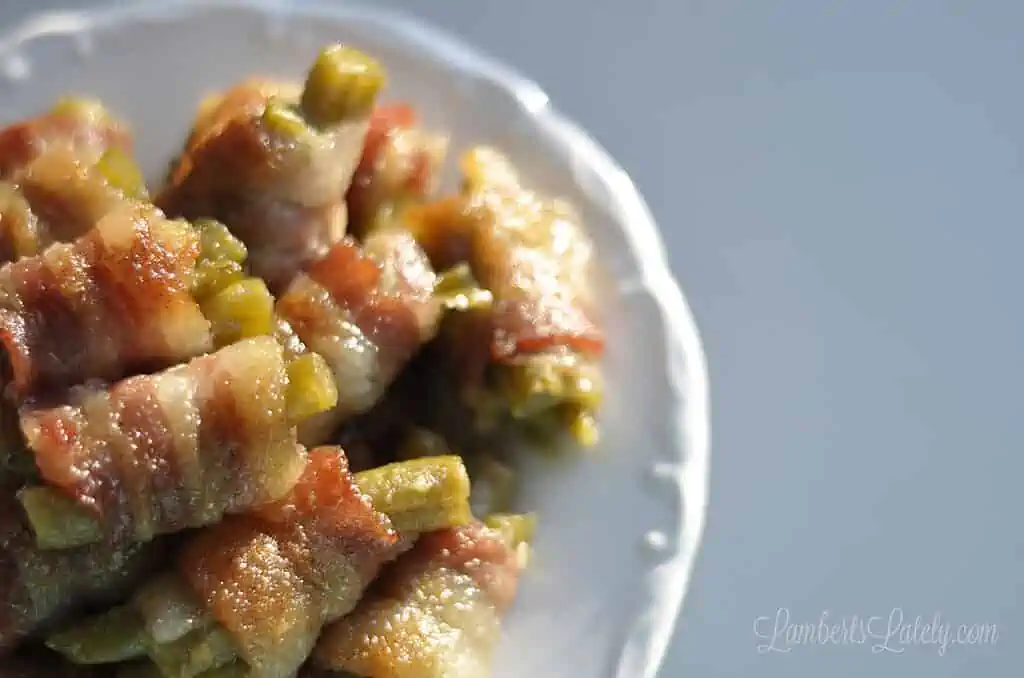 I can't explain why canned green beans, bacon, butter, and brown sugar work so well together. It's a strange combo, but they just work. The smokiness of the bacon plays really well off of the sweetness in the brown sugar glaze. The green beans add a little bit of freshness to the very rich side dish. It all combines together to make a really fun and addictive dish! Seriously, try to eat just one.
This recipe can easily be used as a side item or an appetizer. For an appetizer, simply use toothpicks to serve bundles individually. I've used this recipe for both courses over the years.
Why canned green beans?
I've tried making this recipe with both fresh and canned green beans. Over time, I've found that it works so much better with the canned variety. I know that sounds strange, but the texture/size of the canned variety makes the bundles the perfect bite-sized party appetizer.
Cut canned green beans fit the bacon slices almost perfectly. Since canned green beans are already pre-cooked, there's no need to over-cook the bundles to ensure that the green beans are done. They're much more tender and make the bundles so easy to eat.
You can use either French green beans or cut green beans (both in cans) for this recipe. But, I've found the cut green beans are easier to work with.
Variations
This is an easy recipe to make your own! There are a ton of different variations, including...
Using fresh green beans
Using another vegetable, like asparagus, sliced carrots, or mushrooms
Adding honey to the glaze instead of brown sugar
Using prosciutto instead of bacon
Adding flavor depth by sprinking bundles with fresh minced onion and/or garlic before covering in glaze
Use a thick-cut bacon to make the bacon the real star of the show
Sprinkle with salt and pepper for an additional flavor kick. I've even seen variations that added soy sauce to the glaze!
Step-by-Step Instructions
To make this recipe, you'll need just a few simple ingredients...
1. Prep Work
Do a little bit of prep work by dividing your bacon slices into thirds, draining the green beans, and dumping the beans into a bowl.
2. Roll The Bundles
Take 5-6 green beans and place on the end of a piece of bacon strip. Roll those green beans into a bundle.
Place these bundles in a single layer in a glass baking dish. It is important that they are in a single layer so they all brown well. It also helps to place the bundles seam side down.
3. Cover in brown sugar butter glaze
Melt a stick of butter in a microwave-safe bowl. Add ⅔ cup brown sugar and ½ teaspoon garlic powder; stir well.
Pour glaze over the bacon-wrapped green bean bundles in the baking pan, making sure to cover each one.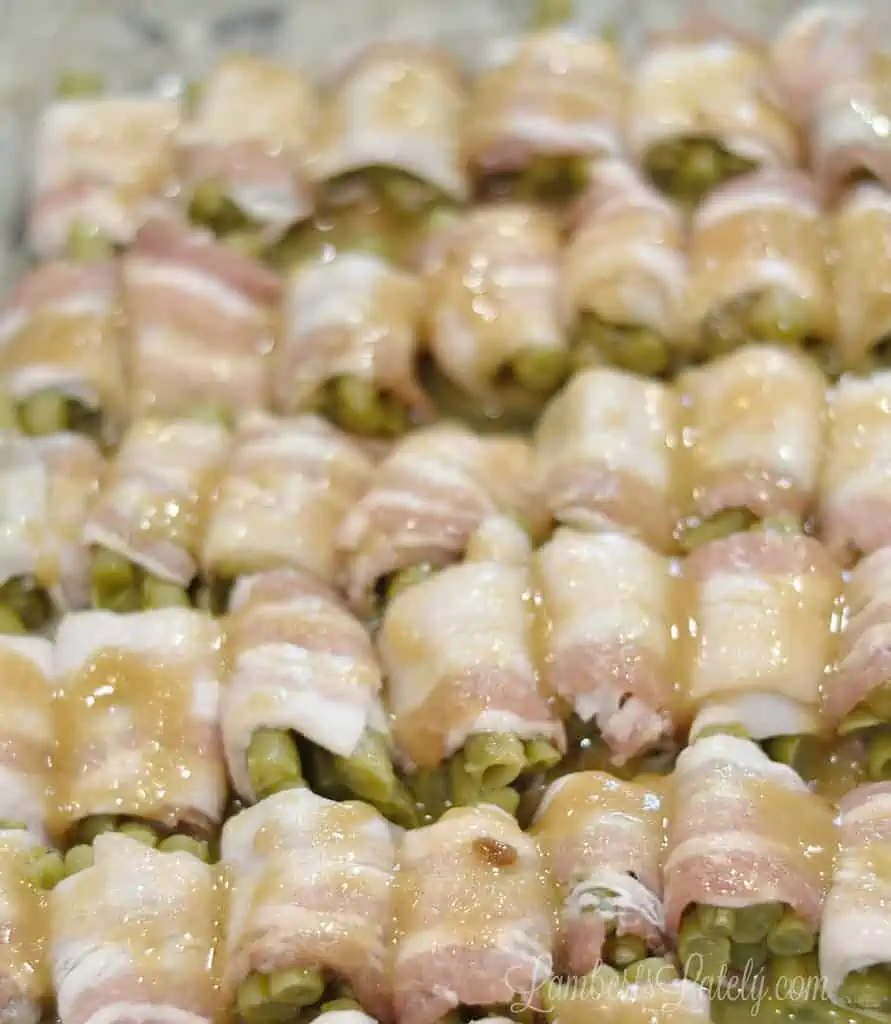 4. Bake bundles
Bake the bundles in an oven at 425 degrees for 40 minutes, until tops of the bacon start to become browned and crispy.
And that's all it takes to make one of the most delectable appetizers you can imagine!
Video: Bacon Wrapped Green Beans
Hope you love this one as much as we do! Check out more great side items below.
Bacon Wrapped Green Beans
This recipe for bacon wrapped green beans makes for the best appetizer or side dish! Bite size green bean bundles with a sweet brown sugar and butter glaze - so simple to make ahead.
Affiliate links used.
Instructions
Drain all three cans of green beans and pour contents into a large bowl.

Cut bacon slices into thirds.

Take a cut strip of bacon and gently stretch; lay flat on a cutting board. On one end of the bacon slice, pile 5-6 green beans. Gently roll the bacon around the green beans to make an individual bundle.

Place bundles in a single layer in a glass baking dish.

Microwave butter in 30 second increments until blended and smooth. Stir in garlic powder and brown sugar.

Spoon glaze over green bean bundles in the baking dish, making sure glaze covers each bundle.

Bake green bean bundles at 425 degrees for 40 minutes, until bacon begins to brown.
Notes
If you would like to make this recipe ahead of time, place green bean bundles in an airtight container and refrigerate. When you're ready to cook, place bundles in a glass baking dish and cover with glaze; bake according to cook times in the recipe.
Nutrition Facts
Calories:
423
kcal
Carbohydrates:
22
g
Protein:
9
g
Fat:
34
g
Saturated Fat:
15
g
Polyunsaturated Fat:
4
g
Monounsaturated Fat:
13
g
Trans Fat:
1
g
Cholesterol:
68
mg
Sodium:
476
mg
Potassium:
350
mg
Fiber:
3
g
Sugar:
17
g
Vitamin A:
1052
IU
Vitamin C:
12
mg
Calcium:
55
mg
Iron:
1
mg
Tried this recipe?
Rate it in the comments below!