Free You've Been Booed Printable PDFs & Ideas
Print your free You've Been Booed Printable to share some Halloween fun with your neighborhood! Use the poem sign and door hanger (color or black & white pdf versions available) to give neighbors goodies to get in the Halloween spirit .
Affiliate links used in this post. Read more about my link usage policies.
Happy (almost) Halloween, everyone! Have you ever heard of booing your neighbors? This is a super cute activity for both kids and adults in your neighborhood that you can do anytime in the month of October.
This one's going to become one of your favorite Halloween traditions! Everyone looks forward to getting "Booed" each year. It's as simple as making a basket of treats, printing the free printable signs below, and dropping it off on the porch of the person of your choice.
Printing Instructions
Whether you're just getting this neighborhood tradition started or you're here from the QR code to download the printable signs, you'll print and use these files the same way.
When you click the buttons below, you'll open a pdf file in a new tab. You can either press the printer icon to send to your printer or the downward-facing arrow to download the pdf to your device.
These pages are formatted to print on standard 8.5x11" printer paper. An at-home printer works just fine - this is the home inkjet printer I use! You might want to print the pages on cardstock to make them extra durable.
The door hangers are formatted 2 to a page. I recommend a straight-edge paper cutter to easily cut those apart with nice, crisp lines.
There is a little snippet you can cut from the bottom of each door hanger that has a QR code that links back to this post. Just pop it in your boo bucket or boo bags so your neighbors can easily find these printables and keep the fun going!
These files are to be used for personal use only and any commercial use or resale is not permitted.
How much do I need to print?
Print 2 of the poem signs (first link below) and 1 of the door hanger pages (second link below).
Cut the door hanger page in half and clip the qr code section at the bottom off of the door hanger. Set the signs up similarly to how I have them pictured, including the qr code somewhere in the basket of treats.
Download Free You've Been Booed Printables
The printable signs you see in this post are totally free! Just click the buttons below to download the pdf version of these pages. You can download these pages in color or in black and white.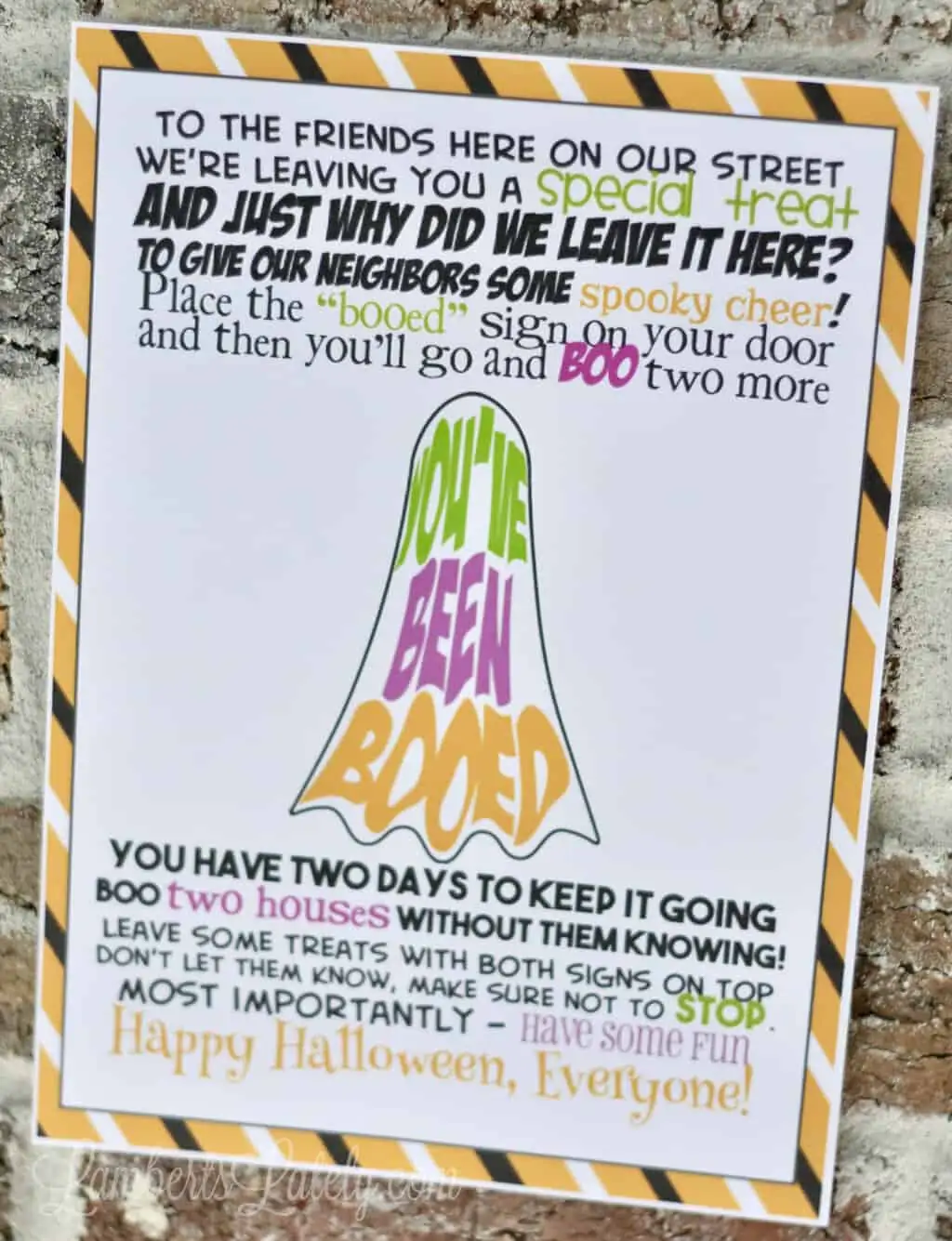 How to Play You've Been Booed In Your Neighborhood
The idea is really simple. Anonymously drop off a basket or bag of goodies on your neighbor's doorstep with the sign and door hanger printables linked above. The poem on the big sign gives all of the instructions they'll need (in cute poem form).
The neighbor that received your Halloween surprise will make a copy of the sign and door hanger for 2 other neighbors (the QR code on the door hanger printable links back to this post so they can print it easily). Then, they will make a bucket or treat bags and drop the goodies off on their neighbor's doorstep when they won't be caught (think "doorbell ditch" game).
Once they find their goodies and instructions, the next neighbors will keep the "You've Been Booed" train going by doing all of the same for 2 neighbors. You can probably see how this spreads quickly.
Once a house has been booed, they hang the door hanger on their front door to let other neighbors know they've already been booed. Before you know it, your whole neighborhood will have a little bit of Halloween cheer!
Love free Halloween printables? I also have a set of Halloween gift tags!
Ideas for What To Put in a Boo Basket
There really are endless ideas of things you can give your friends and neighbors as "boo gifts." You can go as small as a mini treat bag or as big as a whole gift basket of goodies.
Treat Ideas For Kids
Halloween candy
Small Halloween toys and trinkets from Target Dollar Spot or the Dollar tree
Homemade treats, like cookies or candy
A pumpkin and paint to decorate
Halloween face paint or tattoos
Halloween t-shirt
Inexpensive masks
Goodies For Adults
Small gift certificates
Invitation to a neighborhood dinner party
"Make your own drink" (can of soda and liquor mini)
Fall decor
Container Ideas
Trick-or-treat bags or baskets
Themed plastic treat bags
Cellophane wrapping
Halloween candy bowl
Metal pails
Paper gift bags
I hope these You've Been Booed printables start a fun Halloween tradition in your neighborhood! Spread a little joy by giving your friends and neighbors a few fun things to brighten the start of their holiday season.
Happy spooky season, everyone! 🎃
You've Been Booed Printables FAQs
Let me see those You've Been Booed printables in action! Tag me on social media (@lambertslately) with your boo-ing pictures. 👻