Free Printable Football Squares Template
Download your free printable football squares template and learn the rules on how to play this fun game with friends. This template is fully customizable!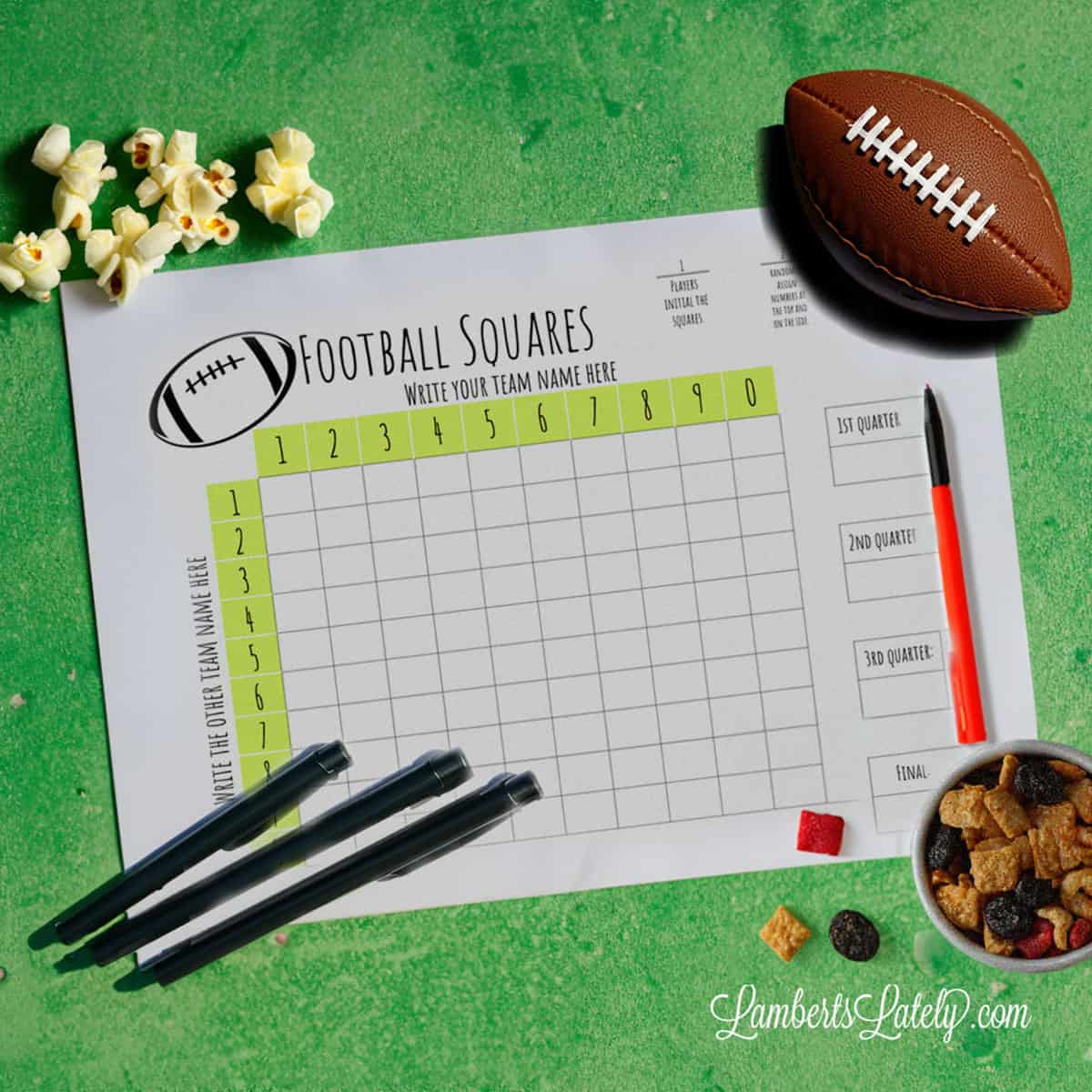 Affiliate links used in this post. Read more about my link usage policies.
Since football season is upon us - I thought today's printable would be a really fun way to celebrate! And I'm super excited about this one because it's my first printable that's fully customizable.
What is football squares?
This is a really simple game that's so much fun to play during a college or NFL football game. Even if you're not really interested in the game, this printable will keep you entertained. This is perfect for a tailgate or a Super Bowl party!
You'll download the free printable template form linked below (full instructions on how to customize are below, too). Then, everyone at your event will initial a few boxes in the square grid until all squares are full. Winners will depend on the score of the game at the end of each quarter and the final score.
How do football squares work?
You'll start by printing off your fillable football squares below.
One team's name is written on the left vertical column and one team's name is across the horizontal row at the top.
Let every participant take turns writing their name in or initialing one box at a time until all squares in the grid are filled.
At the end of each quarter, find the number that is in the last digit of each teams' scores. Find the intersection of where those numbers meet on the grid to find your winner for each quarter.
Let's look at an example. Say my beloved Crimson Tide is playing Auburn, and at the end of the first quarter Alabama is leading Auburn 57-12. You'll use the last number of each team - Alabama's number is 7 and Auburn's is 2.
Using each team's numbers, find the place on the grid where the 7 and 2 meet. (See example image above.) The person who initialed that square on the grid will be the winner of that quarter. The final score will be used at the end of the 4th quarter.
You'll repeat this process for each end of the quarter, with 4 total winners.
You also have the option to randomize the numbers, making the game a little bit more luck-based. Instead of having 1-9 in order across the top and on the sides, you'll put random numbers (0-10) in those spots.
It's easy to do that in this template - let's show you how!
How to Edit Your Football Squares Template
My free printable football squares template is available through Google Sheets. It's really easy to edit and print - don't be intimidated!
Once you click the download buttons below, a copy of the free template will open in a new tab. From there, you can really edit anything you like. This is just a spreadsheet, so you'll simply click the field on any given item to edit.
Edit the Team Names
To write in your team names, click the circled box that says "write your team name here" and enter the team name at the entry box circled above. You'll do the same thing to write the opposing team in the left column.
The randomize numbers on the column and row
It's totally up to you whether you manually put in the random numbers or let the random number generator do it for you.
To manually input numbers: just click any given number and edit with the input box at the top.
To use random number formula: click any number box in the row header, then input the formula =randbetween(0,9). That will pick a random number to put into each box. You can then copy and paste this formula into each additional number box.
Note: the formula method can pick the same number multiple times; sometimes it's just easier to manually randomize the numbers.
To Change Colors and Fonts
You can even customize the look of your football squares template! To do this, highlight any box and either click the background color changer or font option at the top of your page. This lets you customize the football squares template to team colors.
One more note: You can just have the participants initial the squares right from this file, but it's usually easier to print a copy and initial by hand instead of passing around a computer and teaching everyone how to do it.
How to Print or Save as a PDF File
This file is formatted as is to print on 8.5x11" printer paper. An at-home printer works just fine - this is the home inkjet printer I use! You might want to print the pages on cardstock to make them extra durable.
You also have the option to turn this into a pdf file. To do this, open the file with the button below. In Google Sheets, click file, then print, then next (top right blue button). That should open your printer option box.
This will be a little bit different on each device, but you should be able to click the printer selection box and choose "save as pdf" on most devices. Choosing this will save it to your computer in pdf form.
Need a couple of snack ideas for that tailgate? Check out this Instant Pot Rotel Dip, or Crock Pot Buffalo Chicken Dip!
Download Your Free Printable Football Squares Template
Simply click the button below to open your football squares copy in a new tab. The prompt will ask you if you want to make a copy; select yes to add the template to your Google Drive.
Happy football season, everyone! Check out more fun party/holiday printables below.
More Celebration Printables
If you use this football squares template, show it off! I'd love to see it at your next tailgate. Tag me on social media @lambertslately with your printables. 🏈