Free Father's Day Questionnaire Printable: All About Dad
This free Father's Day Questionnaire pdf printable is the perfect gift for Dad! Kids from preschoolers to teens can complete this All About Dad form for a funny, inexpensive gift. There are also versions for grandpas and uncles.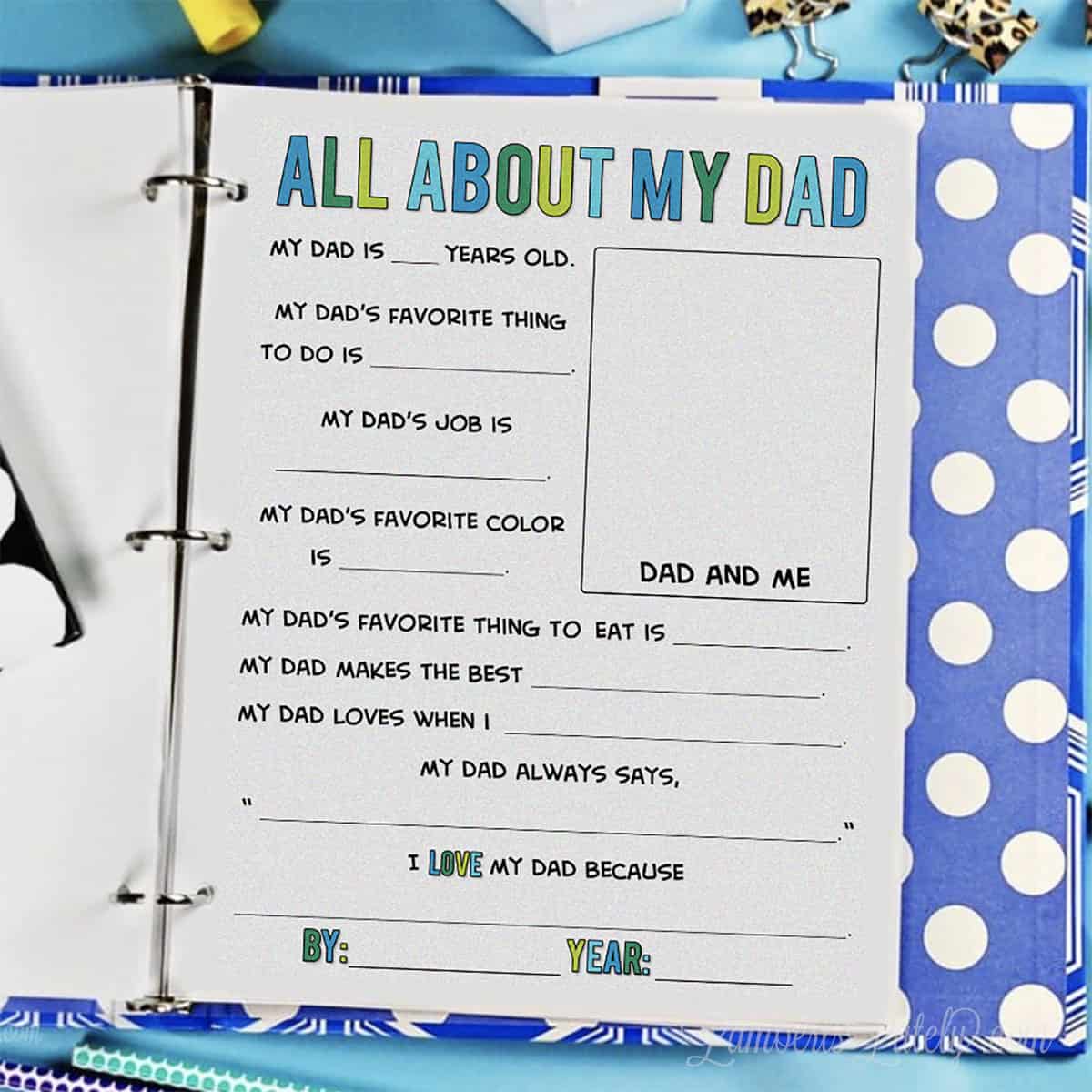 A month or so ago, I published a Mother's Day questionnaire that you guys loved. I couldn't leave the fathers out! So, today, I'm bringing you a coordinated version that makes the perfect Father's Day gift - a fun Father's Day questionnaire that's perfect for Dad.
Why This Free Printable is a Great Gift for Dad
If you're in need of an inexpensive and special gift for your Dad this Father's Day, this is the way to go. Parents (both Moms and Dads) love these!
How to Use This Printable
All you need to do is let your kiddos fill out the questionnaire and draw a picture of Dad. They'll fill in things like Dad's favorite color, Dad's favorite food, Dad's job, etc. Then, kids can use crayons to draw a picture with Dad in the box.
These printable pages are practically free and so thoughtful. It's a special keepsake that you'll be able to love (and probably laugh at) for years to come.
What if my kid(s) can't write yet?
If your child is too young to write, you can always ask them the questions out loud and write their answers. They can still draw a funny (and sweet) picture of Daddy!
Can't Leave the Uncles and Granddads Out!
Of course, dads aren't the only guys we're celebrating on Father's Day. So many uncles and grandfathers step in as father figures too. So, I thought I'd make them their own printables!
In the downloads below, you'll find blank versions for both granddads and uncles. Let your kids show all the men in your life how appreciated they are.
How to Download and Print
These printables are exclusively available to my newsletter subscribers. It's free to join the list! You can do that via this sign-up form or with the buttons below each printable. Simply click the button below each image to get your name on the list. You'll receive an email with download instructions shortly after you subscribe.
The downloadable pages are in pdf format and will open in a new window. Press the printer icon to send to your printer or the downward-facing arrow to download to your computer.
These pages work best on standard 8.5x11" white printer paper. An at-home printer works perfectly! If you want a more durable page, I'd recommend printing on white cardstock.
As with my other free printables, these pages are for personal use only and cannot be distributed without my permission.
Download: Free Printable Father's Day Questionnaire
Download: Free Printable All About Grandpa PDF
Download: Printable Uncle Questionnaire
Happy Father's Day! I hope these printables help you celebrate your superhero. Check out more holiday printables below.
More Free Printables
I'd love to hear how you are using these free Father's Day printables in the comments! You can also tag me on Instagram (@lambertslately) to show your completed masterpieces.