Free Teacher Favorite Things Form (Editable & Printable!)
Grab a free printable pdf of this teacher favorite things form - let the educators in your life list their favorites on the questionnaire for a quick and easy gift reference and learn all about your teacher! You can also download a free editable pdf to send to teachers.
Make Your Life Easier!
A couple of years ago, I did something I should have started doing when my daughter started preschool. Something I've made it halfway through every year of my kids being in school and wished I had done.
For the first time, I actually asked my kids' teachers a few quick questions at the beginning of the year. It made gift giving for the rest of the year a thousand times easier.
Ever been there? Ever made it to Christmas with no clue what gift card your child's teacher would actually want? Or to Teacher Appreciation Week and not know what fun snack to send?
I've been there so many (too many) times - and it could have been fixed so easily! The first time I did this, I didn't have a handy dandy printable. I just opened a new note in the notes app on my phone and jotted down a few favorites for each teacher. But, I realized this printable would make a great addition to my printable resource library.
What's in this teacher favorites questionnaire?
Use this form to ask your teacher the following:
Full Name/Monogram
Birthday
Favorite Place to Shop
Favorite Restaurant
Favorite Candy
Favorite Flower
Favorite Hot Drink
Favorite Cold Drink
Favorite Gift Card
Favorite Sports Team
Favorite Color
Favorite Snack
Favorite Hobby
School/Classroom Supplies Needed
Anything else we should know
This form is a fun way to make a great school year for your favorite teacher(s). Now, you have your teachers' favorites for bigger special occasion gifts clearly listed. You can also get to know your teacher a little bit better! Take the guesswork out of making the educators in your life feel loved.
Want more back-to-school printables? Check out this football squares game, or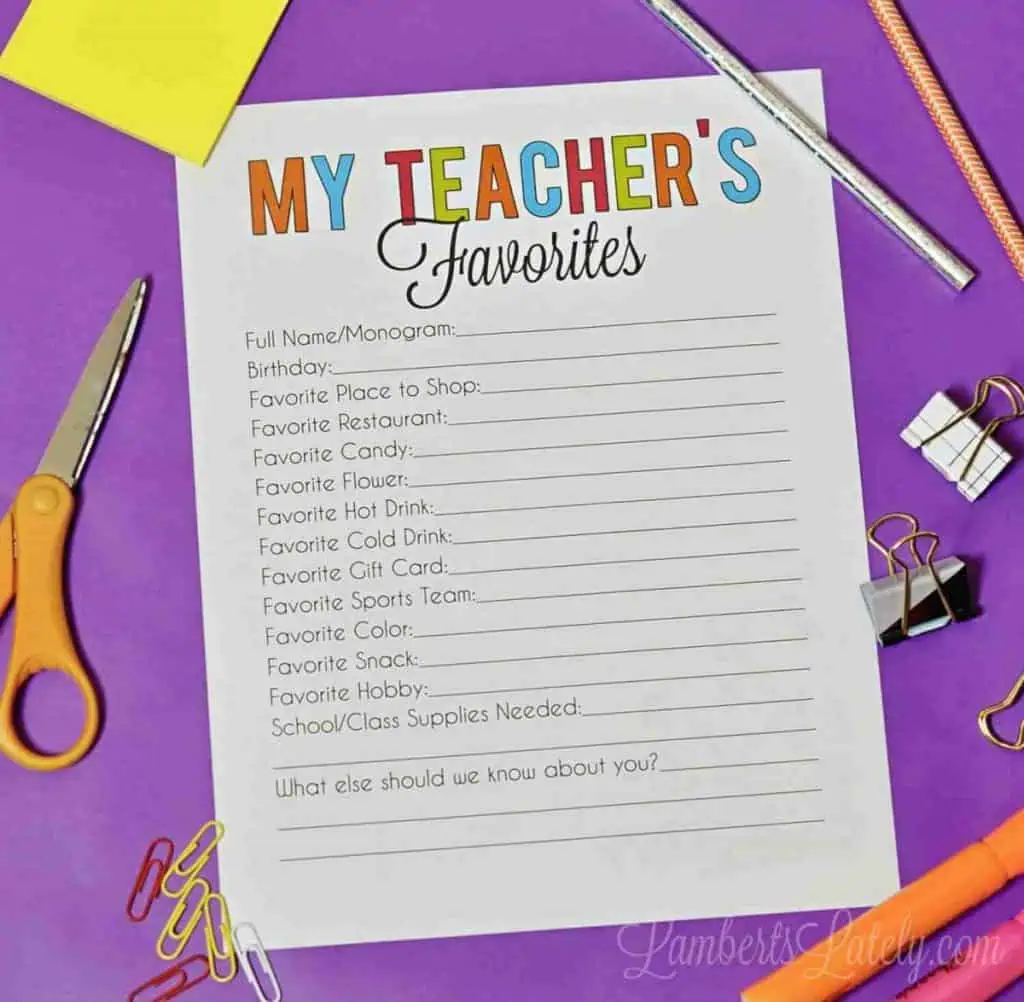 How to Download and Use This Teacher Favorites Form
Printable Version
To print, use the button at the bottom of the post to get the free download of the printable pdf. This will open in a new window. When it does, you can either press the icon that looks like a printer to print or download by pressing the downward-facing arrow.
This printable is designed to print on standard 8.5x11" paper in a regular home printer. Simply print one copy of this page for each teacher in your life and send it with your child on the first day of school.
Once your teacher fills out the printable version, scan the form into your phone's notes app so you always have it with you. This printable makes it so easy to send small treats, things your teachers actually need, and fun gifts that they will love. This is great to reference on the run!
Editable Version
More of a digital kind of person? No problem! This form can also be used without using a single sheet of paper. To download an editable version of this pdf, click the button at the bottom of the post.
Option 1: Open the file in a pdf reader program (like Adobe Reader - free to download). I recommend doing this on a desktop computer; the editing feature usually doesn't work on a mobile device. This file will open with blue boxes in each blank on the printable. Just email it to your teacher, have her fill it out, save it as a pdf, and send it back!
Option 2: You can also just send your teacher the direct link to the file that opens in the new window. No need to download anything - you can fill out the form right from a browser. When the teacher is done filling the form, have him/her download (using the downward-facing arrow in the browser). They will select the option to download with the form contents filled in. They can send that downloaded pdf file right to you.
Download the Printable Teacher Favorite Things Form
Hope you enjoy!