Free Printable Teacher Planner Template 2023 - 2024
The Ultimate Teacher Planner 2023 - 2024 edition is a huge set of free teacher planner template printables - over 30 pages of calendars, a lesson planner, a grade book page, schedule planning for week/month, & more!
I look forward to this day every year! This is my kids' first week of school (yes, in July - we're doing a semi-year-round schedule this year).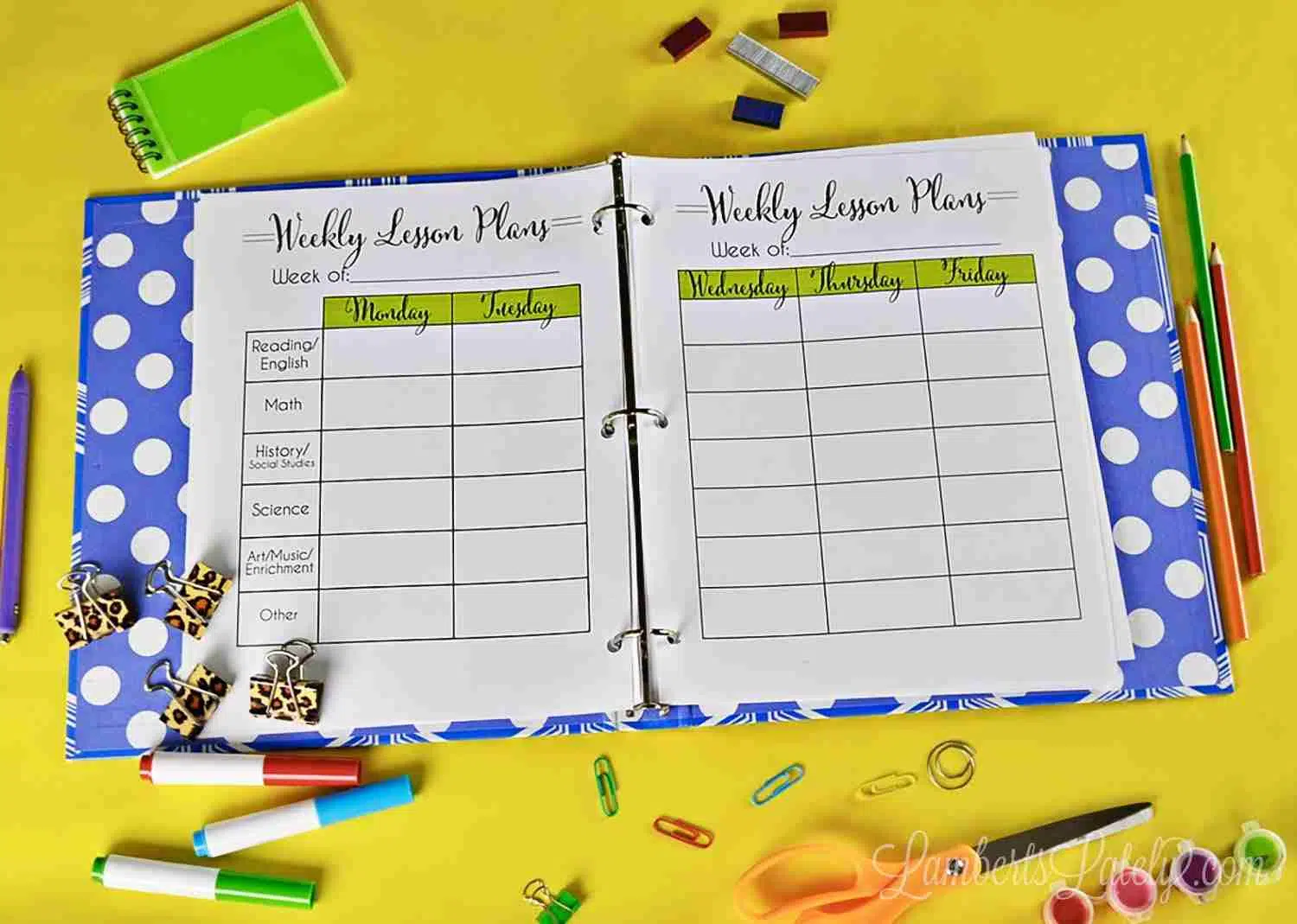 Each year, I release a collection of teacher planner printables as a kind of "gift" to teachers everywhere. I don't think it's ever been as earned as it has in the past couple of years of impossible hurdles. The least I can do (now more than ever) is help you get a little bit more organized for the upcoming school year by giving you a good planner.
This has proven to be a valuable resource for homeschool/virtual learners for the past couple of years. Whether you're operating via virtual learning or taking on the task of homeschooling yourself, having an organization method is so helpful. Most of the pages in this collection are great for homeschooling parents as well!
Many moons ago (i.e. before kids), I was a first-grade teacher. (I even still have a blog tour of my classroom.) I've always had a soft spot in my heart for teachers, especially this time of the year.
I know how difficult it is to decorate a classroom, learn the curriculum, label everything in sight, sit through countless professional development sessions, and plan for the new year. You guys do so much all of the time!
Want to check out more coordinating printables? See my printable workout calendar and time-blocking printable collections!
But, the beginning of the school year is especially challenging. So, a few years ago, I thought I'd help out just a little bit by giving you just about every teacher planner printable you'll need to organize your classroom for free. Since then, I've kept a collection of updated planners from this collection!
One of my favorite things about the teacher binder is the color coordination! This collection organizes similar pages by color. I added this feature in The Year of Intent a few years ago and users have loved it.
Because this is a digital planner, you can print copies of any given page until your heart's content.
Now, let's take a look at what you're going to get in this year's set of free teacher planner printables.
Teacher Calendar Printables
Calendar Cover Page
Class Schedule - With this, you can time block your day or show your daily class schedule in one weekly format.
Week at a Glance - This is a great way to quickly look at your responsibilities for the week. Days are outlined from 5am-8pm and these pages include goal-setting and notes sections.
Monthly Calendar - This is very similar to the one that will be in Year of Intent. The month section is blank so you can write in dates as needed. This is better for more long-term planning...great to schedule lessons from the more detailed lesson planner pages.
Lesson Planning Printables
Lesson Planning Cover
Unit Overview - Give yourself a quick peek at unit topics, their standards, and individual lessons in that unit. If you need curriculum maps, this is a great place to start.
Lesson Plan Overview - This set also includes 2 pages, giving you the space to outline each section of a lesson (including small group and independent instruction).
Weekly Teacher Lesson Planner (in both period and subject format) - The big request I had from readers a couple of years ago was a bigger lesson plan format for weekly spreads on the planning pages. Ask and you shall receive! I stretched both out to a 2-page format with more space for each day's planning. With this, you can divide your curriculum into weekly planning blocks. This is a great reference point and wonderful to have around in case you need a sub.
Small Group Lessons - Break your small group lessons down into steps, focus, and materials. Includes 2 planning sections per page. These are undated planners, not dated to one single year, so you can reuse them year after year.
Assignment Log and Homework Log - to keep track of assignments for a given lesson/unit. Definitely one of the must-haves in a teacher planner!
Student Information Pages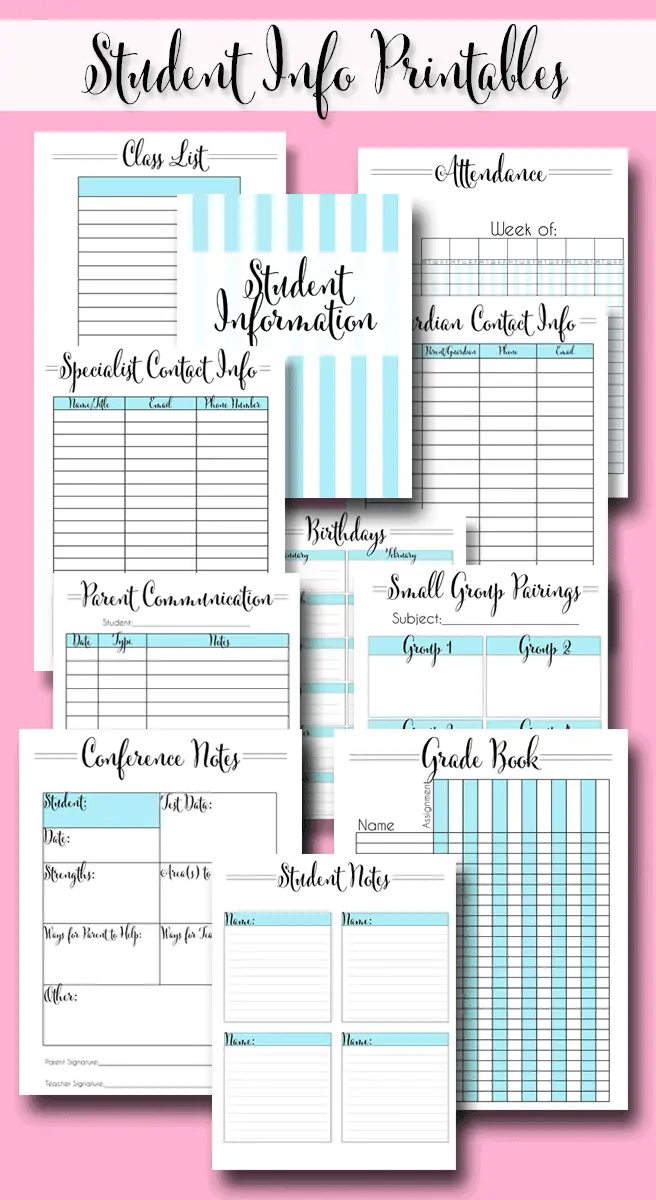 Student Info Cover
Small Group Pairings - Allows you to review pairings at a glance.
Class List - A must-have in any teacher planner - gives you plenty of room to make a quick list!
Guardian Contact Info - Also a reader request (which I can't believe I didn't think of)...this is great for those days you have to send out emails or call parents in an emergency. Contact logs are super helpful when communicating with parents!
Specialist Contact Info - This gives you a chance to write down case workers/specialized teachers as needed.
Parent Communication - Sometimes you need a detailed log of communication with parents to keep yourself accountable. One of these can be printed for each student.
Birthdays - Great for displaying in a classroom for easy birthday reference throughout the academic year!
Student Notes Pages - Need to jot down memories, behavioral trends, or likes/dislikes? This is a great reference point.
Grade Book - Plenty of room for lots of students and assignments.
Conference Notes - Make lots of copies of this one for parent/teacher conference week - it's so easy to pull one of these out before a conference for notes and student/parent accountability.
Attendance - This covers 7 weeks of attendance (so you won't need a ton of these throughout the year).
Other Printables in the 2023 - 2024 Teacher Planner
Notebook Cover Page - Bright and colorful, this is meant to organize your whole notebook.
Miscellaneous Pages Cover
Goals for This Year - This is similar to the goal planning page I have in The Year of Intent, just for teachers!
To-Do List - Make notes of to-dos, things that need to be copied, and lessons that need to be planned. There is plenty of space to have a running to-do list for weeks at a time. (See more coordinated To-Do List printables.)
Notes Pages - Keep all of those random notes in one place! Great for meetings, conferences, or even during lessons.
How to Print Your Teacher Planner
This printable is available exclusively to Lamberts Lately email list subscribers. It's free to sign up and gives you access to this and hundreds more printable pages to organize your home and your time!
These pages print on standard 8.5x11" printer paper. An at-home printer is perfect! This is the printer I currently use.
Once you get access to the printable collection via email, you'll open this file in a pdf format. From there, you can download the file by pressing the downward-facing arrow or print the file with the printer button. I recommend laminating the pages that you might use often and using a wet-erase marker on them - simply erase and reuse!
A Bright & Happy Planner To Match
And, if you like the Ultimate Teacher Planner, don't forget to check out The 2023 Year of Intent! If you like the printables in this pack, you'll love my full set of planning printables pages - it covers everything from goal setting to finances.
The calendars are even in an academic year format. Keep track of your whole life in one, pretty place! Click here for more information.
You can also check out lots of (free, coordinated) add-ons to this collection on my printable library page.
Happy school year, teachers! Show me those planners in action on social media. You can tag me @lambertslately! 📸