How to Clean Vinyl Plank Flooring (LVP Floors)
Get great tips for how to clean vinyl plank flooring, with mop, robot vacuum, and best cleaner recommendations. Learn the best way to keep up daily and weekly maintenance of LVP floors.
Affiliate links used in this post. Read more about my link usage policies.
In the fall of 2021, I was pretty much fated to be a mopping blogger. 😂
A Tik Tok I made about the results of a new mop that I had bought went viral late that year. As of this publishing date, we're at almost 17 million combined views on two versions of that video! Then, I published it on Facebook - 34 million views. It is wild that so many people want to see my dirty mop water.
Since lots of people are here looking for floor cleaning advice, I thought it might be time to update this blog post with some of the new methods I'm using to keep my Luxury Vinyl Plank flooring clean.
What is LVP flooring?
Luxury Vinyl Plank (LVP) flooring is, in my opinion, amazing. This is a type of flooring that's typically made to look like wood but is constructed with really durable vinyl. The pieces of vinyl come in longer rectangles (planks) that resemble pieces of traditional hardwood flooring. It's applied with a super sticky backer, usually directly to your subfloor.
The Pros of LVP Flooring
It's significantly less expensive than installing real hardwood flooring.
It's more durable than hardwood or even click-lock laminate flooring. We've had it for 6 years and have minimal scratching, even with kids and a dog.
It's more resistant to standing water. We have it in our bathrooms as well and haven't had a single issue.
It's softer under your feet than traditional hardwood flooring.
It's so easy to clean. You're not as limited on available cleaners and can be a little less careful with it than hardwood or click-lock laminate.
The Cons of LVP Flooring
Minor peeling and lifting around the edges can be a problem. We have a few corners coming up in the house.
Repair can be a pain. The glue that holds the planks down is super strong and not easy to remove if you need to replace a plank.
I have read fading can be a problem, but we haven't had this issue.
When I was choosing our vinyl flooring, I definitely didn't want something that was too glossy (impossible to keep streak-free), too dark (shows every piece of dirt), too light (shows every stain), or that was susceptible to water damage. We needed something incredibly durable and stain-resistant.
When we lived in an apartment after moving to Mississippi, we fell in love with the luxury vinyl tile flooring that was throughout the common areas. It was so durable, water-resistant, barely showed stains/dirt, and had a gorgeous matte finish that was super streak-resistant.
LVP was the obvious choice for our home, and as soon as our builder presented me with the Majestic Oak color by Artisan Mills, I fell in love. The color was deep enough to match our color scheme, but not too dark. We've lived in our house for almost 6 years now and still absolutely love our flooring. It's soft underfoot and incredibly water-resistant.
But, with kids and a dog in the house, there are constantly going to be spills/stains/shedding on the floor, so it's been really important to have a game plan for keeping our LVP clean. I've been using the following method for months now and it's worked fantastically well. Let's see what I've been doing!
Supplies Needed to Clean Vinyl Plank Flooring
Daily Luxury Vinyl Plank Maintenance
Dealing with Dust and Dirt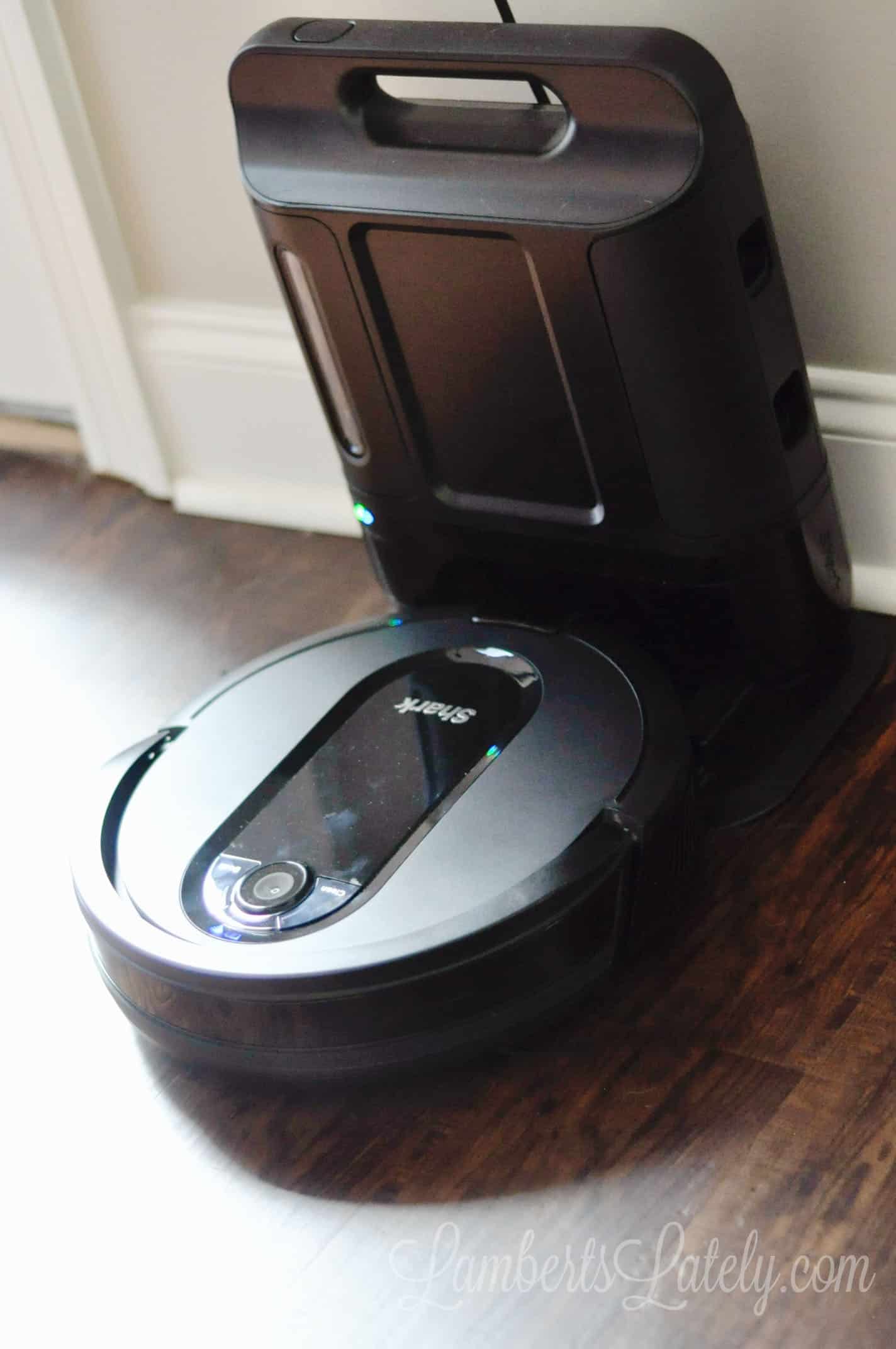 For the past 3 years, I have this robotic vacuum that runs every afternoon at 2 p.m. to keep the loose dirt and dust to a minimum.
I love it - it only requires emptying every few weeks, runs on a timer (so I literally don't even have to think about it), and even shows me specifically where it vacuumed each day in our home via a map in the app. It is really a low-maintenance way to reduce everyday dirt and dust.
Dealing with spills and stains
During my 10-minute clean-up sessions from my cleaning schedule template, I also spot clean inevitable spills with e-cloth's Deep Clean Mop (c/o). It's great to have around for quick clean-ups and general maintenance.
I don't really have a dedicated daily cleaning task for mopping. Instead, I just spot-clean as needed and try to hit the problem areas during my 10-minute cleanup.
I can typically go over a spot once or twice with this microfiber mop (with very little elbow grease) and remove any spots on the floor. If there's a really stubborn spot that won't quite come out with a few scrubs, I've found it effective to put my foot on top of the e-cloth cleaning pad and really press down into the stain. I haven't met a stain yet that didn't come up with that little bit of effort!
It uses water (yes, just water!) to clean germs from the floor. The company claims this removes 99% of harmful bacteria (I've always been a little skeptical of that, though). Once I'm through with mopping, I can simply throw the microfiber pad in the washer.
The name of the game for daily cleaning is maintenance. You're not looking to get it perfect each day - just attempt to maintain the cleaning you've already done.
How to Deep Clean Vinyl Plank Flooring (Weekly)
In my cleaning system, Journey to Clean, I detail the need to vacuum once a week...that's still something I do, even though my robot vacuum has almost eliminated the need to do it thoroughly each time. So, I get to skimp on that task a little.
Thorough Vacuuming
I still vacuum on Thursdays (yes, even the LVP). I like to divide my home in half, vacuuming one half one week and the other half the next. Your mileage may vary...if you need to do the whole house weekly, go for it.
This is the updated version of the vacuum I use for my weekly vacuuming. This cleaning day is probably the longest of any daily cleaning task in the week, but it's necessary. I'm not huge on sweeping, but I do sweep underneath cabinets and furniture with a broom first. With any kind of harder flooring, dust has a tendency to settle in those places.
Weekly Mopping
Once I'm through vacuuming on Thursdays, I use the O-Cedar Spin Mop on the hard surfaces in our home, including the tile in our upstairs bathrooms and the LVP that runs throughout our first floor. Unlike the spot cleaning I do throughout the week, I get everywhere possible during this run.
Best Cleaner for LVP Floors
As far as what cleaning formulas I use to clean my floor - that's where it gets a little complicated. 🙂
In 2022, I spent months researching the best mopping formulas over on Tik Tok - you can check those videos out at that link, or see the best mopping solutions I found in this one big round-up post!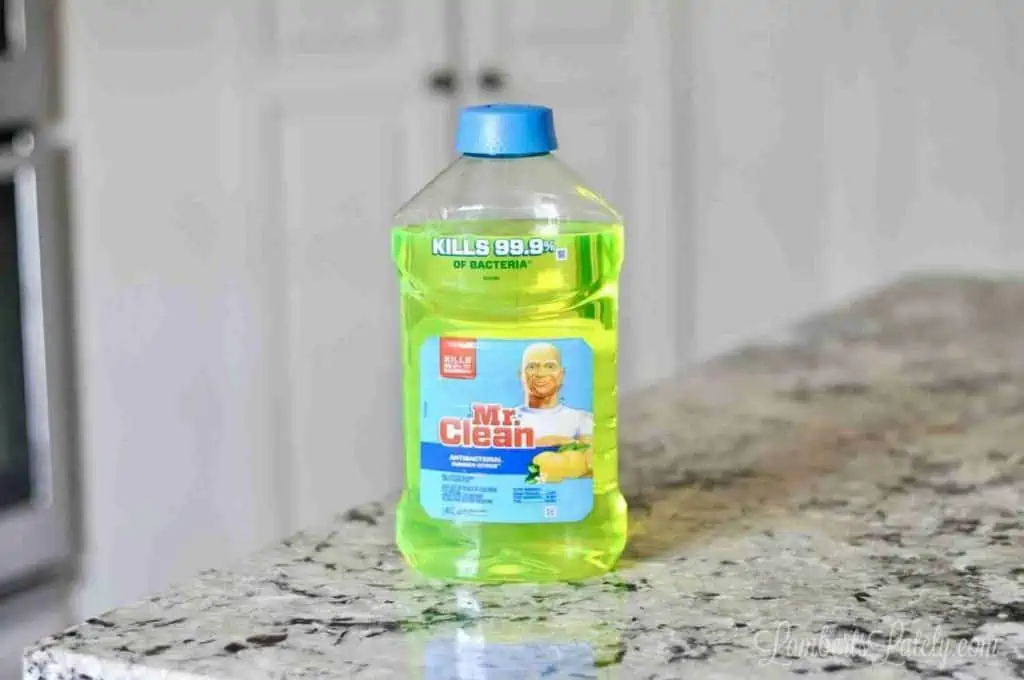 But, I'll go on and put a spoiler in this post. After trying over a dozen different cleaning solutions, plain old All-Purpose Mr. Clean ended up being the best. It's one of those situations where there's no point in reinventing the wheel. If it works, it works!
What Not To Do With Vinyl Plank Flooring
Unless recommended by the manufacturer, there's no need to wax vinyl flooring! The wax can build up and not only reduce the shine, but actually damage the flooring.
Don't use anything too abrasive on your floors. No Soft Scrub, baking soda, abrasive brushes or steel wool - these can take the shine off of your floor permanently and ruin any wood texture you see.
Be careful with really harsh chemicals in floor cleaners. Cleaners like undiluted bleach or ammonia can break down the glue that secures your vinyl flooring.
Also be very careful mixing different floor cleaners. Many chemicals don't play well together and can be really dangerous. For example, mixing bleach and ammonia creates mustard gas. When in doubt, don't do it!
More LVP Floor Cleaning Tips
Make sure to clean under area rugs and doormats once a month or so. Any harder particles (like sand) can get trapped under rugs and damage the LVP flooring over time.
Stubborn scuffs can be removed from vinyl flooring with oil. Try using about a teaspoon of olive oil or Goo Gone to buff any scratches out of the floor. Just make sure to clean your flooring thoroughly afterward to avoid slippery spots.
Make sure all furniture that comes in contact with your LVP flooring has soft pads or rubber casters. Dollar Tree has these floor protectors and they work wonderfully! Otherwise, moving furniture will scuff the flooring.
And that's it! It's not a super complicated method for keeping floors clean, but it's shown to be incredibly effective, especially when you stay on a schedule (hint hint: you can get a free cleaning schedule printable on the blog).
Luxury Vinyl Plank Cleaning FAQs
Any other tips or tricks for how to clean luxury vinyl plank? I'd love to hear them - leave a comment and let me know!