How to Hem Curtains Using Iron-On Hemming Tape
See how to hem curtains to the perfect length without sewing to make the windows in your home look beautiful! This easy guide shows how you can use iron-on hemming tape to shorten curtains.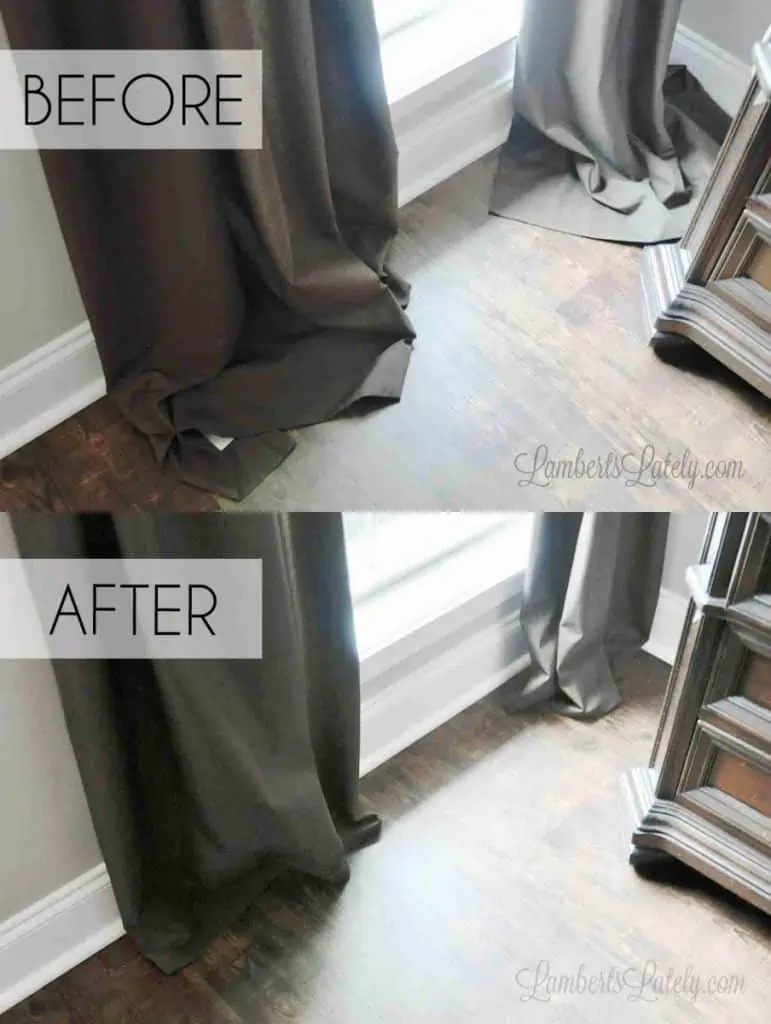 Affiliate links used in this post. Read more about my link usage policies.
I'm sure we all have those projects on the old to-do list that seem to stay there forever. I try to keep a running list of projects I need to get done around my home - and hemming our living and bedroom curtains had been on there for years.
I don't mind long curtains. As a matter of fact, I love the look of curtains just barely pooling on a floor. But these were out of control.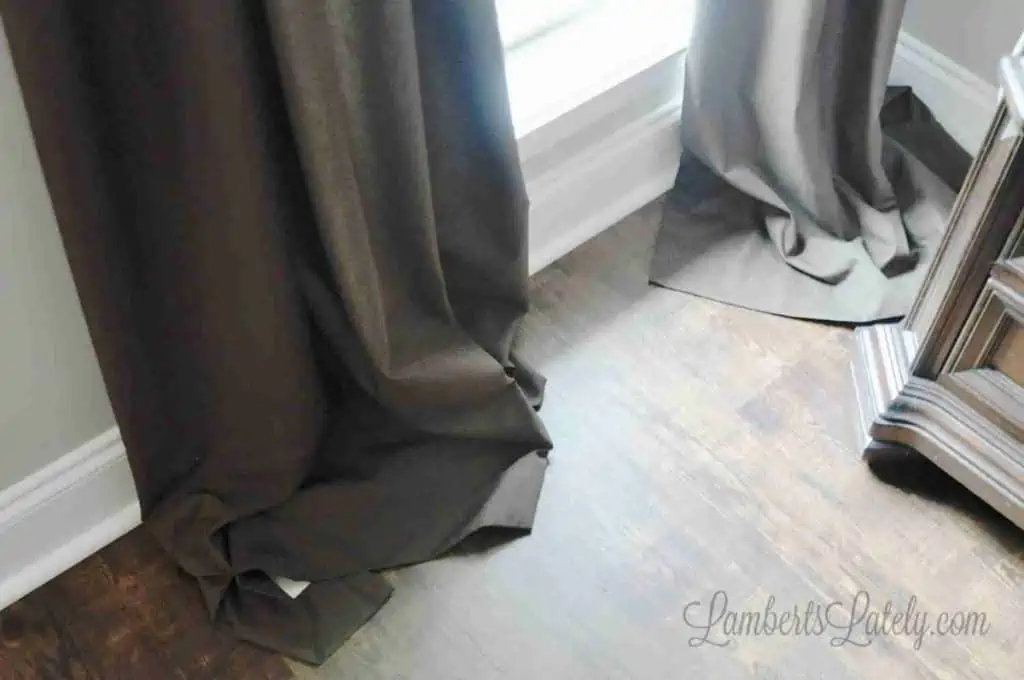 It was almost comical. The white liner constantly showed because the extra on the floor was so extreme. They were so long that our robot vacuum would always catch them.
So when I had a Saturday at home alone to kind of catch up on random projects, this was at the top of the list.
Why should I hem curtains this way?
For this project, I chose to go with a no-sew method. Instead of sewing the hems with thread, I used iron-on hem tape.
I own a sewing machine and absolutely could have hemmed my curtains the traditional way - but I'm going for easy here. Instead of having to measure, fold, iron, pin, and sew each hem, I reduced the steps and supplies needed. This method probably saved me hours over the traditional sewed hems.
In my opinion, it's also prettier! There aren't any visible stitches at the bottom of the curtains, making for a cleaner and more seamless (pun totally intended) hem. And, as long as it's applied properly, hem tape is more durable than stitches.
Tape measure or ruler
Cutting Mat, Quilting Ruler, and Rotary Cutter (Note: regular, sharp scissors work if you don't have these; you'll just need to measure and make sure your cuts are straight. These make it much easier!)
Iron & Ironing Board
Step-by-Step Instructions
Step 1: Measure the amount of hemming & cutting needed.
First, hang curtains and measure the amount of excess material you need to cut off of the bottom edge of the curtain before hemming.
Like I said above, I prefer my own curtains to just drape the teeniest bit on the floor, so I tried to leave about 3 extra inches past where the curtain first hits the floor. I think this is the perfect length for curtains, but your mileage may vary.
You can see above that there are 8 total inches from where the curtains first touch the floor to the end of the curtains - meaning I needed to cut 5 inches off.
Want your curtains to just barely touch the floor? Leave only about 1.5 inches. This gives you a 1" seam allowance plus a little bit of extra to work with.
(Liking this tutorial so far? You'll also love my Faux Crown Molding and Blanket Ladder tutorials!)
Step 2: Cut straight across the curtain panel.
You can do this part without a cutting mat/quilting ruler/rotary cutter, but the combo makes this process ten times easier. (Plus, I use these all the time for other crafts, like my t-shirt quilt. I recommend having them!)
Simply lay the curtain panel on the quilting mat, lining up straight across using the guides on the mat. Then, line the quilting ruler straight using the guides and measure what you needed to cut off from step 1. Use the rotary cutter to cut off the amount of excess curtain you measured before.
You will probably have to do this part in small sections to get all the way across the curtain panel. Just go slowly, making sure your curtains and ruler are lined up each time.
Remember, you need to have about 3 excess inches from where the curtain first hits the floor to make your curtains look like mine.
No mat/ruler/cutter? No problem!
To do this part with just scissors, take your measurement number from step 1 and divide it by 2. (In my case, this result would be 2.5") Measure that distance from the bottom of your curtain panel and mark the spot with a pencil.
Fold the curtain fabric up at that pencil line and pin. Then, carefully, use scissors to cut all the way across at the spot where the fabric bottom now lands.
Step 3: Apply iron-on hemming tape.
Now that the excess is cut off, break out the hem tape and iron. My curtains are pretty heavy, so I used ⅝" iron-on tape with great success.
Use the medium setting (with no steam) on your iron to apply the tape (sticky side down) onto the raw edge of the back/bottom of the curtain. You'll need to really press in with the iron and go slowly with this step.
There should be the tiniest bit of excess fabric below the hem tape (under ¼").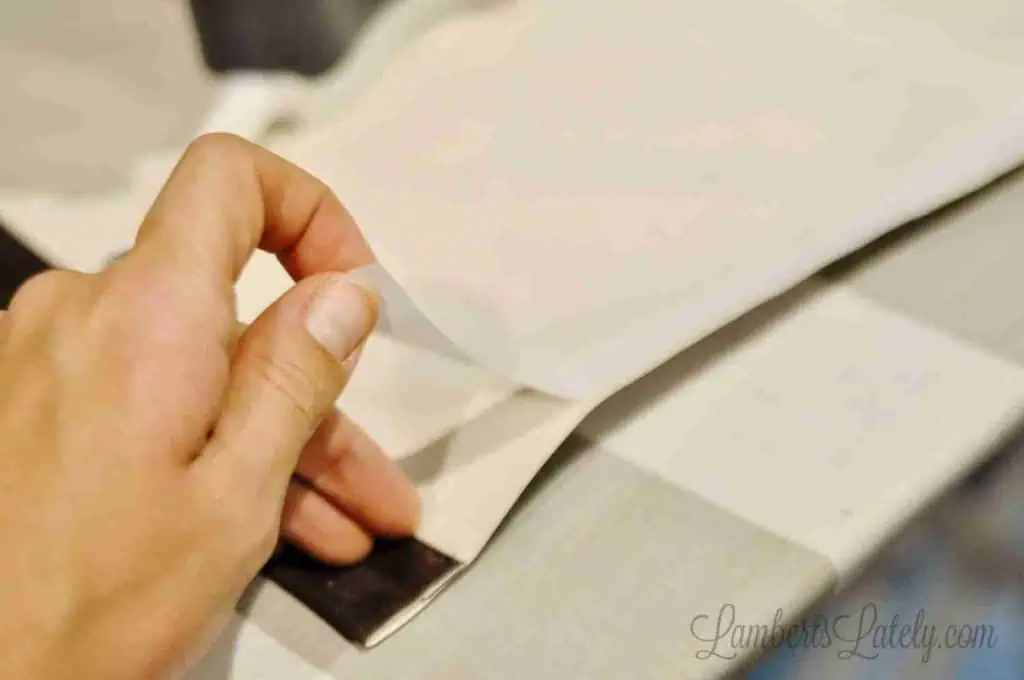 Then, take the paper backing off of the top of the tape. You should have a clear residue that remains stuck to the curtain.
Step 4: Fold the hem and iron.
After applying the hem tape to the bottom of the curtain, measure 1" of the raw edge and fold up, basically making a sandwich with the layers of fabric on the outside and the hem tape in the middle.
Turn the heat on the iron almost all the way up (for polyester curtains - might vary with other materials) and begin to iron that seam down. Slowly go over the entire edge. In this step, you're fusing the fabric by melting the hem tape to hold that folded-up hem in place.
Again, you'll want to press down with your iron and go slowly. It takes a few seconds for that hem tape to melt enough to stick. And, remember: no steam!
As an added bonus, this step irons down the crease at the bottom of the hem, making for a really nice, crisp bottom edge.
Every foot or so I like to measure and make sure my seam stays at about 1". If it gets a little off, it shouldn't be super noticeable, but try to stay as close to that 1" seam as possible.
Step 5: Finish the fabric corners.
One last step! Once you get to the end of your curtain seam, there will probably be a little bit of an edge poking out from each side. Use your fabric shears to cut it down at an angle, just so it doesn't hang out from the back of the curtain.
You'll never see the back of the curtain, but this will make sure there isn't any overhang on the ends.
Final Result
As you can see above, this length gives you the perfect little pool of curtain that's hitting the floor. If you want curtains to just brush the floor, I'd go with closer to a 1-1.5" excess in that first step.
Remember: it's better to go longer and take off extra if needed. You can always re-hem, but you can't add back once it's gone.
More Useful Tips
Make sure any cutting device you use is sharp! This will ensure straight, neat edges with no fraying ends.
When measuring in step 1, hang the curtains on the curtain rod as they will be after your project. This will help you get the most accurate measurement.
Don't just assume each curtain panel will need the same amount of adjustment. Measure the bottom of each panel you'll be hemming to see what needs to be cut off.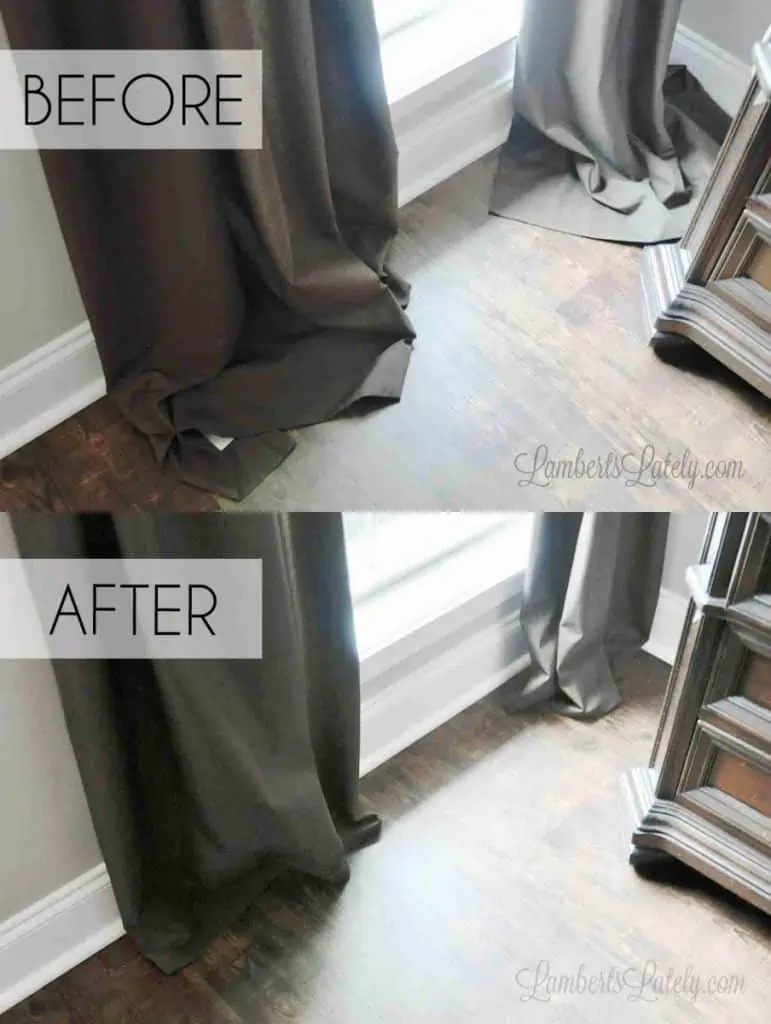 If you've been putting this project off, trust me, it's not complicated! You don't have to know how to sew a thing to know how to hem curtains this way.
Have you used hem tape to hem curtains in your home? I'd love to see your results! Tag me on social media 📸 @lambertslately with your results. You can also let me know how it went in the comments. 💭