How to Paint Laminate Furniture with Spray Paint
Give your laminate furniture new life! See how to paint laminate furniture the easy way, with spray paint chalk paint. This method even works for cheap furniture.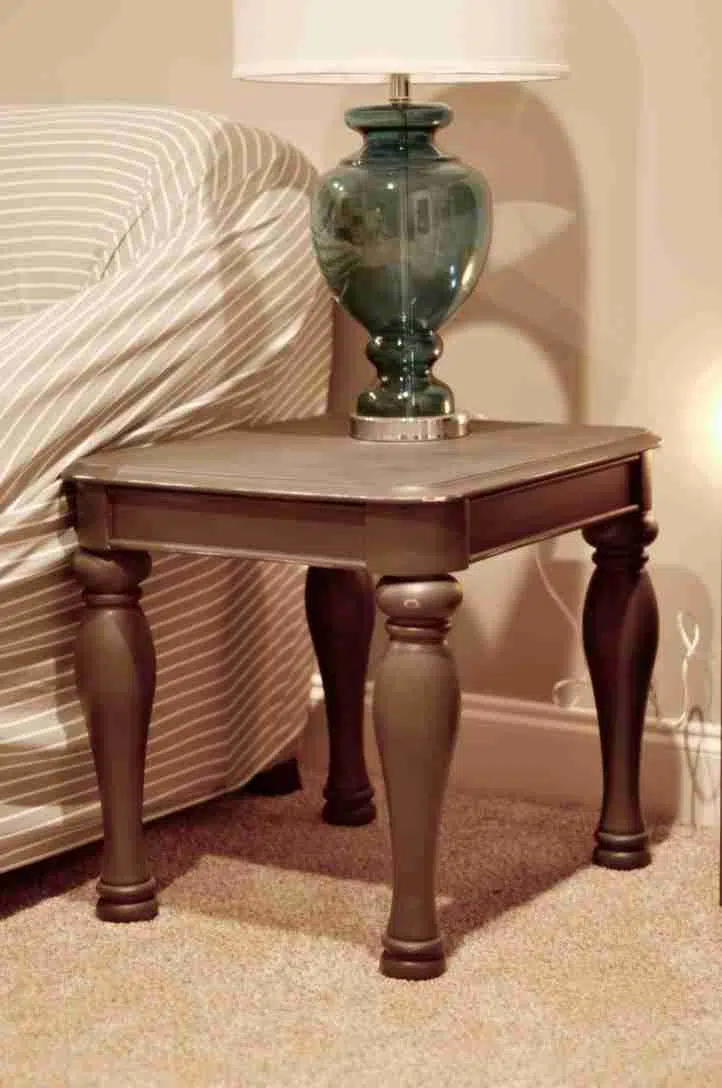 Affiliate links used in this post. Read more about my link usage policies.
This old table's seen some things.
This guy (and his twin) have been in our home basically since we've had a home. They were our living room end tables for years. When we moved into our current home, they retired to the playroom.
But the problem: that chipped, brown wood veneer finish didn't match what we had going in the playroom at all. I wanted to give them new life. There was nothing wrong with the actual tables, besides being worn and a little dated. They just needed some TLC!
I loved the idea of painting furniture using chalk paint. I've used it in past projects, and it's both gorgeous and durable. The problem is that it doesn't exactly go on smoothly without a lot of work. I wanted to find an easier way to apply it this time, since I was redoing these 2 tables, a coffee table, a bookshelf, and an entertainment center.
I was in need of a quicker, more streamlined way to apply it, and I definitely think I found just that! Let's see how to paint laminate furniture to give old, worn items a makeover.
How to Paint Laminate Furniture
Step 1: Clean the surface of the laminate.
One of the keys to painting laminate furniture is to start with a flat, clean surface. Wipe down the entire piece with a damp washcloth to remove any stuck-on grease, gunk, or grime. Make sure it is completely dry before moving on.
Step 2: Sand all surfaces.
Once the end table was clean, it was even more obvious that there was some damage that had to be addressed before any painting started. The laminate had started chipping & peeling at the top and there were a few bubbles from water damage.
I know sanding isn't all that fun, but it really is necessary for this project. Light sanding makes sure the paint can adhere to the smooth laminate surface properly. It also knocks out any little imperfections before painting, ensuring that damage won't show through the paint.
I used medium-grit sandpaper (220 grit wrapped around a sanding block) to go over the whole piece, really concentrating on the uneven parts.
After cleaning the table of any sanding dust, I did the "hand test" to see if there were any uneven spots. Just rub your hand over the top with your hand to feel for places that still need to be sanded. I had to do this process a couple of times to get it perfectly smooth. I'd really recommend this - uneven chips & dings will show through your paint if you don't get it smooth!
Having a cute helper for this step is totally optional. 😉 (I originally published this post in 2017 - that little stinker is 7 now!)
Step 3: Prime.
Once the surface of the piece is nice and even, I used the absolute key to getting this process to work - Zinsser Bulls Eye 1-2-3 Primer Spray.
This is a must-have if you're trying to paint laminate furniture of any kind. It's an oil-based primer that gives the surface a little bit of a grip. This guarantees adhesion to almost any paint, but works especially well for chalk paint. If needed, it's incredibly easy to distress the piece later with this primer.
The primer coat doesn't have to be even by any means. It's ok if you see the original surface through the primer, just as long as there is a thin layer. Make sure to spray this at least a foot away from the piece and move the can quickly and evenly so you don't get clumps of primer.
This coat of primer doesn't need a super long time to dry - maybe an hour or two. I used about a can per medium-sized piece of laminate furniture.
Step 4: Spray paint with chalk paint.
After the primer dries, it's time to paint!
I would highly recommend spray paint for this step. It eliminates the look of brush strokes on your piece and helps get in those nooks and crannies of furniture. As long as it's applied properly, no one will ever know your paint came from a can.
I used and love the Rust-Oleum Chalked Spray Chalk Paint. This is an oil-based matte paint that is incredibly forgiving and covers beautifully. I used the Charcoal color; it's a super pretty dark gray that looks great with our playroom colors.
It took 2 coats to completely cover one table (using most of a can of chalk paint). The first coat of paint should completely cover the piece. The second coat should be used sparingly, just to cover any remaining exposed laminate.
Again, make sure your nozzle is about a foot away from the piece and you move the can in quick, even strokes. I found it helpful to have a small sponge brush or small foam roller on hand to smooth out clumps of paint before they dried.
Step 5: Distress.
After letting those two coats dry for a few hours each, I did a little bit of distressing to the piece. This step is totally optional, but if you want that worn, rustic look, go for it!
It doesn't take much sanding to distress chalk-painted furniture. Using a 120-grit sandpaper, I just did a few light strokes around the edges. Depending on how much pressure you apply, you might either get a peek of the primer or the original finish (which were both really pretty with the color I chose).
Step 6: Seal.
After distressing, your final step is to seal your piece.
I've tried wax before and it was an absolute disaster. I've found it to be really fussy and not quite as effective as the sealant I used. I've used Minwax Polycrylic in the past for our kitchen table refinish and absolutely loved it. It's held up incredibly well. I was thrilled to find the same polycyclic in a spray too!
One tip I'd give when using this is to make sure your finger isn't in the way of the nozzle. I made this mistake for the first few minutes and ended up with lots of bubbles of sealant on my piece. If that happens, using the sponge brush to smooth it out does help.
I gave my table 2 good coats of this, but if it's going to be in a high-traffic area (like a dining table or coffee table), I'd recommend more.
Before and After
So let's take a look at what I started with...
...and the after!
It's like a totally different table. This one has now been in our playroom (a pretty high-traffic) area for 5 years and has almost no wear and tear or paint peels at all. I've been so impressed with how durable this paint job is.
Other Laminate Furniture Painting Tips
If there are any drawers or shelves in your piece, like a laminate dresser, remove them prior to starting this project. They need to be treated as separate items when painting.
This type of painting can be done on real wood as well. You'll need to follow basically the same process.
I've seen lots of discussion on whether or not this can be done on Ikea furniture. It absolutely can! Many Ikea pieces are just laminate over mdf, so follow this tutorial and you can change it to any color of chalk paint you'd like. (I love using Ikea Billy Bookcases in our home; see more of these with our built-ins.)
If there are any stains on your laminate piece, you might want to give them an extra little bit of sanding. Also, consider your chalk paint color if you have stains; lighter colors might not cover those up as well.
I don't recommend using a water-based or latex paint for this project. Those paints tend to peel much easier, which isn't ideal on furniture.
Refinishing a whole room of furniture was as easy as that! You can't beat refinishing 5 separate pieces in just a couple of days.