How to Make a $20 DIY Blanket Ladder
Find out how to make an inexpensive DIY Blanket Ladder with simple 2x4 cuts of wood! This is the perfect rustic piece to complement farmhouse decor. Post includes free plans and step by step instructions.
Affiliate links used in this post. Read more about my link usage policies.
Let me introduce you to the absolute easiest, most inexpensive DIY project you'll see all day. I'm telling you, it doesn't get much more simple than this.
If you want to try a woodworking project but you're a beginner, this is a great one to start with. And the best part? You'll probably spend around $20 for the supplies to complete this gorgeous, rustic blanket ladder!
The Inspiration
We had a wall in our bedroom that was just empty looking...and it had me stumped. I didn't think a picture would look quite right (it's right next to our mounted TV), and I didn't think a cabinet would look right either (it's right next to an entertainment hutch too).
Not long ago, I stumbled upon a gorgeous blanket ladder on Etsy and fell in love! However, I loved the look, not the price. I knew this would be an incredibly simple weekend project for Noah and me and couldn't justify spending $100 (plus shipping) on one, so I thought I'd take on the blanket ladder DIY project myself.
It ended up being such an easy DIY project! Trust me, this isn't complicated. If you can cut wood and screw it together, you can do this.
Step by Step Tutorial: How to Make a DIY Blanket Ladder
3 8' 2x4" studs (usually just a few dollars each at home supply stores)
hammer, larger screw, and flat-head screwdriver for distressing wood
a power drill and 20 3" self-tapping wood screws
drop cloth
stain (I used Minwax Dark Walnut...my favorite!)
old rags, towels, or scrap pieces of fabric that you're willing to throw away
polyurethane (this is my favorite) - note: you're going to use maybe 8oz of both the stain and polyurethane, so get the smallest container you can find [usually ½ pint]...if you get a bigger one, it can always be saved for another project.
NOTE: this ladder is not meant to be for climbing - only blanket storage. Please don't hurt yourself by using this to climb something!
Step 1: Distress 2x4 cuts of wood
(Excuse the mess that is my garage throughout this post. We were working on this while we had a hurricane threat, so eeeverything in my backyard had to be stored).
Start with 3 8' 2x4's...any wood will do, mine were just plain whitewood.
We're going to start off by beating the absolute snot out of them. 😉 This will give the wood a distressed, worn look that really makes the stain pop later on.
Use a larger screw to scrape sideways across the wood.
The screwdriver is good for giving the wood sections of marks...these really look great when stained.
And, using a hammer, give the wood larger pock marks. I did these in little bunches.
Step 2: Make the wood cuts
Next, make your cuts. For my ladder, I made the ends 72" and the ladder rungs 18", just to keep it simple. So, you'll need two 72" pieces and five 18" pieces.
The ladder rungs will be straight 90 degree cuts at the ends. I wanted the ladder to lean up against the wall (but still have feet flat on the floor), so I cut each end of the 72" pieces at 6 degree angles so it would lean slightly against the wall.
Just make sure you cut each end of the 72" pieces with the angle facing the same way. That way, the ladder will sit flat on the floor and the top will be flat when leaning against the wall. Of course, a miter saw is pretty much required to make these cuts.
Step 3: Finish off corners
To give the wood even more of a distressed/old look, I took the sharp edge off of each corner. This is easily done with a smaller hand sander. While you have it out, you can also lightly sand off any stamps from the 2x4s so they don't show on the final product.
Step 4: Use wood screws to attach side and rungs
Now, it's time to assemble! To attach the ladder rungs, I put them in at an angle, with two of the opposite corners of the rung touching each end of the side. It's hard to explain...easier to look at the picture above. 🙂 This made sure the blankets lie nice and flat but still have some dimension to them.
I left a 5" gap at the top and spaced the rungs out 12" each.
Go down the ladder with a measuring tape (making sure your 6 degree angle is slanted towards you at the top of the 72" piece) and mark off your measurements. I put the top back corner of each rung piece at each mark I made down the ladder.
Position your top rung in the right place for drilling and use the other rungs to hold up the side piece...they don't have to be perfectly in place yet.
Note: at this point, you could use wood glue to tack the rungs in place, then drill later. We skipped this step...it just wasn't really necessary.
Use 2 self-tapping screws on each rung side, through the 72" end piece and into the rungs. You could always use non-tapping screws if you have them on hand, but it's kind of a pain to have to drill pilot holes for each hole then go back and put the screws in. Self-tapping made it so much easier!
Once your first rung is in place, position the second rung and power drill in the 2 screws. Keep going until all 5 rungs are in place on the one side piece.
Then, flip it, position your second side piece (making sure the sides line up perfectly), and add 2 screws to each rung over there as well. Make sure you don't mistake the top and bottom angles of the ladder before attaching! All angles should slant the same way.
Step 5: Patch screw holes
I made sure to drill the screws in a little past the wood so I could fill the holes and leave no screws showing. I used this wood filler to do that.
Simply patch your holes (I used a putty knife, but you could totally just dab a little in with your finger), allow it to dry...
...and sand the patched holes down. Easy as that.
Step 6: Stain the finished blanket ladder
Now the really fun part...staining! This is where you get to see all of those pretty marks you made on the wood earlier.
For this, my go-to is Minwax Dark Walnut Stain. I used it on our farmhouse table and our outdoor sectional. It's a super versatile wood stain (can go anywhere from a really dark, almost painted look to a lighter, but deeper stain) and is so pretty with so many home decor colors.
You'll also need a sponge brush (I like using these because your brush gets so yucky with wood stain - you can just throw them away after using it), a drop cloth, and an old rag that can be thrown away after use. I saved the leftover pieces from my DIY T-shirt Quilt and just use those as needed. You also might want some gloves if you have them on hand.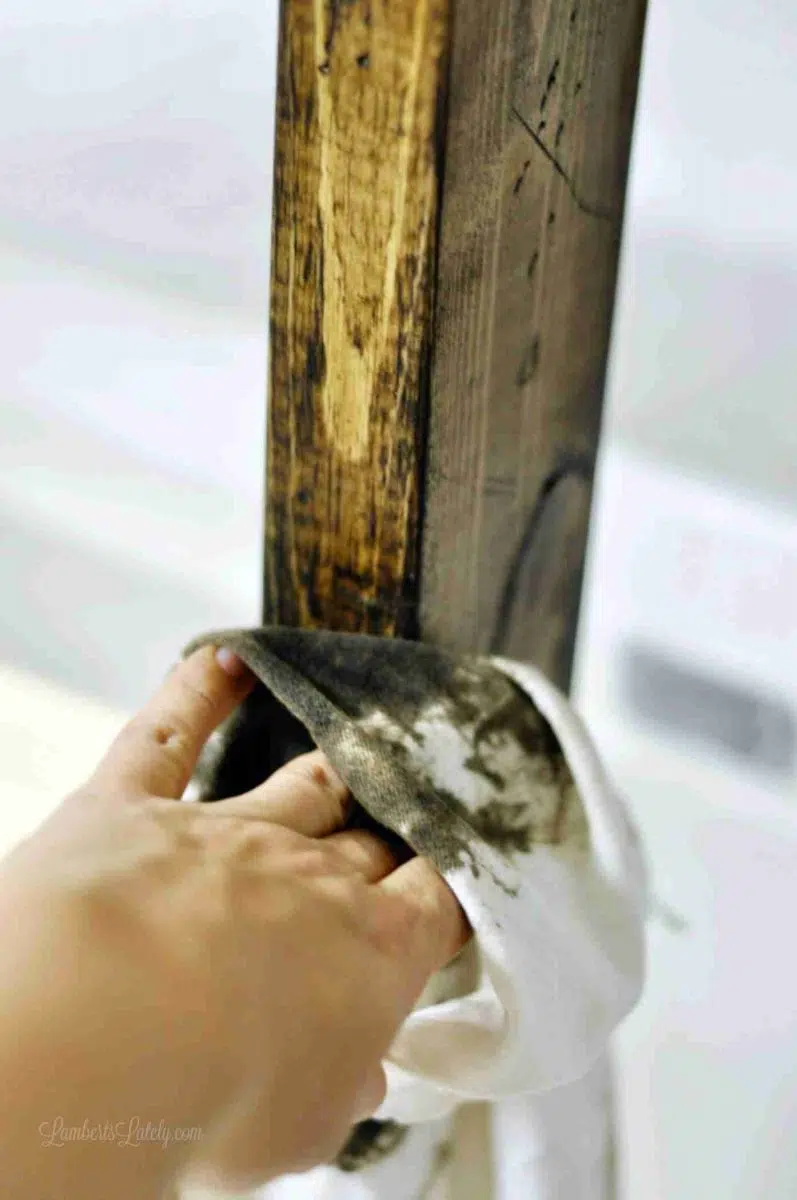 Use the sponge brush to brush on just enough stain on to coat the wood, let it set for a minute or two, and wipe off the excess with your old rag. You can leave it longer if you want a darker look, but I really wanted the distressed marks to stand out on this one.
It's best to work in sections so your stain doesn't get too dark. I did maybe ⅕ of the ladder at a time then wiped it off.
Let the stain dry overnight, then apply 1-2 coats of a polyurethane to the ladder to protect it. This is my go-to and has proven to be incredibly durable over the years! Make sure you apply polyurethane to the tops and bottoms too.
Finished Product
Easy as that! This little weekend project turned out to be so perfect for this space in our bedroom. I did add a couple of little non-skid tabs to the bottom of my ladder to give my floor a little extra protection - you can get these at the Dollar Store.
The distressing gives it just the perfect little amount of character. In addition to being so pretty, it's actually really functional - we were able to replace a storage ottoman that was taking up space in our bedroom with this. We now display everything from quilts to throw blankets on this ladder, and everyone in the family knows where to find a blanket when needed.
Got to love when you can combine functional and beautiful!
Thanks so much for stopping by today! See a few more of my favorite DIYs below.