How to Install DIY Faux Crown Molding
Check out this easy DIY for how to make existing crown molding look thick! Simply install additional trim molding and use a faux painting trick to make simple moulding look expensive.
Affiliate links used in this post. Read more about my link usage policies.
I just love a fake-out DIY - you know, the kind that looks really difficult but is actually so easy to do? That's exactly what I've got for you today!
From the time we started building our home, I wanted really thick, beautiful crown molding throughout the first floor. I have always loved the look and thought it added the perfect accent to a bigger room. But, I let my builder (and our budget) talk me out of it - it was one of those things that would be easy to do later if needed, so we went with standard crown molding throughout the first floor instead to save room in the budget.
We're now three years into living in our home - and I'm just now getting around to putting in the thick crown molding I've wanted from day 1. I think that, if I had known how easy DIY faux crown molding was to install, I would have done it as soon as we moved in! Doing a whole room of crown molding "beef-up" only took a few hours (spread out over a few days).
The final results of this DIY faux crown molding project are more beautiful than I even pictured. I smile every time I walk by our dining room now - and I'm totally planning on doing this in our bedroom (and possibly the living room) as well now! Let's take a look at how easy (and inexpensive) this upgrade can be.
How to Install DIY Faux Crown Molding
Step 1: Buy your supplies.
Here's what you'll need for this project:
Thin bottom molding (I can't find the particular style we used for some reason - it's from Lowe's, and it was 1 ⅛" thick and 8ft long. You can use many different types for this; just make sure the back is flat instead of angled on the back like traditional crown molding.) For our 11x12' room, we needed 7 pieces.
Miter saw
Interior caulk/caulk gun
Trim paint (most builders leave behind extra trim paint after building; check your garage before buying new paint!) Our trim paint is Snowbound by Sherwin Williams in a semi-gloss finish.
Thin trim brush
A 1 to 2' scrap of 1x2" wood
Pneumatic nail gun (This can be done with standard nail/hammer - but I recommend the nail gun for ease and minimal molding damage.)
Phillips screwdriver/hammer
Step 2: Cut angles and attach bottom molding.
First off, the easiest and probably most effective part of this whole project: actually adding the width to your molding. (This post assumes you already have some kind of molding installed; if not, this project be done without, it just won't have the same finished effect.)
Simply take a piece of bottom molding and cut a 45 degree angle in either side. One side will need to be cut to go into a corner (so the angle will be facing you when you cut), but the other side's angle can really go either way.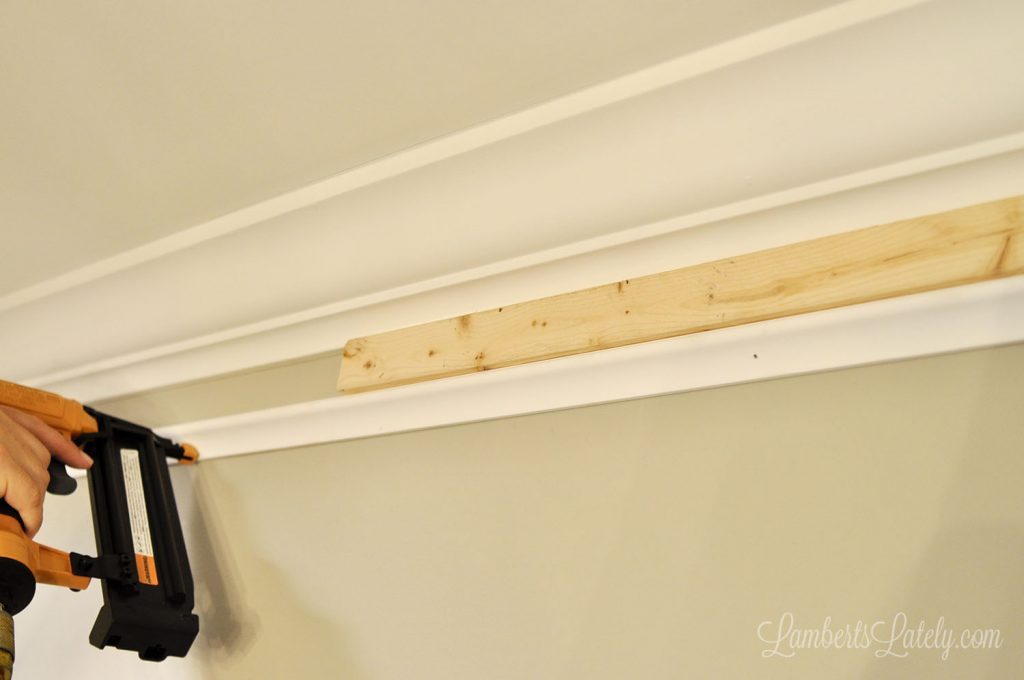 Position the corner side snugly in the corner of your wall and use a piece of 1x2" wood to create an even gap between the bottom of your existing molding and the new molding. Really, any size board can be used to create the gap; it's kind of a personal preference, but I thought the gap this created was substantial without being overdone.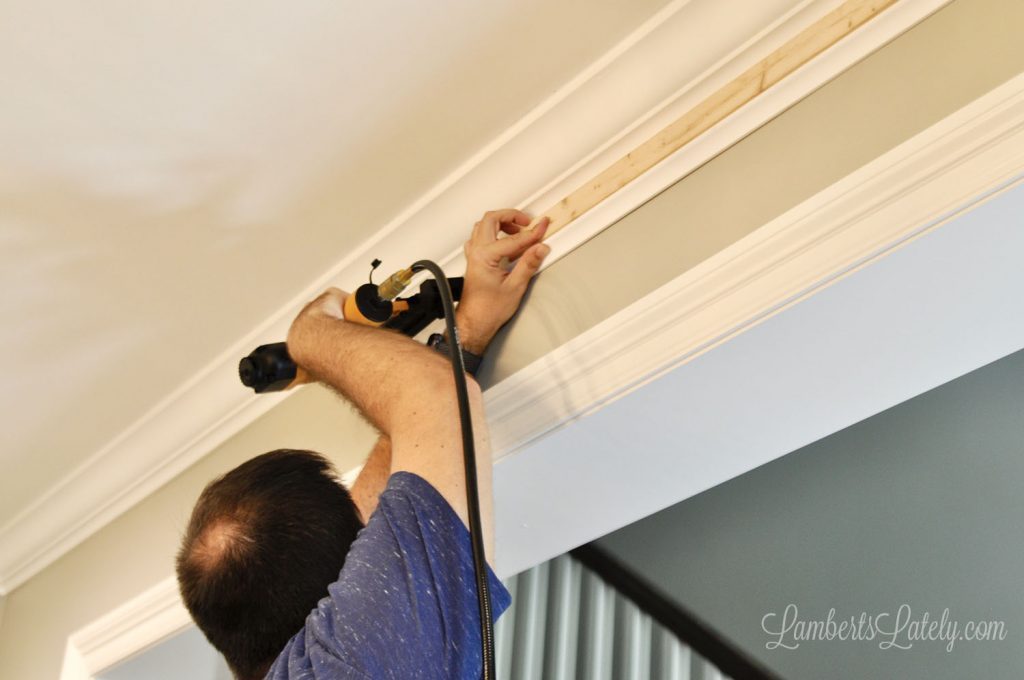 Hold up the scrap wood just to get your molding in place; put a couple of nails in to align the molding correctly, then remove the wood scrap and finish nailing in place. Sometimes the scrap can kind of get stuck if you put too many nails in before removing it.
Depending on the size of the wall and the size of your molding piece, you'll more than likely need to add more than one piece per wall. Remember that angle we put on the second side of the molding? Measure from the opposite corner of your wall to the longest edge of where you'll need to cut the next piece. When in doubt, go with the longer measurement; you can always make a second cut to size it down if needed.
Make note of how that 45 degree angle will need to face - if your angle faces the wall (like the one you see above), cut a 45 degree angle that faces you to fit into that space, like a puzzle. Cut an angle in the other end of your molding to complement the corner of the wall (so, more than likely, facing out).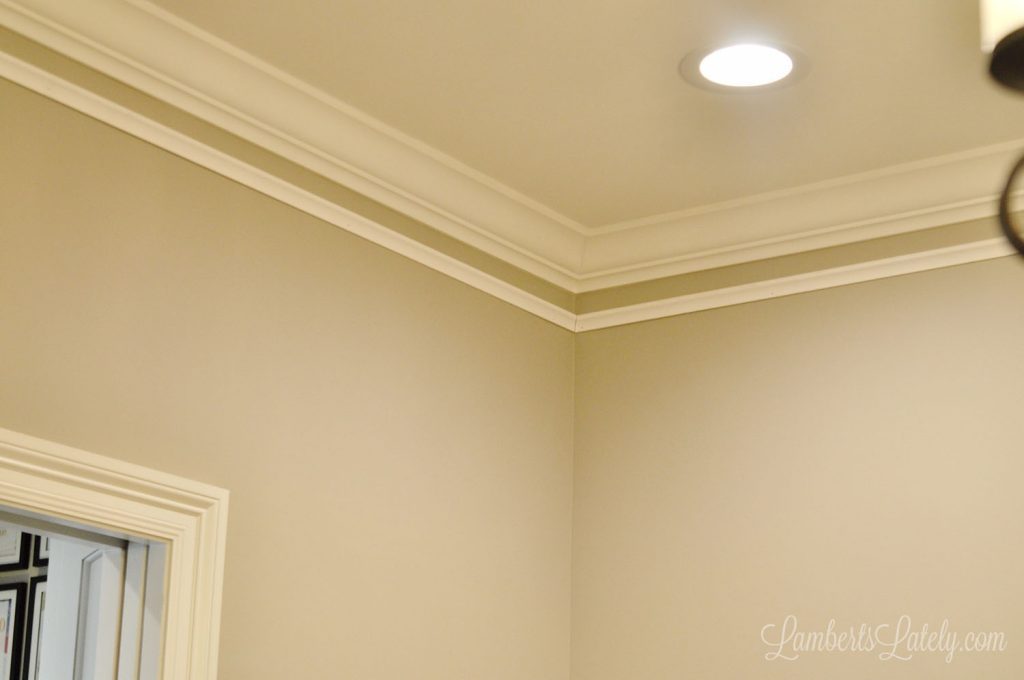 Work your way around the room until this step is done; I recommend going in a circle to avoid having to make too many correction cuts and re-measures later on.
It already makes a huge impact, and in reality, you could stop right there to have a great looking finished project! But I wanted molding that looked like one thick piece.
Step 3: Tape off and caulk bottom molding.
If you look very closely at professionally-installed crown molding, most jobs have some kind of caulking or attachment to the wall that makes the molding look like part of the wall. This is something that's honestly really easy to add and gives a great finished look to the molding project.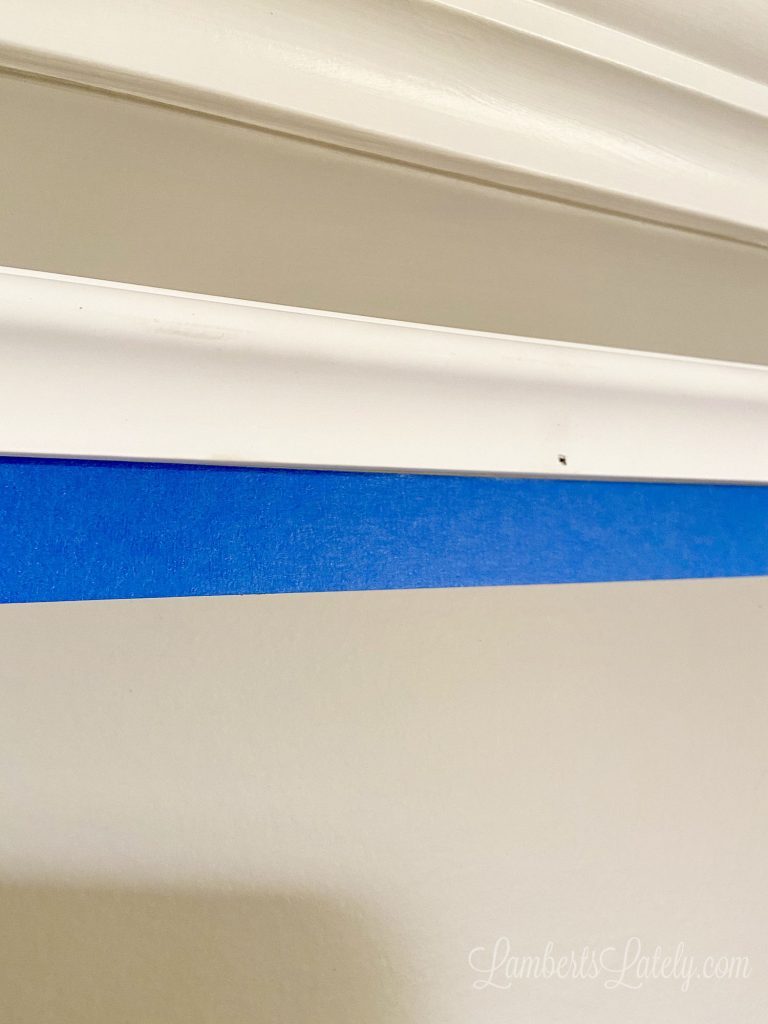 Add painter's tape directly under the bottom molding piece, just about as close as you can get it (but not overlapping). You want the teeniest gap between the tape and the molding, but make it as small as possible!
Before we caulked, I went around with a Phillips screwdriver and lightly hammered in any nails that were still sticking out at all, aiming to get it even with the molding. This way, I was able to caulk anything that had been driven in too much so the nails were basically hidden.
Then, simply put a small bead of caulk under the molding...
...and rub it in with your finger. I'd like to give you a better tool to use for getting caulk even, but I've yet to find one! 🙂 To take off any excess caulk and smooth it, you can gently rub over the finished caulking (before it dries) with a wet paper towel.
There's no need to caulk above the molding (you can't really see it). However, check to make sure no nail holes need to be caulked and that there aren't any gaps in the trim molding that need to be evened out. Caulk is an easy way to fix those little gaps in molding pieces.
Step 4: Paint the gap.
Finally, give the gap between your molding pieces a few coats of trim paint to make it look like one piece! Our builder left our remaining trim paint (Sherwin Williams' Snowbound in semi-gloss) for us, which has been great for touch-ups and little projects like this.
If you have anything that's not a white wall, I'd recommend using a primer for this. We ended up having to give our trim gap five coats to fully cover it.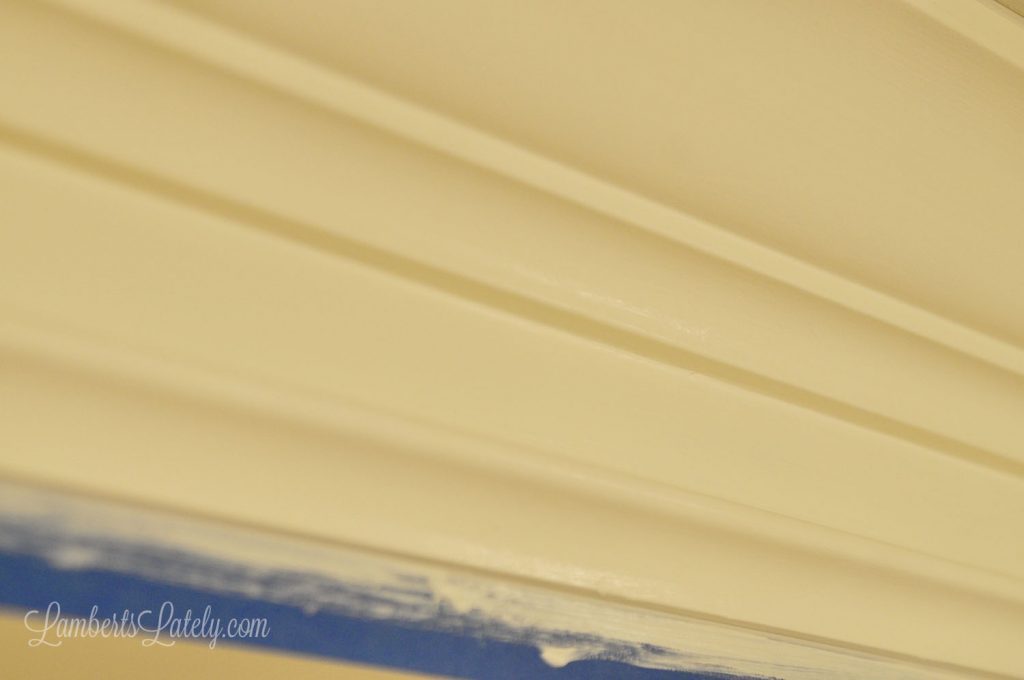 Luckily, the coats for this went really fast; you're really only painting that small gap on the wall and the new molding, so each coat only takes 15-30 minutes.
If you've ever thought about doing this kind of project - even if you don't think you're crafty, even if you don't think you're capable - give this one a try. For maybe $100 worth of materials, we added so much value to the look of the dining room. I can't recommend DIY faux crown molding enough!
More Home Improvement Projects