12 Free Printable Christmas Gift Tags
These free printable Christmas gift tags would be so cute with bright wrapping paper! Just print this pdf on cardstock or sticker paper for an easy holiday gift label.
Affiliate links used in this post. Read more about my link usage policies.
Introduction
Here's your friendly reminder: if you haven't started wrapping presents yet, this is a little nudge. 😉
I'm an all-at-once kind of gift wrapper. I like to spread out my wrapping paper/tulle/scissors/tape all over the living room floor. I get it all over with at once. Usually, I try to tackle this early in the season (I love the look of pretty wrapped presents under the tree). But, with the craziness of the Journey to Clean launch last week, I haven't really done much yet.
So, I thought I'd whip up these cute holiday gift tags to give me (and you) a little bit of motivation! The best part? They're free printables!
If you haven't noticed yet, I kind of like this color scheme. It's the one I used on my blog design and use in Journey to Clean, Year of Intent, and the Freezer Meal Boot Camp packs. It's so bright and versatile, and coincidentally, makes for a such a fun Christmas color scheme!
Where to Find These Gift Wrap Supplies
I also thought I'd do make free printable Christmas tags to pair with what is probably my favorite wrapping paper in the world. You'll never believe where it's from.
I find the pretty solids/simple patterns that you see in the background of most of my free printable posts from...wait for it...Dollar General. I've searched high and low for other bright (but simple) patterns and just keep coming back to these. As of a couple of weeks ago they were still available. Check your local one to see their selection!
I love finding ribbon at stores like Hobby Lobby. Also check eBay - there's a surprising selection of grosgrain ribbons there! That's actually where the ribbon you see in these images came from.
Free Christmas Gift Tags Download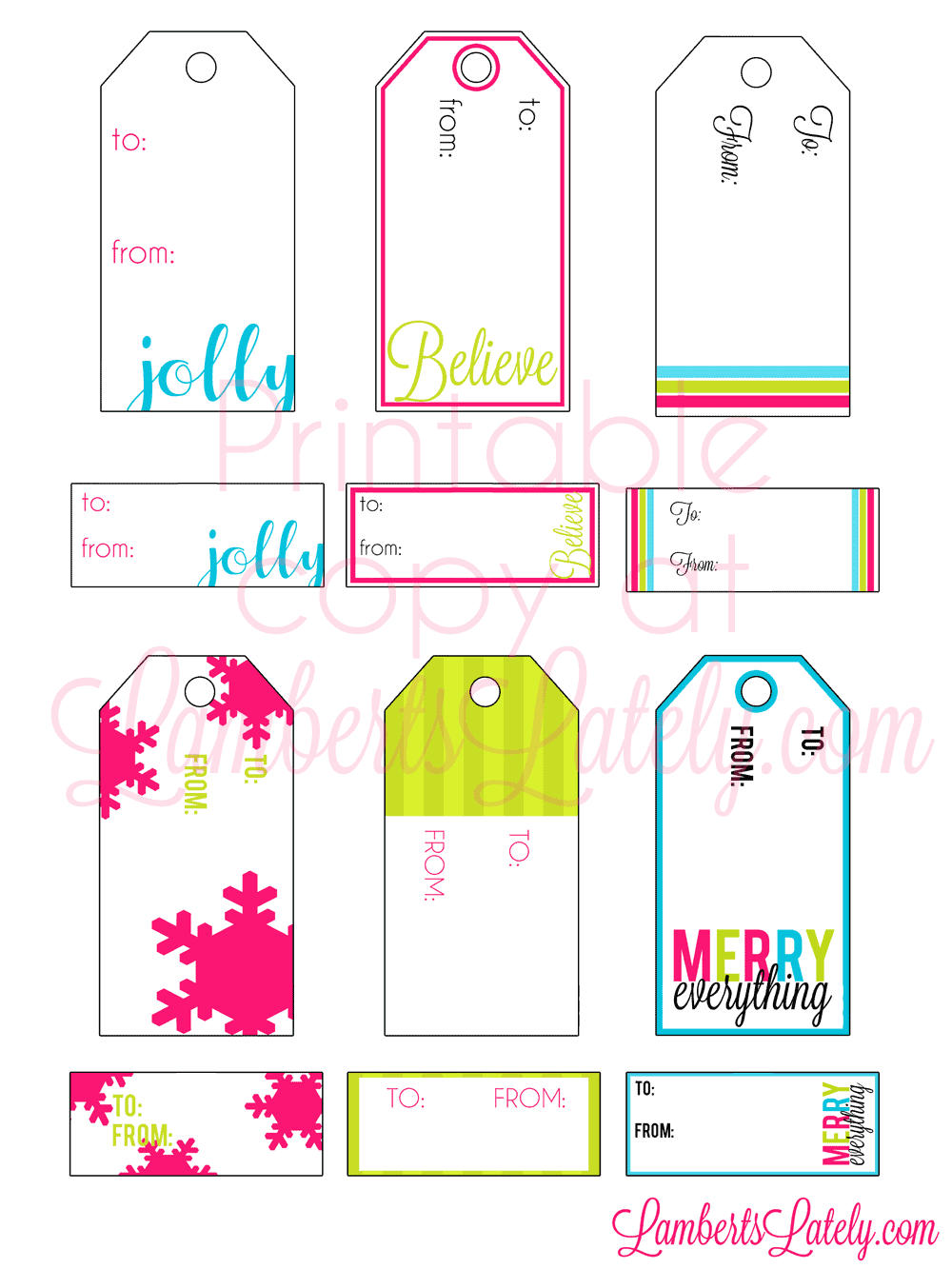 You can download this set of free printable gift tags here.
(This will print all 12 tags on one page.)
How to Print Your Holiday Tags
The file you download above is a pdf, meaning it should open in most internet browsers. When you open, you'll see a printer icon. Click that and you should be able to send your file to the printer of your choice.
These tags are best printed in full color. I recommend using white cardstock to print your tags. This makes the tags durable and not flimsy. Cut them out (a straight edge paper cutter helps). Then, punch holes in the bigger ones with a standard hole punch. Finally, you're ready to tag your Christmas presents! These gift tags can be attached to your gift with curling ribbon, baker's twine, or even with tulle gift bows.
You can also print these gift tags on sticker paper to make attaching to your holiday gifts even easier. Use full-sheet sticker paper that's available at most office and big-box stores. Then, cut out tags with a paper cutter or scissors.
Of course, if you have the knowhow to put this file in a graphics editor to add your own names for a personalized touch, you're welcome to do so! But please note, this file is for personal use only; commercial use is prohibited.
And, if you want to check out how I make the gift bows in these images, see How to Make Tulle Gift Bows.
Free Printable Christmas Gift Tags FAQs
I hope you have a fantastic, fun-filled holiday season! Now go knock out that gift wrapping!