How to Make a Tulle Bow for Gifts (+Video)
See how to make a tulle bow for the prettiest gifts this Christmas! If you can tie your shoe, you can make this DIY tulle gift bow by following this easy tutorial.
Affiliate links used in this post. Read more about my link usage policies.
Introduction
I get comments all the time on how I tie my tulle bows for gifts, so I thought I'd share the process with y'all today!
It's one of my favorite fake-outs. Really, it's one of the easiest ways you can put a bow on a gift. If you can tie your shoes, you can tie this bow.
Supplies You'll Need
All you'll need to make these DIY tulle bows are scissors and 6" spools of wrapping tulle. I usually get a year's worth of tulle from Hobby Lobby when it's on sale during Christmas, but the link to Amazon spools of tulle above has it for about the same price.
The color is totally up to you. I usually opt to buy white because it goes with everything. You can also mix colors of tulle to make this bow; red, white, and green look so pretty together for Christmas!
Make sure you get a lot of tulle. You'll use more than you think to tie each bow (usually at least 4-5 yards). I probably go through 2-3 of the big rolls at Christmas each year.
Love DIY? Make sure you check out my Mesh Christmas Tree Topper and How to Preserve a Puzzle projects, too!
How to Tie a Tulle Bow: Step-by-Step Instructions
Start with a big, flat area to tie your tulle gift bows. I usually spread my supplies out on the floor or on an empty table.
Measure your tulle like I demonstrate in the picture below. Measure out enough that you could tie a bow with a little bit of leftover tulle. You'll probably want around 8 inches of tulle past the edges of your gift on each side.
Cut this length of tulle, and use that piece of tulle to measure out and cut 4-5 more strands that are the same length.
Next, take all of your pieces of tulle and bundle together. Tie the first part of your shoelace bow by looping the pieces together like I have them below. You'll loop this just like you loop the first step of tying your shoelaces.
Finish tying the "shoelace bow" by making 2 loops with a knot in the middle. Make sure the end pieces hanging out are about the same length as the loops.
Now the magic: put your scissors through each loop of the tied bow and cut the loop in half.
You can start to see the bow coming together at this point.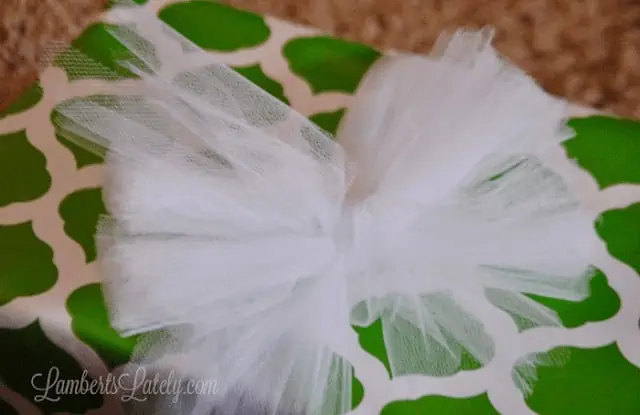 Finally, fluff each piece of tulle!
See, told you that was easy! Once you start tying bows this way you'll never go back...it looks so pretty and is so incredibly easy.
Uses For These Bows
Obviously I use these DIY bows to wrap holiday and birthday gifts year-round, but these tulle bows have lots of uses! Use these bows for...
Pew Bows at Weddings
Baby Shower or Wedding Shower Decorations (Simply wrap around a small piece of cardboard to make the knot. Cut the part that would wrap around the gift off to make a pom pom.)
Make tulle hair bows by wrapping tulle shoelace knot around a headband.
Easy door wreaths (just use a much wider variation of tulle ribbon, probably 8-10 strands, and about 20" of tulle on each side to make your bow.)
Variations
The size of the bow totally depends on how many strands of tulle you use to make the knot and how long the extra tulle is that will make your shoelace knot. The longer the tulle, the bigger the bow; the more strands, the fluffier the bow. I think 4-5 strands is perfect for a gift, but in a pinch, 2-3 works just fine.
Video: How to Make a Tulle Bow for Gifts
Now get to wrapping those presents! 🙂