Budget Binder (15 Free Printable Pages!)
Grab a free printable budget binder with 15 pdf pages that will help you organize your finances in style! Find coordinated budget worksheets and ideas on how to use the templates.
Affiliate links used in this post. Read more about my link usage policies.
Every once in a while I decide to give away a product I have over in the shop for free. Today's one of those days.
Many of you already know about the Year of Intent, my mega set of planning printables that's currently in its sixth edition. One whole section of that collection is dedicated to budgets - tracking them, planning them, and optimizing them.
Today, I'm giving you a whole section of that set at no cost. It's a 12-page set of free printables that will help you keep track of your budget in style!
What is a budget binder?
A budget binder is a collection of printables that will help you organize all areas of your finances.
I am a big believer in keeping track of important information by writing it down - money is no exception. By actually writing out your money goals, your day-to-day spending, and your long-term savings plans, you're so much more likely to use your money effectively.
It's also so motivating to see all of the information right in front of you. It's hard to ignore something that's spelled out in black and white on a piece of paper. Writing it all down and tracking efficiently helps keep you accountable.
Want more coordinated printables? Check out these Time Blocking Printables or this Printable Calendar!
What's in the budget binder set?
In this collection, you're going to get 12 coordinated pages that will help you stay accountable for spending, saving, and giving.
Cover Pages
Let's kick off the budget binder in style! In this set, you'll get 2 bright, pretty cover pages to choose from.
Financial Goals
Goal setting is without a doubt my #1 way to maximize productivity. Without a financial goal, you're really just treading water. By actually speaking that goal into existence, you'll be so much more focused on the steps to achieve that goal.
My goal-setting process is simple: think about something big you want to accomplish, break it down into smaller steps, and set a timeframe to complete those steps. The goal is the umbrella; the steps are the building blocks that work together to reach that goal.
Once I heard a quote: "A goal without a deadline is just a dream." It's so important that you figure out how much time you have to complete your financial goals.
Let's use an example: you have a big goal to invest $5000 in mutual funds. By writing in a timeframe (let's say 2 years), you now know how much you need to save each month (roughly $200) to achieve that goal.
But that's not the only element; you need to figure out action steps too. One action step might be to open an investment account. Another is to put your checking account on an autopay of $200 per month into that investment account. A final one might be to research mutual funds and set your investment account to buy each month.
These three elements (big goal, action steps, timeframe) all work in sync to help you achieve your goals efficiently!
Income & Expense Trackers
Once your money goals are in place, it's time to start tracking.
Find all sources of income and jot them down on this income tracker. You might have income from...
Paycheck
Commissions
Interest
Investments
Rental Properties
Credit Card Rewards
Reimbursements
Loyalty Program Rewards
Basically, if it's money coming into your checking account or onto your credit card, record it! It's really helpful to have a bank statement or credit card statement handy when doing this. I recommend going back 4-6 months and averaging your income.
You'll also get an expense tracker in your budget binder. Same concept; if it's money going out of your account, record it. Some common purchases might fall under...
Transportation
Utilities
Food
Travel
Home
Health
Entertainment
Gifts
Donations
Pets
Personal Expenses
Debt
This is also an area where I recommend recording 4-6 months of expense, then averaging that number.
Bill Checklist
Now that you have a rough idea of income and variable expenses, take a look at what recurring bills you have. This might be items like a power bill, health insurance, mortgage, rent, internet, trash, phone, etc. that are generally the same amount and happen on a regular interval. These might be monthly bills, quarterly bills, or annual bills.
Some expenses (like entertainment or food) are variable and can be adjusted if needed; some (like a mortgage) are set in stone and can't be changed. Knowing what you will have to pay each month regardless will help you understand how much you absolutely have to set aside each month.
Monthly Budget Planner
Next up, take that expense tracker you completed earlier and break it down into a budgeting plan! Get a rough number you spend each month on each budget category. Then, I recommend rounding that number up to get our budget for that month.
Let's use another example: in the past 6 months, you have spent an average of $656 a month on groceries. In the grocery category on this page, I would recommend a $700 budget to give yourself a little bit of wiggle room.
This monthly budget worksheet page will also let you write in those recurring bills to get an overall budget number.
Charitable Giving
It's super important to account for charitable giving for tax time. This page will let you do just that!
Debt & Savings Trackers
Now, let's get a little more complex to really help you achieve your budgeting goals.
This debt tracking sheet will help you stay accountable for paying off each area of debt repayment. It's not meant to be detailed; just a way to note the account, how much you owe, and your progress toward paying it off.
This debt payoff tracker page is great to use for...
Mortgages
Credit Card Debt
Car Payments
Student Loans
Medical Bills
There's also a savings tracker page included that works in a similar way; it lets you set how much you want to save overall, how much you'll need to contribute per month, and a log to record all of your contributions to that account.
Making this information easy to access at a glance is an easy way to achieve both short-term and long-term savings goals.
Financial Accounts Log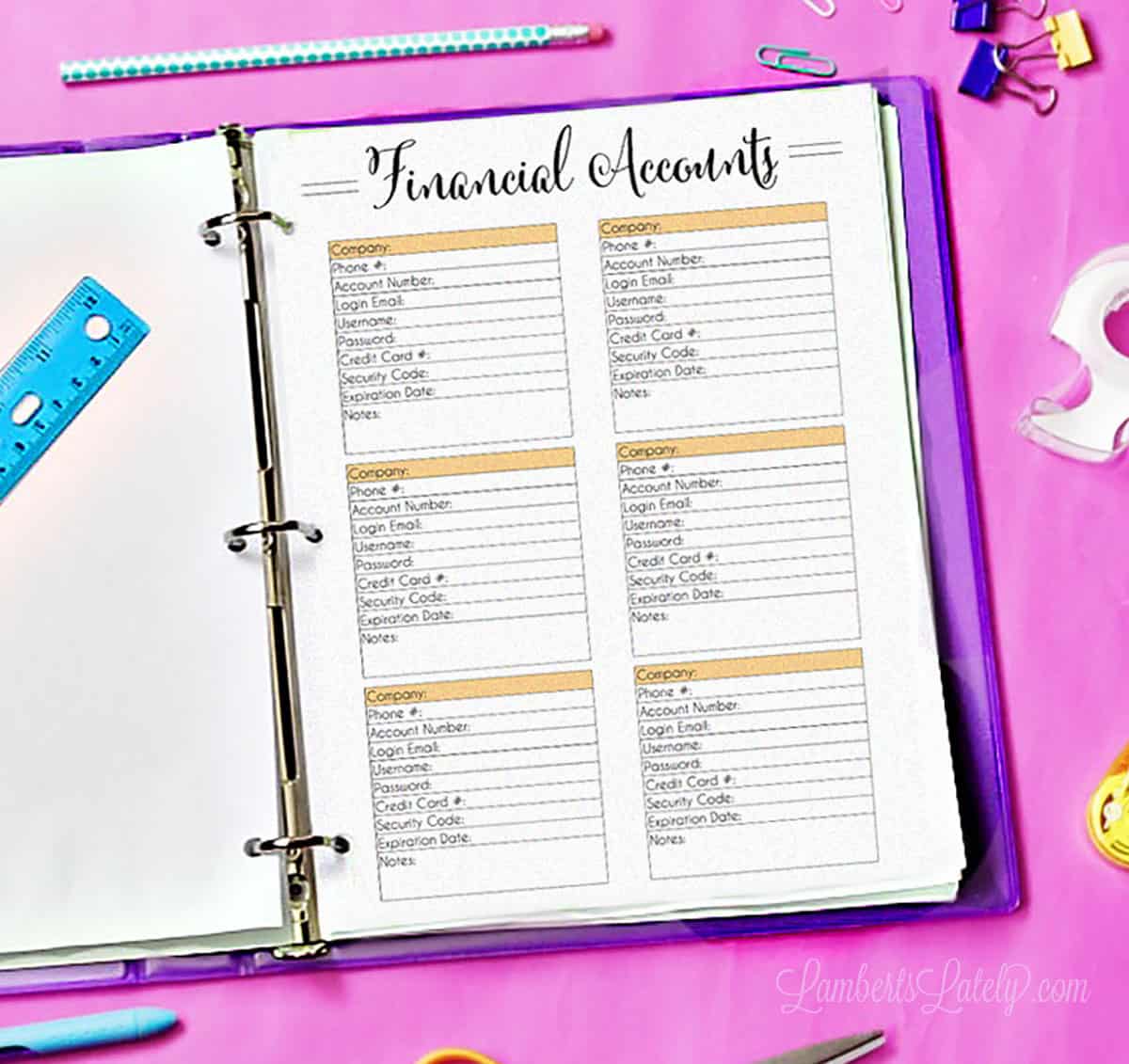 Finally, keep this page handy to have all of your financial information in one place. It goes without saying that this page needs to be kept really secure - I recommend a lock box or a safe for this one.
How to Make Your Binder
Supplies Needed
This budget binder is so easy to make; you probably already have most of the tools needed on hand.
How to Print
Once you click the download button below, your pdf will open in a new tab. Simply click the printer icon to send to your printer or the downward-facing arrow to download the pdf to your device.
This pdf file is formatted to print on standard 8.5x11" printer paper. You'll need a home printer to make your copies, preferably one with color printing ability. This is the one I use and love!
To avoid having to print multiple pages, I recommend using a laminator and wet-erase markers to reuse some pages (like the goal-setting page and budget page) over and over. You'll need to print multiple copies of things like the income tracker, financial accounts so you can keep financial records for an extended period.
How to Set Up Your Notebook
This budget binder has 4 main parts; goal setting, income/expense budget tracking, debt/savings tracking, and financial information. You can use tab dividers to separate these pages if you'd like.
I recommend having your budget binder in the following order:
Cover sheet
Financial Goals*
Income Tracker*
Expense Tracker*
Charitable Giving*
Bill Checklist
Budget Planner*
Debt Tracker*
Savings Tracker*
Financial Accounts*
The items with an asterisk (*) will more than likely need multiple pages printed. You can always print those as needed though.
Download Your PDF Budget Binder
Simply click the button below to open the full 12-page pdf in a new tab.
I hope you enjoy this one, guys!
And, if you're in the market for more matching printables, check out the Year of Intent. It has over 100 more printables to help you organize your time, your home, and your family. You'll get printables that coordinate with the budget binder in this post - make a fully customized planner that fits your life!
One More Set of Budget Printables
Before I go - how about a few different printables? I've got 3 really bright and fun printable budget trackers from an older post on the blog. It's since been deleted - so I thought I'd share them here!
This set is from the Ultimate Planning Notebook, my first set of planner pages that I started around 10 years ago. You might still be able to find some of those pages on the blog (just search UPN and you should see them), but they are all available in one 26-page download over in the shop!
Grab these pages by clicking the buttons below...
Now, let me see those budget printables in action! Snap a picture 📸 and tag me on social media (@lambertslately).