Household Supplies List Inventory Template
This post shows how to organize (and stay organized) with a household supplies list. Organize toiletries, paper products, office supplies, and more. Includes free inventory printable checklist!
Alright guys, welcome to a post I've been writing in my head for months. 😂
To say that I'm passionate about home inventory management is an understatement. Not only am I an organization junkie, but I'm cheap - I don't like paying for things I already have! It is so important to have a system in place that lets you (and everyone else in your home) know what you have and what you need. I think that, after about a year in our home, we finally have that system nailed down - and I thought I'd share a few tips on how we got there today!
(Affiliate links used in this post. Read more about my affiliate link usage here.)
Start by consolidating, purging, and combining.
I always start out by organizing my home supplies in a very similar way to the method I used to organize my pantry - consolidate, combine, and purge. First, take absolutely everything out and put similar things together - with home supplies, this can take up a ton of space, but don't worry - it won't be out for long!
Next, get rid of things that are expired or that won't be used. You might have gotten an amazing deal on that sunscreen 5 years ago, but even if it isn't expired yet, chances are you aren't going to use it if you haven't already. Really ask yourself if you're ever going to realistically use it...if not, chunk it! (Of course, donate if it's something that someone else could use.)
Finally, combine things into as few packages as possible. If you have four half-empty bottles of shampoo, combine them into two. No point in keeping extra bottles that take up space if it isn't needed.
From here, you can start finding a spot in your home for each kind of supply.
Have a place (and only one place, if possible) for each supply.
Designate one place in your home for each kind of supply. When I need something, I like to know exactly where in our home to look without having to search in 10 different places for it. That way, I immediately know what we have or don't have without having to go on a scavenger hunt.
There are a few things that are easy to spread throughout the house, making it super difficult to know if you have an adequate supply at a glance. The following items are just a few things I like to keep in one consolidated place:
Paper products (toilet paper, paper towels, tissues, disposable plates & utensils)
Light bulbs
Batteries
Trash bags
Cleaning supplies (kitchen, laundry, and bathroom cleaners stored in their respective rooms)
Chargers
Cords
Diapers/wipes
Toiletries (lotions, shampoo/conditioner, sunscreen, body wash/soap, toothpaste/floss, hair products, etc.)
Office supplies (copy paper, pens/pencils, highlighters, glue, tape)
Pet food
Of course, it isn't always possible to have every single supply in one place. There's no way you can keep all of your toilet paper in a hall closet until you use it! 🙂 So, for the purposes of this post, I only count what we currently have in the supply storage area (for us, mostly in our laundry room) when considering what is needed.
Once there's under a week worth left, put it on the grocery list.
As supplies are needed, we all know to grab them from our designated supply area. Our rule is to never let the stock in the supply room dip under a week's worth left - if the supply does fall that low, it's time to buy.
I'm a huge fan of Walmart grocery pickup for many reasons, but one is my ability to manage supplies efficiently (i.e. without having to run to the grocery store four times a week). When we get to a week's worth of a supply left, we just put it on our grocery list as we see that it's needed (Noah and I both have the app on our phones). I almost always do our grocery pickup on Sundays, so on Friday night, I finish up the list and finalize my pickup time for the weekend. Easy peasy!
You can get a coupon for $10 off your first Walmart grocery pickup by clicking here!
Use what you have before you buy what you don't need.
There is absolutely no point in buying an item when you already have something just like it (or that could substitute for it). A few years ago, one of my New Years' Resolutions was to ask myself "Do I need this?" before every single purchase...literally, every one.
If the answer is yes, there's no question of buying it. If it's no, I'm not saying I always skip that purchase - but I think long and hard before doing it. It totally changed the way I manage and spend money - I can't recommend the practice enough!
Before it's added to your grocery list each week, really ask yourself "is there anything else in this house that I can use instead of buying this item?" If the answer is yes...
Use it or lose it.
I am guilty of being a beauty product hoarder. I consolidated & combined all of my toiletry items to one place a few weeks ago and realized that I have a ridiculous amount of bath products - lotion, body wash, soap, etc. It's out of control.
So, after I consolidated, I cleaned out. If it was more than a few years old, it was pretty obvious that I didn't need to use it - so I threw it away. Now, I'm really concentrating on using what I saved instead of buying something new. As I come across things that I really don't have a desire to use, it goes in the trash or donation bin. Like, immediately. There is no point in cluttering my home supplies with unwanted, will-never-be-used items!
I am a big believer in filling your home with things you love and value - that includes expendable items. Think of each square inch of your home as real estate - if you fill it with unwanted junk, you're wasting that real estate each and every day. By concentrating your efforts on things you will actually use, you're more likely to reach for the things already in your home.
Use services that make restocking easier.
We live in a fantastic time - there are so many resources for making sure your home supplies stay well-stocked!
I use Grove Collaborative to keep many of my cleaning supplies and home items stocked- it's a great way to save on popular products (including Mrs. Meyer's, method, and Seventh Generation) and have your home supply items restocked in a consistent pattern with little to no effort on your part. I use this service and I highly recommend it! You can even get a free gift set on your first order by clicking this link! That's a fantastic value - I love taking advantage of Grove's deals.
Amazon's Subscribe and Save is another wonderful service for restocking items consistently. Simply set up a recurring order of your favorite products for any time frame from 1-6 months. The works is done for you - and you typically save 5-15% off ordering this way!
Keep track of it efficiently.
Having a consolidated inventory sheet is a great way to track your home supplies in one place. This is a wonderful tool to keep in your planner for grocery trips - know what's in your home even when you're not there!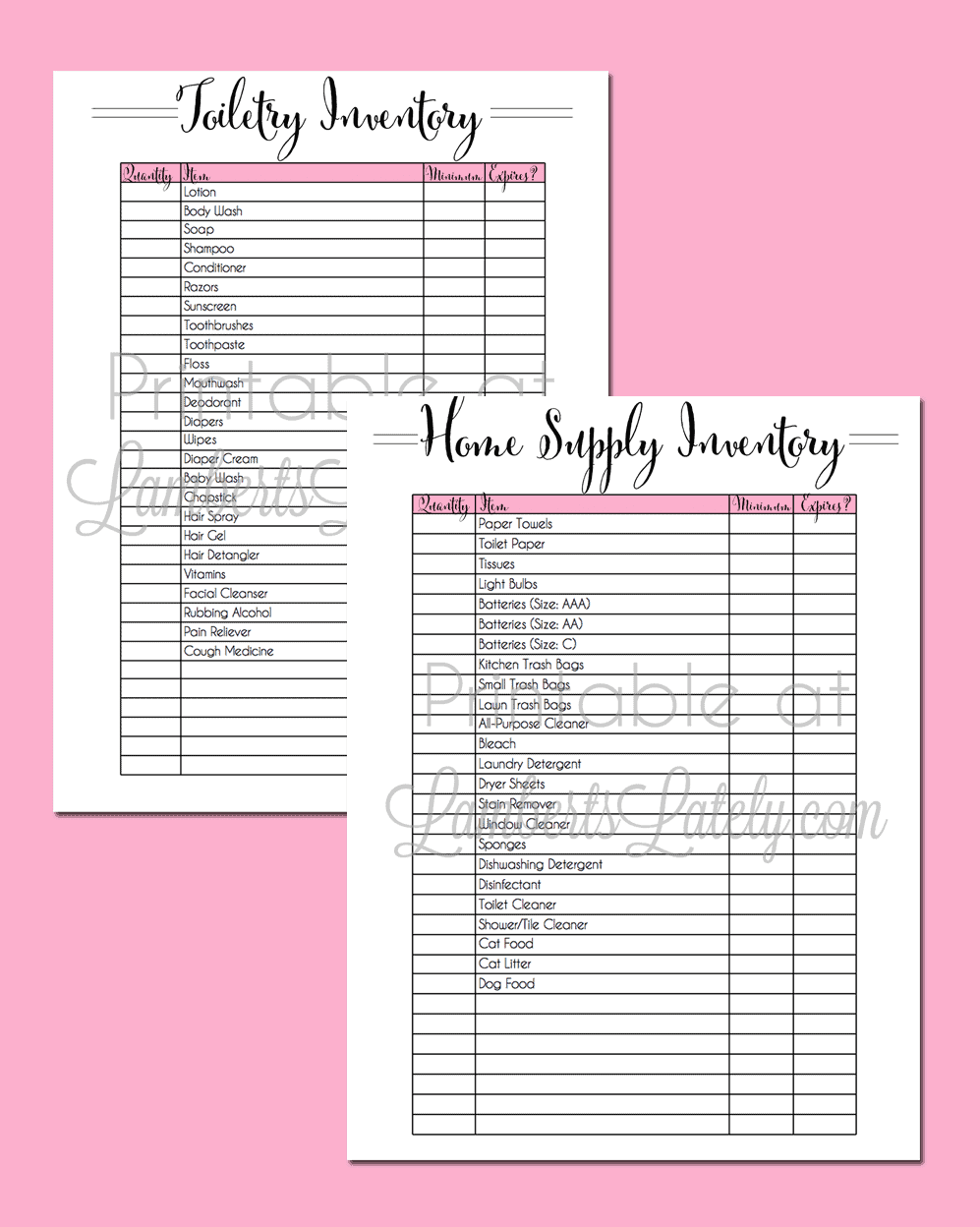 Click here to download the home supply inventory sheet.
Click here to download the toiletry supply inventory sheet.
These sheets match my new planner, The Year of Intent. I have a fridge, freezer, and pantry inventory sheet in the planner pack already that matches these, so they would be a perfect addition to the planner's inventory section. You can track both household items (paper goods, cleaners, etc.) and toiletries with these sheets.
I strongly encourage you to sit down and really think what you want your minimum supply of each to be. That's important when you're figuring out when it's time to put the item on your grocery list. My typical rule, like I mentioned above, is to pull the trigger on buying more of the item when you have a week's supply or less.
What are some of your home supply inventory tips? Leave them in the comments below - I always love getting new ideas from you guys!