How to Do DIY Dip Powder Nails at Home
Give DIY Dip Powder Nails a try – they're so easy to do at home! This post shows how to add tips, apply Revel Nail's Shady powder, and even how to remove dip nails when you're done.
I think we all learned how to DIY a few new things in 2020 – one of my favorites was learning how to DIY dip powder nails at home. Listen – if I can do this, you can do this.
I am absolutely terrible at painting my nails – it often looks like a 5 year old did it when I try to use standard nail polish (not to mention that it peels after a day or two). I've even tried gel polish in the past, and I still can't kick that urge to peel it off after a few days. I had heard of dip nails (but never had them done in the salon), and after seeing a Youtuber try another brand of at-home dip powder, I gave it a try. To my surprise, it wasn't that difficult!
It's also incredibly durable. I can normally get at least two weeks out of a set of dip powder nails (and I'm a notorious polish peeler). Dip powder, when using the right polishes, hardens into a tough, thick coat on your nails, making it virtually impossible to peel. I am ROUGH on my nails – when following these steps, they hardly ever chip at all (and if they do, it's a very minor one).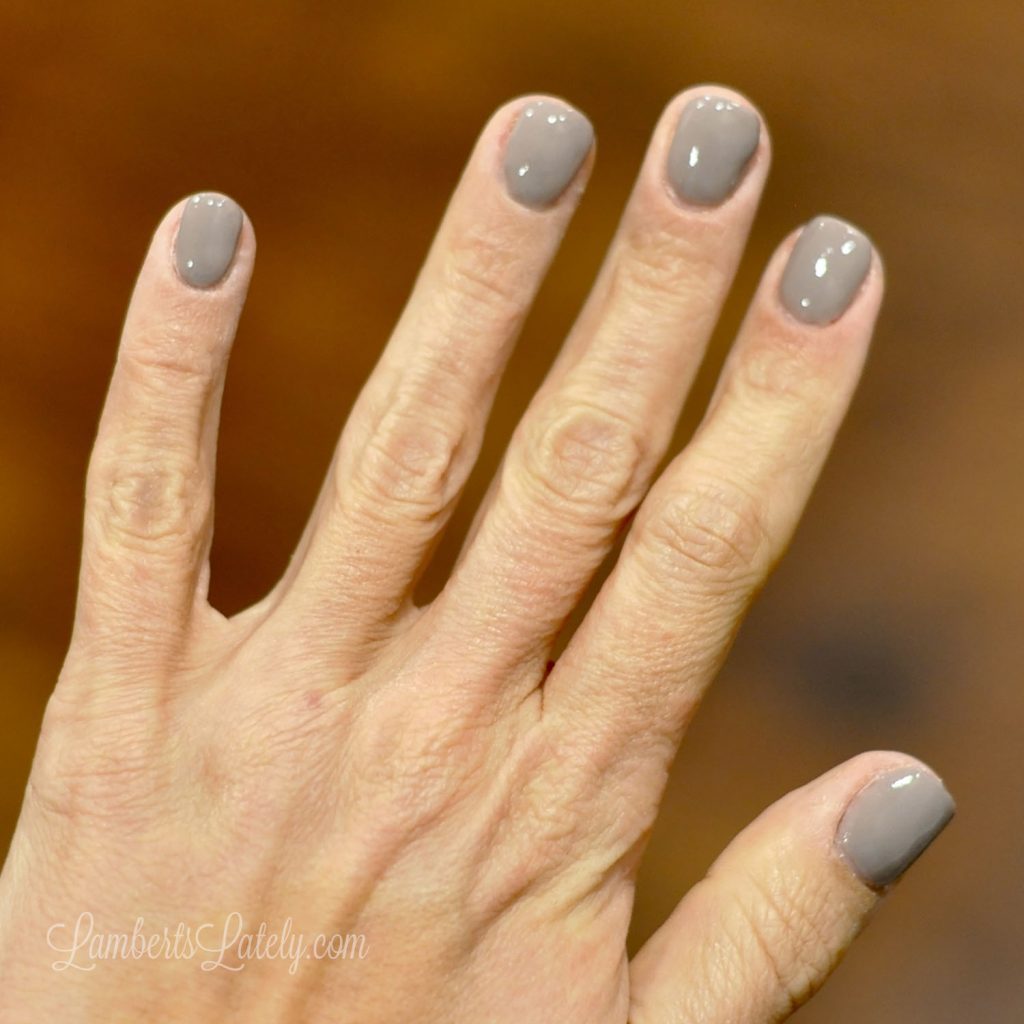 The best part is the amount of money you'll save over the salon. You can get dozens of uses out of a kit that's under $50 – that's about what you'd normally pay for one set of dip powder nails. To me, it's also a time-saver – I can do my nails in an hour or two every few weeks while I watch TV at night (a time when I'd probably be playing on my phone or watching TV anyway) – the beats spending hours at a salon, in addition to commute time.
So, grab your drink of choice, get your supplies ready, and let's DIY Dip! (And you guys will notice that these aren't my best pictures ever – you have NO clue how hard it is to take pictures while doing a manicure. This post was brought to you by an iPhone tripod and the Apple Watch camera timer. 😉 )
How to Do DIY Dip Powder Nails at Home
Affiliate links used in this post. Read more about my link usage policies.
Supplies Needed for DIY Dip Powder Nails
Step 1: File and Buff Nails
This is what I started with – uneven, un-buffed nails.
Use a tougher-grit nail file (around 100 grit) to even your natural nail out as much as possible. Buff the surface of the nails with the 180-grit side of your file – not a lot, just enough to take any shine off of the surface.
Not bad, but I wanted a little extra length on a couple of nails and I had a little chip in the index finger. Luckily, if you have a coffee filter handy, you can easily fix that!
How to Add Coffee Filter Tips
First, wipe your nail with a lint-free cloth and rubbing alcohol. Then, apply this magic potion to the nail – Bond Aid. This is my secret weapon for making sure nails stick well. It dehydrates the surface of the nail, making sure no moisture or oil keeps the nail from bonding.
Cut a teeny tiny piece of coffee filter – just enough to fit the width of your nail and add the needed length (but not too long).
Brush your Revel Pro Base just on the top part of your nail, where the coffee filter needs to stick. Use the Acrylic Pen to gently push the coffee filter down onto the nail and position in place.
Make sure the coffee filter is attached all the way across, especially at the sides.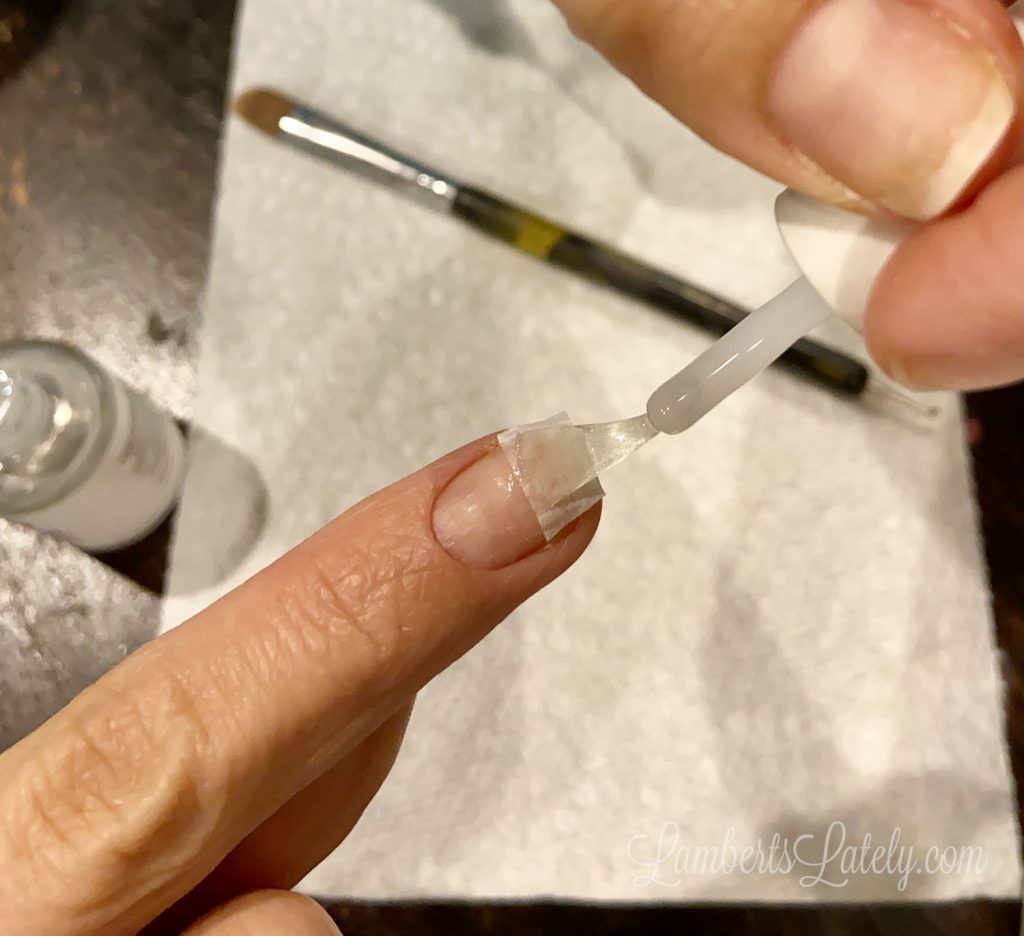 Apply a second coat of Pro Base over the coffee filter and allow to dry.
Then, use the Revel Activator (step 2) and, after the Pro Base dries, apply a coat on the coffee filter. This will harden the filter into a tip for your nail.
Then, you can file and shape as needed! Make sure the filter is filed to be even with the surface of your nail.
You can even use portions of coffee filter to patch small chips in your nails, as pictured above.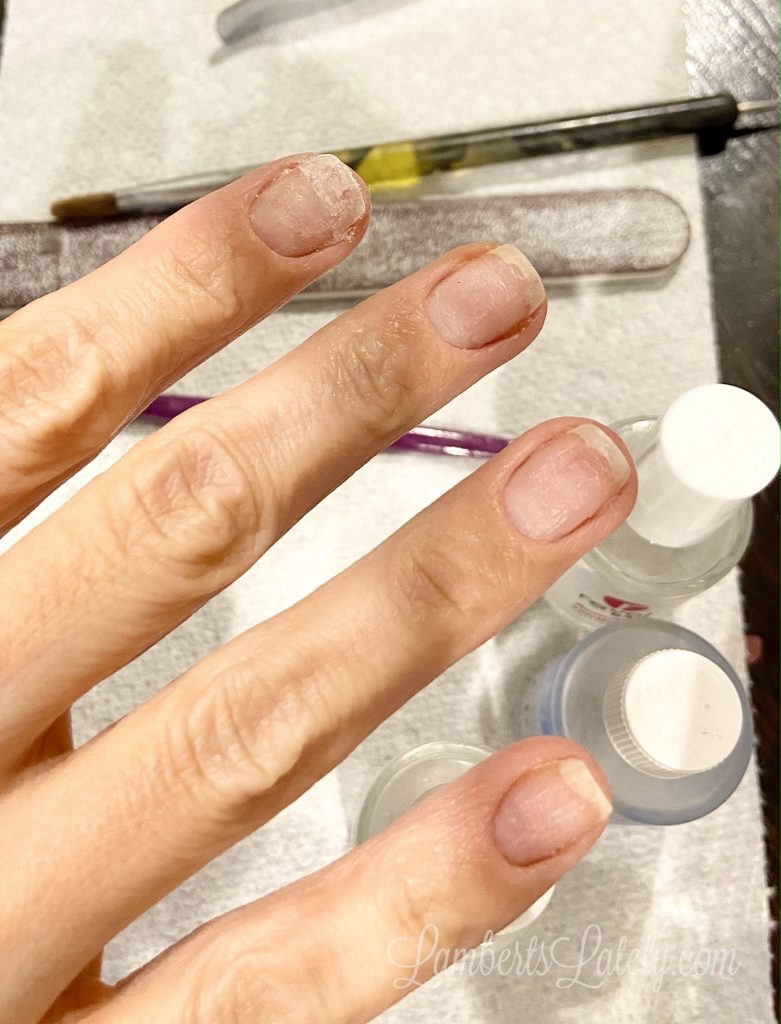 Now, the nails are ready for actual dipping. Make sure you push back any cuticles as well (my cuticles are weird and don't grow well, so I don't normally have to worry with this.)
Step 2: Put down your base coat
First, wipe again with alcohol and put a coat of Bond Aid on your whole nail. Oil and moisture is your enemy – you want the nail as dehydrated as possible before starting.
Put a coat of Pro Base over the whole nail (keeping off of cuticles) and let dry.
Then, add another coat of Pro Base to each finger, and while wet, dip each nail in Revel's Vivien (clear). This gives the nail a nice base and creates a little thickness.
Brush off excess powder from skin around nails and surface of nails (very gently) with a light brush. This is one I use from one of my kids old geology sets 😂, but you can get a similar one here.
This guy is another one of my secrets for a great manicure. I use that pointy end to go around cuticles after each and every layer of dip to remove excess powder. This step is incredibly important!
Using the pointy tip, kind of grab inward on your cuticle and sweep out any excess powder. There shouldn't be a huge gap between your cuticle and your dip once you're finished, but a tiny one makes sure your dip doesn't pool in your cuticles (which looks bad and can cause the manicure to lift early).
Step 3: Apply Colored Dip Powder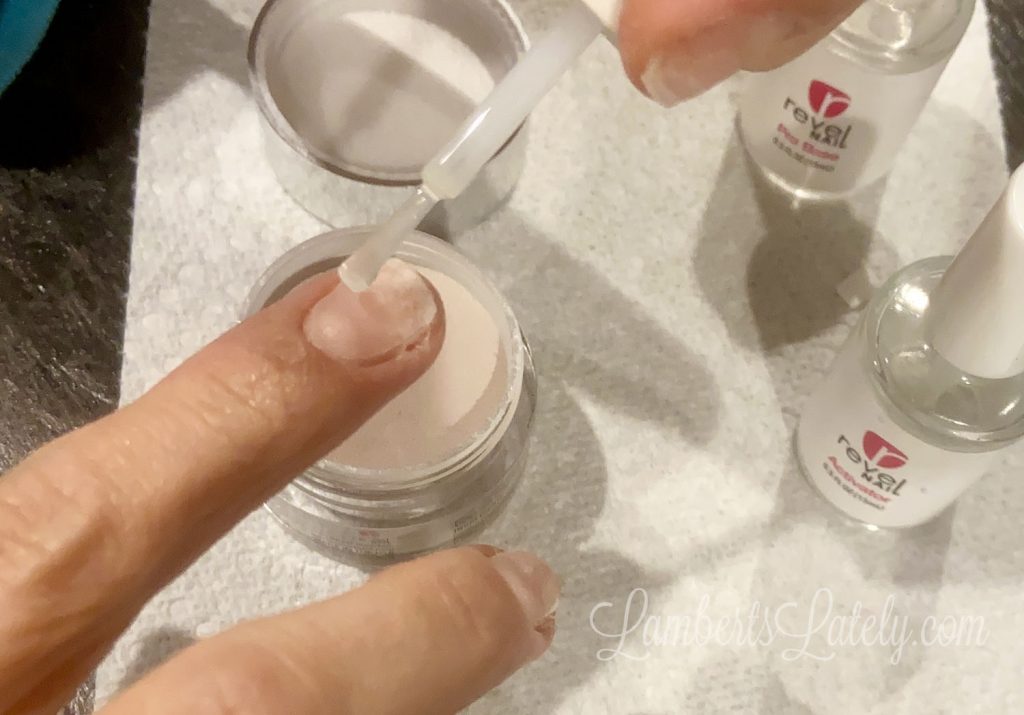 Finally, right? Let's add a little bit of color to that manicure!
Apply a (thin) coat of Probase over about 3/4 of one nail and dip in the color of your choice for a few seconds. You're not dipping the whole surface of the nail yet – this creates kind of an "apex" that makes the nail stronger. The color I'm using for this manicure is Shady. Remove nail, let settle for a few seconds, and make sure there aren't any wet areas on the nail (if there are, dip again).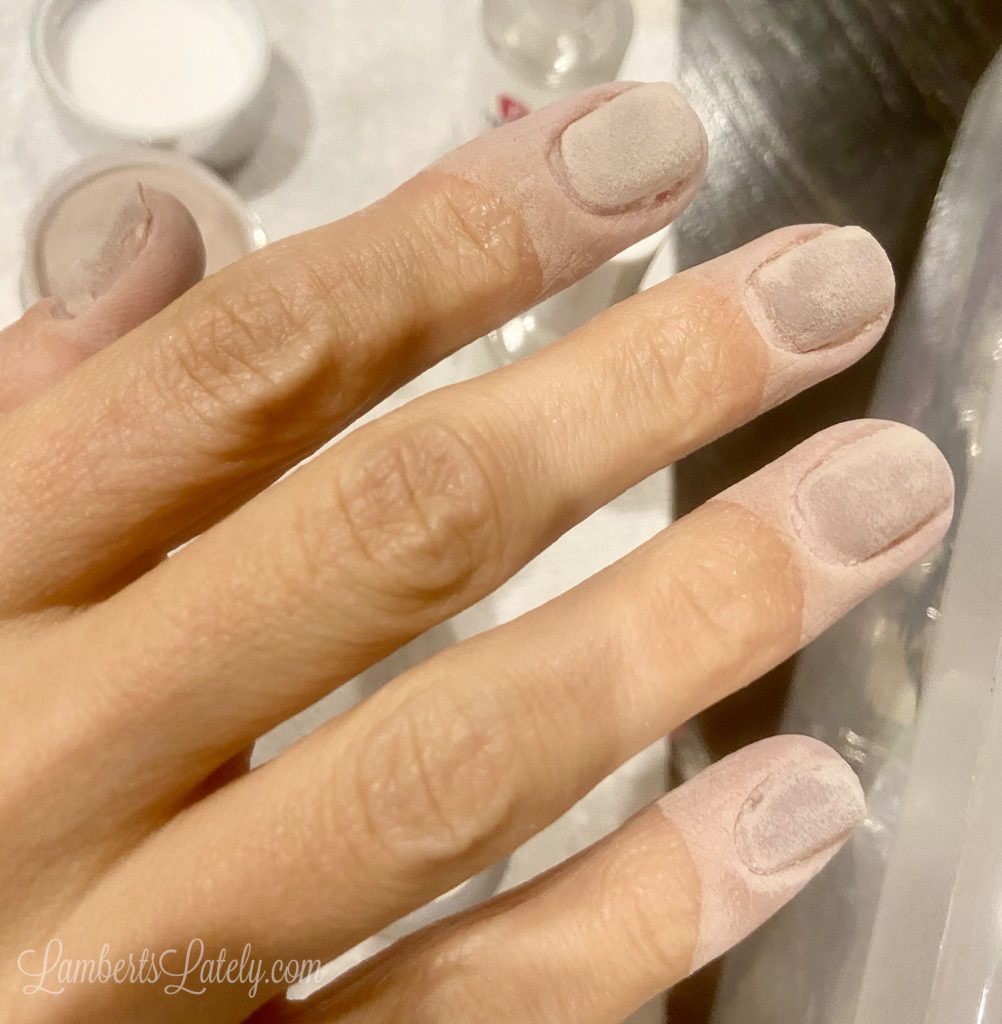 I do all of the nails on one hand at a time. Pro Base, dip, brush off excess lightly, and use your brush tool to get any excess powder out of the cuticle. After the first partial dip, you'll cover the whole nail with the colored powder, avoiding cuticles but getting as close as possible. You'll need to do this step 2-3 times, depending on how thick you want the nails and how pigmented a particular powder is. I did 3 color dips on this one.
Step 4: One More Clear Coat, Then Activate
Finally, you'll dip one more clear coat (Vivien), just like you did in step 2.
Go over each nail one last time with the acrylic tool, double and triple checking that the cuticles are clean (this is hard to fix later if not done now). Brush away any excess powder one last time.
Then, use your step 2 (Activator) on each nail. This isn't really a polish, more of a liquid, so go over everything (including cuticles) well. It will dry almost like rubbing alcohol.
Allow to dry for a minute or two, until surface of the nail is hard.
Step 5: Shape and Finish
From here, you'll want to make the surface of the nail as smooth as possible. Concentrate on the cuticle area, making sure the transition at the sides from nail to dip is smooth. File away any bumps in your dip – an E-file is nice to have around if your manicure is especially rough, but mine is usually smooth enough to just use a rougher (around 100 grit) nail file.
Once your nails are smooth and the sides are even, buff, buff, and buff some more! The more you buff, the smoother your final nail will be.
Once you're good with the smoothness of the nail, *technically* you can stop there if you want a matte finish – just be warned that the dip has a tendency of wearing down, making it smoother and less matte over time. A matte polish might help with this (Revel has one available). If you want a glossy finish, apply one coat of the finishing polish (step 3) over most of the nail. Let that dry, and go back over, apply a much more precise coat that covers all of the dip (but not the cuticle).
And with that, you're done! I can normally completely do my nails (from removing the old ones to apply new ones) in a little over an hour.
I thought I'd document how durable these nails are…
You can see the biggest problem is growth – no chips, no damage, and nails stay super glossy (and, like I said, I'm incredibly rough on my nails).
How to Remove DIY Dip Powder Nails at Home
You're eventually going to want to take these off – but, let me warn you, do NOT just try to peel off. It's really painful and damages your natural nail beds so much. Don't worry though – taking the nails off is easy and doesn't require anything super fancy.
All you need is a bowl of warm water, a baggie, a dryer sheet, and soak off solution (regular, pure acetone works well too).
Put around 1/4 cup of the soak off solution in the bag, along with the dryer sheet. Put your whole hand (all 5 fingers) in the dryer sheet.
Gently submerge the bag in the water, making sure the water doesn't get in the bag. Start moving your fingers around…you'll feel the solution warm up, that's totally normal.
Every couple of minutes, take your hand out of the bag and gently try to peel the nails off. If it hurts AT ALL, keep soaking – it shouldn't be painful! After a couple of minutes, the nails that had already lifted some start coming off for me.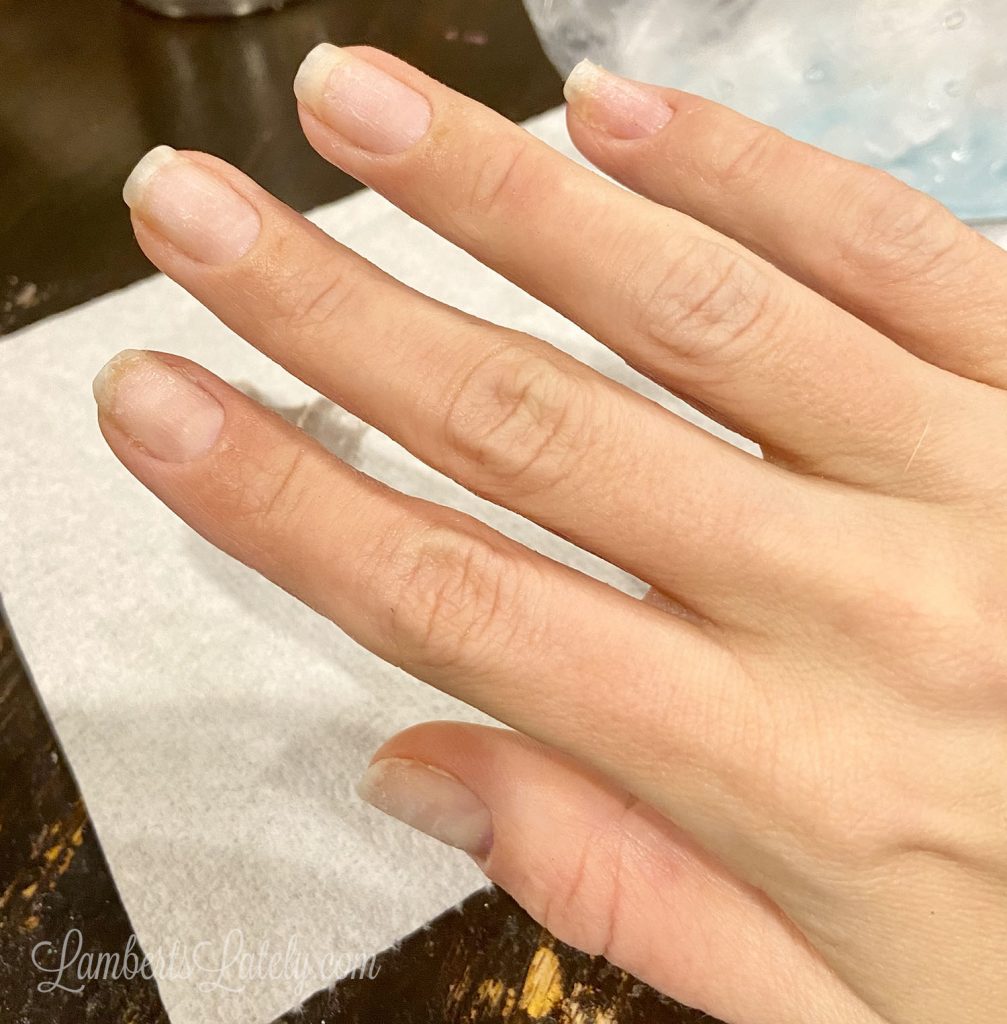 After about 5 minutes, they're all safely off! Now your nails are clean and ready for a new set. 🙂
Now, you're in on one of my favorite DIY finds of the past year. It takes a few sets to really figure out your groove, but trust me, it's totally worth it – and kind of fun! And a HUGE shout-out to the Revel Nail Facebook Group for most of the information you see in this post – I've learned so much from those ladies (and spent way too much money on new shades because of them 😉 ).
See more of my DIY posts here.