Free Printable Disney Cruise Packing List
Grab a free printable Disney cruise packing list (pdf) and ideas for what to pack (and not to pack) on your Caribbean vacation. Includes tips for families with kids, things to bring to Castaway Cay, and how to pack for events on a 7 day cruise.
We're back from our 7-day Caribbean Disney Cruise! We had the best time on the Disney Wonder. It was this ship's first sailing out of New Orleans, so it was super special for our family to be on the inaugural cruise and get to experience so many fun Disney events for the first time. (You can catch some of my highlights on Instagram by clicking here.)
This was our first Disney Cruise, but nowhere near our first cruising experience. It's been our preferred way of vacationing for years. This was personally my tenth cruise (with a couple more in the works for the next year or two)- and, while I saw a lot of similarities to other lines I've been on (Carnival, Norwegian, and Royal Caribbean), there were definitely ways that the Disney Cruise is in a league of its own. And with that, the packing needs change a little bit.
But, I didn't completely throw the baby out with the bathwater. My original plan for this post was to make a completely different cruise packing list for Disney Cruises - but, as I was planning out my list, I realized that the Ultimate Cruise packing list I made last year works really well for packing for Disney too! You'll just need to plan a few additional items when packing for your Disney Cruise.
So, today, I'm sharing an add-on packing printable you can use to pack for your Disney Cruise. Use this in conjunction with the Family Vacation Packing List to pack everything you need for your vacation.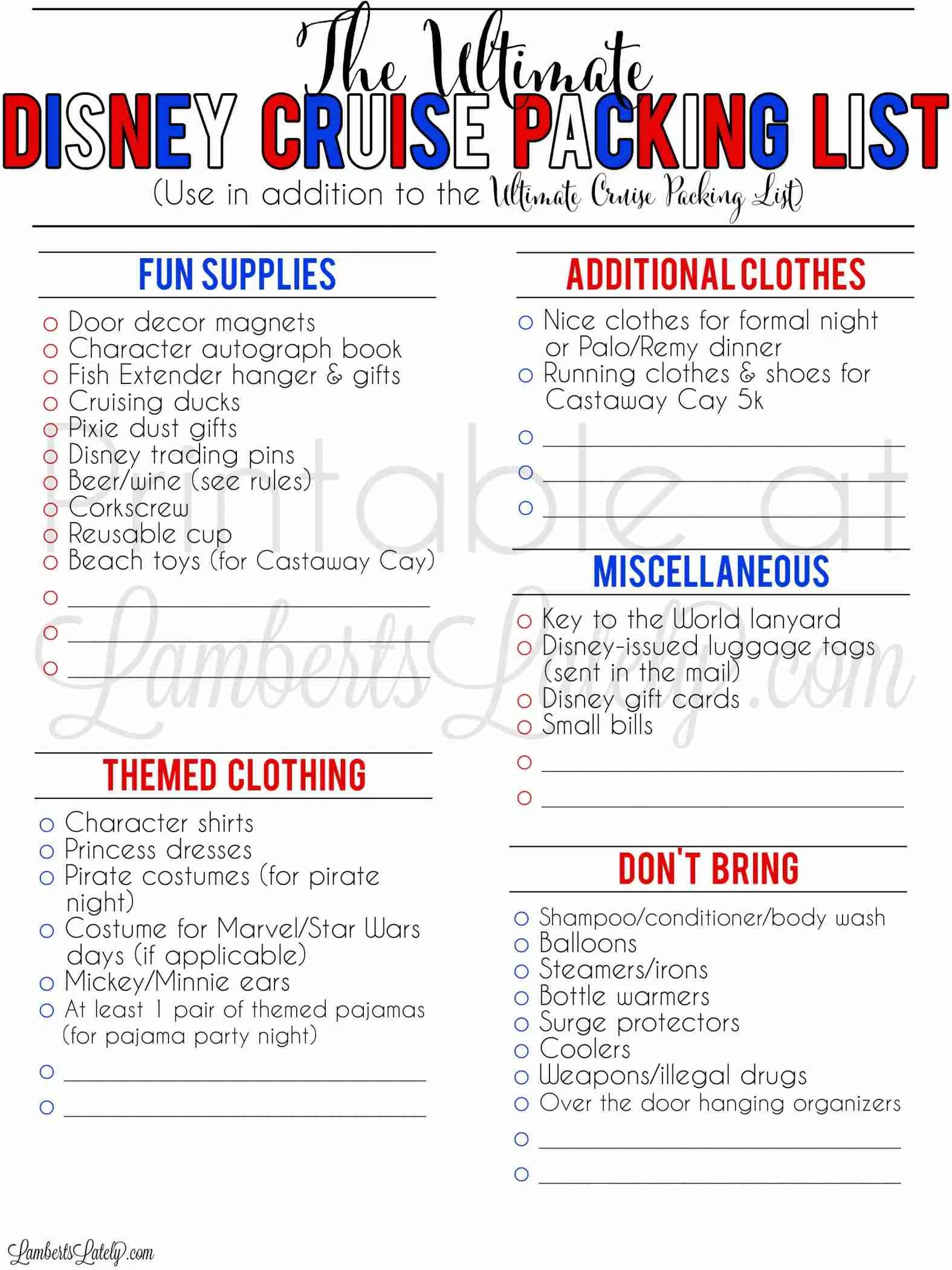 You can click here to download your copy of this free Disney Cruise Packing List add-on! See some of my explanations for items on this list below.
(Affiliate links used in this post. Read more about my link usage here.)
Disney Cruise Packing List
Fun Supplies
Picking out and decorating our door with magnets was so much fun! You are only allowed to decorate with magnets (so no glue/tape is allowed) - but the options for magnets on your door are endless.
I found the Minnie Mardi Gras set on Etsy here and found the Mickey Bars printables here (adding our names with the font Waltograph). Just laminate the printables (I have a similar version of this laminator) and attach Dollar Tree magnets to the back of the printables to make them durable and sturdy.
This totally doesn't have to be a book!
We decided to have the characters sign pillowcases this time around. We've done books in the past, and they honestly just sit in storage and collect dust. We wanted something the kids would have out and could actually be seen on a daily basis. Other great options are mattes for picture frames, wooden letters, t-shirts (that you're not currently wearing 😉), or even blank Christmas ornaments.
Fish Extender hanger & gifts
I have a whoooolle post coming about Fish Extenders next week - I wasn't able to find a ton of information online about this before we went, so I think it would be a great resource. For now, I'll give you the very abbreviated version - this is a gift exchange you do with other cruisers. It's tons of fun - my kids absolutely loved coming back to the cabin to see what we got each day!
Here's a little preview of what we gave away. I'll have much, much more detail coming about this next week.
Such a fun thing to do! We've done this on other cruise lines as well. It's really simple - order a couple dozen ducks from Amazon (mine are here) and hide them around the ship. It's really just a fun scavenger hunt - if you find one, you can keep it or hide again. There's a whole Facebook group for Cruising Ducks (and there's even a Disney one too!).
This is a less organized way to just kind of give little gifts to others. There's no formal organization to it - just pass them out as you'd like!
We thought the newest version of Zapp's would be a fun Pixie Dust gift, since we left from New Orleans. Just attach a label to them and you're done. This can really be anything you'd like - lots of people did candy, small dollar store trinkets, etc. Nothing fancy at all!
Yes, you can trade Disney pins on Disney Cruises as well! This is an activity that our daughter loved at Disney World - we had no idea they offered it on the cruises as well (and could have saved a little bit of money if we had known in advance. 😉)
You can buy pins on eBay before your trip that are much cheaper than pins you'll get on the boat. Don't focus too much on which pins you'll get - you're going to be trading them, after all! Make sure you bring a lanyard (that can double as a Key to the World card holder) or a pin book.
I'll talk about this a little bit more in my Disney Cruise hack post (Updated: now live - click here!), but there are lots of opportunities on the boat to trade with both cast members and even officers!
As of now (early 2020), you can bring 2 750ml bottles of wine or 6 12oz beers per adult on the boat at each port. That's kind of a big deal (that isn't allowed on most other lines) - that means there's no need to bring on all of the alcohol you'll want for the vacation on the first day. You can also bring up to 12 12oz drinks on at each port as well. But, keep in mind - you'll have access to soft drinks on the ship, so bringing canned sodas on is kind of a waste. I'd bring energy drinks, bottled waters, or canned coffee drinks (like a Starbucks doubleshot) on in your 12 drink limit.
If you bring wine, don't forget your corkscrew! Get screw-top wine to skip this one (or just ask your room steward - they'll bring you a corkscrew if you forget).
The cups you get at the soda stations on board are kind of small - you'll want a bigger cup so you're not constantly refilling. This is also nice if you'd like an alcoholic drink outside if your stateroom - *technically* you're not supposed to drink the ones you bring onboard outside if your room, but if it's in a cup, nobody will ever know. Not that I would do that. 😉 (You can also go to a bar and ask for an empty wine or beer glass.)
Beach toys (for Castaway Cay)
Collapsible toys are perfect for packing for a Disney Cruise! You can always wait and buy on Castaway Cay, but you're going to pay Disney prices (trust me - we learned that one the hard way).
Themed Clothing/Additional Clothes
Character shirts
Have fun with these! We ended up with 4 sets of family shirts - one for my son's birthday, one for embarkation day, one for pirate night (just for my husband and me - the kids had costumes), and one for the last full day. Some people go all out and do every day, some people do 1 or 2 - it really varies.
If you have a Silhouette or Cricut machine, It's much, much cheaper to buy $3-5 shirts at Walmart and make these yourself. You can get super cute Disney graphics on Etsy to use in your cutting machine software - I made most of our shirt sets for under $20.
If you have a little girl that's planning on going to Bibbidi Bobbidi Boutique, I'll go on and tell you - the prices on the boat are sky high. It's a great treat (we did it at Disney World a few years ago and it's incredibly special), but prepare yourself for the cost! One way to cut those prices a little bit is to bring your own princess dress.
Pirate costumes (for pirate night)
You won't want to miss out on the pirate night activities!
On pirate night, you'll get a pirate-themed dinner (and late night buffet), a pirate party on the deck, and a chance to take pictures with the characters in their pirate costumes. This is also one of the only times Jack Sparrow makes an appearance.
We had costumes for our kids and the adults just wore pirate-themed t-shirts. Lots of adults had great costumes too - there was even a grandfather dressed in such a great Captain Hook costume that people were asking him for autographs! 😂 So it's totally up to you how much or how little you do. You'll get a bandana for each person the night before your pirate night (you can see it in the picture above).
Costume for Marvel/Star Wars days (if applicable)
This wasn't offered on our cruise, but same idea as pirate night - bring as much or as little of a costume as you'd like.
Mickey/Minnie ears
At least 1 pair of themed pajamas (for pajama party night)
This is one we didn't know about before our cruise - thank goodness the kids still had clean pajamas to wear! On the last night, there's a fun pajama party in the kids' club.
Nice clothes for formal night or Palo/Remy dinner
You'll at least one nice set of clothes for formal night in your assigned dining room. You'll find out which night this is once you board. There's also a second optional formal night, but this was very split - maybe half of the people on the boat actually dressed up for this.
And, if you decide to upgrade to the adults-only Palo or Remy dinner (which I recommend), you'll need nice clothes as well.
Running clothes & shoes for Castaway Cay 5k
If you are a runner (or even if you're not!), I highly, highly recommend the Castaway Cay 5k. It's a really fun (and totally free to join) race on the morning of your Castaway Cay day. You'll even get a bib number and a plastic "medal" for finishing it. Don't worry if you're not into running - lots of people were walking it.
Bring a good set of running shoes if you decide to do it - the entire race is on asphalt, so I learned quickly that bringing my old running shoes was a mistake. My right foot actually went numb halfway through the race! 😂 Lesson learned. But I finished and got a great workout before I went and ate lots of yummy food at Cookies BBQ.
Miscellaneous Disney Cruise Items
You will use your Key to the World card for absolutely everything on the ship - it's a room key, pass to get off the boat, ID to check kids in/out of the kids' club, payment method, etc. You'll need it everywhere. We ended up buying these inexpensive retractable card lanyards (and added card sleeves) - this was one thing we did for our fish extender gifts, so I made a few for us as well. They were incredibly convenient! It was really nice to just pull the card out as needed and always know where it was.
Disney-issued luggage tags (sent in the mail)
You'll get these in snail mail a few weeks before you set sail. Make sure you put them on your checked luggage on embarkation day!
One of our favorite money-saving tricks for Disney is to buy gift cards from grocery stores. On our credit card, we get 6% back from grocery stores - and that includes gift card purchases. So, if you have this benefit, simply buy your Disney gift cards from a grocery store to effectively save 6% on your trip. You can also check big box bulk stores (Costco, Sam's) for deals on Disney gift cards.
These can be loaded on your Disney account before you set sail or as soon as you board at guest services, so there's no risk of losing them. And, even if you think you're spending absolutely nothing extra on the boat (which is next to impossible), you'll need these gift cards to cover the pre-paid gratuities that are required for all guests. (If you do use all of your gift cards, save one empty one just in case you have to get a refund - they'll need one of the original payment methods to refund anything.)
Not all cast members are included in the prepaid gratuities! You'll still need to tip your room service stewards (we usually did $1 or 2 per visit).
What NOT to bring on a Disney Cruise
Shampoo/conditioner/body wash
Of course you can bring your own shampoo/conditioner/body wash, but it really isn't necessary!
Disney provides big pump bottles of H20 products in each room - more than enough for everybody. It's really great quality (as opposed to most other cruise ship toiletries). We even used the body wash for bubble bath for the kids.
The following items aren't allowed on board...
Balloons
Steamers/irons
Bottle warmers
Surge protectors (power strips are allowed though - there is a difference! Check the back.)
Coolers
Weapons/illegal drugs
Over the door hanging organizers (this one is painful for me - this is one of my favorite organizing tricks on a cruise. I explain how to get around it here!)
Now, like I mentioned - there is lots more you're probably going to want for a cruise. That's where my Ultimate Cruise Packing List comes in! This is a comprehensive collection of all of my cruise favorites (explained like I've done with the items above). I'd use this Disney packing list in conjunction with the main cruise packing list, found here.
I'll be back Thursday with some of my favorite Disney Cruise hacks (UPDATED: that post is now live here!). Check out my other travel posts here.