What to Pack for a Cruise Checklist (PDF)
Don't know what to pack for a cruise? Get this free pdf checklist printable, complete with tips for family travel, vacation essentials, packing hacks, & more!
This post contains affiliate links. Read more about my link usage here.
My family really puts an emphasis on travel. We're not big "stuff" people - we choose to spend money on experiences instead. For our kids' birthdays for the past few years, we've given them family vacations instead of physical gifts, and it's been one of the best decisions we've ever made as parents.
So, you could say that we've been there, done that - and I'm here to share the good, bad, and ugly of what to pack for a cruise. 🙂 I've made my suggestions into a printable family cruise packing list pdf that I hope you'll find super helpful when planning your next trip! Grab the printable version of this family cruise packing list at the bottom of this post.
Most of the items on this packing checklist printable are common sense, but if you're like me, you need it written down to remember it. So, I've included both must haves you've probably already thought about and a few (kind of random) things that I've found really helpful when traveling with kids. If you're unsure why I put something on the list, check below for an explanation...I tried to include some of my best packing tips in this post as well.
What to Pack for a Cruise
Important Documents
Passport/Birth Certificates/Identification - Make triple copies of all of your important documents. If you're cruising, some cruise lines require the original copies to board, so bring those and put the originals in your safe as soon as you get to the room, using the copies when you can.
Flight Documents
Vaccination Cards
Credit Cards - Make sure the card you pick has no foreign transaction fee!
Cash - Get double what you expect to need. Include lots of small bills for tips.
Insurance Cards
Currency for Foreign Countries - the conversion rate is usually higher once you get to the country...most ports around America accept US dollars, but if you're planning on exploring out of the port or are going to a country that's further away, go on and get some foreign currency before you go.
Clothes
Underwear (1 per day)
1 Casual Outfit Per Day (+2-3 pairs shoes)
Swimsuit/Cover (1 per day for beach vacation)
Flip Flops
1-2 Dressier Outfits (+ shoes)
Comfortable Walking Shoes
Workout Outfits (2-3...don't go overboard)
Pajamas (1 per day per person)
Accessories
Flip Flops
Light/Rain Jacket
Sun/Baseball Hat
Sunglasses
Binoculars
Socks
Beach Bag - we like to pack an inexpensive, small beach bag just to get our stuff from point a to point b. You can even use a reusable shopping bag!
Family Vacation Toiletries
Toothbrush/Toothpaste
Floss
Shampoo/Conditioner
Body Wash/Soap
Brush
Pain Medicine
Benadryl
Dramamine or
Seabands - Some people report that these bands (that use pressure points to ease sea sickness) work as well as Dramamine if you're on a boat.
Cough Medicine
Other Medicine (Prescriptions)
First Aid Kit
Feminine Products
Band Aids
Makeup
Makeup Wipes
Straightener/Curling Iron
Hair Dryer
Ponytail Holders
Hair Products
Ear Plugs
Eye Mask
Chapstick
Lotion
Sunscreen
Aloe
Insect Repellant - We bring along wipes for this - they were so convenient.
Razor
Deodorant
Hand Sanitizer
Anti Chafe Balm/Powder
Contact Lenses/Solution
Electronics
Cell Phones & Chargers
Smart Watches & Chargers
Tablets & Chargers
Computers & Chargers
Cameras & Chargers
Extra Memory Cards/Batteries
Power Strip
USB Hub - We don't even need a power strip when traveling because we brought this amazing thing.
It's simply a one-plug outlet with several USB plugs on the other end. Perfect for charging lots of things at once!
Headphones
Headphone Splitter
Waterproof Phone Case
International Power Adapter - A must for your American electronics if you're traveling internationally!
Portable Power Bank - If you're not planning on being in your hotel room a lot, this is a great thing to have for electronics. It's perfect for charging laptops, tablets, and phones on the go.Walkie Talkies
Walkie Talkies - If you find yourself in an area without internet, these can be helpful for communicating with family when separated.
Always make sure to bring all charging cords for a camera, laptop, tablet, smartphone, etc. A good tip I use is to pack the charging cable as you pack the electronic device.
Kids' Items for a Family Cruise
Water Shoes
Floaties - Check with your destination before packing these items - many cruise lines and resorts have floatation vests for kids.
White Noise Machine
Baby Powder - If you're planning on going on a beach vacation, make sure you bring the baby powder to get sand off! Just sprinkle some on the skin with sand and it will wipe off like magic.
Swim Goggles
Night Light
Miscellaneous Items
When they were younger, I organized all of our kids' clothes for each day in a bag, including underwear and accessories. It was so easy to get them to pick an outfit each day.
I also use zip-top bags to pack things that might leak. I put a little bit of packing tape around the top of the bottle and put it in a bag to prevent the rest of your clothing from getting dirty.
You can reuse these bags once on vacation too! I saved some to pack wet clothes for the return home.
When cruising, the walls in your room are magnetic; use these on the wall to hang your cruise newsletters, Wifi passwords, and even art from the kids' club.
We use these to clip towels to our chairs. Perfect for windy days! They're also good for hanging wet clothes on the line in your shower. They sell them in ports for much, much more, but we got ours 6 to a pack at Dollar Tree.
We used most of the spaces for shoes, but the bottom extra pockets held our medicine, laundry items, sunscreen, bug wipes, etc. It was such a big help in organizing a hotel room or cruise cabin.
Clothes Accessories
Collapsible Laundry Hamper - this fit perfectly in our closet to let us put dirty clothes all in one place. It's kind of small, so once it filled up I emptied it into a larger laundry bag that I stored out of sight. (These hampers are kind of hard to find at dollar stores, but I have seen them there before!)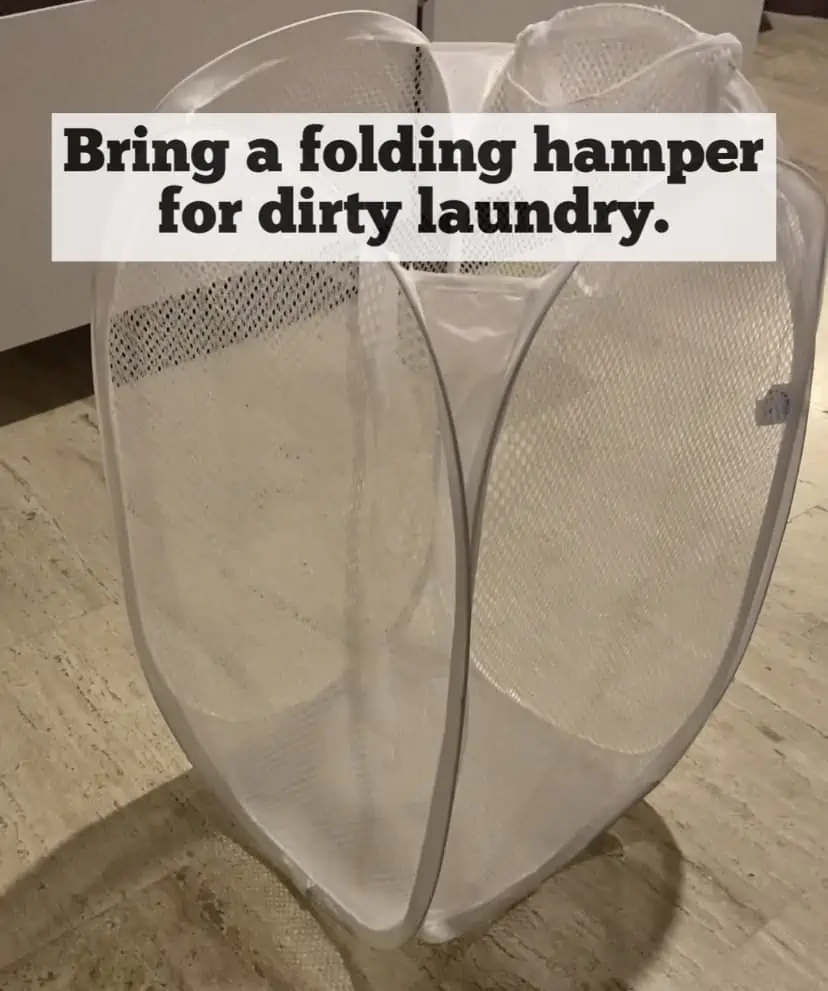 Even if you don't have a vacuum cleaner to use, you can typically get most of the air out of these by just pressing down on them. This saves a ton of room in your suitcase.
Stain Remover Wipes - You'll definitely need these once or twice! Much easier than carrying along a bottle of stain remover.
Wrinkle Release Spray - Not only can you not bring an iron with you on board, but there are usually not irons available to use. Clothes are so wrinkled when they come out of a suitcase, so this is a must!
Dryer Sheets - These are great for putting in drawers to freshen your clothing. You can also put a few in a bathroom to reduce odor.
Air Freshener
And a few random family cruise packing tips...
Packing cubes, packing cubes, packing cubes! These are amazing for packing an organized suitcase. When you get to your destination, simply place in the drawer and unzip - that's it, you're unpacked! Simply pull the clothes out of the packing cube as needed. It's a super easy way to organize those big, awkward drawers or closet shelves. (Mine can be found here.)
Roll your clothes to save space. This is my go-to method for folding t-shirts and towels now, even when not traveling. This allows you to see and access the contents of your packing cube in one glance!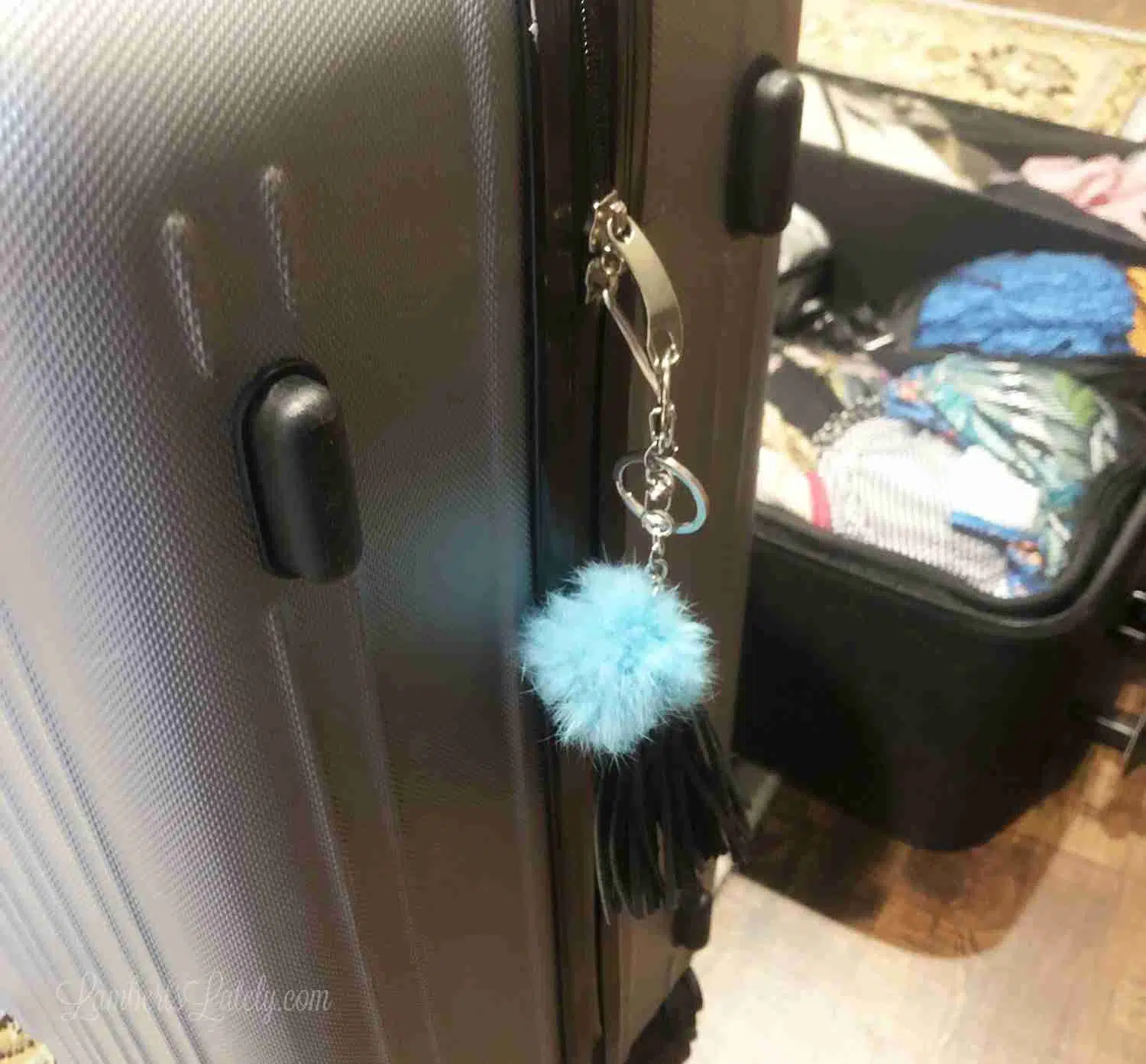 An easy way to find your luggage in a big sea of suitcases is to put something distinctive (like our oh-so-fancy keychain 😉) somewhere on it. I've also seen people put a large piece of duct tape with their name on luggage too.
We don't so much pack an overnight bag; instead, we pack a 24 hour bag. Pack everything you need for 24 hours before your trip and 24 hours after your trip in one suitcase and keep that one with you. Often, you won't get your luggage until hours after you board the ship. I pack all of our toiletries, a couple of changes of clothes and swimsuits, and chargers in this bag.
Packing Tips & Tricks Video
You can check out some of my favorite vacation packing tips and tricks in this video!
PDF Checklist - Free Printable
If you'd like to grab a printable version of the family vacation packing list you see above, I've got you covered! You can download a pdf version of this printable by clicking the link below.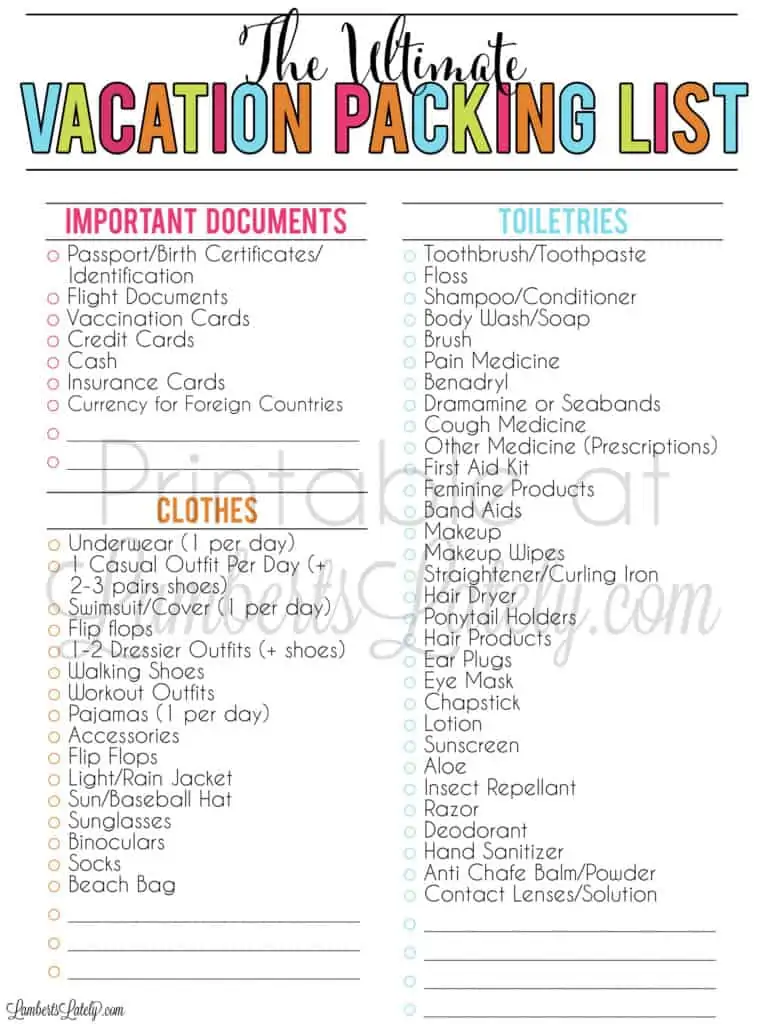 You can download both pages of this family cruise packing list printable by clicking here!
Alright friends, I'd love to hear your best family vacation packing tips! Leave them in the comments.