Board Game Storage & Organization Ideas
This post shows ideas for board game storage & organization. It includes using filing bags to file games on cabinet shelves & the best solutions for saving space without game boxes.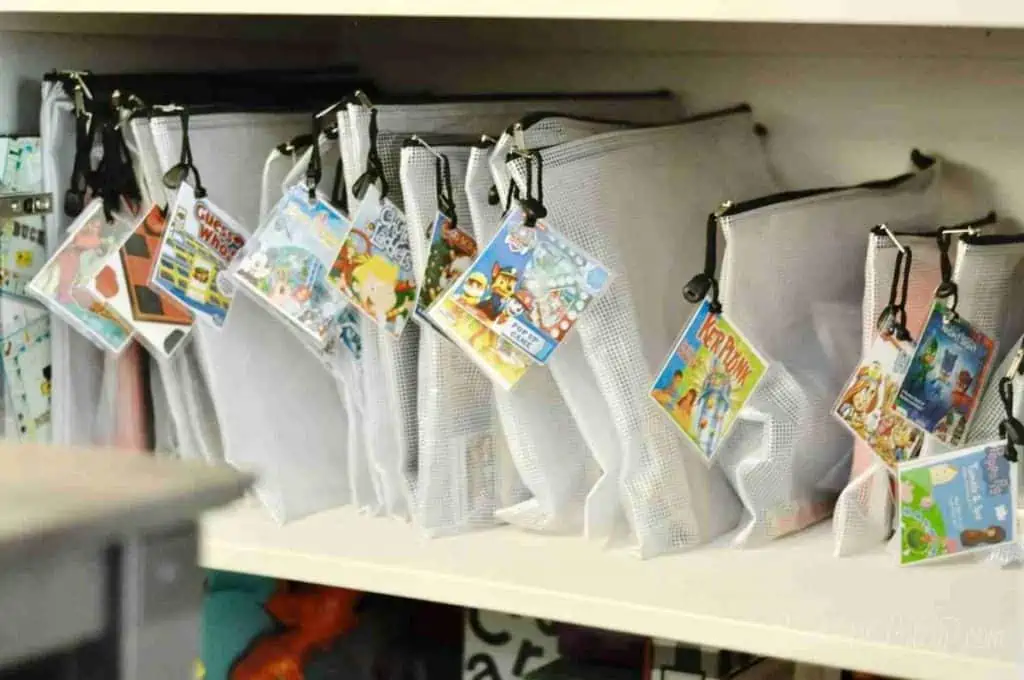 Affiliate links used in this post. Read more about my link usage policies.
Introduction
A major achilles heel of organization in our home has always been our board game cabinet. It was a mess. Take a look at the disaster...
It was beyond control.
Our board game storage strategy was tragic. There was no rhyme, no reason, and definitely no organization. The goal was to stack to boxes, but we always just shoved board game boxes back in the cabinet puzzle-style. If it fit, it went.
We were barely holding many of the flimsy, cardboard boxes together each time we played. That meant the organization of the materials inside suffered even more.
I've been meaning to find the best board game storage ideas for awhile. A couple of years ago, I searched for a streamlined way to store board games. That turned out to be tricky.
Boxes weren't an option when there are so many different sizes needed for different games. You have no idea how different each game is until you start comparing them!
Finally, I nailed down an effective (and easy to maintain) storage solution. It immediately organized our board game collection. It's easy; you only need a few hours and a few supplies.
My Board Game Organization Process
Supplies Needed
Step 1: Start with a clean slate.
As with any organization project I do around my home, I took everything out of the space I'm organizing to start with a clean slate. It's easier to fill up an empty space in an organized way than to try to shift around what's there.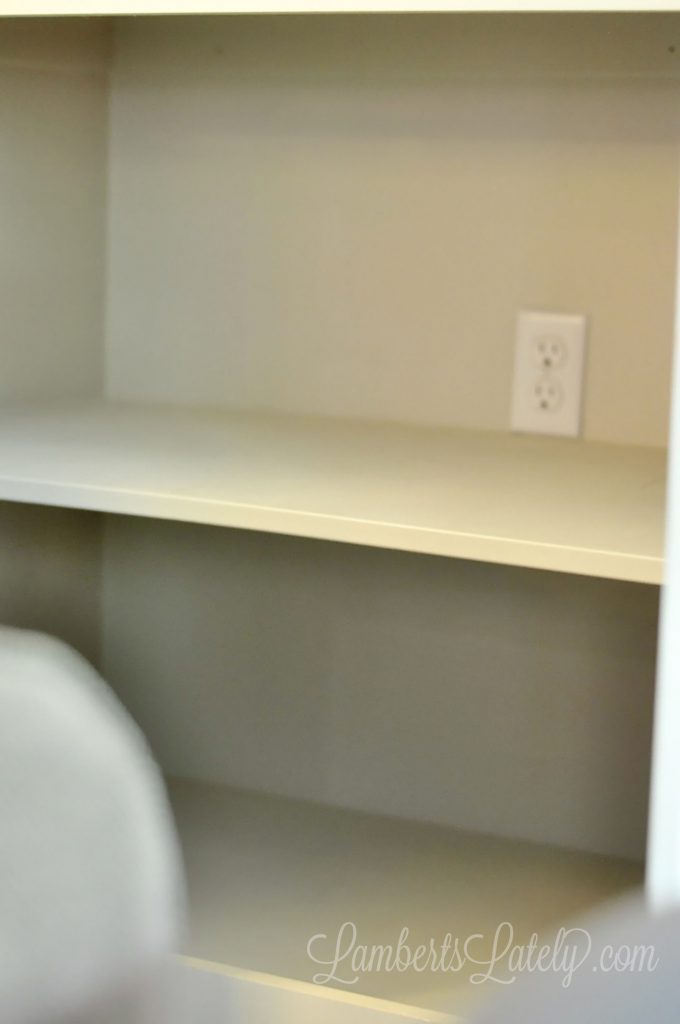 Let's all have a moment of cleared-out zen. We don't have a full game room, so I chose a cabinet shelf in our living room built-ins for our game storage. You'll need to find somewhere that has enough space for the games you need. A coffee table, shelving unit, or even closet organizers are all great options.
Step 2: Organize board games by size and storage type.
With your favorite board games out in the middle of the floor, group the boxes by size. This is important if you ordered various sizes of file bags. Grouping is a chance to see where to use what sized bags.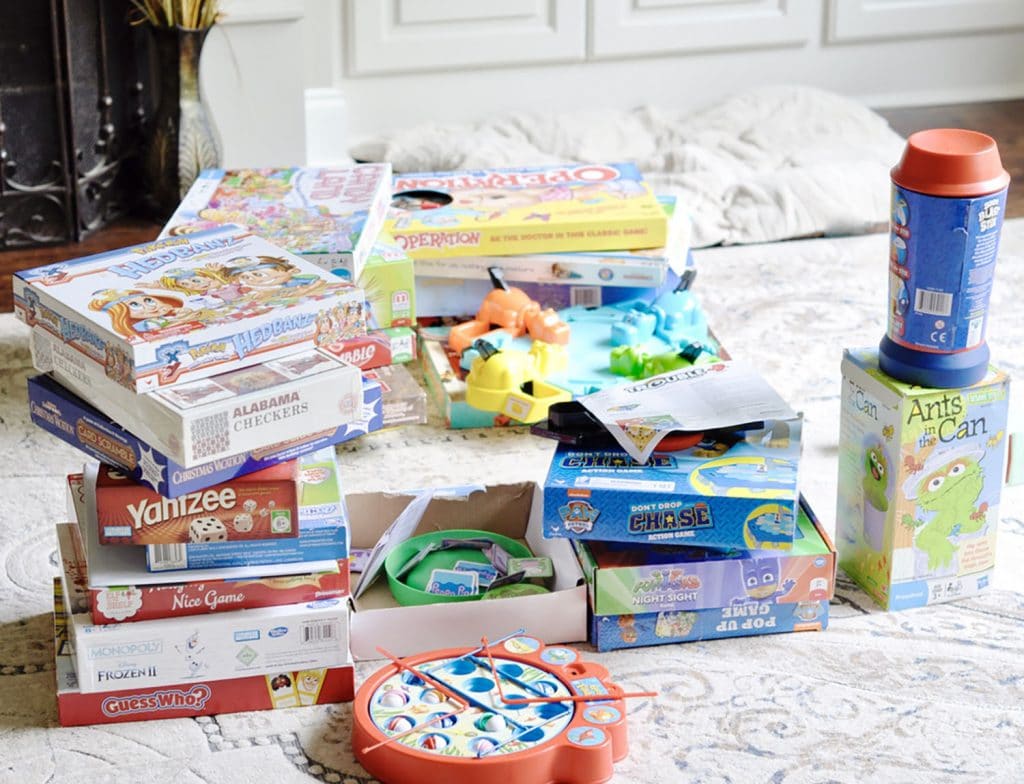 I also had a small group of games that needed to stay in their original packaging. The game might be too big to go into a bag (looking at you, Hungry Hungry Hippos). If the packaging is part of the game or the box is small and in good shape, you might keep the game in its packaging.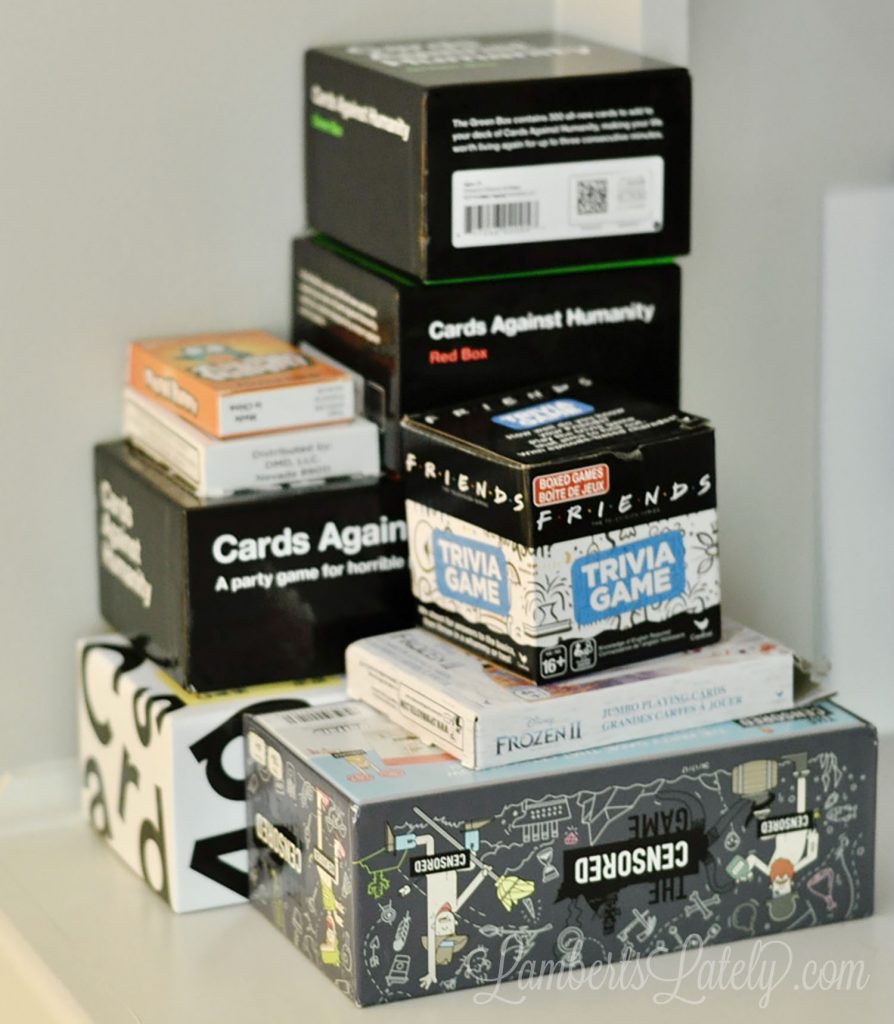 There was also a collection of random game parts in the cabinet. We'll deal with those later.
Step 3: Pair file bags with games.
The best part of this whole process is throwing out those broken cardboard game boxes! Start matching your games with bag sizes.
Cards and sticks were held together with rubber bands. If there was still an original plastic bag that held cards or game pieces, I kept it. There's no need in throwing away something that is still effective.
Each game's bag has the instructions and smaller game parts. With this set of file bags, you'll get several smaller bags. They're great for sets of parts that don't have an original bag, like dice or coins. Of course, plastic Ziploc bags would be ok for this; they just won't be as durable.
In this game, you can see the original plastic baggies that group together cards and game pieces. I didn't see any need to group bigger parts (like spinners and the actual board) in the bag.
It felt so good to throw these busted old boxes away.
Step 4: File game bags in the cabinet; sort by size.
Once your games are tucked away in the mesh pouches, it's time to fill your storage space back up in an organized way. I went from biggest bag to smallest, but if you want to, you can sort either alphabetically or by game category.
These are the games that I took out of those original boxes. These games used to take up almost the entire cabinet! Now they fit into one shelf, leaving plenty of space at the bottom. I use that for the more awkward games, card games, and some puzzles and toys we had been storing in another cabinet.
Step 5: Label your board games.
Originally, I was going to use my Cricut to print vinyl lettering for each bag. Once I started stacking the bags vertically in the cabinet, I realized I wouldn't be able to see those letters when trying to find a game. I wanted my organization to be pretty, but more importantly, I wanted it to be easily used and maintained by my kids.
So, I pivoted a little. I decided to make 3x3" print-outs of each game box and laminate to tie on the bag zippers with zip ties.
To do this, I used my friend google image search. You should be able to find most games this way. Taking pictures of your boxes as you throw them out is another easy option.
Copy your images into a site like canva and print! The laminator makes them super durable.
Before and After of Board Game Storage Cabinet
Before:
After:
Now, we can actually see what games we have!
With the added space, we were also able to store some of our puzzles and toys from another cabinet. The bagged games go on the top shelf and the more awkward/original packaging games are on bottom.
Let's go back to the random pieces and smaller game accessories I found when cleaning out the cabinet. As I went along, I matched the lost pieces to their games.
I have a bin that the whole family knows as the place for lost pieces. If there's an "orphan piece," it goes in the basket. Once a month (on my Journey to Clean "organize TV areas" day) I reunite the lost pieces with their games.
Knowing where everything is in this cabinet makes it so much easier to keep our games organized. We've started having more family game nights!
FAQs
How do you store board games without a box?
Ditch the board game boxes! Storing the pieces of a board game in a paper filing bag is much easier and more streamlined. This saves space and lets you store the file bags vertically for an organized board game storage method.
How do you store board games with little space?
Storing games in paper filing bags lets you ditch bulky board game boxes with varying sizes. Put pieces and instructions in a bag, label, and file bags for minimal board game storage space.
What is the best way to organize board games?
Plastic filing bags are the way to go! By using these bags, every game looks the same. This makes for a more visually appealing, uniform organization method. This also requires much less storage space than cardboard boxes.
Video: Board Game Storage with Bags