Refrigerator Organization Ideas
Get refrigerator organization ideas for a French door, bottom freezer drawer model fridge. See storage bins and other supplies for an organizer, how to chart out a refrigerator, and how to store things like soda cans efficiently.
Affiliate links used in this post. Read more about my link usage here.
Introduction
Just like so many of you, I follow organization accounts on Pinterest/Instagram that create these gorgeous, color-coordinated fridges that look straight out of a magazine. Everything is perfectly lined up, in rainbow order of course, and neatly labeled. There isn't a thing out of place.
Guess what? That's not what you're getting in this post of refrigerator organization ideas. I have a family. That family eats. Therefore, it just flat out doesn't work to expect my fridge to look like those...and you probably shouldn't expect that in your own home either. Instead, I focus on intentional organization that works for my family and is easy for us to maintain.
I've used the following refrigerator organization ideas to make keeping everything neat and tidy so easy!
My 5 Favorite Refrigerator Organization Ideas
1. Start your refrigerator organization by determining what you use the most. Make that the easiest to access.
Before you start organizing a fridge, take an inventory of what your family will need the most. In our family, we definitely use drinks and sauces/condiments the most often (meaning, that's what we need to pull out of the fridge the most often). I also like for the fruits and veggies to be easily accessible for quick lunches and snacks. So, those are the items that we decided to put in the doors and bottom drawers of the refrigerator.
I follow kind of a similar theory in my pantry organization; if it's accessible, we're more likely to eat it. That's why I like to make the produce and healthier snacks reachable for kids. I notice that they are so much more likely to pick it for a snack if they can get it themselves. Same goes for water bottles in the doors. They're much easier to grab than drink pouches or juice.
2. Separate groceries by type; have a designated place for every category.
Once you determine what needs to be most accessible, divide all of the foods in your fridge into categories. You might have to take it out to organize into categories (kind of like I did with our small pantry organization project).
You might be asking, "How should I arrange my fridge items?" That's totally up to you! This is going to look a little different for every family; if you're not a big freezer meal cooker, you probably don't need a freezer meal thawing spot. If you don't use a lot of disposable drinks or condiments, the door storage might be better used for jars or snacks. Make it work for you.
One note on safety: anything that is really dependent on consistent refrigeration for safety (like milk, eggs, meat, etc.) should go as far back in the fridge as possible. The more you open the door, the more the front of the fridge heats up...reduce the exposure to bacteria-causing heat!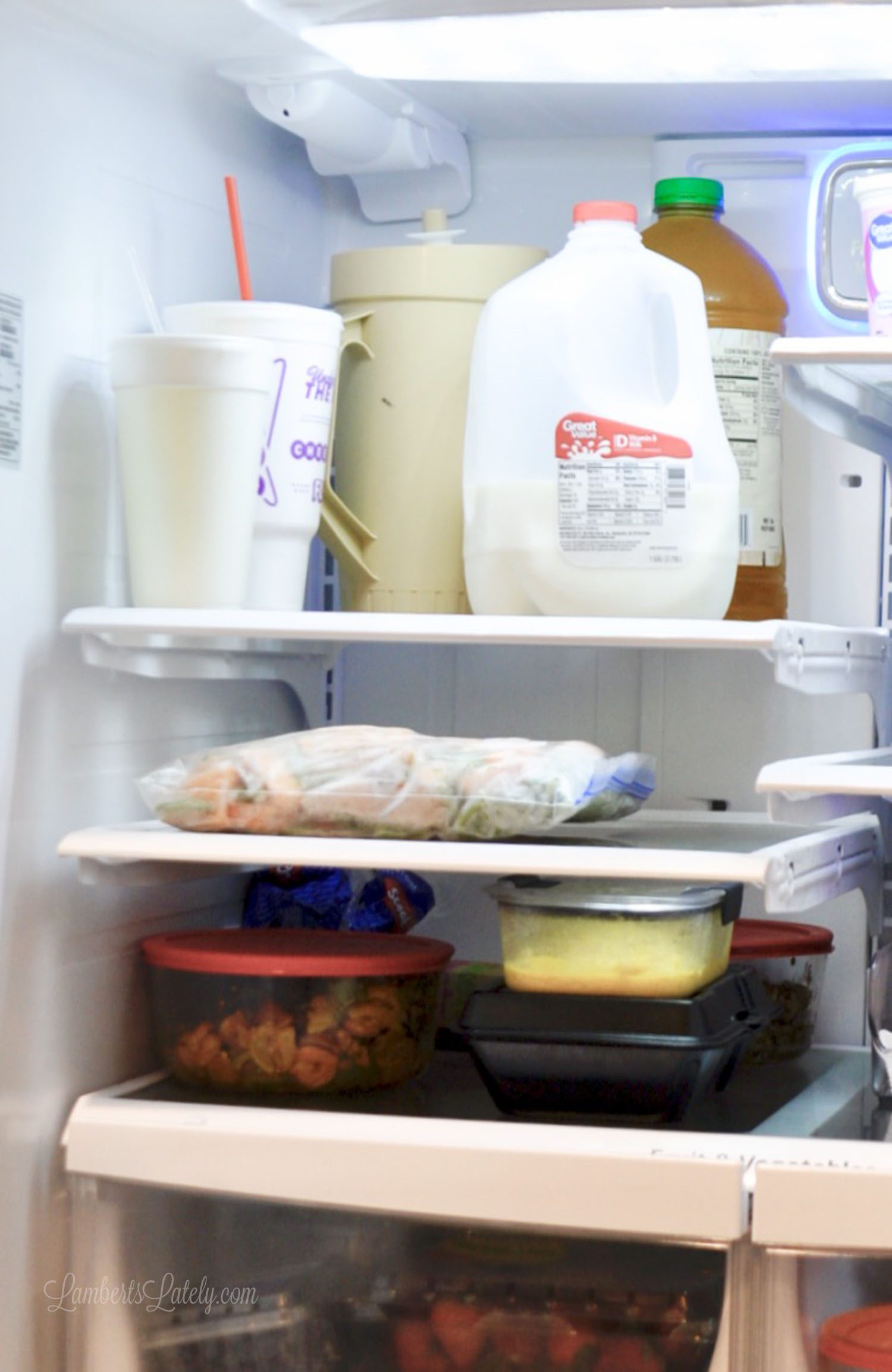 Freezer Meal Area
In our family, we cook with a freezer meal almost daily; having a spot to safely thaw the meals before cooking that night is important for us. I try to reserve the shortest shelf for that (however, leftovers often get stored on that shelf too when not in use for freezer meal thawing). I also like to keep a spot of just leftovers in the fridge so everyone in the family knows what needs to be eaten. And, the pretty obvious spot for taller drink containers (like milk and juice) is the one tall shelf we have.
(Please note the takeout boxes and cups; I wanted to make this real for you guys! No color-coordinated, fancy storage containers here. We use what makes sense, even if it's not pretty.)
Dairy
We probably need to access the dairy products (including eggs, sour cream, yogurt, cottage cheese, etc.) the least often, so those are stored on the upper shelf (and pushed back as far as possible to keep them nice and cool).
Lazy Susan in the Refrigerator
Once jars are open, most have to be stored in the fridge. I try to limit the amount of open jars to just what fits on this Lazy Susan. This one little tool is super inexpensive and has gone such a long way in refrigerator organization and maximizing the space in those awkward corners. Instead of having to dig through jars to find the food item you need, simply give this a spin!
Clear Storage Bins For Meats & Cheeses
After years of storing meats and cheeses in one of the fridge drawers, I finally moved them out a for this refrigerator organization project. These are stored on the lowest shelf of our refrigerator for easy access. I separated them into these clear storage bins. I love it so much more than having everything thrown into one unorganized mess.
Here's a better look at the side of the storage bin. They're easy to pull out if needed and blend into the fridge perfectly. And, if you need to stack them, they're designed to be stored vertically as well as horizontally.
3. Use the storage your refrigerator already gives you to your benefit.

There's no point in reinventing the wheel! Most every fridge has a spot for fruit and veggie storage called the crisper drawers. It's typically regulated for low humidity for fruits and vegetables that rot (like apples and strawberries) and high humidity for fruits and veggies that wilt (like leafy greens). Regulating the humidity to the correct level extends the longevity of fruits and vegetables. Use it! Most refrigerators even come with a label for the fruit and vegetable drawers.
(One note about labeling: for the most part, it's just not for us. I definitely use it extensively in our pantry canisters, but because things occasionally change places and it's pretty obvious what's where, I just skipped that step in the fridge.)
Fridge Door Organization
I didn't really know how I would like this section of our fridge; it's a two-part door organization that basically gives you two different refrigerator door shelves and opens from both the inside and outside of the fridge. The bottom shelf and top shelf are a little smaller (great for shorter items) and the middle shelves are taller (for bigger bottles). I have to say...I absolutely love it! Like I mentioned earlier, we need to access condiments and salad dressing a lot; having that little door outside of the main fridge door makes it really easy to grab condiments.
Ketchup, mustard, and hot sauce are our condiments in heavy rotation, so those stay front and center. Sweeter condiments (like chocolate syrup, whipped cream, and maple syrup) are lower where they're less at eye level. And there's even some sneaky storage in that outside door that is the perfect width for salad dressings.
We have a freezer drawer, which totally intimidated me at first. The thought of having to organize that big, deep space didn't sound easy to me. But our freezer came with these big dividers that work perfectly for us. The two main things in our refrigerator's freezer (not our deep freezer) are a) smoothie supplies and b) convenience foods, so we just use that divider to make two sections.
Drawer Freezer Organization
A few sweet treats are on the top drawer of the freezer, along with a container that allows us to organize ice packs so conveniently. This came with the fridge too; I think it's meant for ice storage, but we don't typically need lots of extra ice, so we repurposed it. Nothing wrong with making a space work for you! That divider you see on the right side came with a set that I'll talk about in just a minute.
(Just for full disclosure, this is our deep freezer; we use it to store less-accessed items, like freezer meals, frozen veggies/meats for future dinners, and even a few pans of my cinnamon rolls for easy weekend breakfasts).
4. Divide bigger areas into easier-to-use parts.
(This picture was taken about a week later than the others; totally forgot to snap one while I was taking the first set! That's why everything is different.)
When we got our fridge, that big drawer was a mystery to me. It was one big section and was so difficult to keep organized. I tried just keeping everything in sections, but they always rolled back together into one very-not-categorized mess.
Problem solved though: I found these drawer dividers on Amazon that have been the perfect solution. They allow us to adjust the width of the sections as needed. At the same time, the dividers stay in place really well. I also used them in the top drawer of our freezer; you can see them in the picture above.
Having smaller sections to organize makes it so much easier to keep everything in place! We can adjust if we need more space for things like water bottles or less space for things like soda cans. I've even used one section of this big drawer as a snack section for my kids. Now, this drawer is incredibly useful.
5. Have a designated cleaning day to dedicate to refrigerator organization and cleaning.
Of course, this doesn't stay this way on it's own. Doing the initial organization is important, but following the steps to keeping it organized might be just as important.
Once a week, Journey to Clean (my cleaning system) has its users organize and clean the fridge. That includes throwing out old foods, making sure everything is in its place, restocking/making note of what needs to be stocked, a chance to wipe drips and spills, and clean crumbs. It maybe takes me 10 minutes a week, but is absolutely crucial in keeping the fridge nice and tidy.
Maintenance
This also requires that you put things away from the grocery store in the correct places. There's no point in going through all this if you're not going to maintain! Let everyone in the family know where things go in the refrigerator now...keep everyone on the same page.
Not too scary, right? Following just a few simple steps will get you an organized fridge in no time!
Video: Favorite Refrigerator Organization Ideas
More Organization Posts...
Check out all of my organization posts here.
I would love to hear a few of your go-to refrigerator organization ideas in the comments!