Craft Room Ideas on a Budget
Take a tour of a craft room, complete with storage ideas, design layout, how to use Ikea furniture for organization, & ideas for people on a budget.
I thought I'd wrap up this month of all things craft room by giving you guys one final tour of the finished space!
Let's start with a good before and after...
Before (May 2019)
After (September 2019)
And yes, this project took us every bit of 4 months. We worked on this lots of nights and weekends. It was totally worth it - we've already gotten so much use out of this space, from crafting, to building train tracks, and even a couple of yoga sessions - it has become such a functional space!
Let's take a look around the room...
The Craft Room Side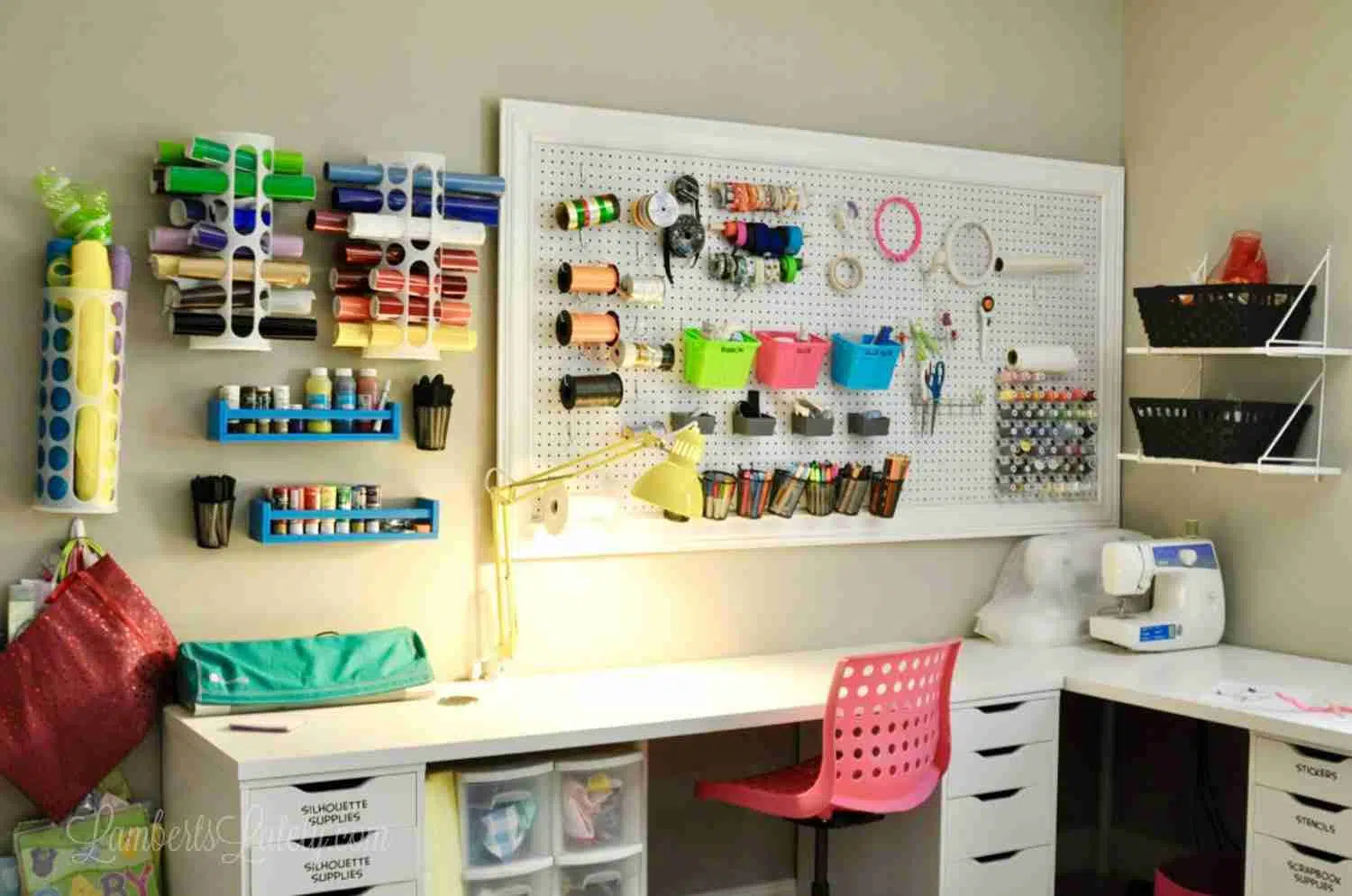 This is exactly what I envisioned when we started planning this space earlier this year. I wanted it to be super functional, with lots of open storage to show off the pretty crafting supplies. I'm honestly not typically a big fan of open organization, but since craft supplies are usually bright and colorful, I thought this would be one area where it could work - and it definitely did!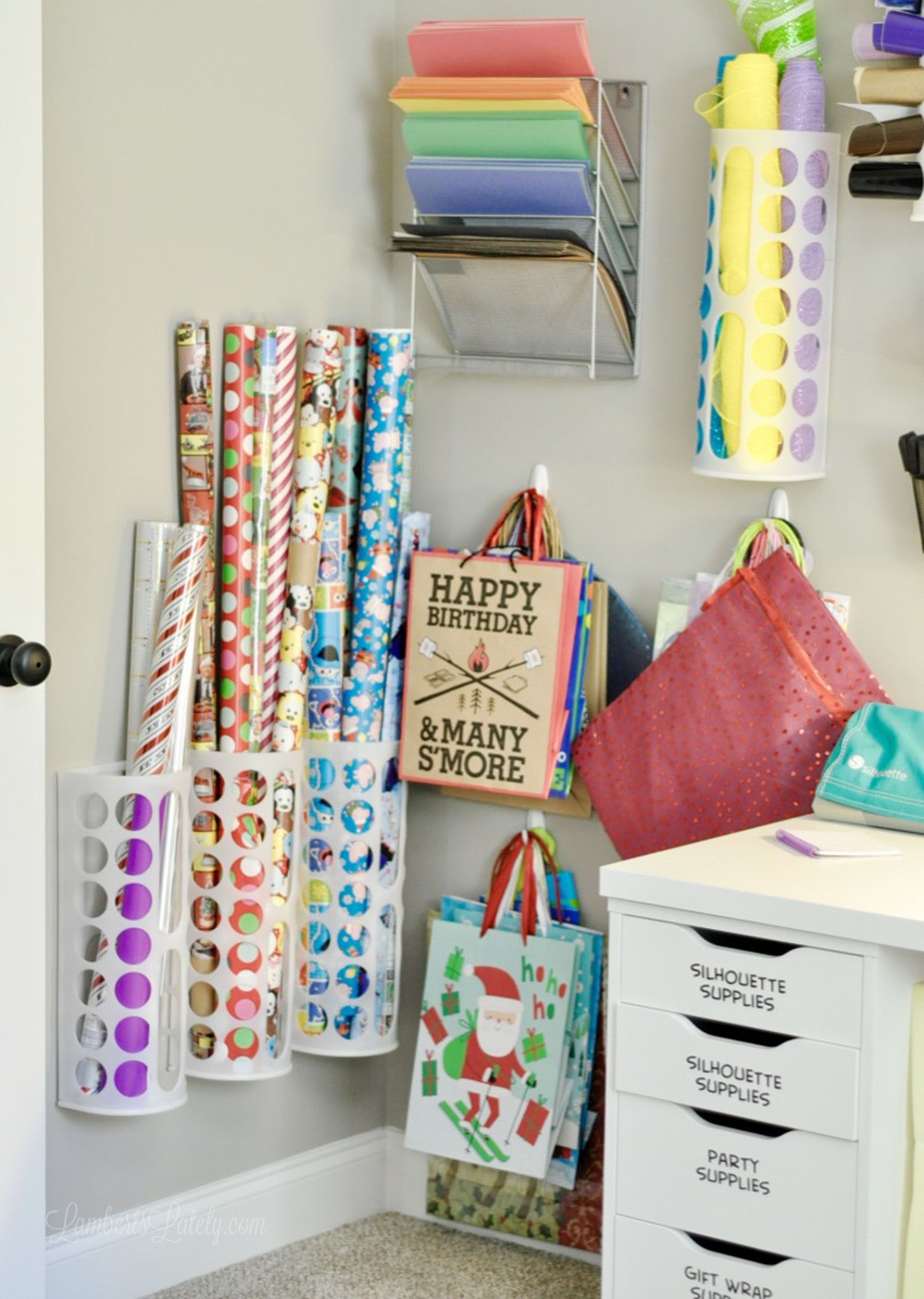 Starting in the back corner, you see our gift wrap station. This has been a need in our home for awhile. I caught myself shoving wrapping paper in a random closet and wrapping too many gifts on a kitchen table - it was time for a better solution. 🙂
I've sung the praises of the Variera plastic bag holders throughout this series - they are seriously a staple organization tool for our craft room. You'll see them used throughout this space. They work wonderfully for holding any kind of tall, thin containers, including gift wrap.
Then, I used simple command hooks to hold our collection of gift bags.
We also added a construction paper organizer in this corner - the kids have loved having it so convenient for crafting.
Two out of the three sets of drawers in our Linnmon Alex desk combo are currently occupied (I left the third set open for future storage) and are labeled with cut vinyl. I organized tags and bows in the drawers right next to the gift wrap corner. I thought this was also the perfect place for party supplies, like tablecloths, streamers, and balloons. The vinyl cutting supplies are in those top two drawers, right below...
...the cutter station! I have it on the desk below a couple of Variera plastic bag holders that contain my rolls of vinyl.
I also have our paints organized in this area. These are just Bekvam spice racks (can you tell I like Ikea? 🙂 ) that i painted a fun blue color. I used dollar tree pencil holders for the brushes; they just have a small hole poked out of the back so they could be secured to the wall.
Since the space under the desk is fairly large, I used some of it to store my fabric and extra padding. I've had these storage bins since college - they've seen a lot. 🙂 I thought they would be a great way to show what fabric I had, but keep it corralled at the same time.
Our chair fits very comfortably beside that. I still want to get an office chair rolling mat to make transitions from one desk to another easier...we just haven't done it yet.
We decided to add this lamp to the room while we were actually at Ikea buying the craft room supplies - and I'm so glad we did! It's been really handy for intricate projects that needed a little bit more light. It was super inexpensive and I love the fun pop of yellow.
That leads to one of my pet projects for this room - the pegboard! I talked a whole lot more about this in my post how we created a DIY framed pegboard, but I thought I'd give a mini tour of the organization we put into this space.
We organized ribbon using simple J hooks (they came from this big set of peg board supplies that I use throughout the board). I simply tied a piece of string through the coil to hold them up.
The small gray containers came in that same set I mentioned above. I snagged these cute little colorful bins at Dollar Tree a few months ago - they're held on the board with J hooks too (and labeled with vinyl, of course).
I knew I wanted my collection of ribbon out where it could be seen - it's so pretty! I just rolled it around small dowels and secured it with L hooks.
These are the same Dollar Tree pencil cups that were used for brushes on the wall; I poked a hole in the back of these as well and put them on with J hooks. They're really easy to take on and off if needed and it's so nice having them off of the desk.
These holders are great for scissors and tools - a few of my pairs of scissors were mysteriously missing this day. I'm thinking a certain 7-year-old is responsible. 🙂
And, in the corner, I have my thread out and ready to grab - so much easier than putting it in an unsorted box! I bought a few extra L hooks for this part.
Past that, I have a little bit of open shelving (with baskets that hold our extra ribbon and a few sewing supplies), as well as a small ironing board I can use for sewing and vinyl projects. I didn't know how much use it would get, but I'm already so glad we added it...it's been really convenient!
This side holds a few other common craft supplies we have; the middle desk shelves are currently the empty ones.
You will usually always find a craft going on this desk, and it's usually not mine. 🙂
The Play/Kids' Side
The original plans for this room mentioned that I wanted a few distinct sections of the room. In the end, the kids' and guest parts kind of blended together to make one big built-in with lots of purposes, with a large empty space in the middle of the room that is kind of a multi-purpose area.
I showed the desk part of the murphy bed in last week's post, but I didn't show much of the chalkboard that is revealed when the desk is folded up. The kids love this part!
It simply stays put with heavy-duty magnet closures and a lock.
When open, the kids have a huge desk area for crafts, homework, or coloring.
You can find a lot more about constructing this DIY murphy bed and desk in last week's post.
Chairs are the Jules desk chairs from Ikea (they wanted to match mine) - personalization was requested by Emmie. 🙂
Then, when the desk is folded in and locked, the bed folds down! It's incredibly easy (I can do it by myself) - I attribute it all to this kit. (More info about building the murphy bed.)
On the sides of the murphy bed, we added two built-in bookcases - these are primarily used for kids' storage. I used the same fabric bins and the same labeling method as I did in our playroom - I love that it is consistent throughout the upstairs and so easy to keep organized.
We also have the kids' books, art supplies, and bigger toys on these shelves. I tried to put the toys that needed a lot of floor space (i.e. Jackson's train track collection) in this room - he loves having the floor space to create all he wants.
These lights were the perfect addition to the top of the shelves - they add really pretty lighting in the room when the other lights are off. They definitely help make the murphy bed unit a feature of the room.
Finally, this little cart (that holds our paints, crayons, and stamps) made its way into the craft room from the playroom - it's so much more useful in here now that the kids are doing more creating in this space.
Now, if you didn't think that before and after at the beginning of the post was a big enough change, check this out...
What a difference a few months makes! That room above was one we never used (except for storing random junk, obviously) - it was wasted square footage in our house. Not anymore! We have probably used this room more in the past month than we have in the previous two years we've lived in this house. It has so many different purposes now - and, hopefully, it will continue to be a room we love for years to come.
I couldn't be happier with the result!
More Craft Room
You can also see my other DIY Projects here!