How to Make a DIY Picture Frame with Wood Molding
This tutorial for how to make an easy DIY picture frame with baseboard and decorative wood molding makes a beautiful, ornate frame for canvases. See how to give it a gold/antique look with spray paint.
Affiliate links used in this post. Read more about my link usage here.
The Problem
If you've read my blog for awhile, you've probably seen this painting hanging in our bedroom.
This canvas is older than both of my children and has now hung in four different homes. We originally bought it when we lived in Tuscaloosa at a charity auction. It reminded us of our bedroom and we knew it would be the perfect focal piece hanging in between a window and a door on an empty wall. (Coincidentally, it now hangs between the door and the window in the master bedroom in our current home!)
We bought raw picture frame molding when we lived in Tuscaloosa to frame it, with the best intentions of making a frame. We attempted to cut it and it was an absolute disaster. I ended up throwing away $50 worth of molding in that failed project.
So the frame project went on the back burner for years. But, a couple of years ago, we tackled this in one day with a ton of success.
Why should I make your own DIY picture frame?
One word - money!
I priced out custom wooden frames for a canvas this big, and it was easily going to cost us $200-300. I just couldn't bring myself to pay that much. All of the supplies for this DIY picture frame cost around $100 (less if your frame is smaller) and, as long as you get your measurements right, this isn't a tough one to complete. It takes just a few hours of actual work!
Let's dive into making our DIY wood picture frame.
How to Make a DIY Picture Frame with Wood Molding
Just for reference, I'll be referring to the dimensions of my particular canvas to tell you how to construct the frame. My canvas is square and measured 30 3/16" on both sides.
This frame DIY can also be completed with a thinner photo or piece of artwork. If your framed item is thinner, I recommend cutting a piece of cardboard or foam board to go behind the photo in the frame, securing the backer with brads.
5 ¼" baseboard molding (I chose the ½" wide option because it was a good bit cheaper.) You'll need to measure your picture/canvas, add 16" (to account for the angles in the cuts), and multiply that number times 4 to figure out how much you need. So, my canvas was 30 3/16" - I rounded up to the nearest quarter inch and added an additional quarter inch (30.5"), added 16 (46.5"), and multiplied times four (186") to figure out how much was needed. So, two 8' pieces worked for me...needs will vary though!
2-3" decorative trim molding - You'll need roughly the same amount of this as baseboard molding.
1" (ish) decorative trim molding - Again, about the same as the baseboard molding. (Note: all of my molding was bought locally at Lowe's...check your store for availablity.)
Measuring tape
Inexpensive sponge brush
Finer grit (180) sandpaper (or sander)
Wood clamps
Step 1: Measure, measure, and measure again.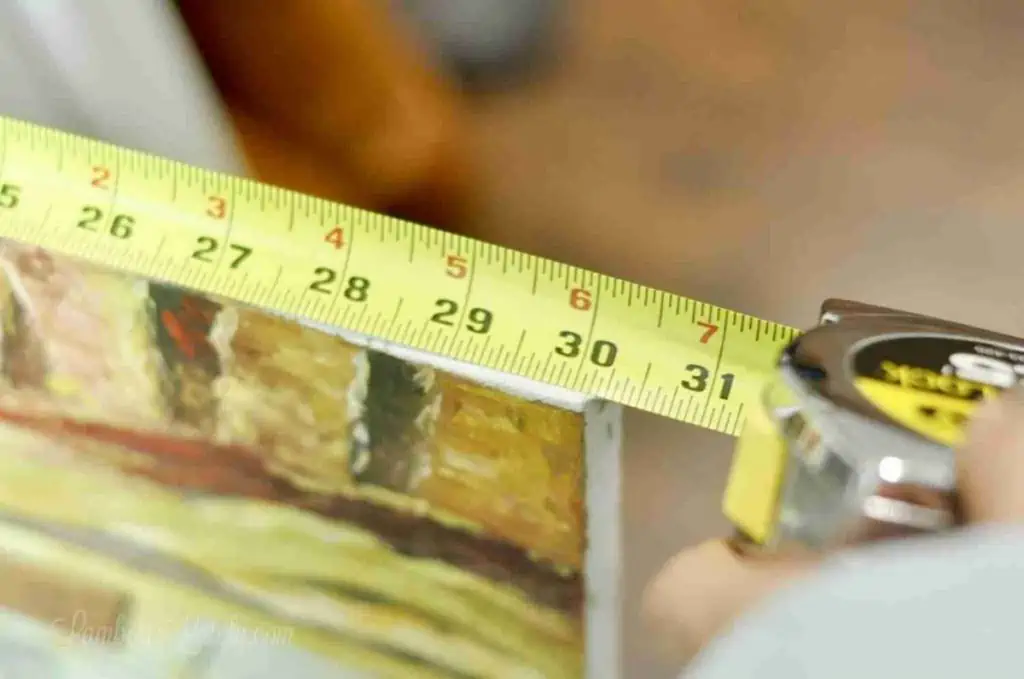 Make sure (and double check) that you have the measurement correct on the item you're framing. Once you have that measurement, round up to the nearest quarter inch and add a quarter inch. You'll want a tiny bit of wiggle room, especially when everything is attached together.
From here, you could definitely go on and glue all of your separate wood molding pieces together and cut everything at once. I chose not to do that because...
I didn't want to waste a ton of expensive decorative molding if I made a wrong cut
I wanted to conserve as much of that decorative molding as possible, and
I didn't want to accidentally split the extra molding while cutting.
You can really do it either way, but I chose to cut all pieces separately and glue afterward.
Step 2: Cut the baseboard pieces.
Time to break out the power tools. 🙂
Once you have your canvas measurement, cut the first baseboard piece on a miter saw with an inward-facing 45-degree angle on each side. The inside of your baseboard should equal the rounded up measurement of your canvas. So, let's take my measurement for example: the inside (top) of the baseboard pictured above is 30.5", with the outside being a good bit longer.
You can do these two at a time, but I'd strongly recommend only doing the top/bottom at once or the sides at once. It's super important that the top and bottom match perfectly and the sides match perfectly!
Make sure to check out my no-sew curtain hemming and DIY stove guard posts, too!
Step 3: Add your frame ledge with decorative molding.
Take the 2-3" thick piece of decorative molding and cut an inward-facing 45 degree angle in one end to match the baseboard. Line this up on one side of your cut piece of baseboard (as pictured above), making the decorative piece overhang the top of the baseboard by .25-.5". This will give your frame a lip on the inside to hide any gap between the canvas and the width of the frame.
It's very important that this overhang is even all the way across. Use a measuring tape to go back and forth a few times before marking off your cut on the other side.
Once you've ensured that the top overhang is even all the way across, use a pencil to mark off where you need to cut the other 45 degree angle on the other side (on both the top and bottom of the decorative piece). Make your cut at that line and temporarily put the decorative piece back in place on your baseboard to ensure that it fits correctly.
Step 4: Add the smaller decorative molding.
You're going to follow a similar process for the small (1") piece of decorative wood molding.
Cut an inward-facing 45 degree angle on one side to match the baseboard, line it up on one side of your cut baseboard, and make sure it's straight all across by measuring in several places. It doesn't necessarily matter where you choose to put this smaller decorative piece on the baseboard. I made an inch gap between the two decorative pieces, but you can do what you think looks best. The most important thing is that it's straight.
Once you've ensured that it's straight all the way across, mark and cut the 45 degree angle on the other side.
Step 5: Glue the decorative pieces in place with wood glue.
The hard part is over! Once those pesky cuts are made, you're just assembling and painting from here on out.
I thought we were going to have to nail the decorative molding onto the baseboard, but simple wood glue ended up being enough hold.
Brush on a decent amount of wood glue with a sponge brush and place both pieces of decorative molding in place on the baseboard piece. If you've cut your angles correctly, the frame lip should still be even all the way across and the 1" piece should still be straight when you line up the angles on the baseboard. It doesn't hurt to recheck this while you're gluing.
Once everything is in place and you're sure your measurements are correct, clamp down the decorative pieces and allow the glue to dry overnight.
Repeat this three more times for the other sides of the frame. If your picture length and width are different sizes, mark the back of your pieces with either "top/bottom" or "sides" so you can tell them apart when attaching.
Step 6: Sand down and even out the ends.
At this point, you'll probably have very minor differences in the baseboard and decorative molding lengths. Just sand down the ends to make sure everything is even. (Careful not to take any length off, though!)
Step 7: Lay out the frame and glue.
Once everything is dry and sanded, lay out the frame upside down. The baseboards have a slight angle on the front, so I used scrap wood under each side to make the back frame corners line up.
Carefully lift the corners of the pieces of wood and glue each angle together with wood glue. Make sure the edges line up as much as possible when you're gluing. I also went back with wood glue and painted a little into any gaps in the corners when the frame was laying upside down.
Once this glue dries for a couple of hours, attach 2 corner braces at each corner. We drilled them into the raised part of the back of each baseboard to give us a little thicker wood to screw through.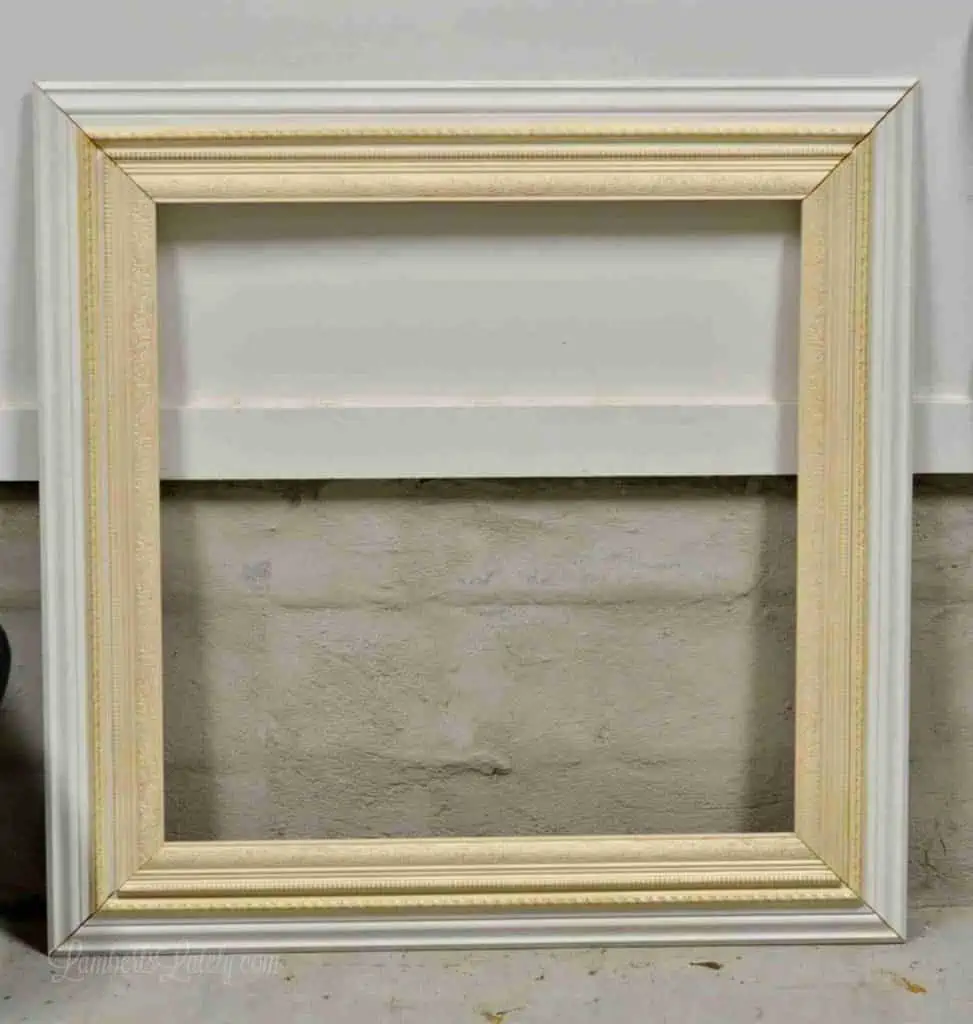 At this point, you have a frame! Now we just need to put the finishing touches on it.
Step 8: Caulk the corners.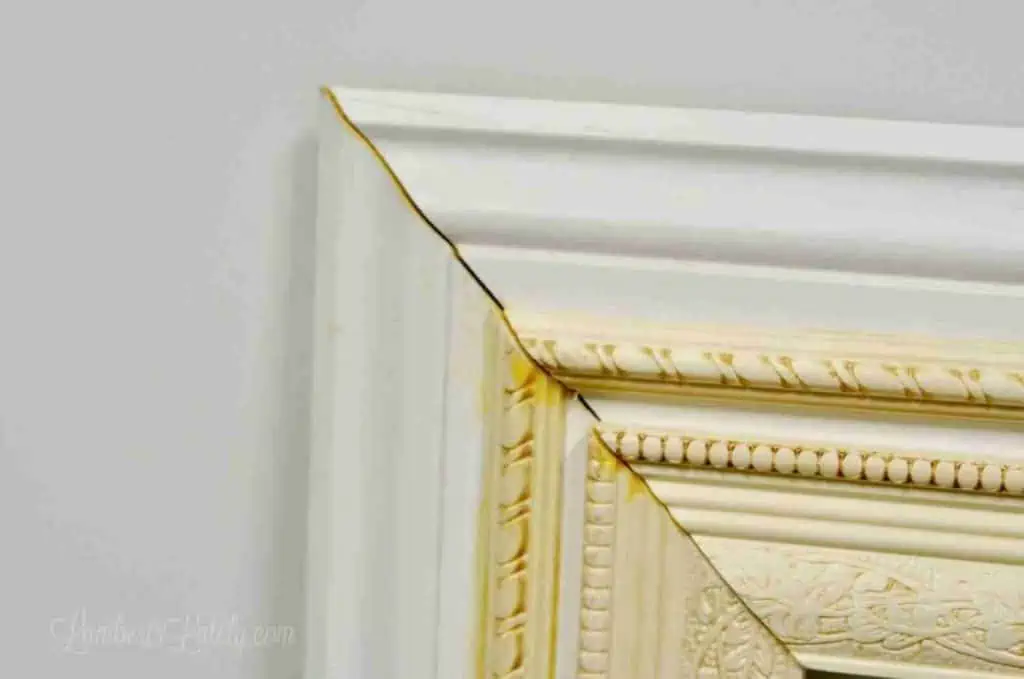 Unless you are 100% perfect in all of your measurements, the corners are going to be a little off. That's ok - easily fixable!
Use your finger to smear a little bit of caulk over any gaps, then wipe excess away with a wet paper towel. You might need to do this two times to really fill in the gaps.
Step 9: Paint!
This is probably the easiest (and the most fun) part of the whole thing!
I wanted my picture frame to have an antiqued look to it, so I gave the frame a base coat of black matte paint. This is one I've used on other projects that goes on very well and doesn't need a base coat.
This base coat does not have to be perfect by any means. Allow the black paint to dry for about an hour before moving on.
For my gold layer, I used this paint in the color Champagne Mist. It is a gorgeous paint and I love the color. This bottle's spray gives it kind of a patina, aged look. It comes out in kind of a funky (almost splattered) texture, so don't expect it to go on evenly. I would only use this paint if you want your frame to look a little aged.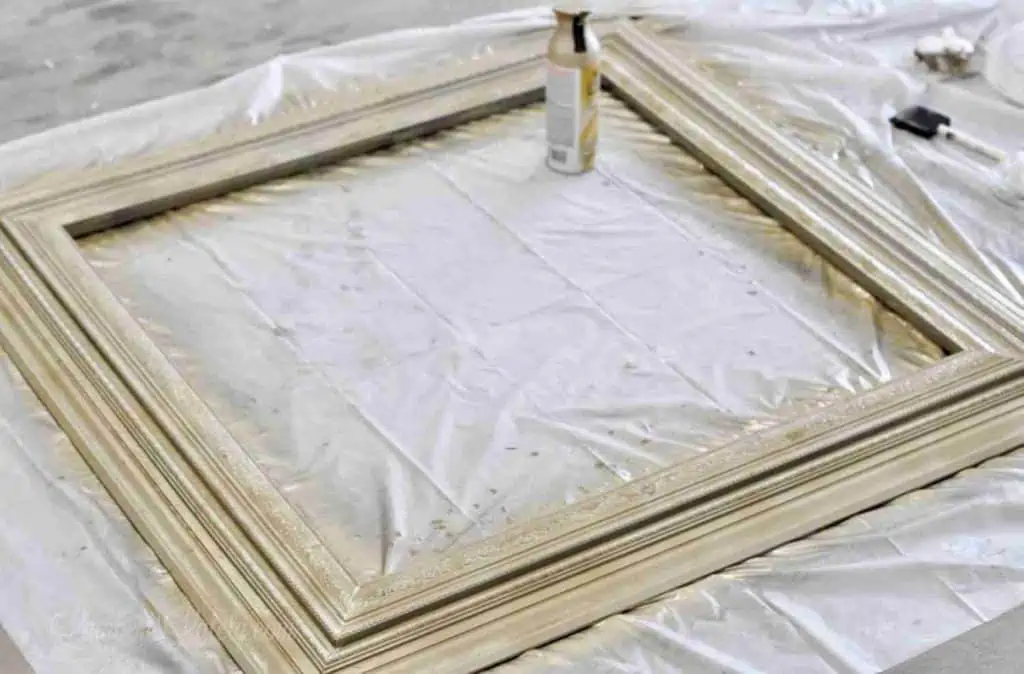 My frame required two coats of gold. One bottle was the perfect amount for this size frame.
Alternate Painting Idea
This frame can also be stained if desired. You can check out more details about adding wood stain in this DIY wooden blanket ladder post.
Step 10: Antique the paint.
Once the paint is dry, you're already going to notice a little bit of the aging. I purposefully didn't get the gold paint in every little bit of the gaps. I wanted it to look a little old and antiqued, and having a little bit of black showing through in those gaps did just that!
Make sure the paint is completely dry, then go over the raised edges (very lightly) with a finer grit sandpaper. You'll notice the black come through very easily. Don't be too aggressive!
Going over very lightly with the sandpaper gave it just a little bit more wear and really brought out the black undertones.
Step 11: Attach hanging materials.
I used a wire picture hanging kit to hang this frame. This allowed the frame to sit off of the wall a little bit, which was needed since our canvas is just a little bit thicker than the finished frame. Double check your kit to make sure it supports the weight of the frame.
Final Result
This DIY picture frame makes me smile every time I walk in our bedroom now. We all have those "one day" projects for our home - this was one of mine. I am so incredibly pleased with how it turned out (and how I saved literally hundreds over having a frame made for this canvas). It's now one of my favorite pieces of home decor!
Happy framing, guys!