Free Laundry Rotation Printable
This free laundry rotation printable shows you how to make sure the linens in your home are clean! Shows how to do areas of the home weekly to divide the workload.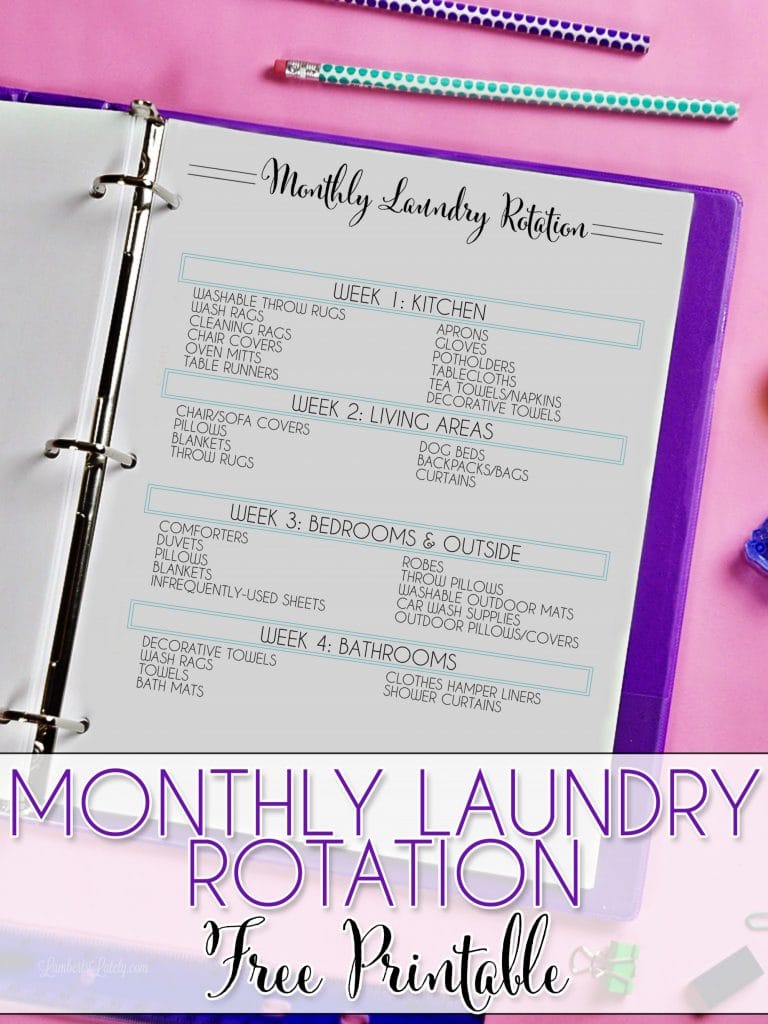 We all know to wash clothing, towels, and sheets every week - but what about those household linens that often get overlooked? It can be tricky to keep up with when you washed what linens throughout your home.
The best way I've found to keep up with washing the overlooked linens throughout your home is a weekly rotation! You guys know I'm a big fan of cleaning on a weekly rotation - Journey to Clean is built on that premise. Each week of the month is dedicated to a specific cleaning area in my home; laundering items in each room is no exception.
The items on this list can usually always be laundered once a month (or less) to keep them in tip top shape. Nobody wants to have to wash every linen in their home every week; that's entirely too much work. Instead, making sure you stick to this monthly rotation is a simple way to spread out the laundry and ensure that items in each room are maintained. And once a month is really only a suggestion for some of these; if you look over an item and it's still clean from the previous month, by all means, skip it! Re-cleaning something that is already clean doesn't win any brownie points and just wastes your time.
Here's the list of items I check over once a month in my home.
Week 1 - Kitchen
Washable throw rugs
Wash rags
Cleaning rags
Chair covers
Oven mitts
Table runners
Aprons
Gloves
Potholders
Tablecloths
Tea towels/Napkins
Decorative towels
Week 2 - Living Areas
Chair/sofa covers
Pillows
Blankets
Throw rugs
Dog beds
Backpacks/bags
Curtains
Week 3 - Bedrooms & Outside Areas
Comforters
Duvets (Note: I choose to wash bedding on a bi-monthly basis in my home, rotating out bedrooms each month. Washing all bedding at once is a huge task!)
Pillows
Blankets
Infrequently-used sheets
Robes
Throw pillows
Washable outdoor mats
Car wash supplies
Outdoor pillows/covers
Week 4 - Bathrooms
Decorative towels
Wash rags
Towels
Bath mats
Clothes hamper liners
Shower curtains
Weekly room laundry is already built into Journey to Clean - it's a cleaning task on laundry day of each week. I like to make these items a separate task on your cleaning checklist. Instead of letting these tasks go forgotten, it's simple to go through the house, round up the necessary linens, and throw them in the laundry pile.
And of course I had to make a pretty printable to help you remember which linens to round up each week. 🙂 This is the perfect supplement to journey to Clean (it even matches)…simply put it behind your cleaning checklist in your cleaning notebook to have an easy reference to what the common laundered items are in each area.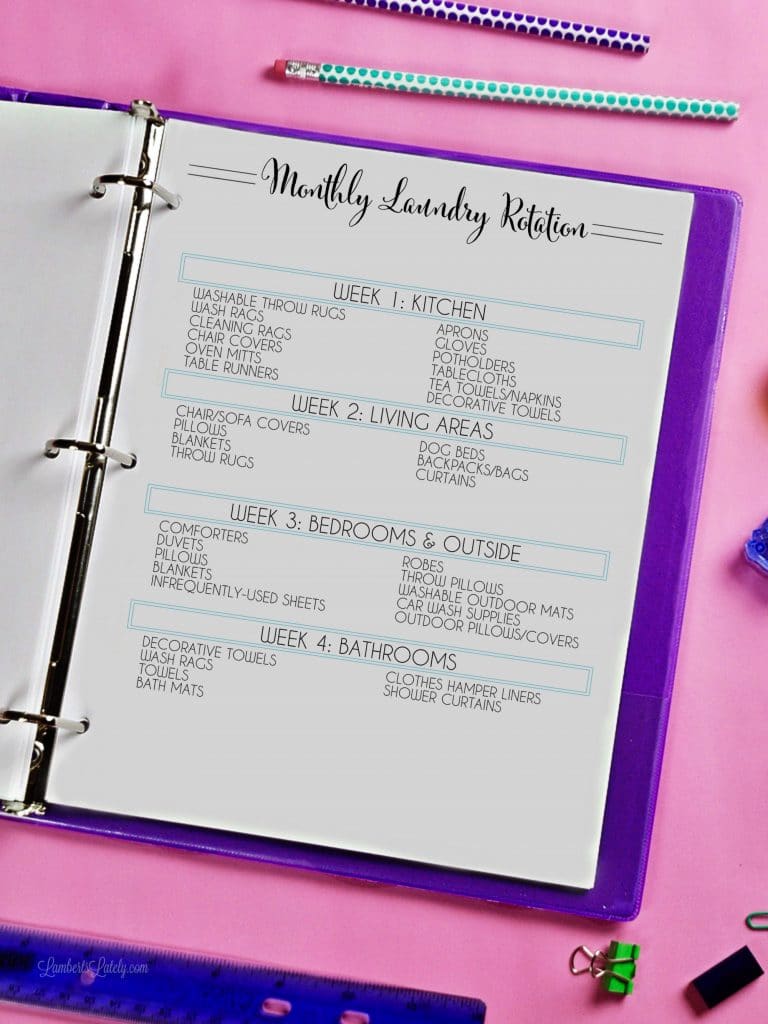 Anything to add to this collection? Share your ideas in the comments!
See more of my printable posts here.