Instant Pot Chicken Stock
Instant Pot chicken stock is an easy recipe to make! Simply combine a leftover whole carcass, spices, and other simple ingredients in an electric pressure cooker for rich bone broth that's perfect for soups and can even be frozen.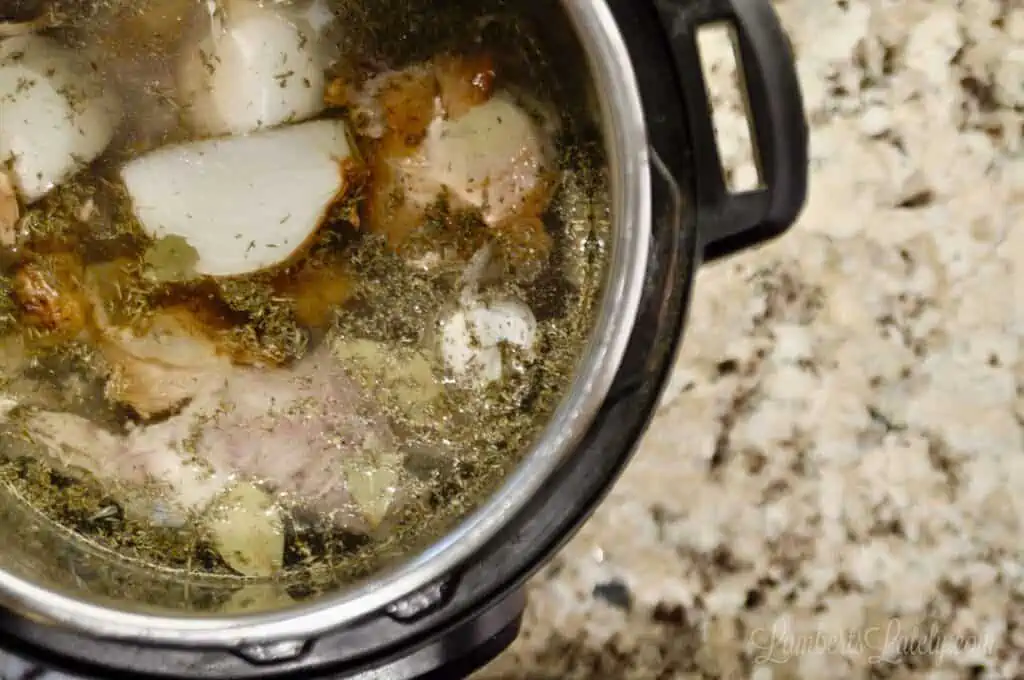 Introduction
You guys know I like to brag about all of the things an Instant Pot can do. It really is a kitchen workhorse. From making rice, to prepping the most tender pot roast, to being my go-to for freezer meals, it just about does it all. I'm going to let you in on another Instant Pot favorite today. Instant Pot Chicken Stock is just about the richest, most flavorful complement to soups you will find. And it's so easy to make...if you follow the method I'm sharing, you'll pay almost nothing for it!
The secret is to save your leftover chicken carcass next time you get a rotisserie chicken from the store. (Sidenote...I haaatteee the word carcass, but it's necessary in this post. I apologize in advance for the number of times I have to use that word.) You're going to throw the bones of the rotisserie chicken away anyway...save them. You can make the best Instant Pot Chicken Stock with just those leftovers and a couple of very simple ingredients! Of course, you can also save leftover chicken bones from any preparation method, even if it's not from a rotisserie chicken. Simply take the meat off of prepared chicken legs, chicken thighs, or chicken wings after cooking and save those bones for your stock.
I promise you, after making this Instant Pot Chicken Stock, you will never want to buy pre-packaged stock or broth again! The Instant Pot makes the richest, most flavorful homemade chicken stock by simply pressure cooking the leftover bones/shells in water with a few simple ingredients, like root veggies and herbs. This is also an incredibly versatile recipe; I share a few other ways you can use it below.
What's the difference between stock and broth?
If you're like me, you've probably used these terms interchangeably in the past. However, they are actually different with different preparation methods. With stock, you're extracting the flavor, vitamins, and nutrients from the bones/shells of the animal by pressure cooking them for an extended period of time. This is going to give you a richer liquid that's full of nutrients. With broth, you simply extract the flavor by boiling or pressure cooking the meat of the animal in water. It's still a great liquid to use in soups and other recipes, but it's not going to have as much flavor, depth, or nutritional value.
That's not to say that I don't use chicken broth all the time! It's perfect for preparing rice, pasta, or using in place of water when trying to get more flavor in a recipe. And we all know the chicken bouillon (the solid cubes that make chicken broth) are so convenient in a pinch. But, when given the choice between the two, I'm going to use chicken stock all day, every day. It has some serious flavor and really is just as easy to make, especially if you use the method I've outlined below.
(And one random note: when you cool chicken stock, you might notice that it has a jelly-like consistency. That's totally normal! The collagen you extract from the bones gives it that texture. Don't worry, it's actually a good thing; that's the nutrients in your stock!)
Learn more about your Instant Pot with this list of common Instant Pot questions!
Can I freeze stock?
Oh yeah, you can absolutely freeze chicken stock. You're going to get a lot of chicken stock out of this recipe, so you're almost definitely going to want to freeze it. And I've got the perfect tool to use for that too.
A few years ago, the nice people at Souper Cubes sent me their freezing trays to try and I absolutely fell in love with them. This post is not sponsored by them at all...I just love the product! They are silicone molds that measure out a cup of whatever you're freezing in each container. This is the perfect way to freeze a single serving of a meal, soup, or in this case, chicken stock.
I pour the chicken stock into these molds to freeze. Once they're frozen, pop them out and store in a freezer bag until ready to use. This way, you can decide how much chicken stock you want to use in each recipe. Perfect, right?
And, as a side note, Souper Cubes are great to use as baking dishes too. They make the perfect little loaves of banana bread. I also use them sometimes for muffin tin lunches for my kids! All around, just a really versatile and handy product that I highly recommend.
Other Varieties
The first version of this blog post that I wrote was about making crawfish stock in the Instant Pot. I did pretty much the same thing for that recipe, simply subbing the leftover crawfish bones for the chicken carcass I used in this version.
This basic process can be used for really any kind of stock you'd like to make.
Cover the bones/shells with water.
Add in root vegetables to your liking (I typically only use onion and maybe garlic, but many like to use carrots, celery, or other root veggies too).
Add in spices as needed (you probably won't need a lot with something like crawfish; something like beef bones will need more flavor). Some other options for herbs/spices: peppercorns, parsley, sage, rosemary, or even a little nutmeg.
Cook on manual pressure for 120 minutes, allowing a natural pressure release for 10 minutes or so before releasing remaining pressure through the valve.
It's more of a method than a recipe. Use this for crawfish shells, shrimp shells, beef bones, turkey carcasses, a ham bone...really any animal with leftover bones! And I promise it's ten times better than anything you'll buy at the store.
This is even a great process for vegetable broth. That one is even less expensive to make - you just save vegetable scraps over a period of time to make a broth. I've got a full post on how to make vegetable broth in the electric pressure cooker over here.
Can I make chicken stock on the stovetop?
If you don't have an Instant Pot pressure cooker, you can definitely make this chicken stock on the stovetop. It's just going to take a lot more time. Place all of your ingredients in a large stock pot, cover carcass and added ingredients with water, and bring to a boil. Turn down the heat and simmer for 2-3 hours (at minimum; 3-4 hours is better if you have the time). Allow to cool, strain, and use/freeze as needed.
Hope you enjoy, friends! This is one of the best things you can do with an Instant Pot (and that's saying a lot; it does so much!).
Video
Instant Pot Chicken Stock
Instant Pot chicken stock is an easy recipe to make! Simply combine a leftover whole carcass, spices, and other simple ingredients in a pressure cooker for rich bone broth that's perfect for soups and can even be frozen.
Affiliate links used.
Ingredients
1

leftover chicken carcass

3

liters

water

enough to cover the carcass

1

onion

unpeeled and cut into quarters

1

head

garlic

crushed but not peeled

1

tablespoon

ground thyme

2-3

bay leaves

1

tablespoon

salt

2

tablespoon

apple cider vinegar

this helps draw nutrients and collagen out of the chicken bones to make really thick, rich stock
Instructions
Combine all ingredients in your Instant Pot, making sure water doesn't go past the max fill line in your inner pot. Give it a quick stir, then seal the lid and set your pot to Manual, High Pressure, 120 minutes.

Once the cook cycle is up, let the pressure release for about 10 minutes before turning the pressure valve to release the remaining pressure.

Strain solids in the stock out using a fine mesh strainer with a large bowl underneath. Use within 1-2 days or freeze for later use.
Nutrition Facts
Calories:
71
kcal
Carbohydrates:
13
g
Protein:
2
g
Fat:
1
g
Saturated Fat:
0.3
g
Polyunsaturated Fat:
0.2
g
Monounsaturated Fat:
1
g
Sodium:
7135
mg
Potassium:
218
mg
Fiber:
3
g
Sugar:
5
g
Vitamin A:
167
IU
Vitamin C:
10
mg
Calcium:
199
mg
Iron:
5
mg
Tried this recipe?
Rate it in the comments below!
More Instant Pot Inspiration