How to Clean a Whirlpool Dishwasher
This post shows how to clean a Whirlpool dishwasher with vinegar and baking soda. See the best way to deep clean a smelly dishwasher & the filter. Easy methods for using natural cleaners!
Introduction
In today's cleaning post, I've got another "I never think to do this" cleaning task - how to deep clean a dishwasher using vinegar and baking soda. It's one of those things that we all (myself included) forget to do, but if done properly, can seriously impact day to day chores in your home.
If you're anything like our family, you run your dishwasher at least once a day. This is especially true since we've all been home (and eating every meal at home) in the past couple of years. Those dishes from snacks and meals add up quickly! After awhile, we noticed that our dishwasher wasn't drying as well and just didn't knock out stubborn messes as well as it did when it was new. We attributed it to the age of the dishwasher.
As it turns out, it just needed a deep cleaning! I had no idea what kind of impact this would have on the dishwasher. Not only is it drying better, but the cleaning seems much more efficient since we did these few little tasks.
Let's take a look how to clean a dishwasher to make it so much more efficient!
How to Clean a Dishwasher With Vinegar & Baking Soda
Step 1: Start with an empty dishwasher
Let's get the interior first. Start off with a completely empty dishwasher (which is like spotting a unicorn, I know - just pile those dishes in the sink for now).
Step 2: Clean around all edges with a melamine sponge
The dirtiest places on my dishwasher (which is a Whirlpool) are the edges and the vents/filters. There is always a build-up of soap scum and hard water. I'll show you how to clean a dishwasher filter in just a minute; for now, let's get the edges.
I use a melamine sponge (like Mr. Clean magic erasers - I get them on Amazon for a fraction of the cost!) and really scrub the edges of the door and the edges of the bottom of the dishwasher. It's also a good idea to scrub the rubber seals (be careful not to rip/tear them though).
Step 2: Remove and clean dishwasher vent Cover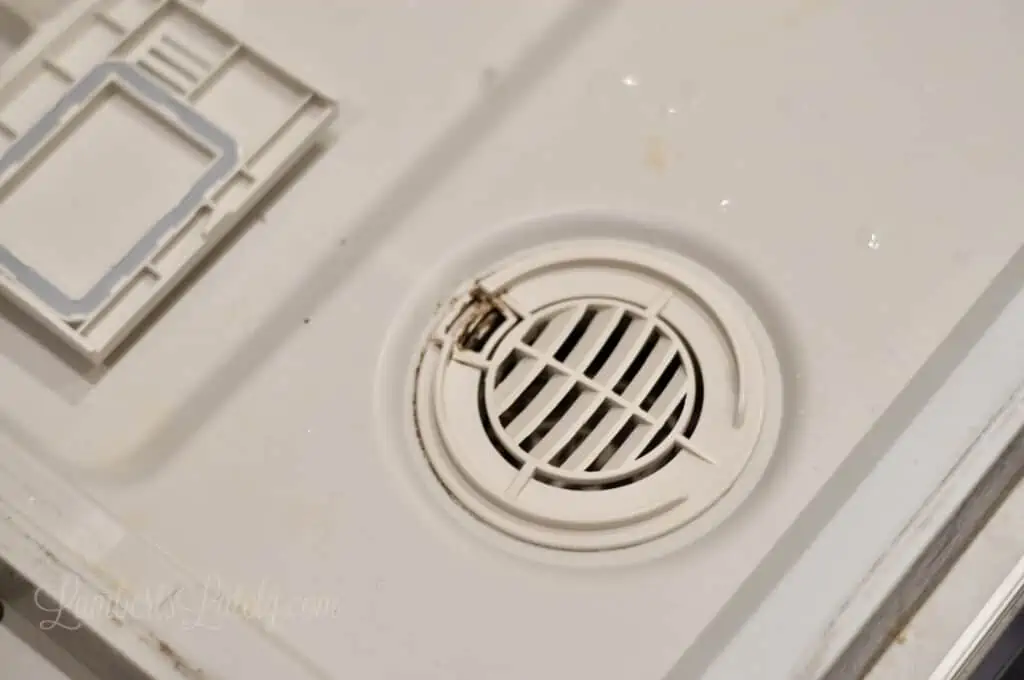 On my Whirlpool dishwasher, there is a vent that can get really gross with hard water and mildew. The dishwasher vent cover needs to be taken off occasionally and scrubbed.
To do this (again, on a Whirlpool), turn counter-clockwise about a quarter of the way. I have to use a screwdriver to (gently) pry it to the left.
(Gross, right?) Once the dishwasher vent is off, scrub both the vent and the inside.
Cleaning the dishwasher vent cover allows steam to escape your dishwasher more easily, making drying efficient. Not only does it look prettier clean, but it makes your dishwasher work better!
Step 3: Remove and clean dishwasher filter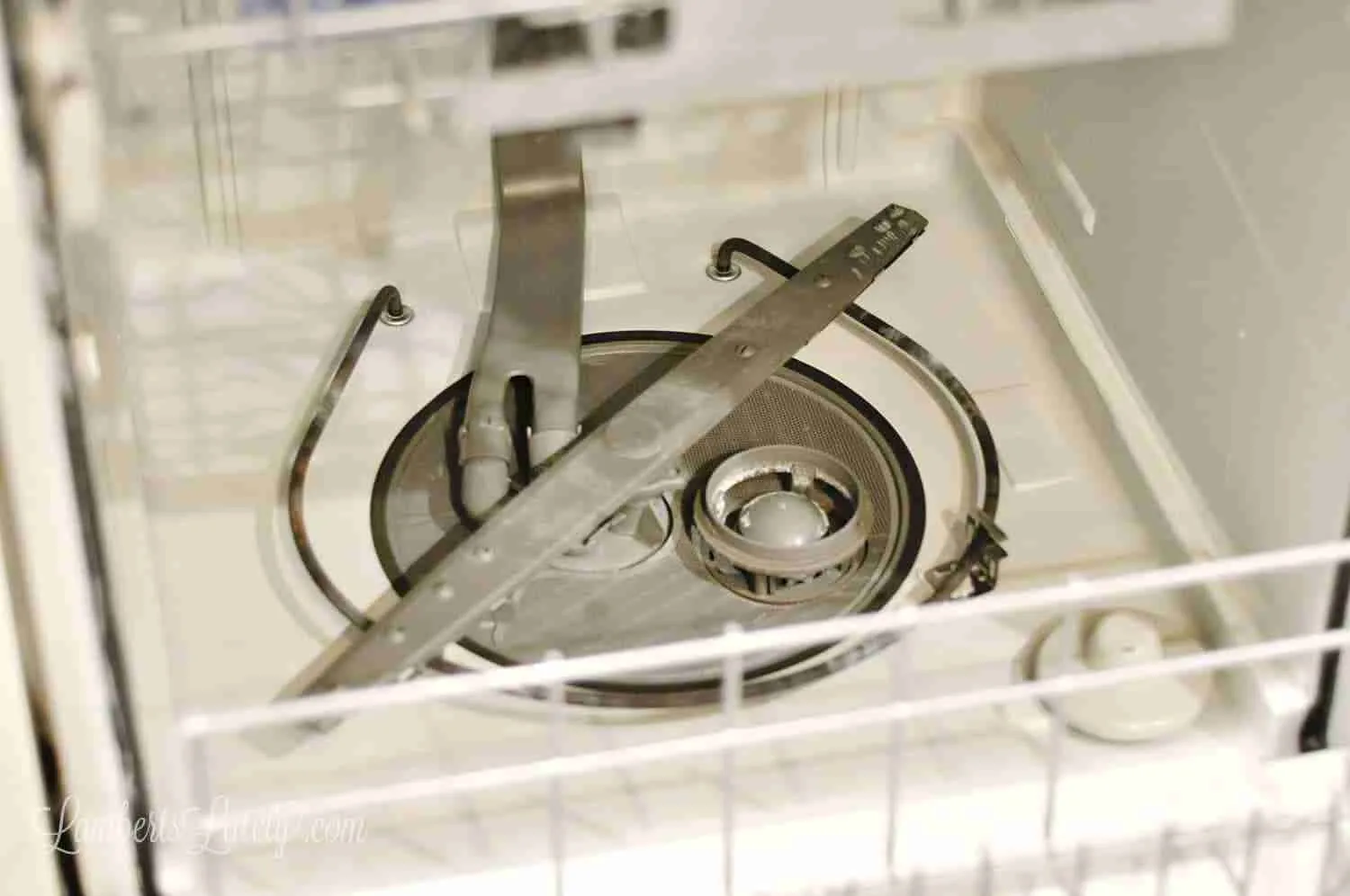 This is going to be a little different on every model, but there will be a filter somewhere in your dishwasher to catch bigger food particles and any built-up gunk and grime left on dishes. Catching this debris makes sure the water lines to your dishwasher don't become clogged - very important! Mine is below the bottom rack (in a Whirlpool).
That round thing you see is the filter. Remove the filter from the dishwasher (you might have to turn to dislodge it).
Get ready to be grossed out.
As my daughter used to say when she was little, "pea yuck." I bet you had no idea this was even there - much less how nasty it was! Rest assured, it's simple to clean. (And important to clean - this will allow your dishwasher to drain more efficiently.)
Just use a little bit of dish soap and a small scrub brush to get in there and dislodge any deposits and dirt. An old toothbrush might also help get into the nooks and crannies. Give it a good rinse with hot water and *important* place it back in the dishwasher before moving on.
Step 4: Break Out the Baking Soda and Vinegar
If you've read any of the other Cleaning 101 series posts, the fact that I use vinegar and baking soda to do this deep clean will be no surprise to you. They are simply the most useful cleaning ingredients out there! I also love that they are non-toxic, especially in an area where my family's dishes will go. You can go buy a speciality dishwasher cleaner (like affresh) if you'd like, but I've found that these two cleaners work just fine...and you probably already have them!
In this tutorial on how to clean a dishwasher, I like using vinegar and baking soda for their smell-busting properties. This combo is great for getting rid of smelly odors in the dishwasher (usually caused by mold, mildew, and hard water buildup).
Spray the entire inside of the dishwasher (including racks) with vinegar and sprinkle baking soda all over. It will fizz a little - that's normal. Use the baking soda and a sponge/scrubber to scrub any dirty areas.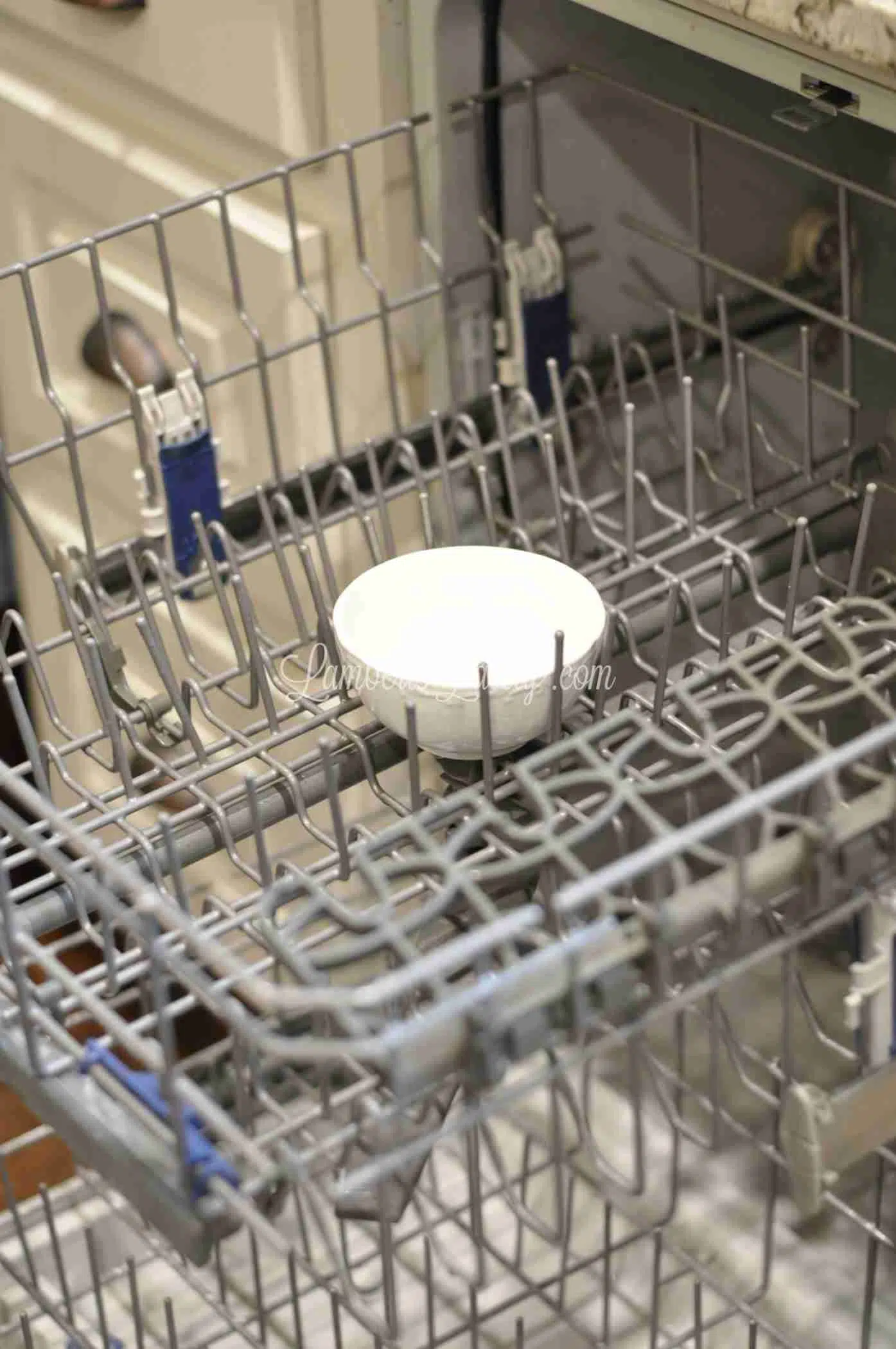 Next, place a dishwasher-safe bowl with about a cup of white vinegar in the top rack.
You also might want to check that utensil rack - the bottom of mine can get nasty! I unfold it, scrub with a bottle brush if needed, and place upside down in the dishwasher while I'm running my cleaning cycle.
Close up your dishwasher and use the high temp wash setting to run a full cycle.
Step 5: Clean the Exterior of the Dishwasher
While you're waiting on that cleaning hot water cycle to run, might as well clean the outside of the dishwasher! I wipe my stainless steel down a few times a month...it tends to get a ton of stains and water marks around the vent.
And, in just a couple of hours (with very little effort), you'll have a new and improved dishwasher! This is one of those cleaning tasks you won't notice as much in looks as you will in efficiency; your dishwasher should wash and dry better after completing this.
Clean on, cleaner friends!
Catch up on more of the Cleaning 101 series with the links below.
Or, click here to see my other cleaning posts!