Signing up for Grove Collaborative Free Starter Kit? Read this review first.
Thinking about signing up for a Grove Collaborative subscription to get a free starter kit? Read this honest grove.co review first. Find great ways to get the best discounts on quality cleaning products!
Affiliate links used in this post. Read more about my link usage policies.
I'm sure many of you have seen the Facebook ads going around for a company called Grove Collaborative. They usually have a pretty enticing free intro offer: sign up for their service and receive a fun cleaning set at no charge. Tempting, right?
Well, a few years ago, I did it. I was lured in by the fancy Mrs. Meyer's starter set I saw staring back at me. I thought there couldn't be much harm in at least trying it out; I mean, I love great deals on cleaning products. Maybe this would be a great opportunity to snag some discounts.
And now, years later, I still love Grove Collaborative. Now - if you're a long-time reader here, you might know that I'm kind of cheap frugal. When it comes to household products, I do my homework to make sure I'm getting the best deal on the best products.
So, I did a little bit of digging into Grove Collaborative to see how to really get the most bang for my buck. After doing my research, I decided to keep the VIP membership (which does cost $19.99 a year after your 60 day trial). I think it's totally worth it!
What is Grove?
Grove Collaborative is a subscription service that lets you save on quality (often natural) cleaning products. For $19.99 a year, you get access to their pricing on popular brands like Seventh Generation and Mrs. Meyer's. They even have their own line of cleaning supplies (which I really like).
You'll get free shipping when ordering a certain amount each month. They love to throw in free gifts with a minimum purchase as well!
If you're thinking about signing up for a Grove subscription, read this post first. I've listed out my biggest recommendations to make this service worth it. Follow these tips to get freebies and actually save money on household products.
1. Don't sign up for Grove Collaborative without some kind of free starter kit.
These aren't hard to find at all. As a matter of fact, I have a way for you to get a great starter set! By clicking this link, you'll get an offer for a $30 Mrs. Meyer's set with your first Grove Collaborative purchase. It includes a cleaning caddy, 3 Mrs. Meyer's products in your choice of scents, and a set of walnut scrubber sponges.
I've used and loved every product in this free gift set. I've gone through multiple bottles of Mrs. Meyer's multi-surface cleaner. It's one of my go-to everyday cleaners now! The scrubber sponges are great (I use those for bathrooms), and as you can see, the caddy is still used years later.
The cleaning caddy is one item I thought I wouln't use, but it became the perfect reusable microfiber cloth holder (I get my cloths here). We use these for everyday (non-gross) cleaning in our kitchen and constantly need to grab one. They are now under our sink in the caddy, easily accessible.
The intro offers can vary a little bit, depending on which link you use. The one I link here is the best one I've found that is available right now. You simply have to place your first purchase with Grove Collaborative of at least $20 to get this set for free. Now, keep in mind, this does sign you up for the 60 day VIP trial, which renews at the end of those 60 days at $19.99 a year. That leads me to my next recommendation...
2. Make a note on your calendar of when your free Grove VIP trial is ending.
This service might not be for you; so don't spend $19.99/year after the trial is over for something you're not going to use. The great thing is that you get to try it out for 60 days at no charge before committing to a yearly fee.
So, when you order your starter set and first shipment of cleaning products, mark the end date of the free trial on your calendar. Make sure to cancel a few days before if it isn't something you really used in that 60 days.
How to cancel a Grove subscription
It's easy to cancel. Just go under your Grove account settings, click on "VIP Membership," and cancel as needed. But, if you follow the following steps, you might not see the need to do that!
3. Use your first Grove Collaborative purchase to test some of their products that you might want to use.
For my first order (which needs to be at least $20 to get that Mrs. Meyer's Starter Kit deal), I chose to get a few of the sample packs of Grove Collaborative products that might be useful in our home. That included the Grove Dishwasher Detergent Packs, Laundry Detergent packs, the Rooted brand facial wipes, and a couple of tried-and-true favorites (Mrs. Meyer's Tub and Tile Cleaner and Seventh Generation Disinfecting Wipes).
Grove also threw in their glass cleaner and a free glass bottle with my order – another nice surprise! I don't know if every order gets an additional freebie, but it's worth a try (I was notified about the additional freebie right after i put my email in on the offer page).
Once you sign up for the intro offer, you'll get a cart filled with essentials you might want. But, you can change those if needed, which I did. I liked being able to try the products to really see if I would use them. I ended up loving everything I tried. The quality is great! And if you're a natural household, the selection of natural products absolutely can't be beat.
4. Cancel one monthly shipment if you don't need cleaning products.
My first shipment was in November. By the time the December shipment date rolled around, I realized my house was well-stocked. We weren't really in need of more cleaning products. So, I took everything out of my cart and nothing shipped (or charged to me). Easy as that!
To me, a big selling point for Grove Collaborative was that I don't have to receive a monthly shipment if I don't need it. Simply take your cart below the minimum amount and nothing will ship to you that month. It's helpful to make a note of your VIP program monthly shipment date on your calendar. Then, give your cart a quick check each month to see what you need/don't need.
5. Shop the sales.
Fast forward to January - I was in need of a few cleaning products again. After browsing Grove's site for the items I needed, I was pleasantly surprised to find that many popular products that I needed were actually priced lower than the big-box stores where I normally shop.
Not only am I saving money over my normal shopping routine, but I get the products shipped to my door. I might also get a few extra freebies, depending on how much I buy - total win! These exclusive sales are what really convinced my to keep my Grove membership past the 60 days.
6. Take advantage of even more free gifts.
Speaking of freebies - not only is there one included in every order with Grove, but you can get even better ones depending on how much you spend that month.
By spending $55 in a month, you can get an additional free gift. On the day I'm writing this, these range from $5-15, depending on which one you choose. So, if you can, it might be a good idea to group your shipments into one month to take advantage of the extra items.
So, for the TL;DR of the post...is Grove Collaborative worth it? Heck yes, it is!
Not only do you get a great free starter kit (currently a Mrs. Meyer's set, walnut scrubbers, and a cleaning caddy - available here), but there's a chance to try really quality products, many of which can be snagged at lower prices than big box or grocery stores.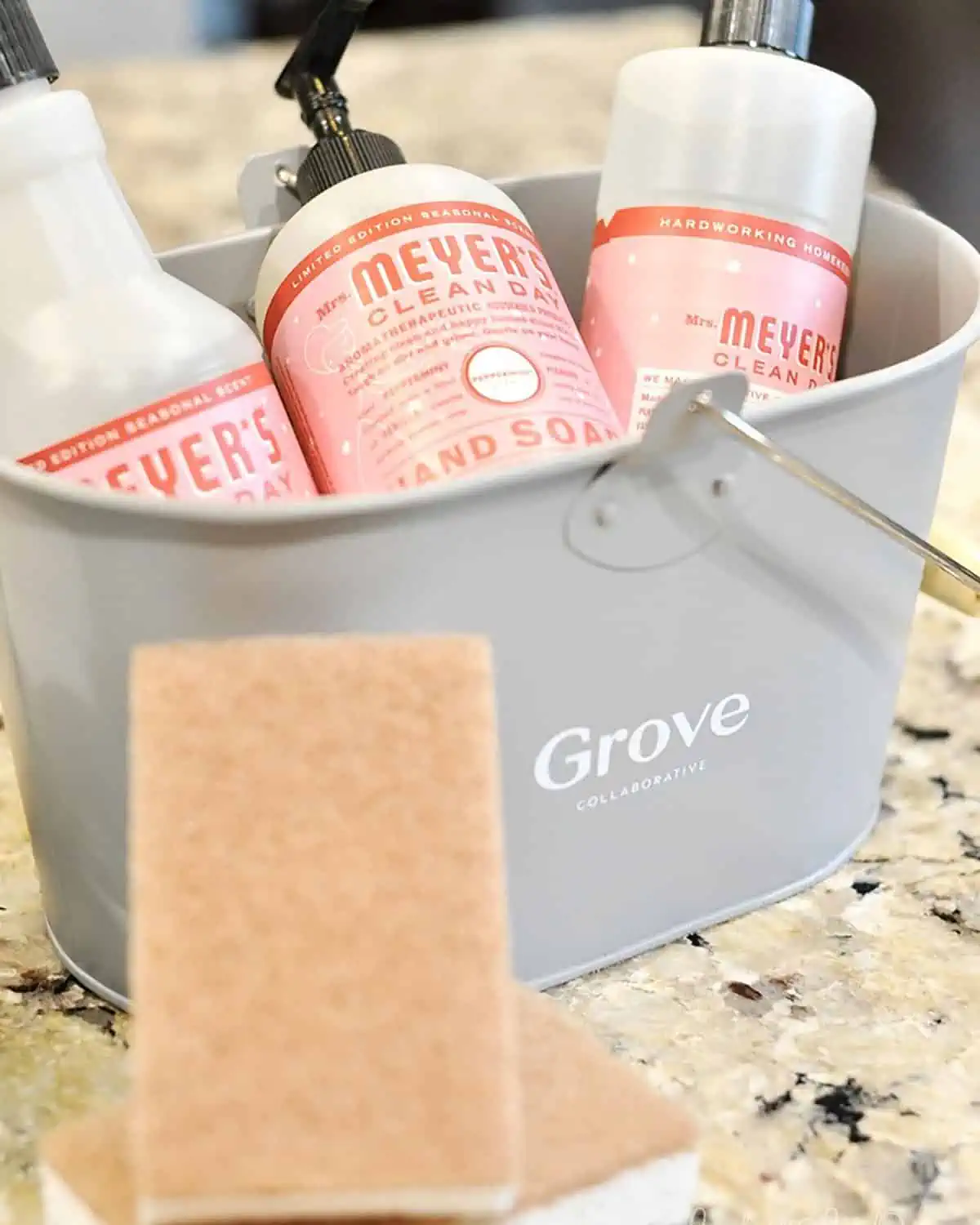 I've been so happy with signing up for this service and I totally believe it's worth every penny. You've just got to know how to use it the right way. You can save a ton of money by using the service with these simple tips.
Get your Grove free starter kit ($30 value) by clicking here!
More Cleaning Supplies Posts