Declutter Checklist: Over 200 Items (& Printable PDF)
Find over 200 things to throw away in your home and download a free printable room-by-room declutter checklist. You'll also find a pdf declutter checklist printable for any room/space, as well as a step-by-step decluttering process!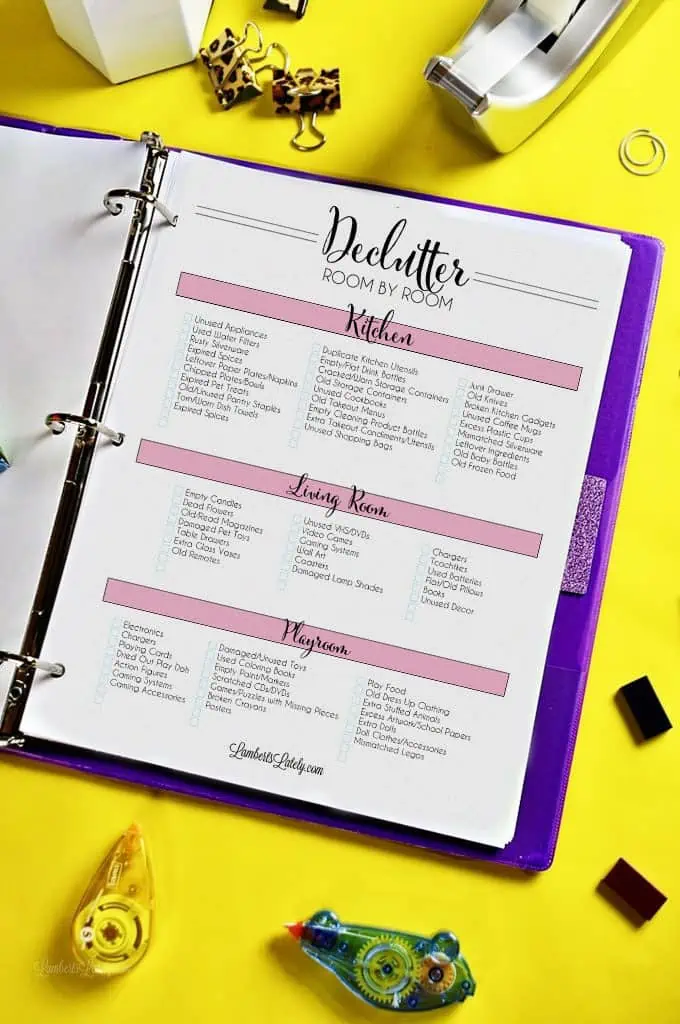 Affiliate links used in this post. Read more about my link usage policies.
Need a little bit of decluttering motivation? I've got just the thing to get a declutter project started for you!
I'm a big believer in breaking a big organizing project down into more achievable, easier parts. That's exactly what we're going to do with today's post. If you're wanting to declutter your home, getting started can be a little overwhelming. Instead of psyching yourself out before you even start, let's break it down into easy-to-achieve mini-sessions and knock it out!
For this home decluttering project, we're going to break it down by room. In the list below, you'll find your whole home broken down into sections (just as I do with my cleaning schedule). Decluttering each one of these spaces should take an hour or so. Tackle one room every few days, and you can very easily declutter your whole home in a few weeks!
How to Print Checklists
The files that are linked to the buttons below are in pdf format. Simply click the button to have the pdf file open in a new window. You can either download the templates to your device (with the downward-facing arrow) or print them (with the printer icon).
These are all free printables...no strings attached! Both of these printable pdf pages are formatted to print on 8.5x11" standard printer paper. An at-home printer works just fine - this is the printer I currently use.
You can print as many copies as you'd like for personal use. If you're trying to save paper, some readers like to laminate their meal plan and use a wet-erase marker to reuse these checklists over and over.
Room by Room Declutter Checklist Printable
Before we get to the full list, let's take a look at the pretty printable. I organized the declutter checklist you'll see below into a pdf that's totally free to download. This will allow you to check off items as you tackle them!
Room by Room Declutter List
Below, you'll find over 200 items you can toss throughout your home. These are organized by room - take on a room or two each day! (This is a copy of the pdf you'll download above.)
Kitchen
Unused Appliances
Used Water Filters
Rusty Silverware
Expired Spices
Leftover Paper Plates/Napkins
Chipped Plates/Bowls
Expired Pet Treats
Old/Unused Pantry Staples
Torn/Worn Dish Towels
Expired Spices
Duplicate Kitchen Utensils
Empty/Flat Drink Bottles
Cracked/Worn Storage Containers
Old Pots & Pans
Paper Clutter
Old Storage Containers
Unused Cookbooks
Old Takeout Menus
Mismatched Tupperware Lids
Empty Cleaning Product Bottles
Extra Takeout Condiments/Utensils
Unused Shopping Bags
Junk Drawer
Old Knives
Broken Kitchen Gadgets
Unused Coffee Mugs
Excess Plastic Cups
Mismatched Silverware
Leftover Ingredients
Old Baby Bottles
Old Frozen Food
Living Room
Empty Candles
Dead Flowers
Old/Read Magazines
Damaged Pet Toys
Table Drawers
Extra Glass Vases
Old Remotes
Unused VHS Tapes/DVDs
Video Games
Gaming Systems
Wall Art
Coasters
Damaged Lamp Shades
Chargers
Tcochtkes
Dead Batteries
Flat/Old Pillows
Books
Unused Decor
Playroom
Electronics
Chargers
Playing Cards
Dried Out Play-Doh
Action Figures
Gaming Systems
Gaming Accessories
Damaged/Unused Toys
Used Coloring Books
Empty Paint/Markers
Scratched CDs/DVDs
Games/Puzzles with Missing Pieces
Broken Crayons
Posters
Play Food
Old Dress Up Clothing
Extra Stuffed Animals
Excess Artwork/School Papers
Extra Dolls
Doll Clothes/Accessories
Mismatched Legos
Bathroom & Linens
Expired Medications
Excess Sample-Sized Toiletries
Old Toothbrushes/Toothpaste
Dried/Empty Nail Polish Bottles
Empty Toiletries
Old Skin Care
Damaged/Worn Towels
Old Contacts Supplies
Nail Files
Old Medicine Droppers
Empty Hand Soap Bottles
Stretched Ponytail Holders
Broken Scales
Mildewed Shower Curtains
Hair Clips
Unused Sheets
Expired Toiletries
Promo Makeup Bags
Broken/Unused Hair Appliances
Old Makeup
Moldy Bath Toys
Cleaning Supplies
Sunscreen
Worn-Out Brushes
Old Razors
Excess Perfumes/Body Sprays
Damaged/Dirty Makeup Sponges
Bedrooms & Closets
Unused/Old Linens
Empty Tissue Boxes
Old Pillows
Unidentified Remote Controls
Nightstand Drawers
Dresser Drawers
Jewelry
Chargers
Scarves
Socks/Underwear with Holes
Loose Change
Damaged Belts
Purses
Empty Shoe Boxes
Unworn Clothing
Broken Coat Hangers
Socks Without a Pair
Magazines
Unused Suit Bags
Damaged Shoes
Leftover Buttons
Outgrown Kids' Clothing
Stretched/Old Bras
Extension Cords
Office/Craft Room
Instruction Manuals
Old Receipts
Junk Mail
Scrap Paper
Unneeded Paperwork
Crumbled/Damaged Paper Products
Old Printer Cartridges
Old Electronics
Almost Empty Wrapping Paper Rolls
Dried Out Pens
Excess Gift Wrapping Supplies
Old Cell Phones/Cases
Staples/Staplers
Extension Cords
Old Stationery
Unused Jump/Thumb Drives
Unidentified Charging Cables
Magazines
Used/Empty Notepads
Old/Empty Craft Supplies
Read Books
Tape
Old Bills
Newspapers
Outdated Electronics
Post-It Notes
Coupons
Folders
Outside Areas
Broken Toys
Rusted Tools
Frisbees
Potting Soil
Car Cleaners
Pots & Planters
Stadium Cushions
Garden Gloves
Tools
Lawn Chairs
Deflated Balls
Boots
Damaged Play Sets
Scrap Building Material
Dried-Out Paint Cans
Old Sports Equipment
Helmets
Old Hoses
Screws & Nails
Chargers
Hand Tools
Sprinklers
Extra Storage Bins
Paint Brushes
Laundry Room
Detergent
Fabric Softener
Scent Beads
Dryer Sheets
Old Rags
Laundry Baskets
Hangers
Old Towels
Sponges
Machine Cleaner
Stain Remover
Wrinkle Release
Old Irons
Fuzz Shavers
Digital
Duplicate Pictures
Unused Apps
Junk Email
Watched TV Shows on DVR
Items on Computer Desktop
Social Media Follows
Unneeded Text Messages
Old Screenshots/Memes
Completed/Unneeded Inbox Emails
Old Contacts
Miscellaneous
Empty Lighters
Unused Reward/Loyalty Program Cards
Empty Baby Wipes Boxes
Holiday Decor
Wreaths/Door Hangers
Unused Furniture
Beach Supplies
Old Calendars
Duplicate Holiday Cards
Camping Equipment
Extra Storage Boxes
Luggage
Old Pet Supplies
Business Cards
Expired Coupons/Gift Cards
Loose Change
Declutter Any Space in Your Home Checklist Printable
With this next printable, you're going to be able to declutter basically any space in your home, from the bedroom to the kitchen. The steps in this printable walk you through the process with a step-by-step format that works incredibly well for me.
I've shared this basic process before on the blog - it's my no-fail, no-fuss decluttering method. It works for any space in the home, from big overwhelming spaces to small corners that just need a good clean-out. Let's take a look at the simple process (in a very condensed checklist):
My Home Decluttering Method
STEP 1: Take it all out.
The best way to clean out a space is to remove everything from that area to give yourself a clean slate. You can organize those items somewhere else; just take them out of the space you're organizing and refill as needed.
Sort into keep/donate/trash piles. Before you fill the space again, make three piles; keep, donate, and trash. Keep will obviously be further sorted and dealt with later, but you can go on and bag/box donate and trash piles (separately).
Consolidate duplicates. You're going to see this the most in the kitchen (says the lady that currently has 3 half-empty bags of tortilla chips in her pantry. 😉). If you have more than one container of an item, consolidate them into the container that expires first. You might also see this in the garage, craft room, or office - anywhere that requires a lot of expendable items!
Group items you'll be keeping. Once trash/donate items are set aside, group like items that you'll be keeping in your space. This is easiest in the kitchen or closet, but can be done in any space you're organizing! Groups can be as general as you'd like; just make sure you don't go too general that you won't be able to maintain the organization after your declutter day is over.
Step 1 is the hardest/most time-consuming part! Once you're done with this, the rest is a piece of cake.
STEP 2: Decide category names for grouped items.
I've talked about some of my favorite grouping tools here - there are so many, both expensive and cheap, that work. You probably have a ton in your own home - don't feel like you have to go out and buy containers! Shoe boxes, old diaper boxes, glass food jars, and even gallon freezer bags work wonderfully.
I usually go with 5-10 categories in any given area, depending on the size and type of space. Any more than that gets confusing; any less can be too general.
And yes, I've got labeling covered too! I've talked about how to make labels with a Cricut machine and, if you don't have a vinyl cutter, how to make labels a laser printer and packing tape.
STEP 3: Refill grouped/labeled spaces.
Now, simply refill your empty space with your labeled groups!
STEP ⅘: Take out trash and donations.
Yes, do it now - before it can sit in a corner for months. I take out trash immediately (like, that day) from a decluttering project. If it's damaged/old enough to go in the trash pile, there's no coming back from that...let it go.
I put donations in my car as soon as I decide what to donate. Schedule a time that week to drop it off (in many places, you don't even have to get out of your car. Trust me, it's worth the extra 15-30 minutes to offload that clutter.)
And now, you have an organized way to plan out a decluttering session! Here's to a clutter-free home with just a few mini projects.
See more of my home organization posts linked below!