My Secrets to Making Thousands at Consignment Sales
Find out the best way to make money at a consignment sale with tips and tricks in this post! Find ways to get the most profit from your sale, how to price, and ways to make your clothing look best.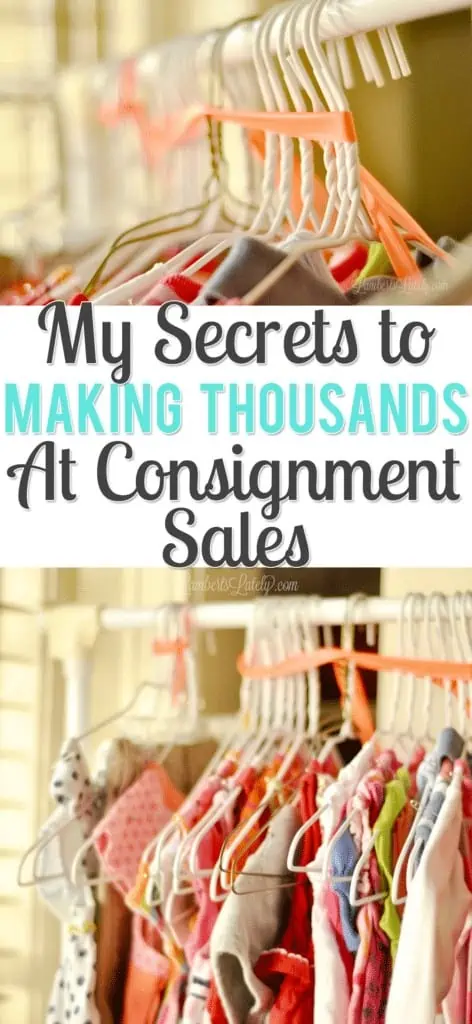 Guys, I seriously don't know what I'd do without consignment sales.
I take that back, yes I do - I would be absolutely swimming in old clothes that are too small for my kids. I'd also be forced to pay basically double what I do for my kids' clothing each season.
I've written before about how I sell my kids' used clothing on Instagram, and I still believe that is a great option for higher-priced and more specialty clothing. But you've also got to consider the value of your time when selling off used kids' clothing. Instagram takes time. If you're going to see a great return on your clothing, Instagram is the way to go. But for smaller items, it just isn't really worth it to hang, photograph, post, monitor, invoice, and ship those items. Consigning those items might yield a little bit less per item, but it streamlines the process of selling your clothing so much!
Consignment sales have absolutely been a god-send for the clutter level in our home and for our budget. I have been participating in consignment sales (both as a volunteer and a shopper) since Emmie was teeny tiny, but I didn't really start selling at consignment sales until after we found out that Jackson was a boy. I kept all of Emmie's old clothes just in case we had another girl, but when we found out we didn't need them anymore, the great purge began! Since then, I've made thousands of dollars selling at consignment sales. Today, I wanted to share a few of my secrets with you guys!
My general process every season is as follows:
1. Make sure you have all supplies you'll need.
There's usually a standard way to bag/hang your items for a consignment sale. To do this, you'll need to round up a few basic items that make your life a whole lot easier when it comes time to prepare your items!
Before each sale, I make sure I have...
Affiliate links used in this post.
Card Stock - a good 90lb card stock will do for printing your taa (but, if you really want to make sure they hold up, get the 110lb variety)...you just want something that's going to hold up to the wear and tear of people browsing through the clothing. (Also, make sure you're printing your tags on a quality printer. I like inkjet...I've used laser before, and the powder can rub off on the clothes. Just make sure you give your ink a minute or two to dry before attaching tags! This is my printer and it is great...the bar codes come out super clear, which is important.)

Paper Cutter - this will make your life a hundred times easier when you're prepping tags! I have the one pictured above and it is fabulous.
Wire Hangers - guys, I don't know why it took me so long to realize that wire hangers are the way to go for consignment sales! I used to use plastic hangers...not only are they usually more expensive, but they're thicker, so they require bigger safety pins to pin your clothing. Trust me, go wire! This is a great chance to get rid of those old dry cleaning hangers you've been meaning to throw away.
Safety Pins - you'll need all different sizes, so I like to get the big variety packs. You typically need at least 3-4 per item, so if your consignment sale maxes out your items at 250, go on and get 800-1,000.
Tagging Gun - I learned about this after volunteering at the sales...this is something I'll be investing in before the next sale! It's not super expensive and eliminates the need to pin every single tag onto the front of your items. Big time saver!
Oxi Clean - more info on this below...this is my go-to for treating stains on items before you sell.
Dreft Blissfuls - Nobody likes musty smelling clothing, right? A lot of times, even if you know clothing is clean when you get it out of the attic, it can smell kind of stale. I love using these to give the clothing a nice light scent! Plus, they're safe to use for babies'/kids' clothing.
Clothing Rack - You'll need a place to hang your clothes once they're ready to go, and if you're like me, you just don't have that much closet space! This is so worth the investment if you're going to do more than one consignment sale. (And, if you don't have one of these, unused shower curtain rods are helpful too!)
Flagging Tape - This will come into play later...it's a great way to group your items by size! I talk a little bit more about this below.
Gallon Ziploc Bags - I use these for shoes and anything that has lots of small parts! You could probably get away with quart-sized bags for smaller shoes.
Packing Tape - You'll need this to attach your tags to your bags (or to any other large item).
2. Sort your inventory.
I start each consignment season about a month before the sale starts (yes, you'll need the full month to get everything ready!). My first step is to get out all of our old clothing/items and in one place (just in a big pile). I usually have a pretty messy living room for a couple of weeks, because really that's the only place where I can really get organized for the sale!
This is my pile from a few seasons ago...wowza. The worst part of this picture is that I was tackling it at 38 weeks pregnant. Not my best move ever.
I wash the clothes that have been in the attic for awhile or don't look very clean, then I sort items by higher price, lower price, and baby items/non-clothing items. As I'm doing this, I check the items for any stains or damage as I'm going...damage goes in the trash (consignment sales won't take it and, as many clothes as our local donation drops get, I really don't think they want damaged goods). Stained items go into a separate pile to treat later. Some people like to sort by size at this point, but I don't yet...too much work that you'll just have to redo later!
For the non-clothing items, I check everything (yes, everything) at the CPSC Recall Site. Not only is it unsafe to sell items that are recalled, it's illegal. Most consignment sales will make you sign a waiver when you register that says you have checked all of your items for recalls already. Trust me, don't skip this step! I usually have 1 or 2 things each sale that are recalled. And hey - sometimes, you can get cash back from the company when you let them know you have a recalled product, so it's kind of like selling it anyway! ?
3. Determine your general pricing structure.
Now that you have an idea of your inventory, you could go through and price each item out individually...but that takes time. Because I usually have at least a couple hundred items in each season's sale, it makes it much easier to develop a streamlined way to price your items.
Here is how I generally price clothes...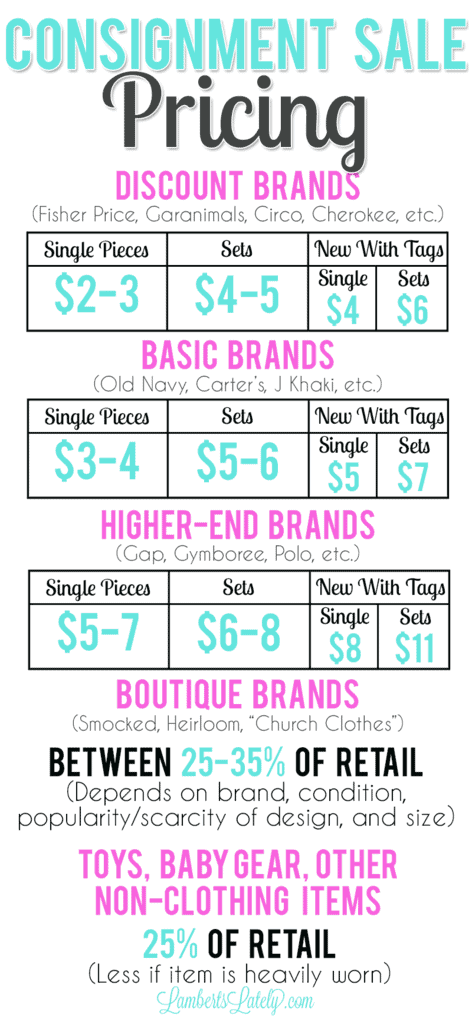 My consignment sale has a $2 minimum price for their items, so if needed, I group items together. I might put 2 older t-shirts or 2 pairs of shorts on the same hanger (one hung on the hanger, one pinned to the back of the other item) and sell them for $2-3 for the bundle.
I also mark "discount" on basically every item I sell, unless it's a higher-value item that I know I could sell myself on Instagram and get the full price. Pretty much every sale I've ever been to has a half-price day at the end of the sale, where items that are marked to discount will be sold for half of the listed price. My thinking on this: if it didn't sell at full-price with tons of potential shoppers and I've marked it at the lowest I'm willing to go, chances are I won't be able to sell it at that price on my own with a fraction of that audience! So, you might as well get a dollar or two for it (and get it off of your hands at the same time).
4. Treat and wash any stains.
Like I mentioned, I don't even bother with damaged clothing (unless it's an incredibly easy fix or it's a really high-priced item). I've just found that it's not worth your time to mend clothes, where there will often still be a mended spot, just to make an extra dollar or two.
But I'll definitely tackle stains, especially since it's really an easy process with this simple trick I've found!
All you need to treat just about any stain is powdered Oxi Clean. Put about a cup of it in a small bowl and mix in a little bit of water until you have a toothpaste-consistency paste.
Lay your item(s) flat on a counter and, using your fingers, vigorously rub the paste into the stain. Completely coat the stain with the paste.
Let it set on your flat surface for at least a few hours (I like to do it overnight). The Oxi Clean should harden. Then, wash like normal (no need to add Oxi Clean...it's already on your clothes!)
This knocks out stains almost every time! I've been treating stains like this for about a year and it's by far the most effective way I've found.
5. Start tagging!
Once your clothes are all stain and damage free, it's time to start tagging! This can be the really time-consuming part of the process, so it's important to streamline the process.
First thing's first...make sure your items are presented well. Button all of the buttons, snap all the snaps, position collars, smooth out wrinkles if needed. I'll be honest...I rarely iron, and sure don't iron hundreds of items for a consignment sale (I DESPISE ironing). But, if needed, I'll hit an item with an iron just to smooth out those wrinkles, especially ruffles (those always seem to look rough straight out of the dryer).
Check and see what online tagging system your consignment sale uses...they're all a little different, but most either require inputting 6 or 8 tags per sheet of card stock. So, that's how I divide it up.
I take 8 pieces (or sets) of clothing, pin them on the hangers (remember...you'll more than likely need to do it with the hanger facing the direction that looks like a question mark. Check your particular sale's requirements!). This is a great chance to double check for stains or damage. Make sure every part of the outfit is showing if possible. I like to pin pants right behind shirts.
Next, put those 8 pieces you just pinned in your sale's system. I make sure I mention the brand name (or "no brand" if nothing is listed), the style (pants, dress, shirt), the color, any pattern, and any special qualities (like if it is NWT). That way, if the tag is separated from the item for some reason, it will be easy to identify which piece it belongs to. Your shoppers will also be more likely to buy if they can read more details from the tag instead of having to examine it thoroughly!
Once you've hung/pinned and entered 8 items, print your tags, make sure the ink is dry for a minute or two, cut them up, and attach the tags! This is where that tagging gun comes in so handy - so much easier than having to pin every single piece of paper. FYI - some sales don't allow tagging guns though, so check and see if you can use it first.
For shoes, I place the pairs in a Ziplock bag with the soles of the shoes facing opposite directions. That way, shoppers can easily see both the design of the shoe and the condition of the sole. I place packing tape over the bag closure so they can't easily be removed and attach the tag to the bag with packing tape as well. Sizes smaller than Toddler 3-4 fit pretty easily in a quart-sized bag, but bigger sizes than that will need a gallon-sized bag.
You'll want to tag the higher-price items first. That way, you make sure they are included in the sale before you run out of consigner numbers. I try to go from shoes (the number of shoes is limited at my sale), to higher-end, to basic, to lower-end, to pajamas, to onesies/rompers (we always had so many of those!). If needed, you can make sets of 2-3 pajamas/onesies to maximize the number of items you can fit in the sale.
This process will take anywhere from a few days to a few weeks. It's what I normally do while Noah and I are watching TV at night...just kind of mindless, monotonous work that's easy but time-consuming!
6. Sort and group by size.
If you've made it to this part, you're done with the hard part! Sorting is super simple and will help so much once you get to the sale. This is done once everything is hung and tagged.
I have a sectional couch, so I just lay my sizes out, in order, along the back of that. A long wall or (clean) counter would work too! Once your sizes are sorted, tie them together at the hanger with the flagging tape (just regular string or ribbon works too, but this is easy to tear off once you're at the sale). You'll more than likely have to put out your own clothes, so if you already have them organized before you ever get there, setting out everything will be a breeze. I also try to put the higher-end clothing in each size together. If you bunch the nicer things together when you put your items on the rack at the consignment sale, people that are looking for boutique brands are more likely to look at all of your nicer items at once.
7. Volunteer!
Many sales I've been a part of have offered awesome incentives for volunteering at the sale. My sale gives me an extra 5% of the profit from my items (which can really add up) and the chance to shop before anyone else. If you think regular consignment shopping is good, you've got to see what it's like before everything gets picked over! I've found that it's definitely worth it to volunteer if you have readily available childcare.
8. Consider donating your items.
Once the sale is over, you're going to have leftover items...not once have I ever seen a consigner sell 100% of his/her items. You can price incredibly well and have awesome items and sometimes there just isn't the right buyer that needs that item. It happens!
You could try to sell the rest of it on your own, but especially if you're dealing with a big consignment sale, I don't necessarily think it's worth it. My town has 2 consignment sales; a big one in early spring and then a smaller one about a month later. I do get my items back from that first sale, just because they're already hung and ready to go for another sale. I price the leftovers super super cheap for the next sale (usually at the minimum prices I can), and if it doesn't sell in the second one, I donate.
Some sales offer the option to donate right from the sale...so, in your tagging system, you can mark the items as "donated" on your tags and the sale coordinators will take care of it if it doesn't sell.
And one more note - don't be overwhelmed by all of this info! It is a lot of work, but I can assure you it's totally worth it - not only for the money you'll make, but for the extra room and organization you'll have in your home. I always breathe a huge sigh of relief on drop-off day!
Happy selling, friends!
(Experienced consignment mommas - what am I missing? Share your best consignment sale tips below!)