Crock Pot Freezer Meal Boot Camp
Since January, I've been all about the Instant Pot. I think that's a little obvious with the absolute onslaught of Instant Pot Freezer Meal Boot Camps I've had. Yes, I know I'm obsessed!
But did you guys know I've been doing Freezer Meal Boot Camps since 2013? Some of you newer readers might not know that there's actually an original Freezer Meal Boot Camp hidden in my archives that's designed primarily for use in Crock Pots.
I wrote that post over 4 years ago. It has turned out to be incredibly popular over the years. I just checked, and that one post has been viewed over 200,000 times!
One problem with it though: it's so outdated. Not only do I use ingredients that aren't even made anymore in those recipes, but the food prices are way off now and (gasp) there are no printables in that post…it was written before I started making them for my boot camps. I get emails all the time asking for an update to it. So, today's post is dedicated to updating that post to make it easier to use!
So, welcome to the new Crock Pot Freezer Meal Boot Camp! This post includes 10 slow cooker recipes (and one regular freezer meal as a bonus).
Let's start making those Crock Pot freezer meals!
Step 1: Gather your supplies.
Affiliate links used in this post. Read more about my link use here.
You won't need nearly the amount of supplies that you needed for my IP boot camps! This is a much simpler process…chances are, you have most of the items in your kitchen already.
The most important thing, obviously, is your slow cooker. I have one of the simpler Crock Pot Models (similar here) and it works just fine. No complicated machines needed!
You'll also need at least 11 gallon-sized freezer bags.
I absolutely love this bag holder for opening those freezer bags while you're putting in the ingredients! So much more convenient than trying to balance the bags yourself.
You'll be chopping quite a few veggies, so I recommend something like this Vidalia Chop Wizard to make the process a little bit easier.
You'll need everything necessary to print my labels (see below)…printer (I use this one), ink, and maybe even a paper cutter. I use packing tape to attach the labels to my bags!
And, before you start, make sure you have enough freezer space! I always recommend having a freezer clean-out week before you prep something like this. I also have a chest deep freezer that has been super helpful with my freezer meal prep days!
Step 2: Make your grocery run.
Don't worry…you don't even have to go through every recipe and make a list! I have that done for you.
You can grab the full grocery list over in my printable collection for newsletter subscribers. Click here to sign up!
One note on groceries: as long as you make these freezer meals in a reasonable amount of time (a few weeks), the items that you won't be freezing shouldn't go bad. The only ones that have the potential for spoiling before serve day are the salad that goes with the Creamy Chicken Mexican Pasta and the breads served with the Pulled BBQ Chicken, Broccoli Cheese Soup, and the Meatballs. I would definitely serve those meals first if you're buying everything at once!
Step 3: Prep your freezer bags.
I have all of the labels and recipe cards for this post ready to go as well!
The labels will go on your bags. They contain all of the info you'll need to prep the frozen meal on serve day, include side item suggestions and cook times. You can click here to download all of the labels for this post.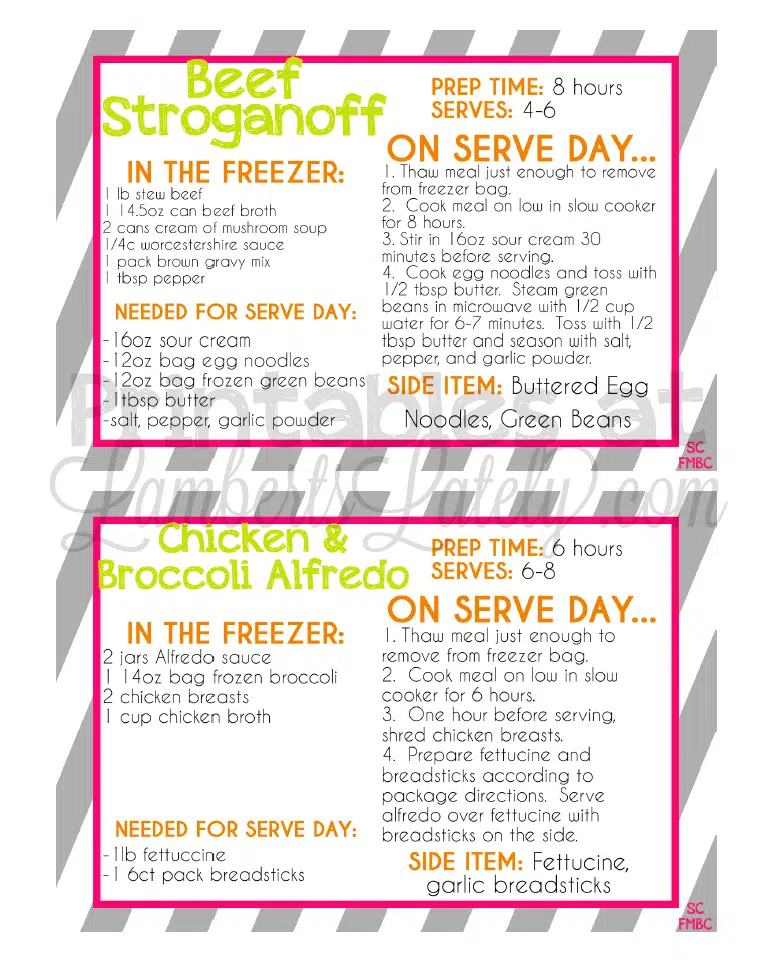 The recipe cards are a little more in-depth. They have contents of freezer meal bags too, just in case you want to replicate these freezer meals later on. You can click here to download all of the recipe cards for this post. These are to save for later and are totally optional to print right now!
Once your labels are printed, cut them out and go on and attach them to your freezer bags with packing tape. The tape won't stick if you wait until your meals are frozen! This step makes the prep process so much easier.
I've also heard that some users have had success with the double-bag method…place your label in a bag and then place a second bag inside that first one (so you label is sandwiched between the bags). This makes it a little less likely that frost/condensation will fade your labels.
Step 4: Prep your veggies.
Cutting and prepping your veggies before you assemble your meals will make the process so much easier!
Here's what you need to do:
Peel and dice 1 bag (1 pound) of carrots.
Chop 3 large onions.
Slice 1 large onion.
Slice 1 large red onion.
Mince 2 cloves of garlic.
Chop 1 cup of celery.
After you're done, set your veggies out buffet-style to make for easy bag prep. (This picture is from a previous post, but kind of shows you how to put it out for easy assembly.)
Step 5: Prep your meat.
I recommend doing this in a separate part of the kitchen if you can to prevent any unnecessary cross-contamination.
You'll need to…
Chop 7 chicken breasts in half.
Cut 2-3 chicken breasts into strips.
Dice 2 chicken breasts into 1″ chunks.
Brown and drain 2 lbs of ground beef.
Brown, drain, and crumble 1lb of bacon.
Step 6: Assemble your Crock Pot Freezer Meals!
If you've made it this far, you're to the easy part…no, really! The prep work is the most time-consuming thing you'll do…assembly is easy.
Here's what you're going to put in each bag:
Meal 1: Beef Stroganoff
1 lb stew beef
1 14.5oz can beef broth
2 cans cream of mushroom soup
1/4c worcestershire sauce
1 pack brown gravy mix
1 tbsp pepper
Meal 2: Chicken and Broccoli Alfredo
2 jars Alfredo sauce
1 14oz bag frozen broccoli
2 chicken breasts (4 halves)
1 cup chicken broth
Meal 3: Pulled BBQ Pork
1 bottle BBQ sauce
2-3 chicken breasts (4-6 halves)
1/2 cup chicken broth
Meal 4: Veggie Beef Soup
1 15oz can whole kernel corn, drained
1 15oz can cut green beans, drained
1 28oz can diced tomatoes
1lb carrots, diced (all of the diced carrots)
1 tbsp. chicken better than bouillon
1 tbsp. salt
2 tbsp. pepper
2 lbs. ground beef, cooked and drained (all of the cooked ground beef)
1 large onion, chopped (1/3 of the chopped onion)
Meal 5: Balsamic and Brown Sugar Pork Chops
1c brown sugar
1c balsamic vinegar
1c water
2 tbsp. garlic powder
2 tbsp. salt
1/2 tbsp. dried thyme
1/2 tbsp. dried parsley
1 onion, sliced (all of the sliced onion)
1 1/2 lbs. bone-in pork chops
Meal 6: Creamy Mexican Chicken Pasta
1 15oz jar alfredo sauce
1 16-20oz jar salsa
1 pack taco seasoning
2 chicken breasts (4 halves)
Meal 7: Italian Meatballs
1 pack Italian sausage
1lb ground beef
1 egg
1/2 sleeve saltines, crumbled
1/4c parmesan cheese
2 tbsp ketchup
2 tbsp dried Parsley
1 tsp garlic powder
1 tsp salt
1 tsp pepper
(Mix all above ingredients together and roll into 1.5" balls.)
Top with 1 24oz jar spaghetti sauce
Meal 8: Hawaiian Chicken
1 tbsp butter
1 tbsp brown sugar
1 lbs Chicken, cut into strips (all of the sliced chicken)
1 can Pineapple
1 large red onion, sliced (all of the red onion)
1 bottle bbq sauce
2 tbsp minced garlic (all of the minced garlic)
1/4c soy sauce
1 16oz bag frozen stir fry
Meal 9: Pot Roast
1lb bag baby carrots
1c chopped celery
1c chopped onion (half of the remaining onion)
2 cans cream of mushroom soup
1 pack brown gravy mix
1 tbsp pepper
1 tbsp salt
1 4lb chuck roast
Note: Depending on size, you might want to freeze the chuck roast in a separate bag.
Meal 10: Chicken Florentine Crescent Ring
2 chicken breasts, diced small (all of the diced chicken)
1 pack bacon, cooked until crisp (all of the cooked bacon)
2/3 cup mayo
1 pack ranch dressing mix
1 box frozen chopped spinach, defrosted and drained
1/4 tsp. red pepper flakes
1/4 tsp. black pepper
1/4 tsp. garlic powder
Meal 11: Broccoli Cheese Soup
1 14oz bag frozen broccoli
1 large onion, chopped (all of the remaining chopped onion)
1 tbsp flour
1 can evaporated milk
And just like that, you're done with 11 Crock Po freezer meals!
All of your cooking directions can be found on your labels or on the recipe cards…click here to download the labels again or click here to download the cards.
If you're new to the site, I offer several premium freezer meal boot camp packs that include exclusive recipes and printables. These packs are digital downloads available as individual packs or in bundles at a low price. Click here for more information!
Happy cooking, friends!