How I Created Our Life-Changing Family Laundry System
Ready to establish a life changing, effective family laundry system in your home? Get tips and tricks for streamlining the process, with ideas for either a small or big family!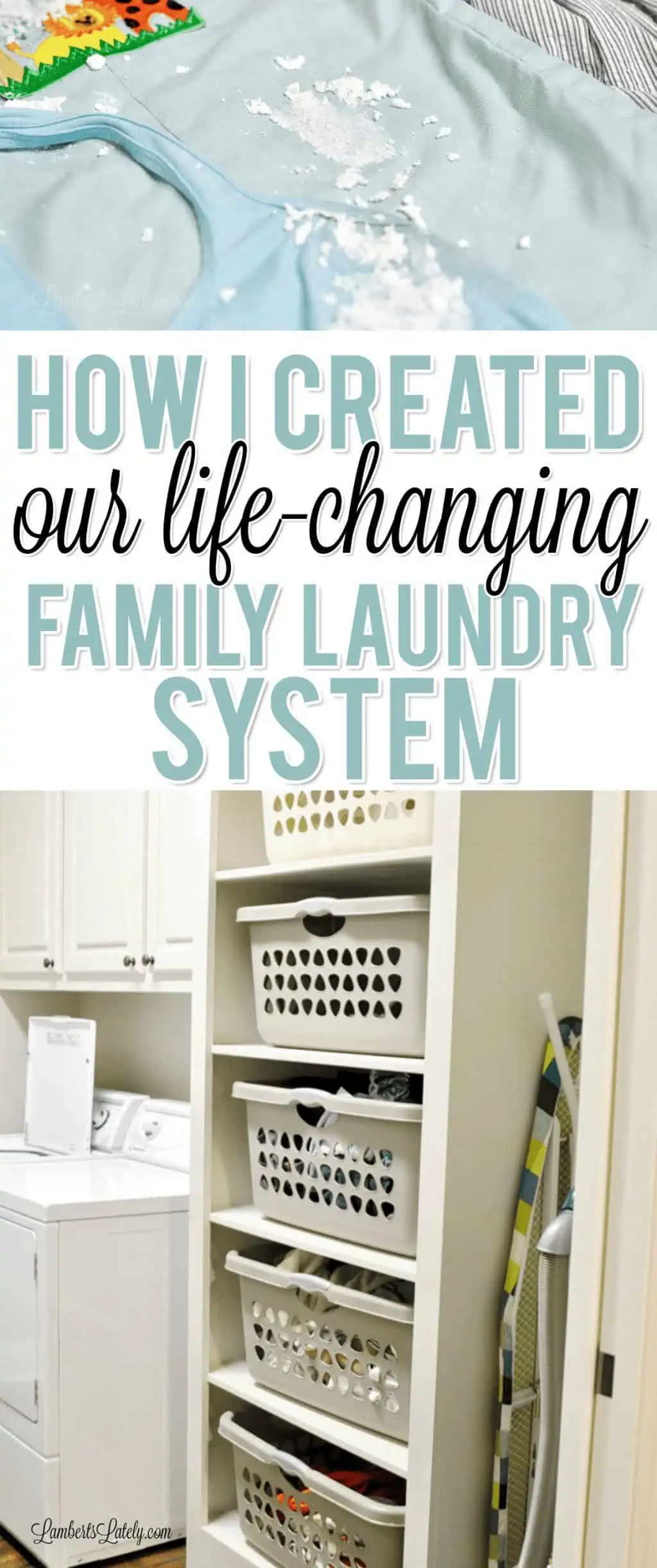 Affiliate links used in this post. Read more about my affiliate link usage here.
I have finally gotten to the point where I have the laundry system in our home that has absolutely changed our family's organization systems for the better. It didn't come easy though.
I feel like our laundry organization has been a little challenged over the past few years. In our apartment, we had a teeny tiny laundry closet that basically allowed for zero organization (besides a few cleaning supplies). In our last house, our laundry was actually outside - which I hated. I was counting down the days until I could actually do laundry without putting my shoes on. 😉 Since it was in an outside storage room, there wasn't any space in there for organization either. In both homes, we were limited to the little bit of organization we could do in our closets. But even that was limited because of smaller closets. It was frustrating to say the least.
So, one of the priorities when we were designing our home was storage and organization. I shared a little bit of what I had our cabinet maker do in the kitchen a couple of weeks ago to best utilize our space. Today, I thought I'd share how we set up our laundry room and what I've done to streamline the laundry process in this space!
Welcome to our laundry room!
I wouldn't say it's the largest space in the world, but it's plenty of room for us and has an insane amount of storage. Like, I don't think I realized how much storage we would have in here. There are still lots of spaces I haven't used (which is a good thing!).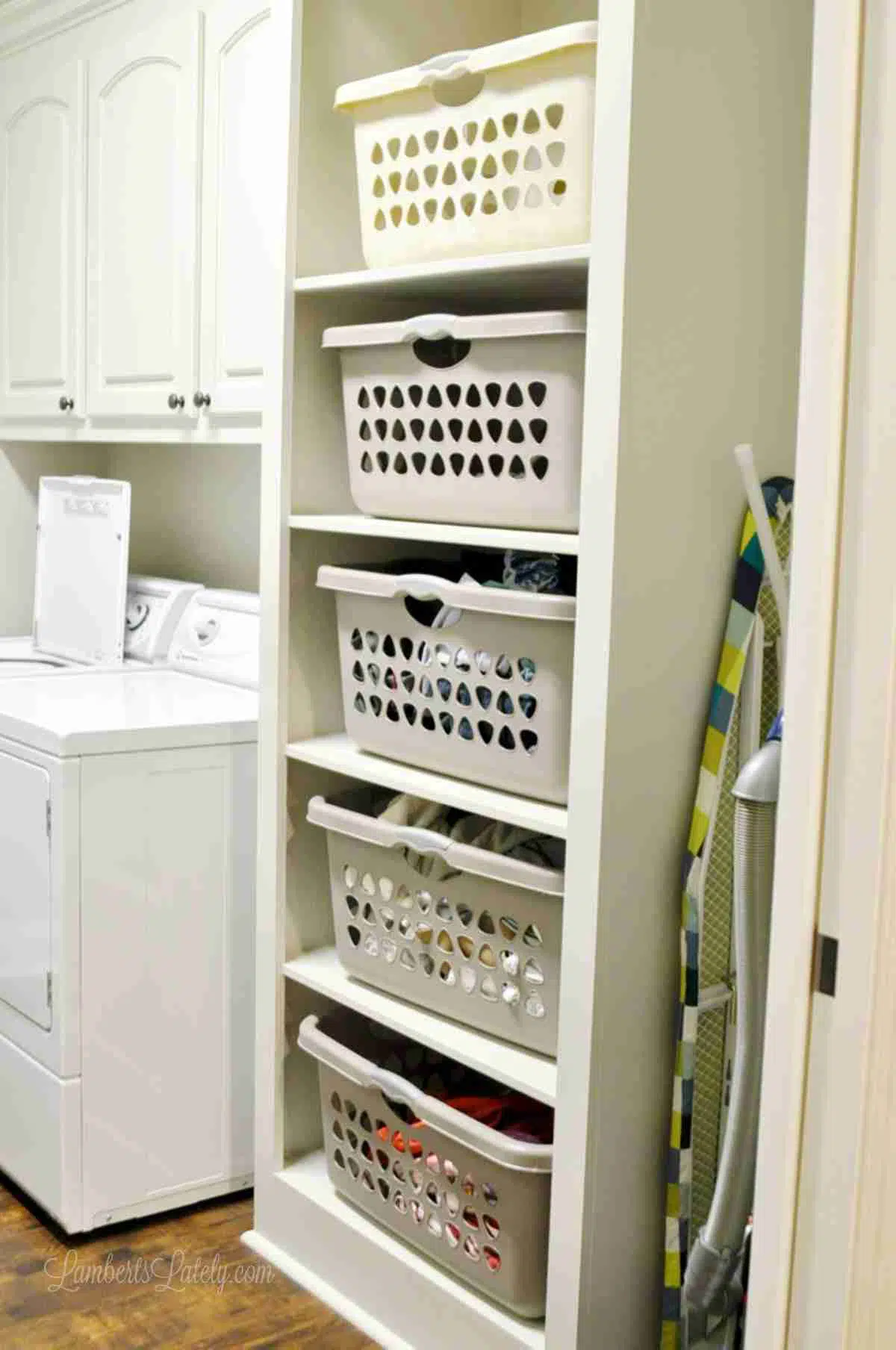 The main thing I wanted in this space was this basket organizer. I gave a picture (from Pinterest, of course) to our cabinet maker when we were designing our cabinets and he made it happen. This has become the basis of our laundry organization system. The thing I love about it is the fact that it can be utilized in more than one way - one day when the kids are older, I'd love to have a basket for each member of the family to take to their room and sort.
(Updated 3/19 with picture to show the new decals - these make it so easy to get kids in on the sorting!)
For now, here's how we do it: there are five baskets total. The top basket is for clean laundry - that's the one we use to get laundry out of the dryer and transport it to rooms. If I can't take it to rooms for some reason (say, the kids are asleep), I store clean laundry temporarily in that cubby. I try to keep that basket empty though. The next one down holds hangers, and the next three hold dirty clothes (darks, lights, and reds, respectively). My kids change clothes downstairs all the time, so we're working on immediately sorting laundry into those baskets when they take dirty clothes off.
In the last house, I kept a small clothes hamper in our living room for the kids' random laundry. It was a lifesaver for keeping the dirty clothes at bay!
Now, for cleaning those clothes...
1. Do it weekly.
For some reason, the frequency of doing loads of laundry is kind of a divisive topic. 😉  Some people are dailies, some are weeklies. As a matter of fact, I took a survey on my Instagram and in my email newsletter, and the results were pretty split - almost exactly half of the readers were dailies, half were weeklies. I thought that was interesting!
But, as for me...I'm a weekly. In Journey to Clean, I recommend once a week laundry...it just keeps the folding clutter to a minimum in my opinion and gets it all out of the way at once!
2. Have a "sorting home base" in the laundry room.
Everyone in the family has hampers in our closets for the dirty clothes we take off in our rooms. (This one available here.) On Friday mornings/afternoons, I clean out all of the laundry from those hampers and sort into darks, lights, and reds in the baskets in the laundry room. (I'm hoping to get the kids in xyn this soon...it's just to heavy for them to carry downstairs right now.) I also take sheets off of beds (I alternate weeks on this; one week is ours and one week I get both of the kids' beds), get towels from the bathrooms, and get all of the laundry that needs to be cleaned from the Journey to Clean Room of the Week (like throw rugs, kitchen linens, comforters, etc.). It's all sorted in the laundry room and ready to go in the washer.
3. Treat stains from the previous week.
Once the laundry is collected and sorted, I start treating the stained laundry from last week. I don't immediately rewash items that come out of the dryer with stains; instead, I set it to the side (on my other laundry counter) and treat it the next week. I love using a paste made from Oxy Clean and a little bit of water...mix it up in a small cup (to a toothpaste consistency) and rub it really well into the stain. I try to let that set for at least 30 minutes or so before washing (the longer the better), and just throw the treated laundry in with the rest of its load as I start it in the washer.
4. Keep that washer/dryer running.
Then, I usually get the first load going on Friday afternoon. I have this as the Saturday chore of the day in the book, but I like to go on and get the loads cleaning on Friday so I can knock out all of the folding at once on Saturday.
From there, I basically just keep the washer and/or dryer running at all times, dumping each basket from the wall into the washer (since they're already nice and sorted). If I don't hear either the washer or dryer running, I go start a new load, throwing in the treated laundry from the other counter with what I've sorted into the baskets next to my washer/dryer.
5. Fold all of your laundry on the same day, in the same place.
Once it's done, I like to spread it all out on my bed to fold. The kids' clothes go on one side and ours on the other. Doing it on the bed makes it easy to go on and put up the adult laundry...then, I just throw the folded laundry in the basket to take upstairs for the kids. Simple as that! I'd love to just do all of the folding at once, but there just isn't enough space in my clean hamper - so I usually fold 2 loads at a time (and I typically do 4 bigger loads a week). It makes my bed junky for a few hours, but in my opinion, better to sacrifice a few hours than have to worry about laundry daily.
6. Have the right supplies.
For those wondering, I have a Speed Queen washer and dryer - we bought these for the new house after lots of recommendations. I have been incredibly pleased so far. They're absolutely no frills, no computers, no fun sounds - which we wanted. Less frills means less to break! They typically last 20-25 years and are really effective at cleaning (the same company makes motors for laundromats). We've been pleased so far - they are a little bit more expensive than your standard washer/dryer combo, but we think it's been well worth the investment!
(Picture updated 3/19.)
And, as far as laundry supplies I use, I keep it kind of to a minimum. I flounder between detergents (if you have one you love, comment with it below - I'm looking for a new one), but I do love good old plain powder Oxy Clean for stains. I usually toss some of this in the washer with my detergent, as well as using it for the stain treating method above. I also have the Oxy Clean Max Force Spray for quick stain removal before I toss something in the washer. And, I'm kind of a smell junkie - and I'm absolutely obsessed with Dreft Blissfuls. Makes your laundry smell like babies - it's heavenly!
Alright friends, let me know what works for you - comment with your favorite laundry supplies and methods below!