Mexican Restaurant Freezer Salsa Recipe (+ Video)
Use fresh tomatoes to make this easy recipe for Mexican restaurant freezer salsa in a blender! One of the best salsas to use for canning or for freezing.
This recipe is an oldie I thought I'd would bring back today! It's the time of year for fresh tomatoes. I know that many of you will get some use out of this Mexican restaurant freezer salsa recipe. It's so convenient - you can make in the blender and freeze for later.
The Inspiration Behind This Easy Freezer Salsa Recipe
My tomato garden inspired this recipe. The first year we lived in our home, I planted a garden with a few tomato plants. Fast-forward a few months: I didn't quite plan for the amount we had.
We had our garden put in in the late spring. I knew I had to get going on planting ASAP if I wanted a garden that year. The weekend after it was ready to go, we headed to Lowe's for our plants. Without thinking, we threw 15 (yes, 15) tomato plants in our cart.
I'm not one to waste things, so we planted every tomato plant. Needless to say, we were swimming in tomatoes a few months later. There are only so many tomato sandwiches that you can eat! So I thought of ways to preserve them to enjoy all year.
Adjustments to This Blender Salsa
I used fresh tomatoes for this recipe, but canned tomatoes would definitely work too. I would use about 2 28oz cans of chopped tomatoes for this recipe. Of course you can use a food processor instead of a blender - there's not much of a difference there.
You can double this recipe if you want to make a large batch for the freezer. It freezes beautifully for up to 4 months! Simply store in quart-sized freezer bags; I freeze in 1-cup increments.
It's got a great spice from the jalapeno peppers, but that can be adjusted as needed for your desired spice level. You could even use a less-spicy pepper (like serrano peppers or green chilies) to dial down the spice level. The spice totally depends on your personal preference!
Here's how you can make a big batch of Mexican restaurant salsa for yourself. Once you try it, you'll buy a jar of store-bought salsa again!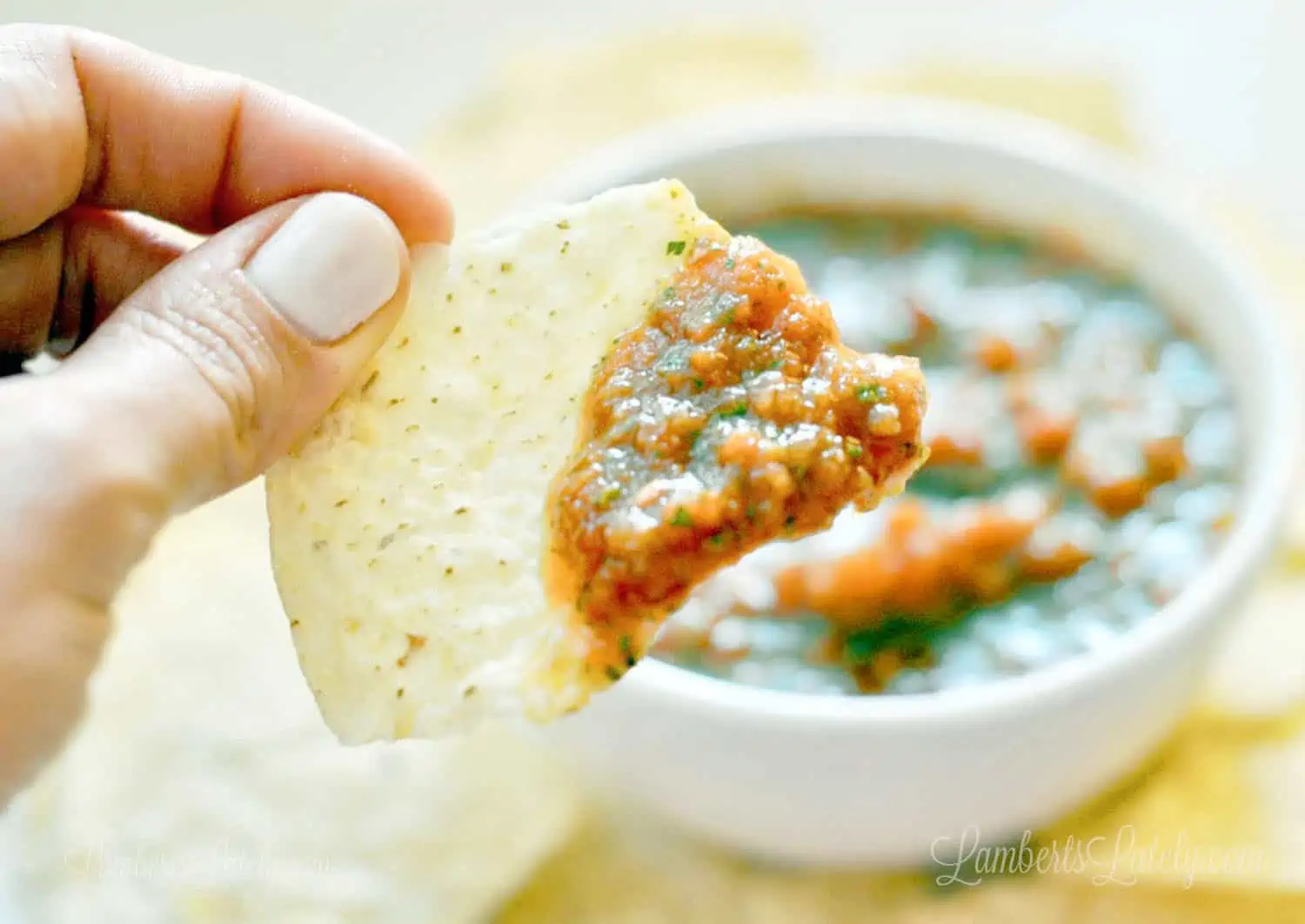 Mexican Restaurant Freezer Salsa FAQs
How-To Video
Mexican Restaurant Freezer Salsa Recipe
Use fresh tomatoes to make this easy recipe for Mexican restaurant salsa in a blender! One of the best salsas to use for canning or the freezer.
Affiliate links used.
Ingredients
8-10

large ripe tomatoes

(can use 15-20 roma tomatoes instead)

3

oz

tomato paste

½

cup

fresh lime juice

(use 6-8 fresh limes)

2

tablespoon

salt

(Recommended you start at 1 tablespoon and work your way up to your taste.)

½

tablespoon

garlic powder

½

tablespoon

pepper

1

large red onion

2-3

jalapeño peppers

stems and seeds removed

½

fresh cilantro

stems removed
Instructions
Core tops of tomatoes and cut an "x" in the bottom of the skin. Place in boiling water for 2-3 minutes - immediately remove and place in an ice bath. Allow tomatoes to cool and (easily) take off skins.

Puree tomatoes in a blender to the desired consistency. Pour into a large stock pot. Add tomato paste, lime juice, and spices.

Roughly chop the remaining vegetables, reserving ½ of the red onion and ½ bunch cilantro for the end. Adjust jalapeño amount as needed for spice level. Place ingredients in the blender and puree. Add to tomato mixture to stock pot.

Put the large pot over medium heat and bring to a boil. Reduce heat to low and simmer for 3-4 hours, until salsa has reduced by about ⅓. Stir occasionally.

Cool to room temperature. Puree reserved red onion and cilantro in your blender and mix into salsa. Pour into quart-sized freezer bags (this recipe made roughly 8 cups of salsa for me). Freeze for up to 6 months or store in the fridge for up to a week.
Nutrition Facts
Calories:
50
kcal
Carbohydrates:
12
g
Protein:
2
g
Fat:
0.4
g
Saturated Fat:
0.1
g
Polyunsaturated Fat:
0.1
g
Monounsaturated Fat:
0.1
g
Sodium:
1836
mg
Potassium:
494
mg
Fiber:
3
g
Sugar:
6
g
Vitamin A:
1298
IU
Vitamin C:
41
mg
Calcium:
28
mg
Iron:
1
mg
Tried this recipe?
Rate it in the comments below!
I hope you enjoy this homemade freezer salsa recipe as much as we did!
Check out a few more of my more of my appetizer recipes...