Air Fryer Freezer Meal Prep Session
Let's make 10 delicious, easy recipes for the air fryer in one meal prep session! Includes freezer meals for chicken, shrimp, vegetables, and more - great healthy options for weeknight dinners.
Affiliate links used in this post. Read more about my link usage here.
🎶 Guess who's back? Back again? 🎶
I haven't had a new Freezer Meal Boot Camp since last summer, when I rolled out the Sheet Pan Dinners Freezer Meal Boot Camp. It's time to kick these back into high gear! Not only am I giving this one away on the house today, but I've got a couple of new premium boot camps in the works - more info on that at the bottom of the post.
Today, I'm taking on a new (to me) machine - the air fryer!
I have absolutely fallen in love with my Air Fryer. (2022 update: I now have this model and love it!) I've discussed before that, although my #1 is absolutely the Instant Pot, it has its limitations. If you want crispy, you're not getting it in an pressure cooker. If you want concentrated flavor, it can't really do that either. And you absolutely can't cook without some kind of liquid in the pressure cooker.
Well, after using my air fryer since last summer, I absolutely believe it makes up for the few gaps in the Instant Pot's abilities. It absolutely gets food crispy and totally makes meats and veggies taste like they're fresh from the oven. Clean-up is easier than oven roasting, foods typically cook faster than in the oven, and electricity use is much lower. It's an amazing appliance to have around.
So, naturally, the next step for me after falling in love with the Air Fryer was to make a Freezer Meal Boot Camp! I knew almost immediately that this appliance would be perfect for air fryer freezer meals - the issue was learning how to cook fully frozen meals in this appliance. As it turns out, it's not any more difficult to do than using an Instant Pot for frozen meals. I worked through 10 recipes to make this boot camp - I think they're absolutely delicious and a wonderful way to change up your freezer meal collection.
(If you're ready to go on and grab the full free printable set for this Air Fryer Freezer Meal Boot Camp, click here to sign up! There's also a chance below.)
Air Fryer Freezer Meal Boot Camp
Step 1: Prep your supplies.
Having the right supplies on hand before you ever start the boot camp is the key to making this process as easy as possible. This is a small list...you should be able to find most of this at your grocery store or on Amazon.
First thing's first - an air fryer! There are so many different brands/models available...from what I've seen, they all cook in a very similar fashion, so don't get too hung up on which one you'd buy, as long as it has solid reviews. (I have the NuWave Brio and have been really pleased with it!)
Gallon freezer bags are really important. I would also make sure I had my bag/container labels printed (scroll down for those printables) and cut…be ready to label those as soon as you finish making the meals (before they go in the freezer). I recommend sticking the labels on with packing tape, so make sure there's a roll of that handy. There's also a specialty Freezer Tape that's made for sticking labels onto freezer dishes and has incredible reviews.
One note about freezer space…you need a lot for this. We currently have two fridges (long story) and a chest deep freezer (similar sized one here), and these took up just about all of that space. It is totally possible to cut down on the amount of meals you make if you're short on space! I had a big freezer clean-out for a week or two before I make these meals to make sure I had enough room for everything.
Summary: Make sure you have:
Gallon-sized zip-top freezer bags
Labels (scroll down for printables)
Freezer space
You might also need…
A food chopper (makes chopping vegetables a breeze!
A bag opener (I have this set and it's awesome when prepping meals - you simply snap the bags into the opener and easily toss in ingredients)
Step 2: Make your grocery run.
As with the other
Freezer Meal Boot Camps
, there's no need to make your own list! I've got everything you need to make and serve these meals on one list. You can access this printable in the Printable Collection for my newsletter subscribers.
Click here
or use the form below to sign up!
After you make the big grocery run outlined in that list, you'll need to make a very small trip to the store for the filler/perishable/side items you'll need each week. The meals plans and shopping lists for those weeks are included in that pack in the printable collection as well (they're the ingredients highlighted in pink on the list). I bought my first week worth of small trip items when I did the big grocery trip for the freezer meals.
I am a huge fan of using Walmart's Grocery Pickup service for bigger trips like this…just order your items online using the grocery list I have in the printable collection and pickup from your local store at no extra charge! It's incredibly convenient and a great way to organize your groceries to ensure you get everything. Click here to get a $10 off coupon for trying it out!
Once I got those items home, I definitely didn't have the fridge space for everything…so I typically organize on my counter. You're about to prep all of it, so as long as you act somewhat quickly, it shouldn't go bad. I made a section for non-perishable items, a section for produce, and a section for meats (I did stick those in my fridge).
Step 3: Print and cut your labels.
I've got you covered in this department too! These label printables cover each and every meal you'll make for this boot camp. All directions for final cooking of each meal, any side item ideas, and extra ingredients needed for the meal are printed right on this label.
Click here to download your labels!
I also have a lot of boot campers that love my recipe cards. These are slightly bigger, more detailed versions of the labels that have the full recipe, prep instructions, and side item/serve day needs. Click here to sign up (for free) to get the entire set of recipe card printables.
After the labels are printed, just cut them out (I love this paper cutter for making the process easier) and have them ready to attach to your containers with packing tape or painter's tape before you freeze. I made the mistake of waiting until after they were frozen to try to attach the labels…doesn't work. The frost made the tape fall right off. So make sure they're labeled before they ever go in the freezer. (I might or might not have a couple of mystery meals now because I didn't label them first…)
Step 4: Prep your veggies.
Once you've got dinner for tonight going, it's time to start prep work for the freezer meals. I'll go on and tell you…this is the time-consuming part. It took me a good couple of hours to prep all of the veggies. Something like this Vidalia Chop Wizard (c/o) makes life a lot easier! I've used it for so many freezer meal sessions now.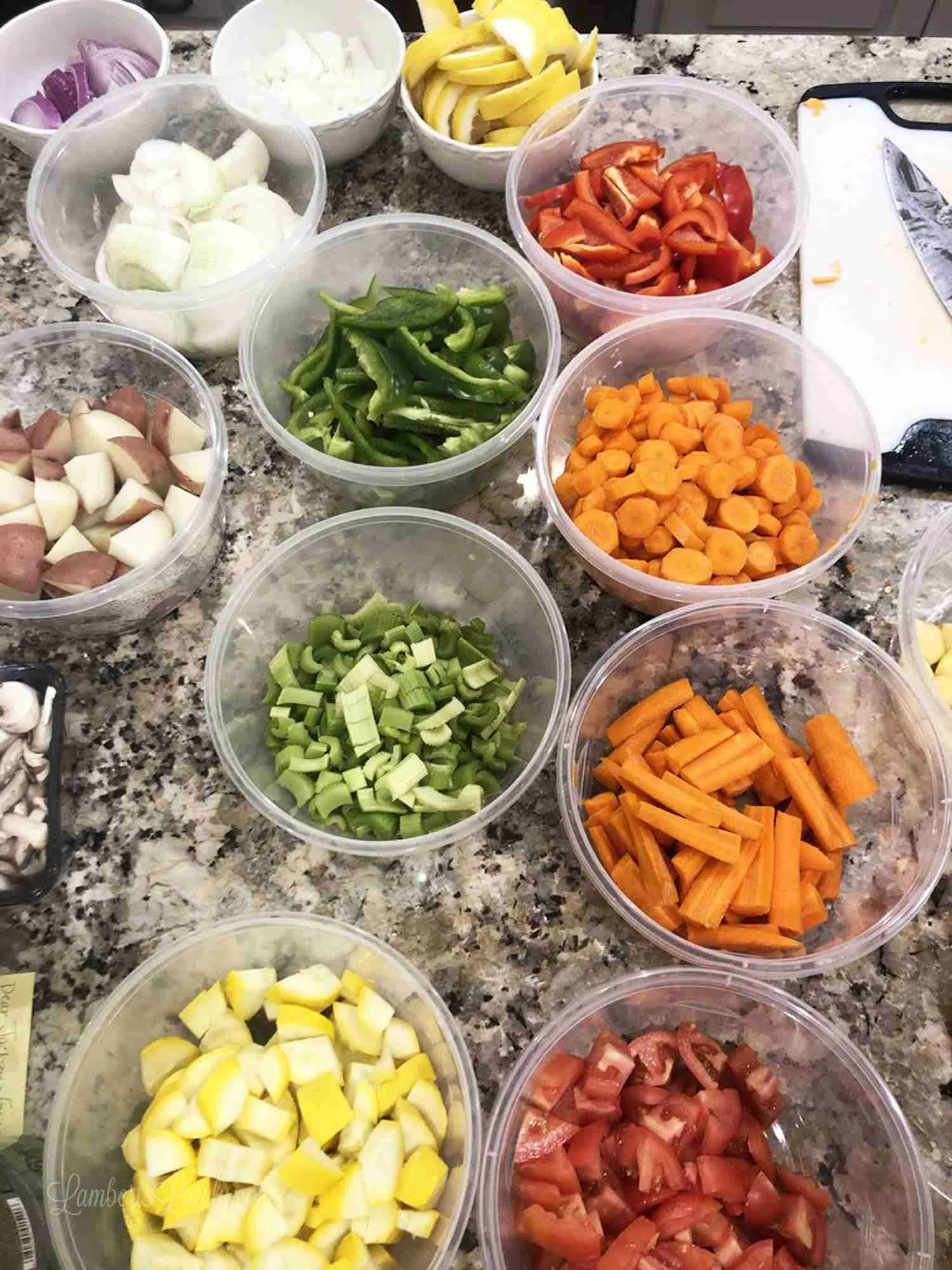 All of this needs to be done before you start assembling your meals - it takes awhile, but it makes the assembly part so much easier.
roughly chop 1 onion
roughly chop 2 green bell peppers
remove tops of 6 bell peppers (chop tops into small pieces)
finely chop ½ onion
roughly chop 1 red onion
roughly slice 1 onion
roughly slice 1 green bell pepper
roughly slice 1 red bell pepper
halve 3 limes
halve 1 lemon
peel, core, and chop 1 pineapple
chop ½ cup cilantro
remove ends of 1lb asparagus
roughly chop ½ head cabbage
peel and chop 1lb sweet potatoes into 1" pieces
The term "roughly chop" is a new one to this boot camp - that just means to cut it into 2-3" pieces (large enough so that you won't have an issue with the pieces falling through your air fryer grates).
Then, I set them all out buffet-style on my counter to make it easy to put everything together.
Step 5: Prep your meat and dairy.
Not as much meat/dairy prep is involved in this one - lots less than the veggie part of the prep session! Here's what you need to do:
separate 2lbs chicken wings
chop 1lb boneless, skinless chicken thighs
chop 2lbs ham into 1-2" chunks
halve 1lb boneless, skinless chicken breasts
cook and drain 1lb Italian sausage
roughly chop 1lb smoked turkey sausage
trim and separate 2lbs pork ribs
melt ½ stick butter and mix in 3 packs ranch dressing mix
Again, put these out buffet-style to make for easy assembly (preferably away from the veggies to avoid any cross-contamination).
Step 6: Put everything together!
It's assembly time!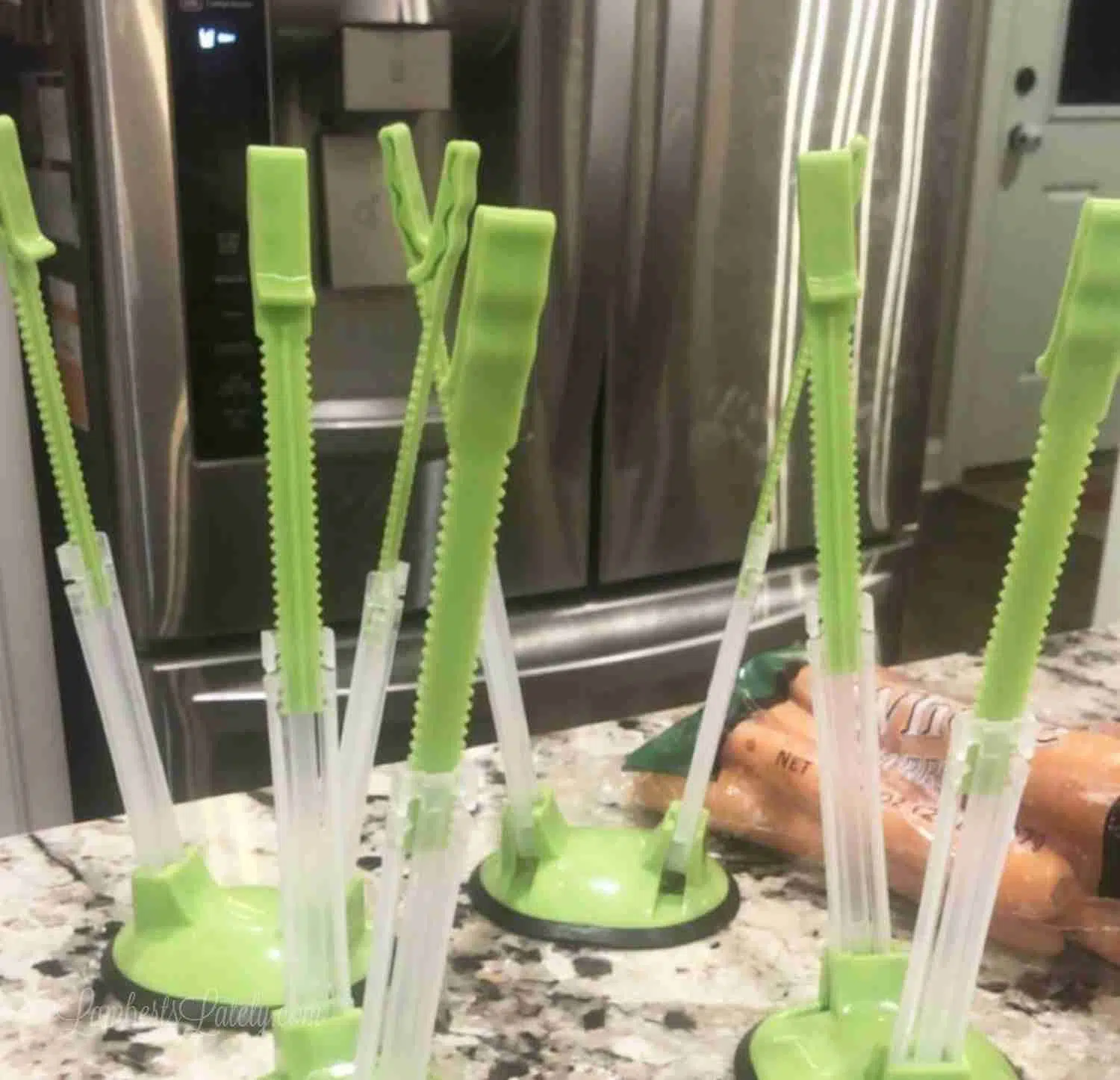 I like to load 4 bags into the bag openers at a time - once those are finished, take them off and do 4 more.
Here's what I put in each bag:
Meal 1: Air Fryer Barbecue Chicken Wings
In your freezer container:
2lbs chicken wings, separated
1 tablespoon salt
2 teaspoon pepper
1 tablespoon garlic powder
2 tablespoon brown sugar
1 tablespoon paprika
1 tablespoon chili powder
Meal 2: Air Fryer Sweet and Sour Chicken
In your freezer container:
1lb boneless, skinless chicken thighs, chopped
1 tablespoon minced garlic
1 onion, roughly chopped
1 green bell pepper, roughly chopped
1 teaspoon ground ginger
1 tablespoon rice wine vinegar
1 tablespoon soy sauce
Meal 3: Air Fryer Shrimp Fajitas
In your freezer container:
24oz frozen shrimp
1 onion, roughly sliced
1 green bell pepper, roughly sliced
1 red bell pepper, roughly sliced
2 packs fajita seasoning mix
juice of 1 lime
Meal 4: Air Fryer Hawaiian Ham Toss
In your freezer container:
1 pineapple, peeled, cored, and chopped
1 red onion, roughly chopped
1 green bell pepper, roughly chopped
2lbs ham, chopped into 1-2" chunks
1 tablespoon brown sugar
1 tablespoon apple cider vinegar
1 tablespoon brown mustard
Meal 5: Cilantro Lime Chicken
In your freezer container:
1lb boneless, skinless chicken breasts, halved
½ cup chopped cilantro
juice of 2 limes
1 tablespoon dried parsley
2 teaspoon salt, 1 teaspoon pepper
Meal 6: Garlic Lemon Salmon & Asparagus
In your freezer container:
1lb frozen salmon fillets
juice of 1 lemon
1 tablespoon minced garlic
1 tablespoon dried parsley
2 teaspoon salt
1 teaspoon pepper
1lb asparagus, ends removed
Meal 7: Ranch Pork Chops & New Potatoes
In your freezer container:
2lbs boneless pork chops
3 packs ranch dressing mix mixed in…
4 tablespoon butter
2lbs new potatoes, frozen
Meal 8: Supreme Pizza Stuffed Peppers
In your freezer container:
6 green bell peppers, tops removed
…stuffed with…
chopped tops of green bell peppers
1 tablespoon minced garlic
½ onion, finely chopped
8oz mozzarella cheese
1lb Italian sausage, cooked and drained
5oz turkey pepperoni
8oz tomato sauce
1 tablespoon Italian seasoning
Meal 9: Crispy Sausage & Cabbage
In your freezer container:
1lb smoked turkey sausage, roughly chopped
½ head cabbage, roughly chopped
1 tablespoon apple cider vinegar
2 teaspoon salt
½ teaspoon pepper
1 teaspoon garlic powder
Meal 10: Sweet & Smokey Ribs
In your freezer container:
2lbs pork ribs, separated
2 tablespoon brown sugar
2 teaspoon garlic powder
1 teaspoon salt
1 teaspoon pepper
1 tablespoon liquid smoke
1 tablespoon worcestershire sauce
You're done! You now have 10 different Air Fryer Freezer Meal selections prepped and ready for weeks of dinners. Doesn't it feel good?
The full cook times, items needed for serve day, etc. are on those printable labels I mentioned above. If you'd like a pack of printable grocery lists, labels, and recipe cards, as well as all of the instructions for your Freezer Meal prep session in one document, sign up with the for below (or click here) to get access info sent to your inbox! It's free to join.
This air fryer freezer meal collection gave me roughly 4-6 servings per meal. It kind of depends on how much your family eats - we have 2 adults and 2 smaller kids in our family, and we usually have enough for everyone and one meal of leftovers.
And don't worry, Instant Potters - I haven't forgotten about you! I'm currently working on 2 new Instant Pot Freezer Meal Boot Camps. They should be ready sometime in the spring! You can sign up here for updates, or check out my other boot camps here.