See how to design and make a flower bed that adds major curb appeal! See a list of plants used, how to edge, and how to kill weeds and grass under the beds.
Affiliate links used in this post. Read more about my link usage here.
The one area of our home that we really didn't get to design was our front flower bed.
It was such a last-minute thing...we didn't even realize everything was already chosen until it was too late. For years, I dreamed of these gorgeous front beds full of hydrangeas and butterfly bushes - until, one day, we visited our almost finished home to see beds full of flowers we didn't choose. (This is totally not to complain about our builder - they were great! Just a miscommunication.)
So, for over a year, we completely neglected this space. I think that can mostly be attributed to the fact that we knew we were going to have to overhaul it eventually - what's the point of lots of upkeep when you're about to redo a space anyway? Finally, this spring, we decided to tackle the flower bed makeover project ourselves. As long as you take the steps needed, you really can make flower beds an area you love without a lot of work!
After a few weekends of work, we really did make our front yard into an area we absolutely love. We were also able to cut down our upkeep on the space so much - there are now a fraction of the weeds and maintenance duties that we used to have, and I can absolutely attribute that to giving a little more attention to detail when we redid everything.
Here's how we completed our flower bed makeover!
Step 1: Remove unwanted plants from the roots.
This will probably go down as my least favorite part of the whole process. Our old beds were filled with (very thorny) rose bushes - I detested those! Months later, I have scars on my arms from those darn things.
It helped to get a pair of hedge shears and trim the limbs that could be reached before trying to uproot any plants.
Once the limbs are gone, use a shovel to uproot your plants and get rid of as many roots as possible - the plants will grow back if there is too much root left!
At this point, I also pulled any big weeds - it's easier to get rid of them now than to try to pick them out of dirt in the next step.
Step 2: Till your dirt and remove any extra weeds/roots.
We've had a small electric tiller for years - if you regularly maintain any kind of garden, this is so great to have around. (This model is discontinued, but there's a similar one here.)
I used the tiller to go over any dirt in the garden before we put down fabric. This loosens up the soil, making it easier to plant any new plants. It also loosens up any stubborn weeds or roots so they come out easily.
Step 3: Spread weed fabric.
Now that you have a blank slate, time to protect your garden from weeds! Landscape fabric is a must-have in flower beds - it controls weeds, keeps soil in place, and prevents soil from mixing into any mulch.
I prefer doing this step before planting anything new - to me, it's easier to cut a small hole in the fabric than to try to cut around it after the fact. Simply spread over anything that will be covered with straw/mulch...
...and pin down with these staples. They go right through the fabric to hold it in place.
We left a few of our old boxwoods in place - if you are working around a few plans when putting in this fabric, simply use a pair of scissors to cut a gap in the fabric to accommodate the plant. Then, use the staples to pin around the plant the best you can. This doesn't have to cover 100% of the soil - just do your best!
Step 4: Position your plants.
For our new plants, we chose Japanese maples, Limelight hydrangeas, and Sallyfun Salvia (not pictured). We thought it was a great combination of colors and personal touches. My grandmother had hydrangeas in her garden and I've always loved them because of that. And, if you've never read Joanna Gaines' butterfly bush story, you have to check it out - I've wanted butterfly bushes in my flower bed since I read it! Remember, your home should be full of the things you love - the exterior is no different.
Before you every buy plants, I suggest mapping out a plan for your garden. It's important to research how much space each plant needs - boxwoods, depending on size, need 2-3' between each plant. Hydrangeas need a few feet as well, and trees typically need to be at least 6' from any structure to give the roots room to groove.
(This picture is after we had planted a couple of the plants, but you get the idea 🙂 .)
Putting the plants in place before you ever start burying makes the planting process much easier - this way, there's no guess work or mistakes involved in placement after you've already planted some of the plants.
I cut an x-shaped hole in the fabric when planting each plant - it was really easy to close up using the staples once the plants were in.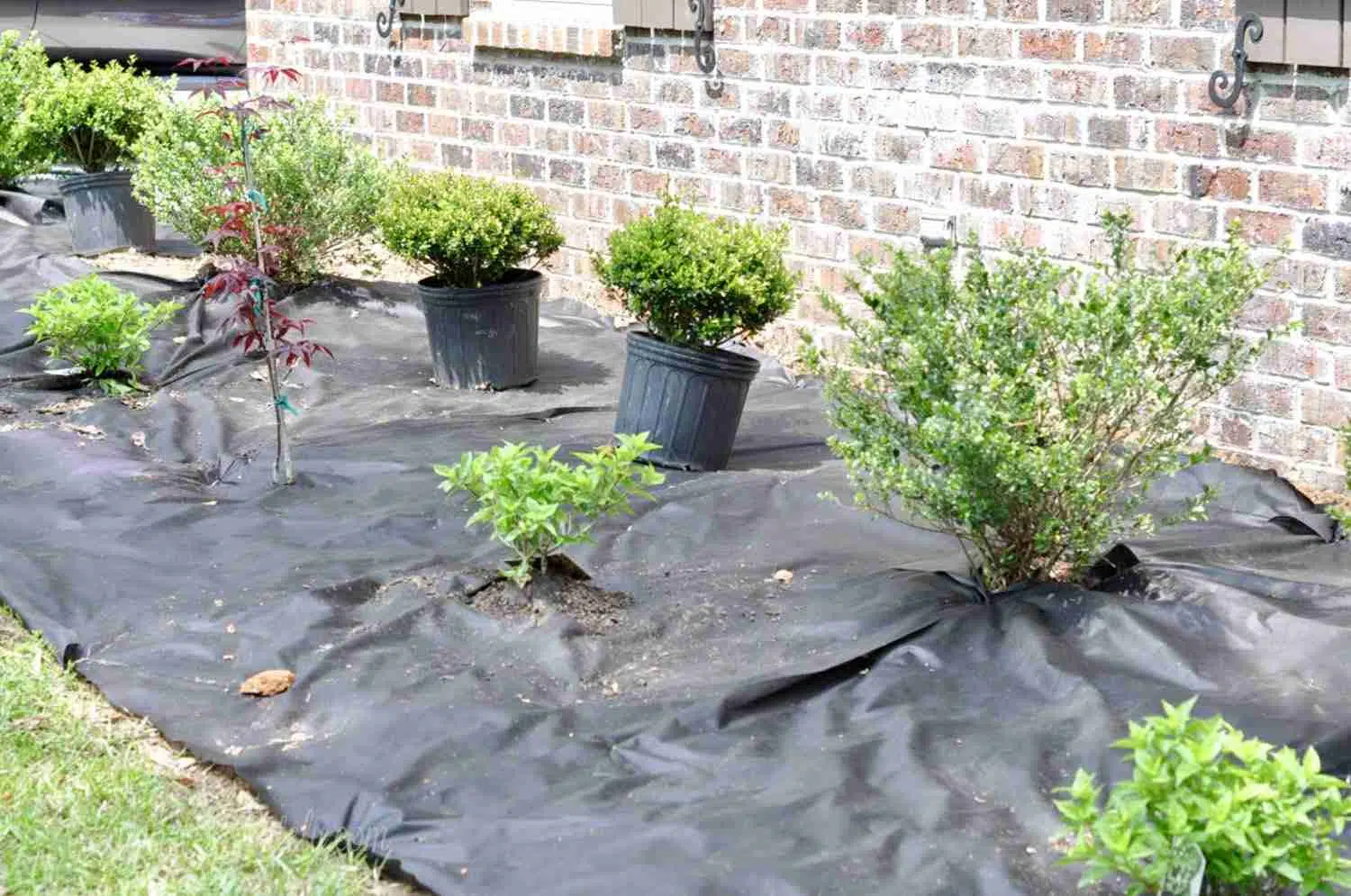 Then, simply bury and close up! Our nursery recommended not fertilizing the first year - just make sure they stay good and watered.
Step 5: Edge it out.
I knew we were going to need some kind of edging for our flower beds to keep the mulch in and grass out. We had nothing separating our beds and grass before, which made it difficult to keep weeds and grass out. After several months of having the edging in place, I can tell you it's totally worth it - I haven't had any problem with grass growing in the beds and the mulch has stayed perfectly in place! This is the edging we used.
The installation process was really easy. Simply dig a small trench around the edge of your bed (I had to undo some of the fabric staples for this...just put them back in place when the edging is in).
Then, use a hammer to put the included stakes in place.
The pieces are held together with screws and are super secure - we haven't had any issue with them coming apart.
Step 6: Mulch!
This part is the hardest to plan and the easiest to execute! 🙂 Estimating how much mulch you need is kind of tricky - plan for more than you think.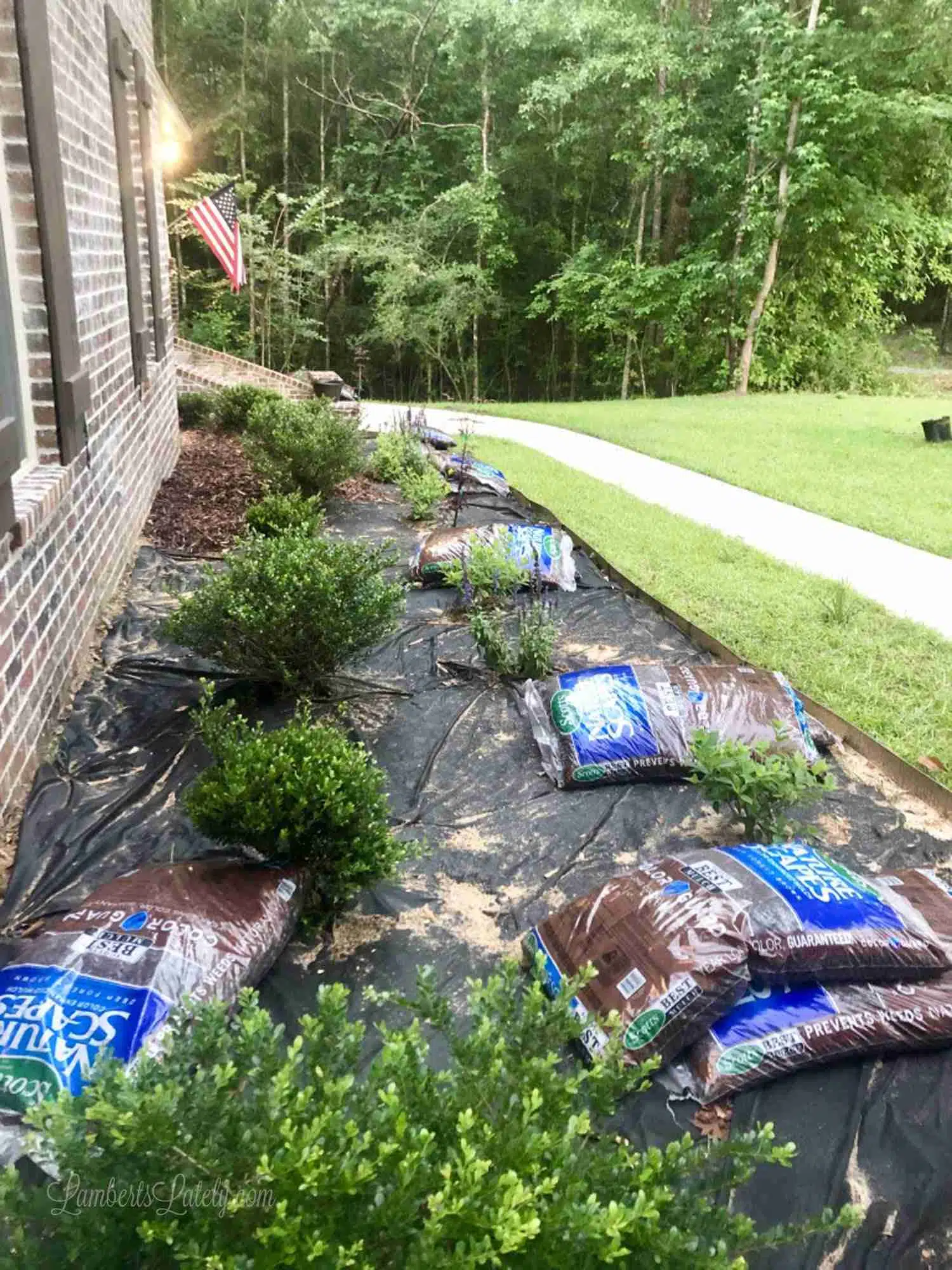 We used this calculator to figure out how much mulch we needed for the depth we wanted (3"), but we probably ended up using about double the amount we bought. So be prepared - there's a good chance you'll be making another trip to the store for more. We ended up finding this mulch on sale both times we needed more - be on the lookout, apparently it's on sale often!
Don't deal with those ugly flower beds any longer than you have to! A flower bed makeover seems like a daunting project, but with a little planning and elbow grease, you too can have a gorgeous yard.
Want to see more of our home DIY posts? Click here!