Car Cleaning & Organization Hacks You Need In Your Life
Grab a few new ideas for car cleaning and organization. These are great for using if you have kids...includes products that can be used from the Dollar Store!
Affiliate links used in this post. Read more about my link usage here.
Today is all about car cleaning and organization! This is a topic that a lot of parents cringe at - and I get it. It's not easy to do, especially with messy kids that leave trash, clutter, and unidentified objects in a car.
Let's go on and get this out there - I have kids. Therefore, I have car messes too. That's normal (and honestly, I'd worry about somebody with kids that didn't have car messes). It's all about starting organization systems and - here's the biggie - actually maintaining them! We've figured out a pretty good system for our car that makes it really easy to keep the space clean and organized.
Make the car organization space you already have work for you.
Every car on the market (especially bigger SUVs and vans) has plenty of storage space for whatever you might need. My general theory is, "if it doesn't fit in your car, it probably doesn't belong in your car." Make the storage space that's already there work for you!
(For those wondering, I have a Chevy Suburban, and I absolutely love the storage in it.)
The best place to kind of organize a command center for your car is the center console. Find an organizer that fits in this space. I got mine from Dollar Tree - it's the collapsible kind and it fits PERFECTLY in this space when stacked next to our car DVD catalog. (I tried to find it online and don't see it - check your stores!) In it, I keep the essentials that I use often; bug spray and sunscreen, car snacks, my workout gloves, sunglasses, and pens/pencils (there are handy dandy little pockets for those!).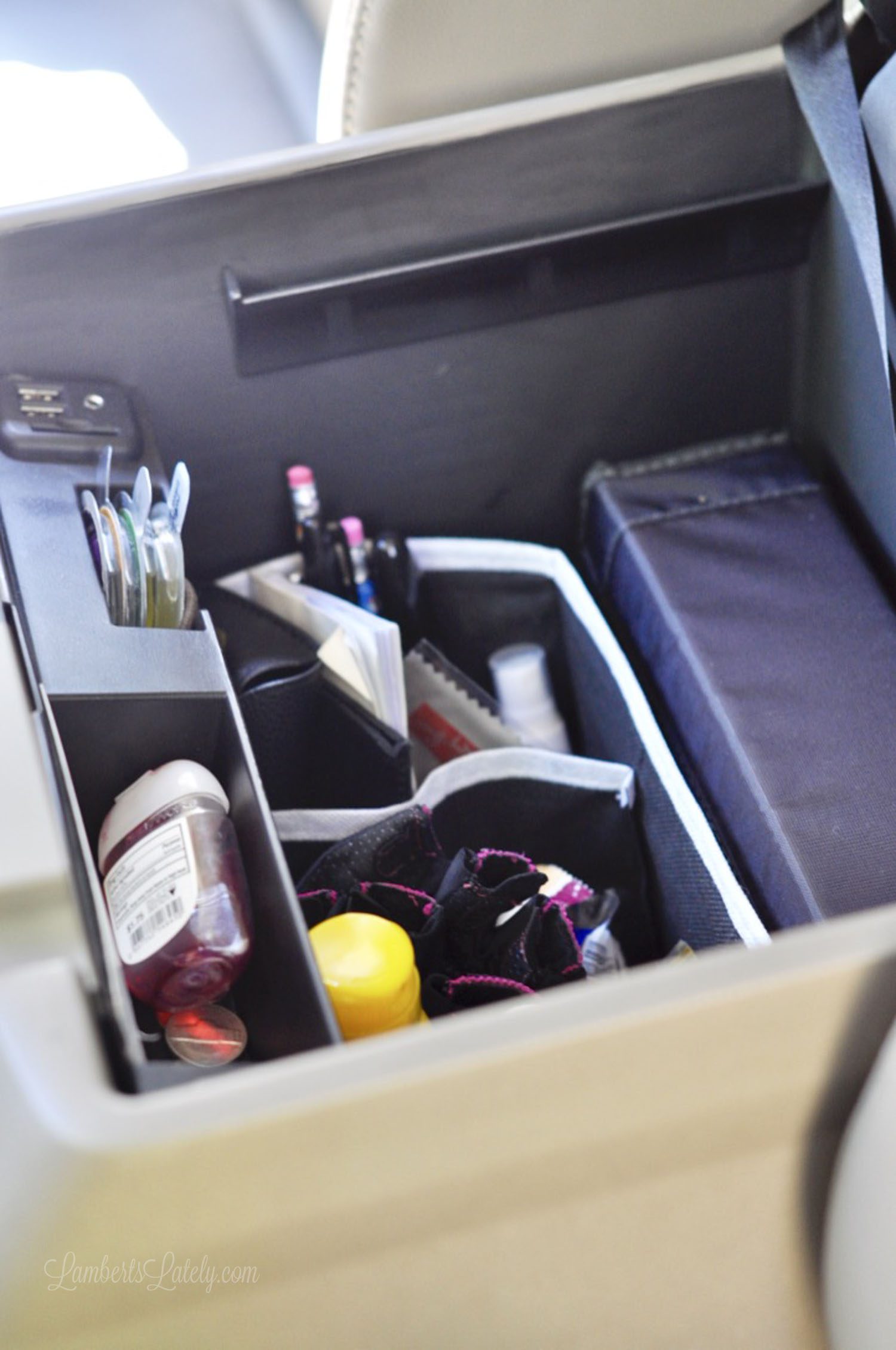 You can see the little storage pockets above that; they are the perfect size for my Bath and Body Works Scentportrts (my favorite car scents!), hand sanitizer, and spare change.
I like to keep the storage space that is visible all the time as minimal as possible; in our doors, we store extra straws/napkins/forks.
In the other side, I have my trusty bottle of water (more on that in a minute), a tire pressure gauge, and a car escape tool. I love having this - my mother in law gave it to me for Christmas years ago and I've kept it in the car ever since. It's a small hammer that will break a car window or cut a seatbelt if ever needed. Great gift!
For the kids' doors, I have their essentials - pull ups and wipes namely. You never know when you're going to need one! When Emmie was potty training, I also had a portable potty in case of any long, bathroom-less road trips.
And in the glove box? Just a small expandable folder with important title/insurance info and our owner's manual. If it's not something I'm going to need in the car, it doesn't get stored in the car!
Embrace the idea of a toy basket.
Moms and Dads - you need a toy basket in your life. If you don't already have one, find a small basket (Dollar Tree has plenty) to corral your car toys. Let's just be real; they're going to have toys in the car. You want them to have something - otherwise they are bored out of their mind and you both suffer! 🙂 So embrace the fact that kids live in this car too and keep a small selection of toys in a small basket. It doesn't have to be anything fancy - this is normally where Happy Meal toys end up for us, and they're just enough to keep the kids entertained. This is also a great place for small coloring books, play packs, and Water Wow books.
Have a designated weekly and monthly car cleaning routine.
If you're one of my Journey to Cleaners, you already know this - I am just as big on keeping the car clean as I am the home. Chances are you spend a good chunk of your time in your car; so it's just as important to have a cleaning routine for it as you do for the rest of your living space. Once you start considering you car part of your home, you're much more likely to set and maintain a cleaning schedule for it!
Every Monday in Journey to Clean, we clean outside areas; I bundle the car into this as well. On these days, I integrate a super short car cleaning session. We pay for an inexpensive monthly car wash package for our cars (and it's some of the best money we spend), so since I'm usually close to the car wash doing a grocery pick-up on Mondays anyway, I run it through and vacuum it out. Once I get home, I also...
change the trash can liner.
pick up toys.
take anything that doesn't belong in the car out and distribute as needed.
wipe up and spills or stains.
It sounds long, but it usually only takes me about 5 minutes (and is so worth it to have a tidy car for the week).
Once a month, I do a deeper car clean. This falls during the Bedrooms & Outside Areas week of Journey to Clean (and just happens to fall on next Thursday, 4/18, this month). On that day, I...
wash the car if needed (usually not since I run it through the car wash once a week anyway).
take floor mats out and spray down with a little bit of dish soap if needed.
Armor All plastic and leather surfaces in the car.
make sure all of the organization containers and storage areas are actually organized.
purge the toy basket.
Once again, this sounds really intensive, but it can easily be done in under 30 minutes! And, by doing these chores on an interval (that's scheduled into your calendar like it is in Journey to Clean), you're ensuring that it gets done regularly.
Go vertical.
If you've read any other home organization posts that I've done, you might already know that I'm big on vertical storage. Any storage space that's not on the floor is precious; use it wisely!
I picked up these really inexpensive back-of-the-seat hangers a month or two ago and we have loved them. It allows my kids to easily access anything hanging right in front of them and, most importantly, keeps the junk off of the floor of my car. They're great for headphones, backpacks, umbrellas, and coats.
I am also a big fan of velcro in a car. I use it all the time to keep things in place that normally rattle around in bigger storage areas, like a center console. Our DVD remote lives here (so it's easy for me to access as needed)...
...and my bluetooth headphone charger is attached in my center console with a small piece of velcro. That way it's not moving around all over the place and takes up less space.
Even our DVD slot is used for functional storage! This cell phone holder/charger is designed to be held in our CD/DVD slot, which keeps it out of my hands when driving but still accessible. I use Spotify for my music in the car, so I need it accessible; but I don't want the temptation of doing anything besides what is necessary. It charges my phone wirelessly and holds onto it at the same time. When I need to change DVDs occasionally, it's really easy to remove.
Floor mats, floor mats, floor mats.
Y'all - where have I been? When we had our last car, Noah tried and tried to talk me into floor mats, and for some reason I said no. I just didn't want something else the kids could trip over moving around in the car, and I didn't really see the point in them.
I was so, so wrong.
They are a life-saver if you have kids. It makes inevitable spills a breeze to clean up. They are so easy to just vacuum out once a week and spray down once a month or so - they seriously look like new with very little maintenance! More importantly, they're protecting the super-easy-to-stain carpet in your car from kids, who are bound to spill something every now and then.
If you don't have them - get them. And thank me later. (These are the ones we have.)
Simplify; you don't need everything you own in your car!
Ask yourself; am I going to need to use this in the next month when I'm in my car? If the answer is no, find another place for it. Chances are pretty good that your car is the smallest living space you have; there's no need in cluttering it with items that just aren't necessary.
A small, collapsible stroller is all you'll find in our trunk most of the time (and that's only in here during spring/summer months, when we're use it a lot). I can't stand the thought of a junky trunk; if it's not something I need in the next few days, it goes somewhere in our garage until it's needed next. For when we do have cargo in the trunk, we added this net that makes it so much more secure. If you have a Suburban, you might have noticed that the trunk is angled down; therefore, anything you store in the back will slide out after opening the back hatch without something to hold it in. This net solves that problem and is a great place to tuck in more fragile items while traveling.
Keep a bottle of water (that isn't for drinking).
Alright, I said I'd get back to the bottle of water. You might need a bottle of water for consumption, but I'd use a glass bottle for that if needed. That's not what we're talking about here.
I keep a random bottle of water in my car for non-consumption use. You never know when you might have a clean-up that needs a little bit of water, your kids might need to wash their hands, or even when those water pens that kids love might need a refill. Plus, I've used this countless times to re-wet baby wipes (another one of my car staples) that have dried out in the hot car. Trust me - this little trick will be a godsend!
Every single car needs a trash can.
I don't care who you are, what you do, how many kids/pets you have...you need a trash can. Every single one of us uses things in the car that will eventually need to be thrown away. It's such a bad habit to just throw it in the floor board - use this incredibly inexpensive hack instead!
I've tried so many different trash can methods for a car over the years; this is the only one that consistently works for us. I saw a similar set-up on Amazon for $30-35, but y'all - no way. This is under $2 and works just as well.
Simply buy a cheap trash can at the dollar store and attach the ends of one long piece of ribbon to either side with a strong adhesive like E6000. It should resemble a purse. Loop the ribbon around your center console lid and close the center console (you'll shut the top of the ribbon into the back of the console - I hope I'm explaining this well)...you now have a trash can that is flexible enough to move a little bit is still connected to one central place! I simply line it with grocery bags and change them during my weekly car touch ups.
And, with these incredibly simple systems and products, we easily keep our car clean. I get it - it's not easy with kids. But doing a little bit of planning and a little bit of organization goes a long way - you'll notice the difference immediately!
Go forth and organize, friends! But, before you go, check out my other organization posts here.
PS - if you came here from my car accessory video on social media and want a link to the head rest you saw there, here it is! I'll get a picture of it added to this post soon. 🙂
Video