Custom Little Tikes Cozy Coupe Car Makeover
See how you can makeover a custom Little Tikes Cozy Coupe car (for boys or girls) with simple cleaning and spray paint!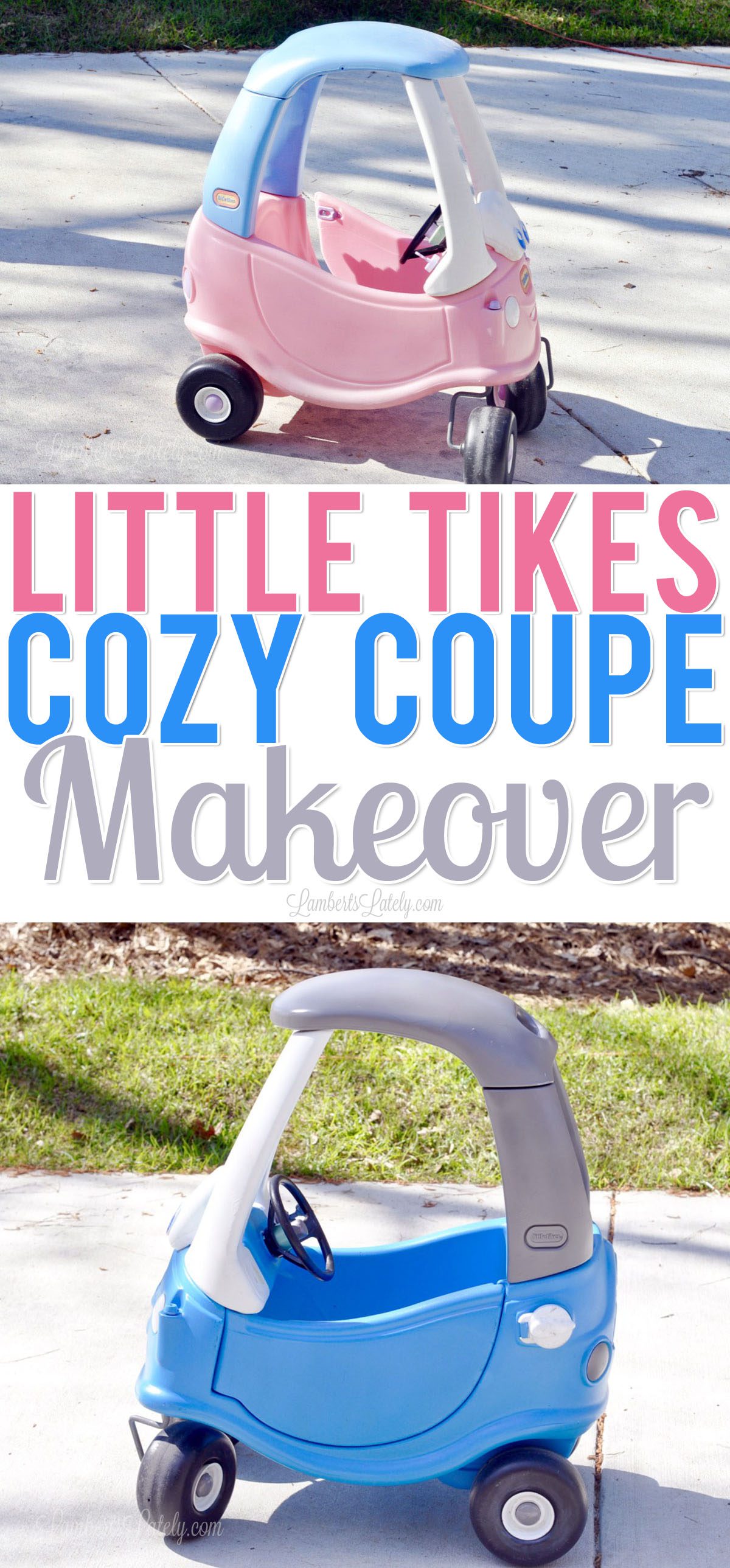 Affiliate links used in this post. Read more about my affiliate link usage here.
For the longest time, I've been meaning to give our Little Tikes Cozy Coupe new life. It's was Emmie's car when she was a toddler, and since she has grown out of it, Jackson has been using it (and absolutely loving it). It's seen better days though - it was incredibly faded and kind of gross from being outside in the elements for years. I've heard of doing makeovers on these cars before, so I thought I'd give it a try last week. It was our spring break, so I had two little helpers to assist...you'll see how they helped throughout the post!
Now, let me get this out there - would it be much easier to go out and buy a new one? Definitely. But this ended up being a fun DIY project with the kids that only cost us $10-15 and gave new life to something that was probably destined for the trash pile. I call that a win!
Here's how we did it.
Step 1: Take the car apart.
This step is actually much easier than you would think! There are only a few screws that hold the whole thing together.
(Just for clarification, I'm using a 30th anniversary style Cozy Coupe for this post.) There are four screws in the back of the car that need to be removed. They are located on the left and right sides of the cup holders in the back and right below the roof in the back. If there anything like ours, they're going to be a little rusty and difficult to get out...a ratcheting screwdriver helps a lot with this step!
Once those are out, the roof should pop off pretty easily. Next, carefully take the four posts that hold up the roof out of the main body of the car...I say carefully because you are going to be totally grossed out by what you find inside the bottom of the posts.
I also popped off the rear and front headlight pieces (very carefully) with a flat-head screwdriver...make sure you don't tear the post that holds those in or you'll have to glue them back on when reassembling. I did that to one of them...it's easy to do. Also take off the cap to the gas tank and unscrew the lock on the door. Make sure to set the five screws aside for reassembly!
Step 2: Clean the car.
Honestly? This is gross. Years of gunk was in those posts. If you have a pressure washer, this is the time to use it! If not, you can turn the jet function on your hose on.
Little helpers can also get in on this step! One note: you're not going to get all of the stains out if this is an older car. That's ok - just make sure the actual dirt and grime is off so it doesn't mess with painting.
You'll also need to remove the leftover stickers before painting. I used Goo Gone and a heavy-duty scour pad (that wasn't damaging to the plastic) to get most of it off. If you're putting new decals on, it's not a huge deal if you don't get every little bit off...you just want to make sure that new decal sits flat on the plastic.
Step 3: Tape off wheels and details.
I decided to paint the wheel caps to match the car, so next, I went around and taped these off/painted them before I did the rest of the car.
I used Rust-Oleum 2x Ultra Cover (in granite and oasis blue) to paint everything for this project. The great thing about this paint is that it adheres to plastic with no prep or priming, so it was super easy!
Quickly spray off the caps and allow them to dry for at least a couple of hours before you do step 5. I'd recommend completing step 4 while these are drying.
If you want to paint the key that's attached to one of the front roof posts, mask that off and paint at this point too.
Step 4: Paint your roof and lights.
I gave each side of the roof, tail lights, removable floor, and the back 2 roof supports two coats of granite-colored spray paint. I also painted the key in the front roof support (I didn't paint all of the 2 front roof supports or the front headlights; they were already white and coordinated with the colors I wanted for this project). You'll need to allow each coat to dry for 30 minutes to an hour before adding another.
I used a plastic drop cloth for this, but I'd recommend an actual cloth if you have it; the paint you're using adheres to plastic, so obviously it's going to adhere the plastic pieces to the drop cloth if you're not careful! That did cause a couple of marks in my paint.
I like to keep a cheap sponge brush handy while using spray paint; it's an easy way to smooth out thicker drops of paint before they dry.
Step 5: Bag off wheels and eyes; paint the body.
The wheels on a cozy coupe are difficult to remove, so I just left them on and bagged them off with plastic shopping bags and masking tape. Just tie them as tight as possible and use the masking tape to cover the metal wheel supports that attach to the car. I also did this for the eyes and steering wheel...you'll need to carefully mask around the edges for this. Now, you're ready to paint the main body of the car!
(A lot of these photos were taken by Emmie...isn't she a good photographer?!)
Get as much of the top as you can, let the first coat dry, apply a second coat and dry. Remember, thin, quick strokes work best!
Then, flip it over and give that side two coats!
I allowed this all to dry overnight before reassembling it.
Step 6: Touch up the paint and remove unwanted paint.
Once the main panting was done, I went around and touched up little spots that hadn't gotten paint. This was mostly around the steering wheel and eyes...just carefully tape those and use tiny squirts of paint to fill in the gaps.
I also used paper towels and Q-tips soaked in acetone to remove any unwanted paint. Be careful with this though - it's easy to remove wanted paint too! 😉
Step 7: Reassemble the cozy coupe.
Once everything is painted, reassembly is pretty straight-forward! The roof is kind of tricky, but this video helped me figure it out.
Make sure you remember to pop the lights back on the front and back. I mentioned that one broke when I was taking it off - I just glued it back on with E6000.
Step 8: Add new decals to the custom cozy coupe.
I found the CUTEST little decals in this Etsy shop - they even do personalized state tag decals for the back! I'm so excited about them.
(You can see the minor little bit of wear the paint has so far - mostly on the horn and areas that get a lot of friction. Nothing huge, especially for a kids' toy...I've been impressed with how the paint has held up.)
The Etsy shop even had brown eye decals to update the eyes for a certain brown-eyed little boy!
This was a fun little project to do with kids - they really appreciate their toys when they've put in the elbow grease to maintain them! We had a blast giving our Cozy Coupe a makeover for the baby of the family.