Instant Pot Orange Pineapple Curd
If you read my blog at all, you know how versatile the Instant Pot can be. It does it all – quick freezer meals, great broths and stocks, even delicious yogurt. I have absolutely loved stretching its legs and really figuring out just how much I can make with one appliance.
One of my favorite (and really unexpected) discoveries with the Instant Pot has been its ability to make sweets. I've tried lava cakes (so good), key lime pie (again, incredible…but I recommend doubling the amount of filling for this recipe), and now, different kinds of curd.
Curd sounds kind of gross, but it such a perfect topping for toast, yogurt, fruit, ice cream…you name it. It's a sweet, fruity It can also be made with almost any combination of fruit imaginable. I'm sure most of you have heard of lemon curd (but, like me, had probably never had it before this). This is a new one for me, but I don't know that I can live without it now!

(If you're having trouble pinning using the button above, you can repin this recipe
using this link
!)
Affiliate links used in this post.
print recipe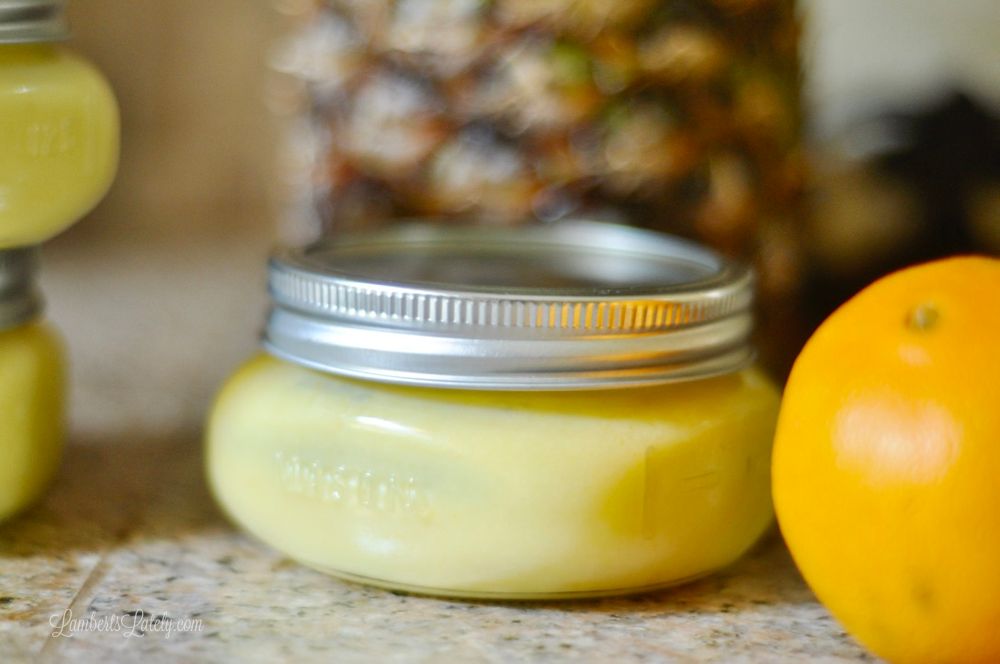 Instant Pot Orange Pineapple Curd
by Leslie @ Lamberts Lately May-11-2017
Delicious tropical flavors in a sweet topping!
Ingredients
1 stick, softened to room temperature butter
1 cup sugar
2 eggs
2 egg yolks
2 oranges, zested
1/2 cup fresh-squeezed orange juice
1/2 cup pureed fresh pineapple
Instructions
In a
food processor
, mix together sugar and butter for about 2 minutes. Make sure to scrape down sides if needed.Add in 2 eggs and 2 egg yolks. Turn food processor back on and mix for about a minute (eggs should turn light yellow).Add in orange juice, pineapple puree, and orange zest. Pulse mixer until just blended.Pour mixture into 3 half-pint
canning jars
. Put lid on jars and place in
Instant Pot
on top of trivet. Add 1 cup water to the bottom of the pot.Lock lid in place and set pot for 10 minutes high pressure on manual. Once cycle is over, let pressure naturally release for 10-15 minutes.Let jars cool for 15-20 minutes, then carefully transfer to fridge. Let set overnight before serving.
Details
Prep time: Cook time: Total time: Yield: 2 cups
(Note: for a thicker curd, you can reduce the amount of orange juice/pineapple puree to 1/3 cup. It was wonderfully spreadable at this consistency though!)
I also stretched my video-making legs again with this one…you can check out the video tutorial below!
Enjoy, friends! Ooh, and one more surprise for the Instant Potters out there! Yesterday, I updated the landing page for my Freezer Meal Boot Camp packages to include the first two plans that will be released on June 14th! Click here to check that out.  I'm smack dab in the middle of recipe testing right now, and guys, let me tell you…these are going to be incredible.
You can also check out my other Instant Pot recipes before you go!