First thing's first…notice anything different around here? Lamberts Lately got a little bit of a makeover Monday! I wanted to simplify the page a little bit and change the color scheme around. So same feel, different look! I'm really loving how it turned out and hope you guys are too. 🙂
If you follow along over on Instagram, I've been documenting the house-building process since the day we signed the papers to build our forever home by using the hashtag #LambertsGoHome. I can't say that I knew anything about the home building process before this past month…I've been researching this for years, but actually walking through the process has been somewhat eye-opening.
Have you guys ever noticed that there just isn't much info out there about building a home? I am an HGTV addict, but as much of the channel as I've watched, I don't know that I've ever seen a show that documents building a new home. So, I thought I'd do my best to document our process for those of you who wanted a peek into the behind-the-scenes of the home building process!

Before we ever started the building process (about a year ago), I started really working on what I wanted. I have a ton of Pinterest boards (all labeled "Future Home") where I saved great design features as I found them. I also looked at probably hundreds of floor plans before I found "the one." Pinterest (this board) and builder website databases were great resources for those. Even though we finally found a floor plan we loved, we've been modifying it as we thought of something we wanted to change (bumping a wall out here, adding a window there…nothing big, but we wanted to make sure we got this right the first time!). I just had a file in Photoshop that I copy/pasted the floor plan into and drew over as needed.
So, when we were ready to get the ball rolling, we were more than ready! Even though waiting so long to do this has been tough, I'm glad we had the time to make sure knew what we really wanted and had all of our ducks in a row to make it happen.
(Affiliate links used in this post.)
Day 1: I'm counting this as the day I emailed our builder. Nothing big, I just sent him the link to the floor plan (before we made the modifications), where we wanted to build, and a request to set up a time to meet.
We actually only seriously considered one builder! I know this is a big no-no in the home building world, but I've been in love with this builder's work since before we ever moved to the area. They were also the only builder that owned lots in our neighborhood that we could build on without having to buy the lot first…added bonus! So it was kind of a no-brainer for us. I'm more than happy with our decision. (And if you're in the south Mississippi area and want to know who we are using, email me and I'll be happy to discuss!)
Day 2: Initial phone call with the builder. This is just where he got a better idea for what we were wanting, including design features and plan modifications. He also talked to us about the lots he had remaining and a quick run-down of the pros and cons of each. We set up an appointment to meet with his preferred architect that next week.
Day 4: There were two lots we seriously considered. We've known for years what neighborhood we wanted, but never really got our heart set on a part of that neighborhood or a particular lot…I just didn't want to be disappointed if a lot sold before we could snag it. Once our builder let us know what he had available, we went to check the area out that day!
We were really torn between the two lots we considered. Once we walked through both (the picture above is from our first time on our lot), one just kind of felt right. We also loved that the lot we chose was basically guaranteed to have no neighbors to one side and didn't have west-facing back windows in the afternoon. Those were our two big deciding factors.
Day 7: Our first face-to-face meeting with the builder and architect! To prepare, I made a print-out of our modified floor plan for the architect (I used ihomeregistry.com…it is awesome. You can make very detailed 2D and 3D plans, and has a really long free trial period!). I also went through my Pinterest Future Home boards and made pages of design inspiration for each space in the house. I included bigger design elements I wanted to see (like built-ins, ceiling features, lighting) that could influence the budget.
The builder went through his building process and timeline first. If all goes as planned, we should break ground in late November and be in our home by next summer! He also showed us topography for each lot we had looked at, as well as his recommendations for which to use. The architect went through the details of the floor plan we gave him, our must-haves and what could go if needed, what we could do to simplify the plan (and budget), etc. We made a few minor modifications in that meeting and gave everything over to him to get to work. We made our initial payment to him the next day…nothing like your first big payment to make it real! 🙂
Day 11: We took Emmie and Jackson to our lot for the first time! Emmie got to walk through the woods with Daddy while Mommy snapped a few "before" pictures.
Day 13: We signed the papers and put down our deposit with our builder! In those papers, we agreed to build on the lot we chose, pending any crazy revelation with the architect or lot clearing.
Day 18: We returned to the lot, at the request of the builder, to mark trees we might want to save. We requested a little wider of a treeline on the side of our home with neighbors than is normally used in the neighborhood, just for added privacy. We also asked that any mature (non-pine) trees in the front yard stay. We probably marked 10-12 trees and I think they were able to save a couple. The way the home plans fell didn't allow for many, but we still have a little bit of wooded area, so I'm happy!
Day 24: Selection of finishes started! We're not necessarily bound to what we choose at this point…it's really just to get the budget nailed down. So we can change selections later, but they need to fit price-wise with what we choose now.
On this day, I chose our granite. I've loved Alaska White granite for awhile, but honestly? I didn't love this particular slab when I saw it in person. After looking at it for a little bit it really grew on me, and this won't be the slab we use when actually building. I'd like a little bit more veining in the actual slab. But I love the colors and depth of this granite. (We went with granite because the price is so much better than quartz or marble, and it's much more durable.)
Day 27: We had a morning full of meetings with suppliers (it was Columbus Day and Noah had the day off). On this morning, we chose our lighting and flooring, and started looking at brick and plumbing fixtures!
We got most of the lighting nailed down this day. These pictures aren't great, but the top one will be in our breakfast area, the middle will be in our (2-story) foyer, and the bottom will be our gas lamp on the front porch and garage lights (I'm obsessed with gas lamps!). We also chose our dining room light after the fact, as well as our bathroom sconces.
I'm only hung up on one design element still…what finish to use on drawer pulls and plumbing. I'm leaning towards bronze, but I'm a little worried it will look outdated in a few years. But I love the feel and how it will look with our cabinet colors. Any input, guys? Because I'm completely stumped.
Day 28: We got our first draft of the floor plans back! Our architect told us from the get-go that he wouldn't get it 100% right on the first try, so some revision time is written into our time with him. We mostly had minor revisions (move a window here, add a feature there), but the big revision we had to make was to the size. The plans were about 500 square feet bigger than we needed them, so we sent it back to the drawing board (literally).
Day 31: The builder emailed me to let me know that clearing would be starting the next week! There was a little bit of a hold-up with the city (they had to mark utilities before the lot could be cleared), but they planned on having it done within the week.
Day 36: Noah had heard from a customer/future neighbor earlier in the week that they were working on our lot, so he stopped by after work to check it out. They had gotten so much done! He tried to FaceTime us, but reception was terrible…so all I could hear him say in the FaceTime was, "They've cleared SO much." Umm….way to scare me, champ. 🙂 I was able to check out pictures when he got home though, and it looked perfect!
Day 39: This was a Saturday, so we were both able to stop by the lot to check it out. The clearing is done! They were able to salvage a few front yard trees and give us a great tree line on the left side. And, my biggest request…we can only see foliage out of the back-of-the-house windows! It's exactly what I wanted. The right side of the lot did slope a little more than expected, so the builder had some minor modifications to the garage he needed to submit to the architect to account for that.
So, where are we going from here? There honestly hasn't been much progress this week…we're waiting on the revision of the floor plans, and once those are approved, the architect will draw up all the plans the city needs for approval and for the subcontractors. He'll also do a rendering of the front of the house for us to approve (we're going with a more craftsman look).
That all should be done within the next week or two! I've also got to sit down with my builder's design manager to nail down looks for cabinets, built-ins, and a few other little features we haven't chosen yet. From there, the builder will start bidding out with subcontractors to get our budget together. Once we approve that and get all of the mortgage/construction loan details in order, we can get started building!
I'd love to be under construction by the end of November….not sure if that's possible, but it should be close to then. Our builder estimated 8 months for construction, and I'd like to be in our house by the time Emmie starts school next August.
This is such an exciting time! I've always heard how stressful and terrible building a home is, but I really haven't had any of that stress (yet). I'm sure it's coming, but it's been a really easy and fun process so far!
I'll be updating the home building process here and on my Instagram account as we get into the "meat" of the project. I can't wait to share the rest with you guys!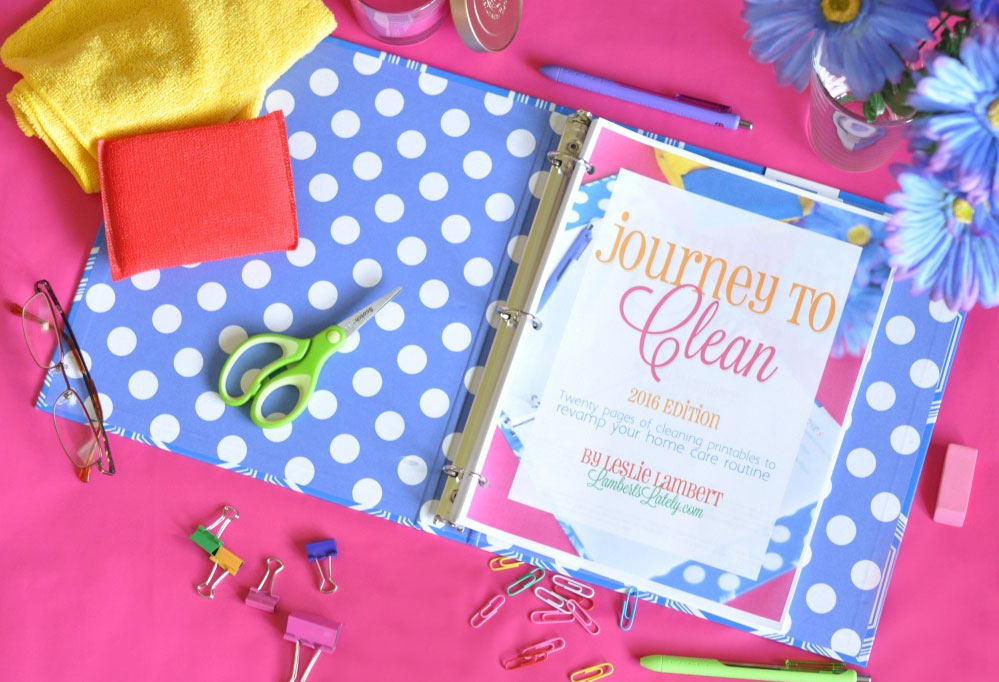 And a little side note: If you've wanted to purchase the 2016 edition of Journey to Clean, now's a great time! Until tomorrow night, you can snag my cleaning printable eBook, with everything you need to integrate my popular cleaning schedule into your home, for 30% off with the code j2coctober30off. This code is only valid until 11:59pm on October 28th!
Click here to purchase or click here for more info!
(And, if you're already a Journey to Cleaner, make sure your on my email list…I'll be sending out a sneak peek of Journey to Clean 2017 with the newsletter tomorrow!)